Third Round
#65) Cincinnati Bengals: Hunter Bryant, TE, Washington
The Bengals could bring back Tyler Eifert again, but it's time to get more explosive and stable at the position. Looking at how Burrow utilized Thaddeus Moss at LSU, Hunter Bryant could put up some mind-blowing numbers early in his career.
#66) Washington Redskins: Damon Arnette, CB, Ohio State
The Redskins and Josh Norman seem likely to be heading for a divorce, so the 'Skins need to draft a player to line up opposite of Quinton Dunbar that can be a quality starter from day one.
#67) Detroit Lions: Gabriel Davis, WR, UCF
A few years back, the Lions struck gold when they drafted Kenny Golladay, and they might have just done the same thing with this selection. Gabriel Davis is a big-time receiver that takes a fall due to a historically strong wide receiver group. He is a top-50 player in this draft. Paired with the earlier selection of D'Andre Swift, the Lions' offense could be dangerous. 
#68) New York Jets: Noah Igbinoghene, CB, Auburn
The signing of Trumaine Johnson has been a complete bust, and the Jets are a mess when it comes to the cornerback position.
#69) Carolina Panthers: Jake Fromm, QB, Georgia
This is low for Fromm. Yes, I get it. He is likable and should kill in interviews, but on tape, I just don't see a franchise quarterback. The Panthers take a flier on a guy who oozes charisma and hope he pans out. If not, they could be the favorites for Trevor Lawrence. 
#70) Miami Dolphins: Lloyd Cushenberry, OL, LSU
The Dolphins add another resource to improving their offensive line. Cushenberry is stout, battle-tested, and would allow the Dolphins to move on from Daniel Kilgore. 
#71) Los Angeles Chargers: Bryce Hall, CB, Virginia
If it weren't for a season-ending injury, Bryce Hall would have been long gone. He might need some time to shake out the rust, but he has the skill set to be a starting cornerback.
#72) Arizona Cardinals: Raekwon Davis, DT, Alabama
Sometimes good players fall due to positional value. Davis is inconsistent, but when he is on, he can be dominant. 
#73) Jacksonville Jaguars: Ben Bartch, OT, St. John's
A Senior Bowl top performer whose draft stock is on the rise, Ben Bartch has caught the eyes of scouts. The Jaguars' offense needs some refinement, and the versatile Bartch should find himself starting pretty quickly in Jacksonville.
#74) Cleveland Browns: Malik Harrison, LB, Ohio State
The Browns seem poised to let Joe Schobert leave in free agency and replacing him won't be an easy task. Malik Harrison is a tough, physical player that gets the opportunity to fill Schobert's shoes.
#75) Indianapolis Colts: Khalid Kareem, EDGE, Notre Dame
With Jabaal Sheard and Justin Houston being free agents, EDGE moves to the top of the list in terms of team needs for the Colts.
#76) Tampa Bay Buccaneers: AJ Green, CB, Oklahoma State
The Buccaneers secondary gave up a staggering 290.4 passing yards per game in 2019. Carlton Davis has the makings of a player, but other than him, the position leaves much to be desired. PFN Senior Draft Analyst Andrew DiCecco lists Green as one of the most underrated prospects in the 2020 draft class. 
#77) Denver Broncos: Kyle Duggar, S, Lenoir-Rhyne
Duggar is another Senior Bowl riser flying up draft boards. If the Broncos are able to resign Justin Simmons, the safety tandem of Simmons and Duggar would be a formidable duo.
#78) Atlanta Falcons: Antoine Winfield Jr., S, Minnesota
The Falcons spend more resources to fix their defense. Antoine Winfield Jr. was brilliant for the Minnesota Gophers in 2019, showcasing dynamic ball skills as his seven interceptions would indicate.
#79) New York Jets: Clyde Edwards-Helaire, RB, LSU
Clyde Edwards-Helaire was magnificent for the LSU Tigers in 2019. When you watch tape on him, you are fondly reminded of Maurice Jones-Drew. Le'Veon Bell doesn't seem long for the Jets, so finding his replacement makes sense.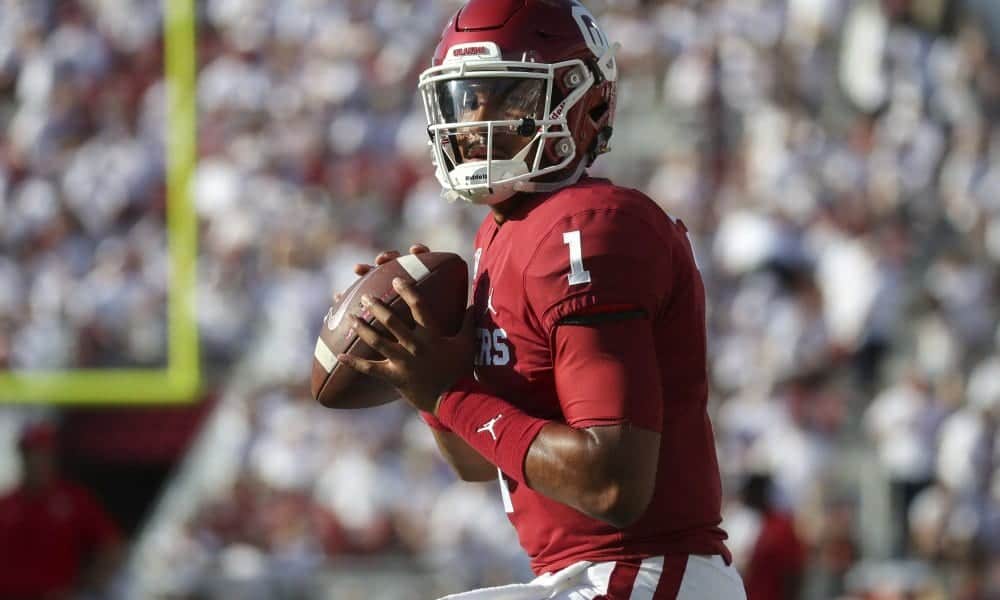 #80) Las Vegas Raiders: Jalen Hurts, QB, Oklahoma
When all the smoke clears, Tom Brady will remain a New England Patriot, meaning Derek Carr is the Raiders' starter in 2020. All indication from those close to the Raiders organization is that Carr is not the answer. Jalen Hurts needs much development, but he can be electrifying.
#81) Las Vegas Raiders: Jonathan Greenard, EDGE, Florida
The 2019 draft class turned out to give the Raiders two good pass-rushers in Clelin Ferrell and Maxx Crosby, but one can never have too many pass-rushers. 
#82) Dallas Cowboys: Albert Okwuegbunam, TE, Missouri
The Cowboys were so desperate at the tight end position that they lured Jason Witten out of retirement. It's time to get younger and more dynamic at the position.
#83) Denver Broncos: Jordan Elliott, DT, Missouri
The Broncos continue to add quality players to both sides of the ball. Jordan Elliott will be quite the value here, as he has starter potential from day one. 
#84) Los Angeles Rams: Logan Wilson, LB, Wyoming
Cory Littleton is goner, as the cash-strapped Rams won't have the funds to keep him. Losing Littleton will be a big loss to the Rams defense being their best linebacker.
#85) Philadelphia Eagles: Jabari Zuniga, EDGE, Florida
Jabari Zuniga is a talented player with upside. If he can stay healthy, this would be a home run pick for the Eagles. Brandon Graham isn't getting any younger, so developing his heir is necessary. 
#86) Buffalo Bills: Prince Tega Wanogho, OT, Auburn
This is a bit of a luxury pick for the Bills, but their offensive line could use some enhancements. Tega Wanogho is raw but loaded with talent. 
#87) New England Patriots: Jared Pinkney, TE, Vanderbilt
Pinkney hasn't lived up to his potential, but he possesses rare athletic ability. Pinkney fills the Patriots' biggest need and will immediately be given a chance to flourish.
#88) New Orleans Saints: Darnay Holmes, CB, UCLA
Holmes is a confident cornerback who brings swagger to the field. He has the makeup of an upper-echelon nickel cornerback, which is something the Saints could use. 
#89) Minnesota Vikings: Ezra Cleveland, OT, Boise State
It's no secret that the Vikings need to upgrade the left tackle position. Ezra Cleveland is a player highly regarded in the scouting community. He might not see the field right away, but in time, he will. 
#90) Cleveland Browns: Matt Hennessy, OL, Temple
The Browns offensive line was really bad in 2019, so Mekhi Becton won't fix the issue alone. Matt Hennessy is a tough, heady football player who can be plugged in as the starting right guard right away.
#91) Las Vegas Raiders: Lamar Jackson, CB, Nebraska
Daryl Worley is a serviceable but not quality starting corner, so finding an upgrade has to be on the Raiders' agenda. Lamar Jackson didn't have a great week at the Senior Bowl in Mobile, but he has impressive size and movement skills.
#92) Baltimore Ravens: Netane Muti, OL, Fresno State
The jury is still out whether Marshall Yanda will retire or not. If he does, this becomes a much bigger need.
#93) Tennessee Titans: Matt Peart, OT, Connecticut
Jack Conklin is going to get paid in free agency, and with Ryan Tannehill and Derrick Henry as the priorities, the Titans won't have the cash to keep Conklin. 
#94) Green Bay Packers: Thaddeus Moss, TE, LSU
Jimmy Graham is a shell of the player he once was. The Packers continue to add weapons for Rodgers to give the team the resources to make a run. 
#95) Denver Broncos: Troy Dye, LB, Oregon
The Broncos have added quality players to every position on the defensive side of the ball. The defense was already good, but after this draft, they could be lethal.
#96) Kansas City Chiefs: Cam Akers, RB, Florida State
Damien Williams could have been the Super Bowl MVP, so running back isn't a huge need for the Chiefs. However, Cam Akers is super talented, and this is a luxury pick the Chiefs can afford to make.
*#97) New England Patriots: K.J. Hill, WR, Ohio State
The Patriots wide receivers were slow and weren't getting open in 2019. Players like Ohio State's K.J. Hill can drastically change that narrative. Hill is explosive, runs exceptional routes, and gets open.
*#98) New York Giants: Bryan Edwards, WR, South Carolina
It seems the Giants struck gold with Darius Slayton in the 2019 draft, but there is work to be done when it comes to finding weapons for Daniel Jones. 
*#99) New England Patriots: Shane Lemieux, OL, Oregon
There is no way the Patriots are going to pay Joe Thuney the money he will get in the open market. It's just not who they are. Left guard will be a major void for the Patriots because of this.
*#100) Seattle Seahawks: Ben Bredeson, OL, Michigan
The interior of the Seahawks offensive line needs some work. Ben Bredeson is a durable technician who Seattle can pencil in as a day one starter.
*#101) Houston Texans: Darrell Taylor, EDGE, Tennessee
Darrell Taylor is one of the most underrated prospects in the 2020 NFL draft. As Jim Nagy, the Executive Director of the Senior Bowl points out, Taylor is a "physical specimen."
*#102) Pittsburgh Steelers: Anfernee Jennings, EDGE, Alabama
Will the Steelers be able to retain Bud Dupree? Bud Dupree was excellent in 2019 and might have priced himself out of Pittsburgh.
*#103) Philadelphia Eagles: John Simpson, OL, Clemson
There are certainly not 100 players in the 2020 NFL Draft better than John Simpson. Simpson is the type of player that a team can plug in as a day one starter, and ten years later he is still there. The Eagles strike gold here.
Listen to the PFN Scouting Podcast
List to the PFN Scouting Podcast! Click the embedded player below to listen, or you can find the PFN Scouting Podcast on iTunes, Spotify, and all major podcast platforms.  Be sure to subscribe and leave us a five-star review! Rather watch instead? Check out the PFN Scouting Podcast on our Scouting YouTube channel.