Sixth & Seventh Round
Round 6
#181) Cincinnati Bengals: Khaleke Hudson, LB, Michigan
#182) Denver Broncos: JaMycal Hasty, RB, Baylor
#183) Detroit Lions: Jauan Jennings, WR, Tennessee
#184) New York Giants: Jared Mayden, S, Alabama
#185) Carolina Panthers: Reggie Floyd, S, Virginia Tech
#186) Miami Dolphins: Josiah Deguara, TE, Cincinnati
#187) Los Angeles Chargers: Jonathan Garvin, EDGE, Miami
#188) Cleveland Browns: Mike Danna, EDGE, Michigan
#189) Buffalo Bills: James Proche, WR, SMU
The Bills give Josh Allen another quality receiver here. Proche could turn out to be a gem, as he is an electrifying playmaker.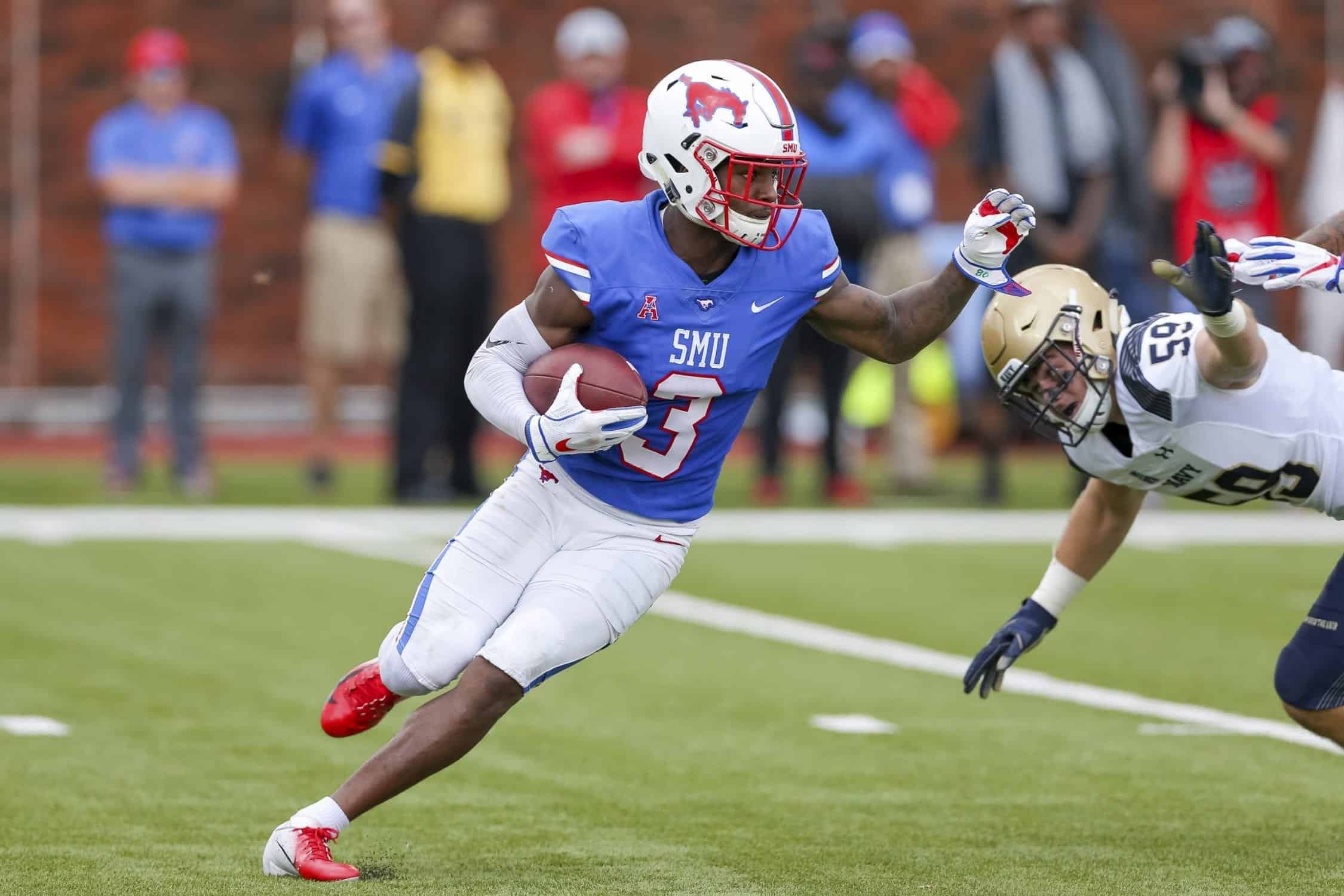 #190) Jacksonville Jaguars: Steven Montez, QB, Colorado
#191) Philadelphia Eagles: Cam Brown, LB, Penn State
#192) New York Jets: Quintez Cephus, WR, Wisconsin
#193) Green Bay Packers: Rodney Clemons, S, SMU
#194) Indianapolis Colts: Jake Breeland, TE, Oregon
#195) Tampa Bay Buccaneers: Tyre Phillips, OT, Mississippi State
#196) New England Patriots: Jeremy Chinn, S, Southern Illinois
The Patriots love drafting defensive backs, and Chinn could be an eventual replacement for the teams' unsung hero Patrick Chung.
#197) Chicago Bears: Tommy Kraemer, OL, Notre Dame
#198) Miami Dolphins: Tremayne Anchrum, OL, Clemson
#199) Pittsburgh Steelers: Stanford Samuels, CB, Florida State
#200) Los Angeles Rams: JR Reed, S, Georgia
#201) Chicago Bears: Antonio Gandy-Golden, WR, Liberty
#202) Buffalo Bills: Tipa Galeai, EDGE, Utah State
#203) Arizona Cardinals: Salvon Ahmed, RB, Washington
#204) New Orleans Saints: Alohi Gilman, S, Notre Dame
#205) New England Patriots: Robert Windsor, DT, Penn State
#206) Minnesota Vikings: James Morgan, QB, FIU
James Morgan possesses a legit NFL arm and could develop into a top backup quarterback in the NFL. The Vikings roster is loaded with talent, and Kirk Cousins hasn't been able to get them over the hump.
#207) Jacksonville Jaguars: Cheyenne O'Grady, TE, Arkansas
#208) Buffalo Bills: Benito Jones, DT, Mississippi
#209) Tennessee Titans: John Hightower, WR, Boise State
#210) Green Bay Packers: Essang Bassey, CB, Wake Forest
#211) San Francisco 49ers: Kendrick Rogers, WR, Texas A&M
#212) Indianapolis Colts: McTelvin Agim, DT, Arkansas
*#213) New England Patriots: Charlie Tuamoepeau, TE, Portland State
*#214) New England Patriots: Javaris Davis, CB, Auburn
*#215) Seattle Seahawks: Mitchell Wilcox, TE, South Florida
Round Seven
#216) Cincinnati Bengals: James Pierre, CB, Florida Atlantic
#217) Washington Redskins: Terence Steele, OT, Texas Tech
#218) San Francisco 49ers: Tyler Clark, DT, Georgia
#219) New York Giants: Keith Ishmael, OL, SDSU
#220) Minnesota Vikings: Calvin Throckmorton, OL, Oregon
I've seen mock drafts with Calvin Throckmorton being a day two selection, but I just don't see it. With that said, I am confident he could develop into a quality utility offensive lineman.
#221) Los Angeles Chargers: Justin Strnad, LB, Wake Forest
#222) Carolina Panthers: Trevis Gipson, EDGE, Tulsa
#223) Arizona Cardinals: Devin Asiasi, TE, UCLA
#224) Jacksonville Jaguars: Oluwole Betiku, EDGE, Illinois
#225) Green Bay Packers: Aaron Fuller, WR, Washington
#226) New York Jets: Harrison Hand, CB, Temple
#227) Las Vegas Raiders: Mohamed Barry, LB, Nebraska
#228) Indianapolis Colts: James Smith-Williams, EDGE, North Carolina State
#229) Atlanta Falcons: Justin Herron, OL, Wake Forest
The Falcons spent high draft picks on their offensive line in 2019, yet the unit was still a disaster. Even as a seventh-round pick, Herron could see playing time early in Atlanta.
#230) Washington Redskins: Jalen Elliott, S, Notre Dame
#231) New England Patriots: Kendall Coleman, EDGE, Syracuse
#232) Dallas Cowboys: Robert Landers, DT, Ohio State
#233) Pittsburgh Steelers: Kalija Lipscomb, WR, Vanderbilt
#234) Chicago Bears: Shyheim Carter, S, Alabama
#235) Los Angeles Rams: Colton McKivitz, OL, West Virginia
#236) New England Patriots: Levonta Taylor, CB, Florida State
#237) Tennessee Titans: Jake Luton, QB, Oklahoma State
#238) Denver Broncos: Shaun Bradley, LB, Temple
#239) New York Giants: Darrynton Evans, RB, Appalachian State
#240) Minnesota Vikings: AJ Dillon, RB, Boston College
AJ Dillon was one of the most productive runners in college football history. However, he lacks the speed to be as dominant in the NFL. With that said, he runs with a good blend of power and balance, which could lead to him being a very productive goal-line back.
#241) Houston Texans: Jordan Fuller, S, Ohio State
#242) Seattle Seahawks: Julian Rochester, DT, Georgia
#243) Green Bay Packers: David Reese, LB, Florida
#244) Tennessee Titans: Carter Coughlin, EDGE, Minnesota
#245) Cleveland Browns: Kamal Martin, LB, Minnesota
#246) San Francisco 49ers: Michael Onwenu, OL, Michigan
#247) Miami Dolphins: Carlos Davis, DT, Nebraska
*#248) New York Giants: Kyle Murphy, OL, Rhode Island
*#249) Houston Texans: Omar Bayless, WR, Arkansas State
*#250) Houston Texans: Kyle Markway, TE, South Carolina
*#251) Miami Dolphins: Michael Ojemudia, CB, Iowa
*#252) Denver Broncos: Shea Patterson, QB, Michigan
*#253) Minnesota Vikings: DeMarcus Acy, CB, Missouri
*#254) Minnesota Vikings: Michael Divinity, LB, LSU
*#255) Denver Broncos: Jon Runyan Jr., OT, Michigan
*#256) New York Giants: Myles Dorn, S, UNC
Follow us on Twitter @PFN365 to react to the Pre-Combine 7 Round Mock Draft from @NealDriscoll. 
Listen to the PFN Scouting Podcast
Listen to the PFN Scouting Podcast! Click the embedded player below to listen, or you can find the PFN Scouting Podcast on iTunes, Spotify, and all major podcast platforms.  Be sure to subscribe and leave us a five-star review! Rather watch instead? Check out the PFN Scouting Podcast on our Scouting YouTube channel.