It's time to crack open a cold one, pour another few ounces, or sit back and relax because it's NFL Week 2 predictions time! If anyone was along for the ride last week, Jason Mendoza must've had a good time watching his favorite team win in Week 1.
Pro Football Network's Week 2 NFL Predictions
But first, we must settle up the scores from a week ago. Four of the five analysts ended up with a better than .500 record last week. There were a few upsets in Week 1, and there will always be a few lurking each week. Which analysts have the gift to find those upsets? And which ones pick correctly on the 50/50 games?
Week 1 Results
Adam Beasley: 9-7
David Bearman: 11-5
Dalton Miller: 10-6
Jay Morrison: 7-9
Dallas Robinson: 8-8
These predictions are simply deciding between winners and losers. There are no points spreads here. For that, head over to our Week 2 betting predictions.
Minnesota Vikings at Philadelphia Eagles
Beasley: Eagles
Bearman: Eagles
Miller: Eagles
Morrison: Vikings
Robinson: Eagles
We are starting off hot with a single dissent from the Eagles. While Philadelphia didn't look incredibly sharp against the New England Patriots and is already more injured than at any point a season ago, they are still the more talented roster.
Eagles DC Sean Desai was asked about his philosophy on having cornerbacks travel with particular offensive weapons. He said, situationally, that's something he has done in the past. Using Darius Slay to travel with Justin Jefferson could be a situational dependency this week, considering James Bradberry is in concussion protocol.
The Eagles need to get their rushing attack going a little bit, and the passing game needs to find the sort of explosiveness they created a season ago. Brian Flores will bring pressure, and the Eagles OL and Jalen Hurts must handle that pressure.
Green Bay Packers at Atlanta Falcons
Beasley: Falcons
Bearman: Falcons
Miller: Packers
Morrison: Packers
Robinson: Packers
Jordan Love looked good a week ago against the Chicago Bears, but he has to play an NFL team in Week 2. However, independent of the general awfulness and lack of passion displayed by the Bears defense a week ago, Love looked like he was ready for the rigors of NFL QB play. In fact, his on-field mannerisms didn't look so dissimilar from his predecessor.
Meanwhile, the Falcons took care of business against a Carolina Panthers team that looked pretty lost passing the football on Sunday. Bryce Young gifted Jessie Bates two interceptions in his first NFL start. That continued the tradition of top picks performing poorly out of the gates.
All eyes are on Atlanta's offense. Was Week 1 simply a dumbed-down offensive game plan against a bad team, or is Arthur Smith truly the most diabolic troll of all time? What sane man drafts a TE and WR in the top five of consecutive NFL Drafts to get them four targets combined?
Las Vegas Raiders at Buffalo Bills
Beasley: Bills
Bearman: Bills
Miller: Bills
Morrison: Bills
Robinson: Bills
We have to figure out the truth with Jimmy Garoppolo. His first contest with the Raiders mimicked his outrageous efficiency in San Francisco despite being in a much worse situation with a limited physical skill set. As Benoit Blanc once said, "It makes no damn sense. It compels me, though."
The Raiders snuck away with a win against the Denver Broncos in Week 1, but they face a much tougher test as they head to Buffalo. The Raiders' secondary will be tested more than they were a week ago. But they're facing a Bills team that looked sloppy against an Aaron Rodgers-less Jets squad.
Can Josh Allen turn off the bad Brett Favre (on the field) in him that forces passes into nonexistent downfield windows? Can he stop being so masochistic as he tries to combo hurdle and truck stick multiple defenders on a first-down run? He'd found the balance in 2021. But he's tipped the scale in the wrong direction over the past 12 months.
Baltimore Ravens at Cincinnati Bengals
Beasley: Bengals
Bearman: Bengals
Miller: Bengals
Morrison: Bengals
Robinson: Bengals
The Ravens can't have nice things. They're a collection of China sitting behind the toddlers having a whiffle ball home run derby in the dining room. Everyone breaks, and it's maddening.
The Ravens still have a fantastic roster. Lamar Jackson is still as dynamic as ever, and Zay Flowers looks like a legitimate No. 1 through just one career game. They could really use Mark Andrews back, especially because Odell Beckham Jr. didn't necessarily look 100% out there on Sunday. Some more 12 and 21-personnel groupings will be in Baltimore's future.
MORE: Pro Football Network's Week 2 NFL Power Rankings
Meanwhile, the Bengals are in a similar situation to last season. They began the year 0-2 a season ago and looked pretty awful along the way.
But unless they play in an absolute monsoon again, we can reasonably suspect that the Bengals passing attack can take advantage of a Ravens secondary, likely without Marlon Humphrey and definitely without Marcus Williams.
Seattle Seahawks at Detroit Lions
Beasley: Lions
Bearman: Lions
Miller: Lions
Morrison: Lions
Robinson: Lions
Whatever happened to the Seahawks at halftime should be investigated by federal authorities. Their second-half performance against the Rams was one of the craziest meltdowns a team has had in recent history. Although they're a better team than the product they put on the field, the Lions are no slouch.
They're at home, and the Lions fanbase has never felt this way before. Amazon has sold out of blue ski masks. They just beat the Chiefs in Kansas City, and Dan Campbell will have them absolutely jacked for this game. The problem with all of this emotion is that it can sometimes backfire on a team as well.
But the Lions offensive line is stout, and their quarterback, for all of his flaws, has played in plenty of games with more significance than this.
Indianapolis Colts at Houston Texans
Beasley: Texans
Bearman: Texans
Miller: Colts
Morrison: Colts
Robinson: Colts
Rookie quarterbacks and rookie head coaches meet at NRG Stadium in a battle to stay out of the AFC South basement. There is almost too much excitement with this game.
The Colts suspiciously couldn't move the ball on the ground against the Jaguars if their life depended on it, but rookie QB Anthony Richardson performed at a higher level than many of us could have ever imagined. He is still a rookie who will make mistakes and have bouts of inaccuracy, but he looked confident in his first NFL start.
Meanwhile, C.J. Stroud did a fine job against stiff competition in the Ravens. The Texans' defense also did a nice job against the mobile Lamar Jackson, so it will be fascinating to see if Richardson is able to get loose at all in the rushing attack for Indianapolis.
Kansas City Chiefs at Jacksonville Jaguars
Beasley: Chiefs
Bearman: Chiefs
Miller: Chiefs
Morrison: Jaguars
Robinson: Chiefs
Honestly, this feels like a game the Jaguars should win. They have an offense that diced what is probably a better defense in Indianapolis a week ago, and the Jaguars' defense looked solid against the Colts. They feel more complete at this point of the season.
But is Patrick Mahomes really about to lose consecutive September games for the second time in the past three seasons? Will his wide receivers forget that catching the football is a necessary task the way they did against Detroit? And will Chris Jones look to make up for the potential production he lost a week ago in a single Week 2 performance?
Chicago Bears at Tampa Bay Buccaneers
Beasley: Buccaneers
Bearman: Bears
Miller: Buccaneers
Morrison: Buccaneers
Robinson: Buccaneers
Picking the Bears to win a football game after the product they put on the field in Week 1 is truly psychotic behavior. It's some true Tobias Fünke behavior.
Some of us have spent the better parts of three years believing that, eventually, the Bears would figure out how to run an NFL offense and that Justin Fields would progress into the passer we thought he could be. But now, that hope has died. And even if the offense figures it out, Chicago's defense looks disinterested in competing at the NFL level.
Meanwhile, the Baker Mayfield-led Buccaneers snuck past the Vikings. And while Minnesota is almost certainly way worse than the 13-win team they finished as a season ago, they aren't Bears bad.
Tampa Bay remains a solid roster; the questions concerned Mayfield and the offensive line. But the OL shouldn't be an issue this week because Chicago has nobody to rush the passer, and they refuse to blitz because it goes against Matt Eberflus's philosophical beliefs.
Los Angeles Chargers at Tennessee Titans
Beasley: Chargers
Bearman: Chargers
Miller: Chargers
Morrison: Titans
Robinson: Chargers
If Tim Kelly watched the film back of his quarterback's performance in Week 1 and thought, "Yeah, we're going to definitely try that again," then the season is already lost for Tennessee.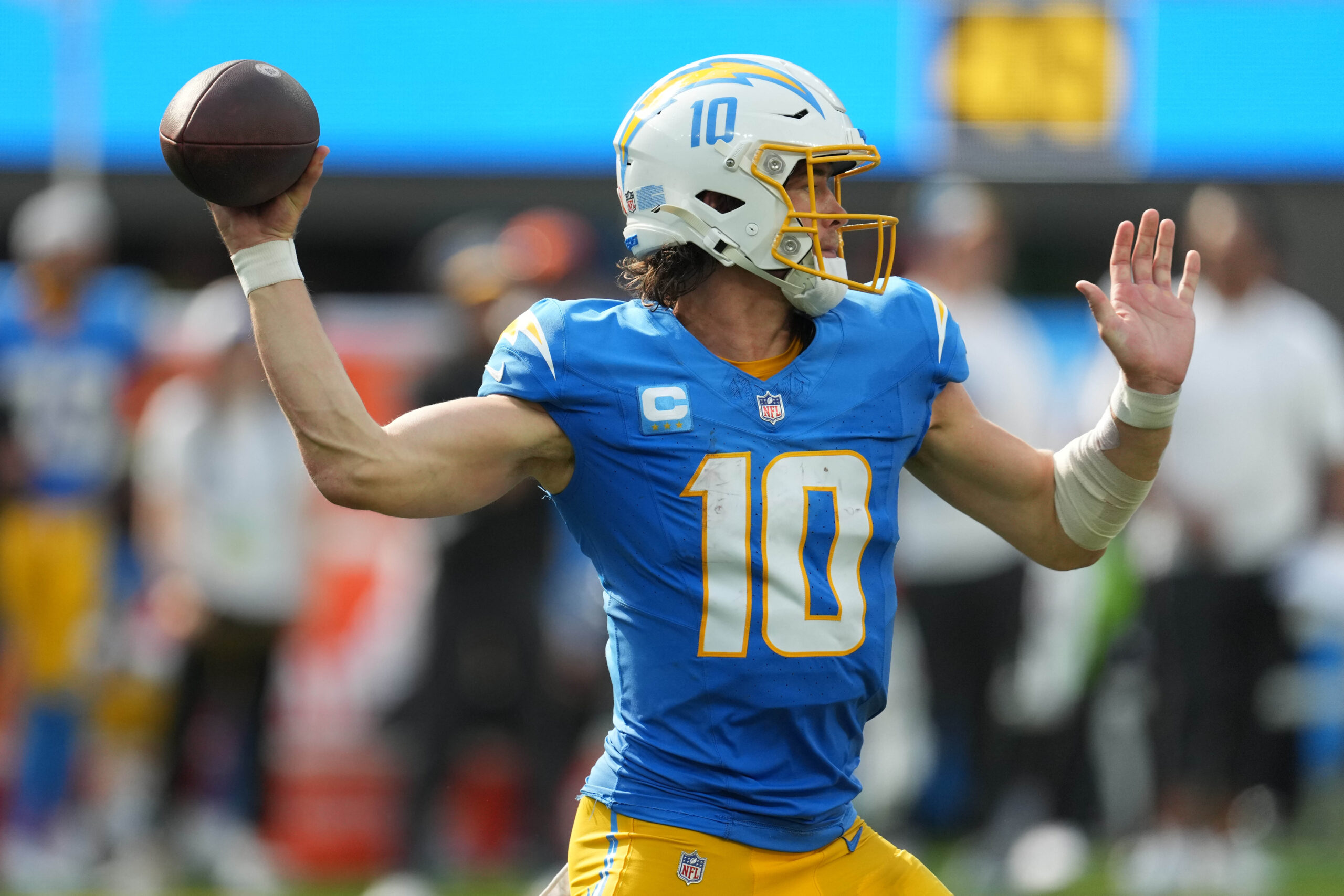 Mike Vrabel literally wore a "Run the Damn Ball" hat on national television after the Titans drafted Hasson Haskins. Derrick Henry was moving the ball against New Orleans. Why did they go away from it? Ryan Tannehill has been an NFL QB for 11 seasons now. Run what he's good at and not what he's always struggled with.
Meanwhile, Brandon Staley and the Chargers defense look about cooked. However, they still have Justin Herbert, and they ran the ball very well against Miami. That could potentially lead to their demise against Tennesee, though, because Jeffery Simmons, Arden Key, Denico Autry, and Harold Landry are a dynamic quartet of defenders.
New York Giants at Arizona Cardinals
Beasley: Giants
Bearman: Giants
Miller: Giants
Morrison: Giants
Robinson: Giants
The Cradinals ended up being surprisingly competitive against the Washington Commanders. And while the Giants got absolutely molly-whopped by the Dallas Cowboys on Sunday night, everything went wrong for them against Dallas.
The Giants' pass protection might still struggle against a scrappy Cardinals front, but the receivers should have much less trouble against the Arizona secondary than they did Dallas.
San Francisco 49ers at Los Angeles Rams
Beasley: 49ers
Bearman: 49ers
Miller: 49ers
Morrison: 49ers
Robinson: 49ers
PFN thinks very highly of the 49ers, but the Rams looked outstanding against the Seahawks on Sunday. Matthew Stafford may be back, and that could be a big problem for the NFC because he has the kind of transcendent talent to elevate a roster (to an extent.)
But the 49ers are so good. Brandon Aiyuk might be a closet top-10 WR in the NFL right now. Then Deebo Samuel, George Kittle, and Christian McCaffrey all come in relief from a weapons perspective. Their defense also dominated a Steelers offense that had a ton of hype coming into Week 1.
New York Jets at Dallas Cowboys
Beasley: Cowboys
Bearman: Cowboys
Miller: Cowboys
Morrison: Cowboys
Robinson: Cowboys
A game that just a few days ago was one circled on everyone's calendar has turned into something completely different. The air has been sucked out of this game like a Tom Brady football. But that doesn't necessarily mean it will be an awful matchup.
The Cowboys' defense should realistically make Zach Wilson's life feel like a prison when he's on the pitch. But the Cowboys offense against the Jets defense will be an incredible battle.
Dallas's offensive line performed well against a talented Giants front, and the Jets won't feel much different. They, too, have an elite interior rusher and multiple edge weapons. The matchup between the Cowboys receivers and the Jets defensive backs will be a sight to behold on Sunday.
Washington Commanders at Denver Broncos
Beasley: Broncos
Bearman: Broncos
Miller: Commanders
Morrison: Broncos
Robinson: Commanders
The Commanders offensive flaw rests in their inexperienced quarterback and underwhelming offensive line. Well, the Broncos couldn't rip through a paper bag on their way to the quarterback last week, and that came against an equally unpleasant Raiders offensive line.
Russell Wilson's inability to perform within the structure of an offense could be a massive problem for Denver against Washington. Jonathan Allen, Daron Payne, and Montez Sweat won't be letting him get outside of the pocket to make plays too often.
If this game makes it to 40 points, these defenses have either failed miserably or they have been so good that they have scored multiple touchdowns.
Miami Dolphins at New England Patriots
Beasley: Dolphins
Bearman: Dolphins
Miller: Dolphins
Morrison: Patriots
Robinson: Dolphins
It's hard not to feel some type of way about the Dolphins after watching their offensive performance against the Chargers in Week 1. But we must also remember that their run defense was horrific, and Bill Belichick won't allow things to be so easy over the middle of the field against this Miami passing attack.
But the thing is, if the Tua we saw in Week 1 is what we're about to get for 16 more weeks, it will be almost impossible to slow down this offense. If he creates the way he did and tests deep outside of the numbers with the success he had against the Chargers, he's going to break records with Tyreek Hill and Jaylen Waddle.
But Mac Jones might also be back. The Patriots threw the ball a ton in their Week 1 loss to the Eagles. With how poor the Dolphins' run defense looked against the Chargers, we could see the Patriots have themselves a big day on the ground, sustaining drives and keeping the ball away from the Dolphins' offense.
New Orleans Saints at Carolina Panthers
Beasley: Saints
Bearman: Saints
Miller: Saints
Morrison: Panthers
Robinson: Saints
The Panthers passing attack was practically nonexistent a week ago against the Falcons, and that does not bode well against a Saints defense that has a ton of talent on it. Derek Carr and the Saints offense didn't light the world on fire on the scoreboard, but Carr was far more aggressive than his usual Las Vegas self was.
Losing Jaycee Horn is a tough blow for the Panthers' secondary, which must deal with Chris Olave, Michael Thomas, and Rashid Shaheed.
Cleveland Browns at Pittsburgh Steelers
Beasley: Browns
Bearman: Steelers
Miller: Browns
Morrison: Steelers
Robinson: Browns
The Steelers always seem to find a way to keep things between the lines and finish with a winning record. They have been perpetual overachievers the past few seasons. But the fanbase had legitimate expectations this season. Week 1 was a bit of a gut punch.
MORE: 2023 NFL QB Rankings
It's tough to take too much from the Browns' victory against the Bengals because of the conditions. However, it's clear that Jim Schwartz is a madman, that the pass rush is legitimate, and that the secondary is playing far more confidently than a season ago.
The biggest questions remain around Deshaun Watson, who was bad yet again in Week 1 but had a built-in excuse because the weather was legitimately terrible. Can the Steelers defensive front make waves against a strong Cleveland offensive line?