The first NFL Sunday of the 2023 season is officially in the books, and Week 1 comes to an end tonight with the Buffalo Bills vs. New York Jets on Monday Night Football.
The NFL Week 2 betting lines came out last night, and we have already seen a lot of movement since then. Let's take a look at the odds as well as some early NFL Week 2 predictions and picks.
All the NFL betting odds at a moment's notice — visit our Betting Lines page, bookmark now, and always get the best line and bang for your buck. Our FREE Parlay Calculator and Betting Odds Calculator are also available for your betting process!
NFL Week 2 Picks and Predictions
All odds are from DraftKings Sportsbook.
Minnesota Vikings vs. Philadelphia Eagles Prediction
Spread
Eagles -7.5
Moneyline
Vikings +280, Eagles -355
Total
48.5
Both of these teams had disappointing days yesterday but with different results. The Vikings couldn't escape the "fraudulent" allegations, while the Eagles looked really rusty and out of sorts against the Patriots.
The look-ahead line was Eagles -7, but my early lean would be on taking them and the points still at home.
Lean: Eagles -7.5 (-112)
Green Bay Packers vs. Atlanta Falcons Prediction
Spread
Packers -1
Moneyline
Packers -115, Falcons -105
Total
40.5
The Packers' offense dominated a terrible Bears defense yesterday, and the Falcons beat the Panthers handedly despite a poor performance from Desmond Ridder. Right now, I like the Falcons' rushing offense against this Packers defense that was 31st in success rate in stopping the run last season.
NFL Pick and Prediction: Falcons +1 (-112)
Chicago Bears vs. Tampa Bay Buccaneers Prediction
Spread
Buccaneers -3
Moneyline
Bears +124, Buccaneers -148
Total
42
Are the Buccaneers not as bad as we thought they were, or are the Vikings just not a good football team? Too early to say, but we'll gain more clarity if they can win and cover against the Bears at home.
Pass for now, will lean Buccaneers if the line drops
Seattle Seahawks vs. Detroit Lions Prediction
Spread
Lions -5.5
Moneyline
Seahawks +190, Lions -230
Total
50.5
This was the line I was most looking forward to seeing. The look-ahead line was Lions -3, but the overreactions to their win against the Chiefs and the Seahawks' pathetic loss to the Rams at home moved the spread 2.5 points! That seems very drastic, and why I already locked in the Seahawks.
NFL Pick and Prediction: Seahawks +5.5 (-110)
Los Angeles Chargers vs. Tennessee Titans Prediction
Spread
Chargers -3
Moneyline
Chargers -148, Titans +124
Total
45.5
Hard to fade Mike Vrabel and the Titans as a home underdog, especially as we saw them basically play for the cover yesterday, kicking a field goal down 4 points with 2:17 remaining. The Chargers will be going against a much worse passing offense than the Dolphins here, but I like the Titans.
NFL Pick and Prediction: Titans +3 (-112)
Baltimore Ravens vs. Cincinnati Bengals Prediction
Spread
Bengals -3.5
Moneyline
Ravens +145 Bengals -175
Total
44.5
The Ravens beat the Texans by double-digits yesterday but at a major cost. J.K Dobbins is now out for the season, and notable players such as Marcus Williams, Ronnie Stanley, and Tyler Linderbaum all suffered injuries.
Yesterday couldn't have gone any worse for the Bengals, but we'll blame a lot of that on rust and the weather.
The Ravens played the Bengals defensively really well last season, but their offense showed some growing pains in learning the new scheme under Todd Monken.
Lean: Under 44.5 (-110)
Indianapolis Colts vs. Houston Texans Prediction
Spread
Texans -1
Moneyline
Colts -105, Texans -115
Total
40
Anthony Richardson left the game with an injury late in the fourth quarter but appears to have avoided anything serious. Meanwhile, the Texans offense struggled mightily against the Ravens, as C.J. Stroud looked like a rookie, to say the least.
I don't want to watch any of this game, so I'm going to pass for now.
Kansas City Chiefs vs. Jacksonville Jaguars Prediction
Spread
Chiefs -2.5
Moneyline
Chiefs -142, Jaguars +120
Total
51
This seems like an obvious spot to take the Chiefs. They're optimistic that Travis Kelce can return this week, which will be a huge boost for their offense.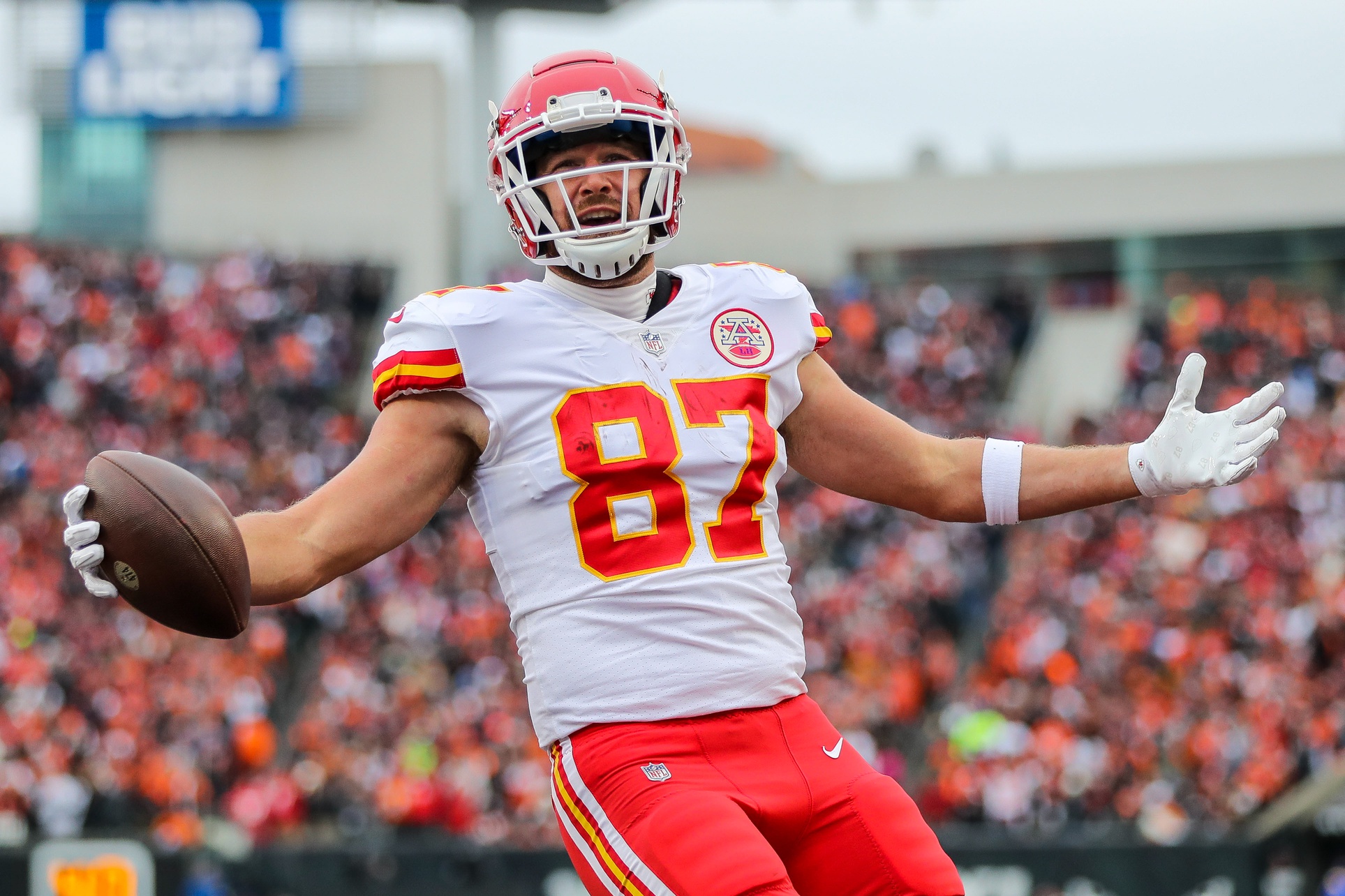 When the Chiefs are less than 3-point favorites, that's when you want to take them. For his career, Patrick Mahomes is 18-6-1 ATS as a favorite of less than 3 points.
NFL Pick and Prediction: Chiefs -2.5 (-118)
San Francisco 49ers vs. Los Angeles Rams Prediction
Spread
49ers -7
Moneyline
49ers -290, Rams +235
Total
43
The 49ers and Cowboys were the undisputed two most impressive teams yesterday, but the Rams looked good themselves, upsetting the Seahawks in Seattle without Cooper Kupp.
Kyle Shanahan has owned Sean McVay in this rivalry, and once this team takes an early lead, they're extremely difficult to come back against. It's a lot of points on the road against a division rival who might not be as bad as we originally expected, however.
Lean: 49ers -7 (-105)
New York Giants vs. Arizona Cardinals Prediction
Spread
Giants -4.5
Moneyline
Giants -205, Cardinals +170
Total
38.5
No team had a more disappointing Week 1 outing than the New York Giants did on Sunday Night Football. After watching them last night, you would be surprised to see them favored by this many points against anyone on the road, even the Arizona Cardinals.
I don't have much interest in this game, but if you think last night was an aberration for the Giants, you should back them here.
New York Jets vs. Dallas Cowboys Prediction
Spread
Cowboys -3
Moneyline
Jets +136, Cowboys -162
Total
46
We haven't seen the Jets play yet, so we have no idea what to make of them going into this matchup against the Dallas Cowboys. However, we all know their biggest weakness is their offensive line, and this Cowboys team sacked Daniel Jones seven times on Sunday Night Football. For now, this will be a lean.
Lean: Cowboys -3 (-115)
Washington Commanders vs. Denver Broncos Prediction
Spread
Broncos -3.5
Moneyline
Commanders +154, Broncos -185
Total
39
The Commanders were down 16-10 against the lowly Cardinals going into the fourth quarter yesterday before scoring 10 consecutive points to win the game. The Broncos offense got off to a good start against the Raiders, then reverted back to the team we saw a year ago with just 3 second-half points.
It's obvious that the Broncos lack playmakers on offense, and this line seems to be inflated by their home-field advantage. But Sam Howell will be going against a much tougher defense than he did this past week.
Leans: Commanders +3.5 (-112), Under 39 (-110)
Miami Dolphins vs. New England Patriots Prediction
Spread
Dolphins -2.5
Moneyline
Dolphins -130, Patriots +110
Total
45.5
The Dolphins were lights out in their win over the Los Angeles Chargers, with the Tua-to-Tyreek connection looking better than ever. They will be going against a much better defense this week in New England, who held the Eagles offense to just one touchdown.
If this line gets up to at least Dolphins -3, I'll probably lean towards the Patriots. But for now, I'm going to wait and see.
New Orleans Saints vs. Carolina Panthers Prediction
Spread
Saints -3
Moneyline
Saints -155, Panthers +130
Total
40
The Saints looked solid but unspectacular in their 16-15 win over the Titans. The spread has already gone up half a point, and the total is down 1.5 points since opening last night.
The Panthers offense struggled against the Falcons and will go against a better Saints defense on Monday night. I missed the boat on the under, as 41.5 is a key number, but it's hard for me to trust this Panthers offense this early in the season.
Lean: Saints -3 (-110)
Cleveland Browns vs. Pittsburgh Steelers Prediction
Spread
Browns -1.5
Moneyline
Browns -125, Steelers +105
Total
41
The Browns defense couldn't have played any better yesterday. Meanwhile, the Steelers offense couldn't have played any worse. Yet, I'm trying not to overreact too much to Week 1 here, and Kenny Pickett and this Steelers offense can only go up from here.
MORE: Live Betting Odds and Newest Promos
I'm going to go with the Steelers for now, but hope this line goes up more as bettors take Week 1 into too much consideration here.
NFL Pick and Prediction: Steelers +1.5 (-112)