Welcome to Week 2 of the Pro Football Network company-wide NFL power rankings! While Dalton Miller ably provides his own power rankings following the conclusion of each Sunday's action, we'll be polling each of PFN's NFL contributors to assemble our list.
Each week, we'll combine rankings from yours truly, Chief Content Officer David Bearman, NFL Director Adam Beasley, Betting Director Brian Blewis, Audience Engagement Director Mike Gambardella, COO Matt Infante, NFL Analyst Dalton Miller, Bengals Reporter Jay Morrison, Cowboys Reporter Jess Nevarez, and Fantasy Director Kyle Yates.
Which teams are too high or too low as we enter Week 2 of the 2023 NFL season?
Pro Football Network's Week 2 NFL Power Rankings
32) Arizona Cardinals
Week 1 Ranking: 32
The Arizona Cardinals' defensive front is relatively anonymous, but they played well against the Washington Commanders in a Week 1 loss, posting six sacks and two fumble recoveries (one of which Cameron Thomas took for a touchdown) while allowing 20 points.
But Arizona's offense, led by journeyman quarterback Joshua Dobbs, was dreadful. The Cardinals posted the third-fewest yards per play (3.6) of Week 1 and didn't score an offensive touchdown. It might be a long season in the desert, but Arizona is playing hard.
31) Houston Texans
Week 1 Ranking: 30
No. 2 overall pick C.J. Stroud took five sacks behind the Houston Texans' beat-up offensive line, but he showed more mobility than he did at Ohio State and — for the most part — avoided turnovers. While he didn't throw any interceptions, Stroud did lose a fumble.
But Will Anderson Jr., Houston's other 2023 first-rounder, was the star of the Texans' show. He picked up right where he left off at Alabama, posting a sack, two quarterback hits, and six tackles in his pro debut.
30) Carolina Panthers
Week 1 Ranking: 26
Mistakes were the name of the game in the Carolina Panthers' loss to the division-rival Atlanta Falcons. Atlanta managed only 221 total yards, but two Bryce Young interceptions and a Miles Sanders fumble consistently gave the Falcons generous starting field position. Carolina's defense couldn't create any turnovers, but they mostly held Atlanta in check.
29) Chicago Bears
Week 1 Ranking: 23
We were hoping to see Justin Fields display an improved pocket presence, but it didn't really happen against the Green Bay Packers on Sunday. Fields took four sacks, posted the sixth-longest time to throw among qualifying QBs, and threw a disastrous pick-six that stifled any chances the Chicago Bears had to make a comeback.
But the Bears' defense was even worse than Fields. Chicago couldn't get off the field, allowing Jordan Love and the Packers to convert nine of 16 third-down attempts. They sacked Love just once and didn't generate a single turnover.
28) Indianapolis Colts
Week 1 Ranking: T-28
Shane Steichen's Philadelphia Eagles influence on the Indianapolis Colts' playbook was evident, as Anthony Richardson took 10 carries for 40 yards and a touchdown. Indy's offensive line, maligned in 2022 after years of dominance, mostly held up against the Jacksonville Jaguars' front.
This was a three-point game with four minutes remaining in the fourth quarter. The Colts will take that against a Jacksonville club expected to compete for the AFC title.
27) Tennessee Titans
Week 1 Ranking: 25
The Tennessee Titans have to feel good about their defense, which sacked Derek Carr four times and created four turnovers. But where are the points going to come from? Derrick Henry averaged just over four yards per carry, while Ryan Tannehill threw three interceptions. How long will Tennessee give Tannehill until turning things over to Will Levis or Malik Willis?
26) Denver Broncos
Week 1 Ranking: 21
Russell Wilson looked much improved under Sean Payton's tutelage, which is just about all Denver Broncos fans can ask for. Wilson completed 17 of his first 19 attempts and finished with two touchdown passes, but he averaged just 5.2 yards per attempt. Denver didn't have Jerry Jeudy, while tight end Greg Dulcich left midway through the game with a leg injury.
25) Tampa Bay Buccaneers
Week 1 Ranking: 31
The Tampa Bay Buccaneers made a small leap in the PFN power rankings, jumping from 31st to 25th after upsetting the Minnesota Vikings in Week 1. Baker Mayfield showed a connection with Mike Evans and Chris Godwin, while Tampa Bay's veteran-laden defense turned over Kirk Cousins three times.
MORE: News Tracker
The Bucs have too much talent to truly bottom out, even without Tom Brady on the roster. Could they actually compete in the NFC South? We'll have to wait to find out, but an opening-week win is a solid start.
T-23) Washington Commanders
Week 1 Ranking: 24
Washington almost gave away a game to the Cardinals, a team nearly everyone in NFL media has deemed the worst club in the NFL. First-year starter Sam Howell was decent but not overly efficient, and he coughed up the ball twice. The Commanders' defensive line essentially took over and won this game on a three-play sequence in the third quarter.
T-23) New York Giants
Week 1 Ranking: 17
What an absolute disaster from start to finish. Daniel Jones was horrendous, completing just 15 passes for 104 yards while taking seven sacks and throwing two picks. He finished dead last in Week 1 with an 8.4 QBR.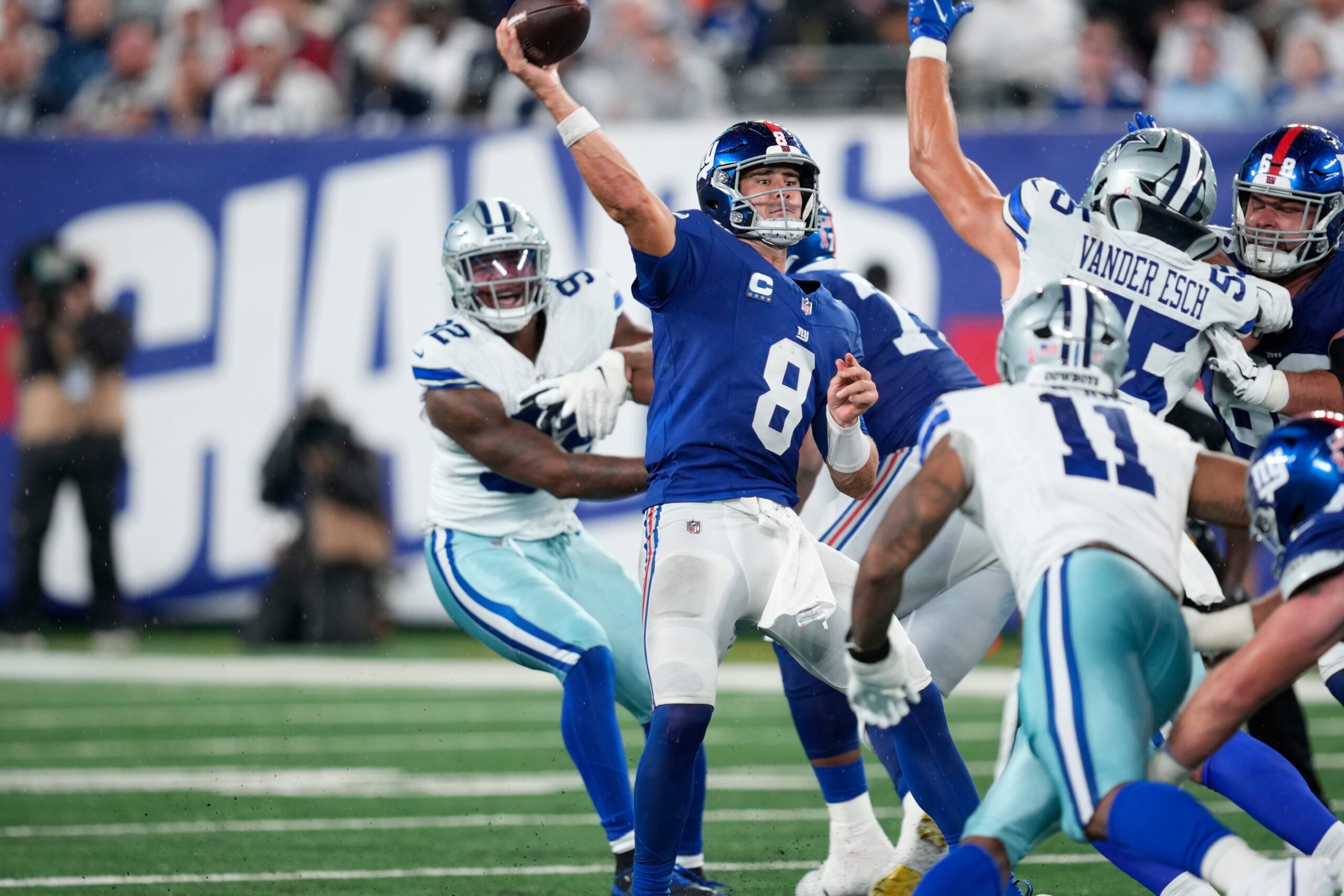 The Dallas Cowboys have arguably the best defense in the league, so it's hard to assess just how poorly the New York Giants offense played. It was a poor start to the season, but we have enough faith in the Giants' coaching staff to get things right when Big Blue takes on the Cardinals in Week 2.
22) Las Vegas Raiders
Week 1 Ranking: 27
We're not sure what to make of the Las Vegas Raiders' victory over the Broncos. It's always good to start the season with a win over a divisional opponent, but Las Vegas only put up 17 points. Free agent addition Jakobi Meyers was the star of the show with two touchdowns, but he left in the fourth quarter to be evaluated for a concussion.
21) Los Angeles Rams
Week 1 Ranking: T-28
The Los Angeles Rams were one of two NFL teams to make a seven-spot jump in the PFN NFL Power Rankings (we'll get to the other in just a bit).
Matthew Stafford looked totally reborn, while Puka Nacua and Tuta Atwell should give Los Angeles a set of viable wide receivers while Cooper Kupp is sidelined. It's far too early to say if the Rams can rebound from their horrendous 2022 campaign to compete this year, but L.A. might not roll over like many thought.
20) Minnesota Vikings
Week 1 Ranking: 18
We knew regression was coming for the Vikings, and it hit hard on Sunday. After going undefeated in one-score games in 2022, Minnesota is now 0-1 in single-score games after losing 20-17 to the Buccaneers.
But no one on Tampa Bay's roster could contend with Justin Jefferson, who followed up his 1,800-yard season with 150 yards in Week 1. However, 138 of those yards came in the first half.
19) Pittsburgh Steelers
Week 1 Ranking: 30
The Pittsburgh Steelers were a popular upset pick in Week 1 (including by yours truly), but they couldn't handle the onslaught from the San Francisco 49ers. Kenny Pickett and Co.'s preseason fireworks didn't translate to the regular season, and the 2022 first-round pick threw two picks and took five sacks.
Mike Tomlin's club will be without receiver Diontae Johnson and defensive lineman Cameron Heyward for several weeks after both suffered injuries against San Francisco.
18) Atlanta Falcons
Week 1 Ranking: 20
Jessie Bates III already looks like one of the offseason's best free agent signings, as the veteran safety picked off Bryce Young twice in his Falcons debut.
Bijan Robinson and Tyler Allgeier looked like a force to be reckoned with on the ground, but how far can Atlanta go with Desmond Ridder under center? He completed 83% of his passes, but the Falcons only asked him to drop back 18 times. Ridder will face much stiffer tests, starting in Week 2 when Atlanta plays Green Bay.
17) Seattle Seahawks
Week 1 Ranking: 11
Seattle fell from 11th in our Week 1 PFN NFL Power Rankings to 17th after getting boat raced by the Rams on Sunday. While the Seahawks were a trendy Super Bowl pick, they managed just 12 second-half yards against a Los Angeles defense that probably boasts one player — Aaron Donald — the average NFL fan could name.
Geno Smith will have better days, and maybe the Rams are just better than we thought. But this wasn't the way Pete Carroll wanted to begin the year.
16) New England Patriots
Week 1 Ranking: 19
The New England Patriots came oh-so-close to knocking off the defending NFC Champion Eagles in Week 1. If only rookie receiver Kayshon Boutte had been able to get another toe inbounds on New England's final drive, the Pats had a realistic chance to win against Philadelphia.
Holding Jalen Hurts and the Eagles to just 18 offensive points is a definite win for the Pats' defense. New England couldn't get its running game going, but Mac Jones looked much better than he did in 2022. While the Patriots don't want Jones dropping back 50+ times per game, the third-year passer can do more with Bill O'Brien calling plays than he could with Matt Patricia at the helm.
15) Green Bay Packers
Week 1 Ranking: 22
The Packers joined the Rams as the only other team to improve by at least seven spots in our rankings. Sure, Jordan Love benefitted from playing the Bears' porous defense. But there's no arguing with a 245-yard, three-touchdown, turnover-free day from Green Bay's new starter. Detroit remains the favorite in the NFC North, but the Packers should remain in the mix until the end of the year.
14) New Orleans Saints
Week 1 Ranking: 16
Derek Carr was efficient enough in his first Saints start to earn the win, but New Orleans' offensive line didn't do him any favors. The Saints finished 30th in pass-block win rate on Sunday, and left tackle Trevor Penning was the root cause. The 2022 first-round pick had a PBWR of just 66%, dead last among all tackles in Week 1.
13) New York Jets
Week 1 Ranking: 9
The New York Jets registered a pyrrhic victory, defeating the Buffalo Bills in overtime but losing Aaron Rodgers for the season in the process. Robert Saleh is adamant New York will roll with Zach Wilson for the rest of the season, but we'll see how long he actually keeps that promise.
MORE: Could the New York Jets Trade for a QB After Aaron Rodgers' Injury?
Gang Green's weapons and defense are good enough for the Jets to compete with even average play under center — but Wilson hasn't come close to delivering that sort of performance through two seasons. A free-agent addition or trade makes sense for New York.
12) Los Angeles Chargers
Week 1 Ranking: 12
The Los Angeles Chargers narrowly lost to the Miami Dolphins in Week 1's most exciting game, but there's a lot for Los Angeles to be excited about. After ranking near the bottom of the NFL in average depth of target in 2022, Justin Herbert was allowed to push the ball downfield and finished 17th in aDOT on Sunday.
Los Angeles lapped the league in rushing efficiency against Miami, posting 0.322 EPA per attempt on the ground. That means they were as effective running the ball on Sunday as Patrick Mahomes was throwing the ball in 2022. But Austin Ekeler's ankle injury puts a damper on that success.
11) Cleveland Browns
Week 1 Ranking: 15
Jim Schwartz's Cleveland Browns defense put on a clinic against the Cincinnati Bengals on Sunday, constantly pressuring Joe Burrow and forcing the NFL's highest-paid player into the worst game of his career.
But there were issues on the offensive side of the ball, where Deshaun Watson also struggled (although not as much as Burrow). Cleveland can always lean on Nick Chubb, but they'll be without right tackle Jack Conklin, who suffered a season-ending knee injury in Week 1.
10) Buffalo Bills
Week 1 Ranking: 4
Josh Allen remains one of the league's most talented quarterbacks, but he has to figure out a way to rein in his worst impulses. He tossed three touchdowns against the Jets on Monday night (all to safety Jordan Whitehead) and gave New York a free field goal by fumbling deep in his own territory in the fourth quarter.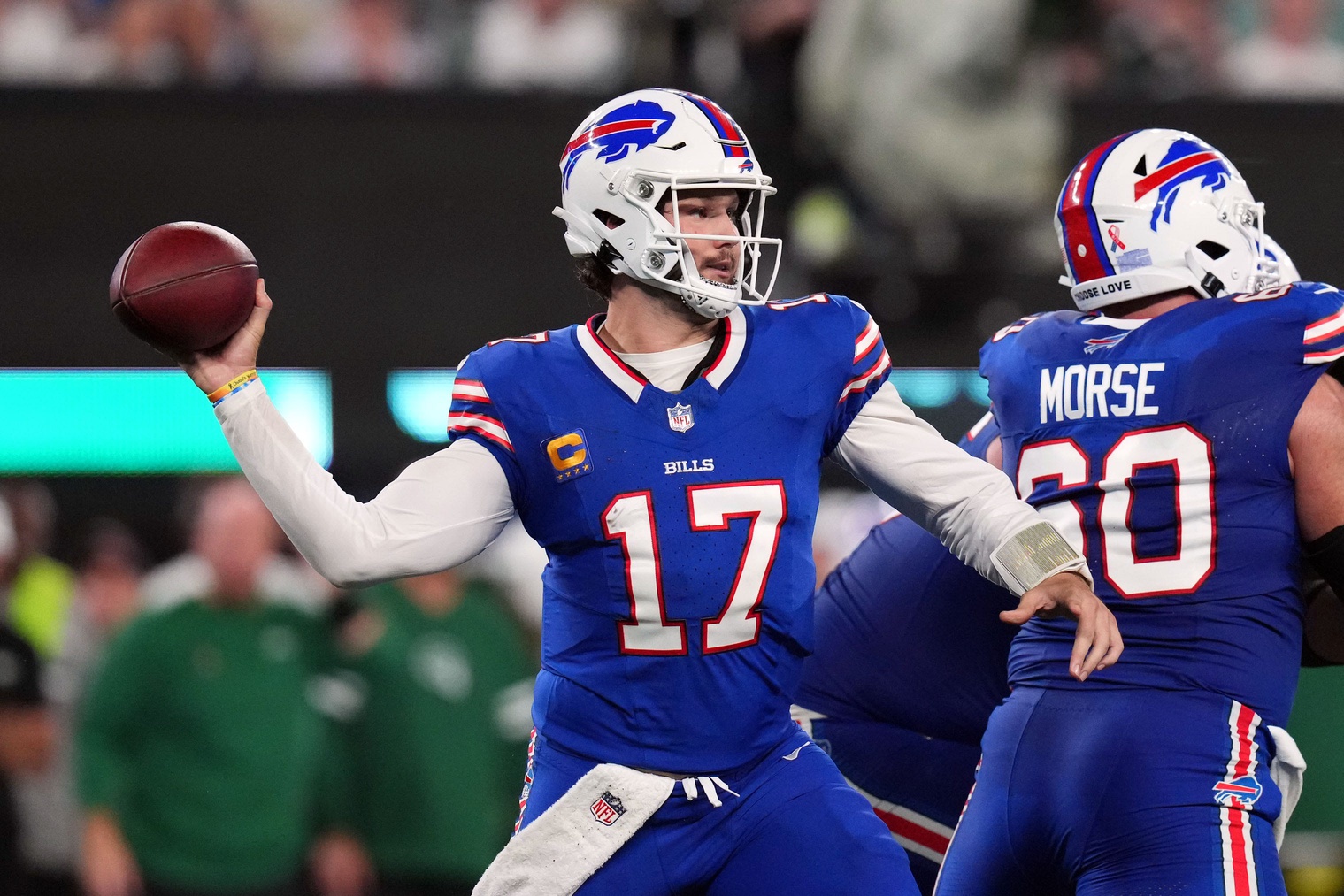 The Bills are absolutely a Super Bowl contender. But there's only one word that comes to mind for Buffalo's overtime loss to a Rodgers-less Jets squad: disaster.
9) Jacksonville Jaguars
Week 1 Ranking: 10
While the Jaguars made enough errors to allow the Colts to stay in Sunday's contest, the Trevor Lawrence-to-Calvin Ridley connection already looks incredibly strong. Jacksonville probably didn't play as well as it wanted to in Week 1, but they still emerged with a win. The rest of the AFC South might not offer any legitimate competition for Doug Pederson's team this season.
8) Detroit Lions
Week 1 Ranking: 13
It might not be an exaggeration to say the Lions' victory over the Kansas City Chiefs on Thursday night was among the biggest wins in franchise history. Detroit doesn't exactly have a history of playoff success, so knocking off the defending Super Bowl champions on the NFL's opening night was massive for the organization as a whole.
7) Cincinnati Bengals
Week 1 Ranking: 3
The Bengals turned an 0-2 start in 2022 into an AFC Championship Game appearance, and they'll have to rebound from another poor beginning in 2023.
Burrow looked abysmal, and it's feasible to use his training camp calf injury, his lack of reps, or the treacherous weather conditions in Cleveland as an excuse. Cincinnati still has one of the league's best rosters, but if they lose to the Ravens next week, they'll have to drag themselves out of another 0-2 hole in an uber-competitive AFC.
6) Baltimore Ravens
Week 1 Ranking: T-7
The Ravens defeated the lowly Texans on Sunday, but injuries were the story of Week 1 in Baltimore.
J.K. Dobbins is out for the year after tearing his Achilles. Safety Marcus Williams will miss time with a pectoral injury and could be sidelined for the entire season. Offensive linemen Ronnie Stanley and Tyler Linderbaum are week-to-week. And a quad injury kept Mark Andrews from suiting up against Houston.
5) Miami Dolphins
Week 1 Ranking: T-7
If the 2023 season ended today, Tua Tagovailoa would be MVP, Tyreek Hill would win Offensive Player of the Year, and Mike McDaniel would collect the Coach of the Year award.
Not a bad start to the year.
MORE: NFL Offense Rankings 2023
Tagovailoa was absolutely electric against the Chargers, using the space created by McDaniel's play-calling to throw for 466 yards while demonstrating an ability to create out of structure that hasn't always been there. Meanwhile, Hill is on pace for a tidy 3,655 receiving yards.
4) Kansas City Chiefs
Week 1 Ranking: 1
It almost feels strange to move the Chiefs out of the No. 1 spot, but they did lose their season-opening game. But it's not just that defeat to the Lions that dropped Kansas City.
Travis Kelce's bone bruise kept him out of Thursday night's contest, and it's unclear when he'll be available. Mahomes remains one of the best QBs in league history, but his pass-catching corps didn't do him any favors against Detroit. Kadarius Toney posted one of the worst wideout performances in recent memory, while Skyy Moore made plenty of mistakes, too.
Chris Jones' pending return will give Kansas City's defense a boost, but the Chiefs desperately need Kelce to come back.
3) Dallas Cowboys
Week 1 Ranking: 6
Just go ahead and give Dan Quinn a head coaching job now. Quinn's Cowboys defense absolutely destroyed the Giants on Sunday night, creating six points of their own on a pick-six while holding New York scoreless.
From top to bottom, Dallas might have the best roster in the NFL. Dak Prescott and Co. weren't asked to do a lot against the Giants but still managed to put up 27 offensive points. It's hard to find a hole on this team, and injuries along the offensive line are the Cowboys' only real concern right now.
2) Philadelphia Eagles
Week 1 Ranking: 2
The Eagles' offense wasn't as explosive in Week 1 as it'd been in 2022, but that's to be expected when facing the Patriots' elite defense. Philadelphia surprisingly made Kenneth Gainwell their lead back on Sunday, and it bears watching how Nick Sirianni deploys his RB rotation moving forward.
Speaking of Sirianni, he would be facing a lot more questions about his fourth-down decision-making if New England had completed its comeback.
While we normally love Sirianni's aggressiveness, attempting (and failing at) a fourth-down conversion at the Patriots' 44-yard line with two minutes remaining in the game — instead of punting and forcing New England to drive the length of the field with only one timeout — was probably a mistake.
1)  San Francisco 49ers
Week 1 Ranking: 5
The 49ers could hardly have done a single thing better against the Steelers on Sunday.
Brock Purdy was extremely efficient in his first game after UCL surgery and led the NFL with a 91.3 QBR in Week 1. Christian McCaffrey gained every blocked yard and then some, finishing third in rushing yards over expected per attempt. And Brandon Aiyuk punctuated his coming-out party with eight catches for 129 yards and two touchdowns.
On the other side of the ball, defensive coordinator Steve Wilks' first game as DeMeco Ryans' replacement could hardly have gone better. San Francisco sacked Pickett five times, intercepted him twice, and held the Steelers to just 239 total yards of offense.