The San Francisco 49ers are once again amongst the heavy favorites to win the Super Bowl in 2023. Coming off a 13-4 season that included the team unearthing an unexpected franchise quarterback, the 49ers are hoping injury luck won't get in their way this season.
With that in mind, we dive into what the best and worst-case scenarios are for the 49ers in 2023.
Predicting the Best-Case Scenario for the San Francisco 49ers' 2023 NFL Season
The sour taste that had to be left in the 49ers' mouths after their 31-7 NFC Conference Championship loss to the Philadelphia Eagles had to be palpable. It's not that the 49ers were better than the Eagles, because they likely weren't, but they never stood a chance in the bout of heavyweights.
With rookie quarterback Brock Purdy suffering a torn UCL in his throwing elbow early in the game, the 49ers had to rely on Josh Johnson to compete against the Eagles.
MORE: San Francisco 49ers 2023 Season Preview
Johnson was signed only a month before the game after the 49ers saw Jimmy Garoppolo and Trey Lance suffer season-ending injuries earlier in the year. Purdy certainly held his own despite being the last pick in the 2022 NFL Draft. He completed 67.1% of his passes for 13 touchdowns and four interceptions, winning all five of his regular-season starts.
San Francisco's win total at DraftKings Sportsbook is 10.5, and they're +1000 to win the Super Bowl. While it could help that the 49ers have a middle-of-the-road schedule in the league, the franchise has its eyes on the postseason more than regular-season success.
Brock Purdy, or Trey Lance, Is a Franchise Quarterback
For as much that went right for the 49ers in 2022, things were still quite sideways. Lance was awful in the two games he played in before breaking his ankle, Garoppolo again suffered a major injury, Deebo Samuel was "out of shape," and the team was compelled to trade a bevy of draft picks to acquire running back Christian McCaffrey. The lack of continuity could've been devastating to their season.
The 2023 campaign can be better simply by not having so many disruptive occurrences. Signs are pointing toward Purdy being ready to start Week 1, and 49ers' offensive assistant Klay Kubiak said Lance's passing motion has seen "a lot of improvement."
Having one player establish themselves as the consistent starter is a great outcome, but one proving to be a star is the best-case scenario for a loaded team.
Head coach Kyle Shanahan has often stuck with quarterbacks who can simply run his scheme at an effective, predictable rate, which is what made the Lance pick peculiar in the first place. But to fully unlock an offense that has several stars on it, including Samuel, McCaffrey, Brandon Aiyuk, and George Kittle, one of the two passers has to become at least above average.
Purdy flashed timely playmaking throughout his eight starts and is an accurate passer, giving him the edge in the competition. However, if Lance is transformative throughout this offseason and into the preseason, Shanahan must consider going with the higher-upside player.
With the top teams each possessing dual threats who can change the game with elite traits, the 49ers' best chance to win a Super Bowl is with the player who can take the team to the next level when it matters most.
Steve Wilks Keeps the Defense Buzzing
Losing defensive coordinator DeMeco Ryans hurts more than any single-player departure the team has dealt with in recent years. Despite missing out on Vic Fangio as a replacement, the 49ers did well to nab Steve Wilks. Wilks will benefit from the addition of star defensive tackle Javon Hargrave to the middle of an incredibly talented unit.
MORE: Best NFL Offenses | Best NFL Defenses 
For the 49ers to win the NFC West over Seattle and win the Super Bowl, they'll have to continue churning out an elite defense. Ryans helped the defense finish first in points and yards allowed, notably starring against the run and forcing interceptions. They stifled opponents throughout the year, allowing more than 20 points only three times until the playoffs.
With Jimmie Ward, Samson Ebukam, and Charles Omenihu departing in free agency, the 49ers' depth will be tested a bit. But Wilks admitted he's looking to keep the "foundation" of what's currently been in place because it's worked so well. This one isn't complex, but getting All-Pro-type seasons from Nick Bosa, Hargrave, and Fred Warner will go a long way.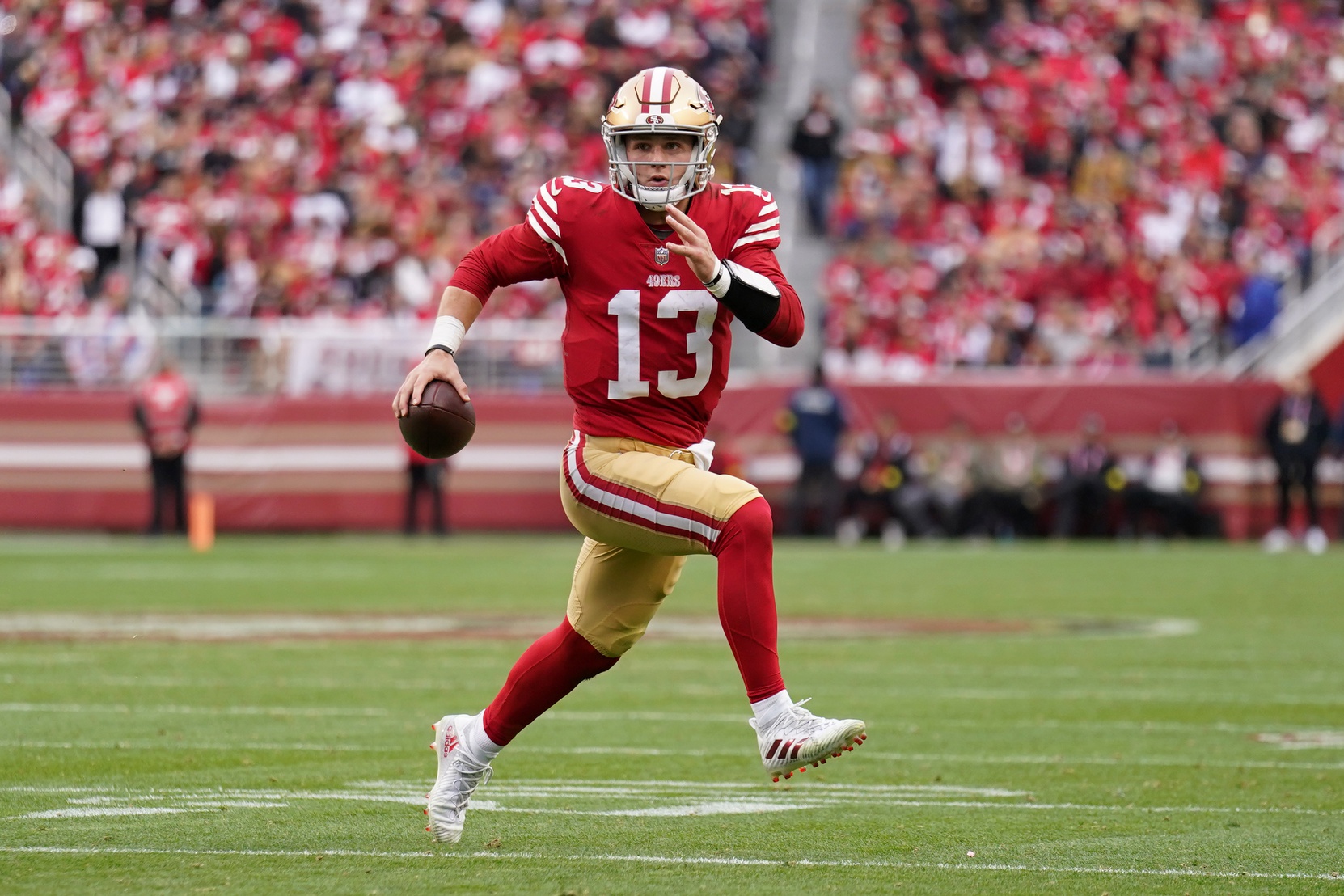 Predicting the Worst-Case Scenario for the 49ers' 2023 NFL Season
It's difficult for Super Bowl contenders to accept anything less than a Lombardi Trophy, but things can be much worse. Considering the 49ers have their own first and second-round picks in 2024 after missing out on them recently after the Lance and McCaffrey trades, the team has some assets to fall back on in the absolute worst-case scenarios.
However, the franchise can be in a bad long-term position compared to how they're viewed right now if these two things happen.
Neither Purdy Nor Lance Is Special
Neither Purdy nor Lance is guaranteed to be anything beyond placeholders. Lance has shown nothing to believe he's any more than an athletic flier at this point, and Purdy's rookie season may have been smoke and mirrors.
Purdy averaged only 218 yards per start last year and benefited from the most receiving yards after the catch per target and second-best game script. He had as many danger plays (17) as money throws (16) and racked up 12 interceptable passes to go with his 13 passing touchdowns.
MORE: San Francisco 49ers 2023 Schedule
Regression is more likely than not, considering Purdy's overall play was masked by good luck, an extreme game plan to hide his weaknesses, and the likelihood of a sophomore slump.
If the 49ers have only average or worse play at quarterback, they'll continue to be a pseudo-contender who needs everything to go right around the quarterback to have a chance at progressing in the playoffs.
The Injury Bug Strikes Again
The 49ers adopted an incredibly run-heavy approach once Purdy entered the lineup. McCaffrey, whose career could've been on the brink of entering life support if he had suffered another major injury with the Panthers, took on a heavy workload as soon as San Francisco acquired him. He averaged over 20 touches a game for the 49ers, including four with 25+.
That same recipe won't continue to work, given McCaffrey's fragility. Oddly, San Francisco opted against investing in a capable back to spell McCaffrey in the draft, leaving them to rely on another player with soft tissue injuries in his past, Elijah Mitchell, as their primary backup.
Bosa and Samuel have also had significant injuries in the past as well. The 49ers' injury woes have gone back a decade, and it's always a looming threat over the franchise. It's the primary reason the 49ers have had three losing seasons in Shanahan's tenure and why they can bounce between winning six and 13 games in any given season.