The San Francisco 49ers have been anything but mediocre since Kyle Shanahan became their head coach. They've existed on opposite ends of the spectrum, either losing 10-plus games or winning as many, depending on Jimmy Garoppolo's health. But as the 49ers' season preview suggests, there may not be a hard floor for the team any longer.
Everything You Need Ahead of the San Francisco 49ers' 2023 NFL Season
The 49ers head into the 2023 NFL season with high expectations. However, they need all of their quarterbacks to get back to 100% health before the season rolls around in September.
San Francisco 49ers Roster Changes
Players Signed

DT Javon Hargrave
C Jake Brendel
CB Isaiah Oliver
QB Sam Darnold
EDGE Clelin Ferrell
C Jon Feliciano
LB Demetrius Flannigan-Fowles
TE Ross Dwelley
QB Brandon Allen
DT T.Y. McGill
G Matt Pryor
EDGE Austin Bryant
EDGE Kerry Hyder
CB Myles Hartsfield
DT Marlon Davidson
TE Troy Fumagalli
WR Isaiah Winstead
WR Willie Snead IV
Players Lost

OT Daniel Bruskill
LB Azeez Al-Shaair
TE Tyler Kroft
QB Jimmy Garoppolo
EDGE Jordan Willis
EDGE Charles Omenihu
EDGE Samson Ebukam
S Jimmie Ward
DT Hassan Ridgeway
S Tarvarius Moore
CB Emmanuel Moseley
OT Mike McGlinchey
QB Josh Johnson
Expired Contracts

K Robbie Gould
DT Maurice Hurst
CB Jason Verrett

Players Cut/Waived
Players Drafted

Ji'Ayir Brown
Jake Moody
Cameron Latu
Darrell Luter Jr.
Robert Beal Jr.
Dee Winters
Brayden Willis
Ronnie Bell
Jalen Graham
San Francisco 49ers Coaching Staff in 2023
Head Coach: Kyle Shanahan

Assistant to the Head Coach: Patrick Hagedorn
Assistant Head Coach/Running Back: Anthony Lynn
Coaching Operations Assistant: Max Molz

Offensive Coordinator: Vacant

Offensive Line/Run Game Coordinator: Chris Foerster
Assistant Offensive Line: James Cregg
Tight Ends: Brian Fleury
Assistant Offensive Line: Joe Graves
Quarterback: Brian Griese
Wide Receiver: Leonard Hankerson
Assistant Quarterback: Klay Kubiak
Passing Game Specialist: Klint Kubiak
Quality Control: Asauni Rufus
Quality Control: Deuce Schwartz
Running Backs: Robert Turner Jr.

Defensive Coordinator: Steve Wilks

Defensive Backs: Daniel Bullocks
Assistant Defensive Backs: Andrew Hayes-Stoker
Linebackers: Johnny Holland
Defensive Line: Kris Kocurek
Passing Game Specialist/Nickels: Nick Sorensen
Assistant Defensive Line: Darryl Tapp
Quality Control: Jacob Webster

Special Teams Coordinator: Brian Schneider

Assistant Special Teams: Mattew Harper
Special Teams Quality Control/Game Management Specialist: August Mangin
Predicting the San Francisco 49ers Depth Chart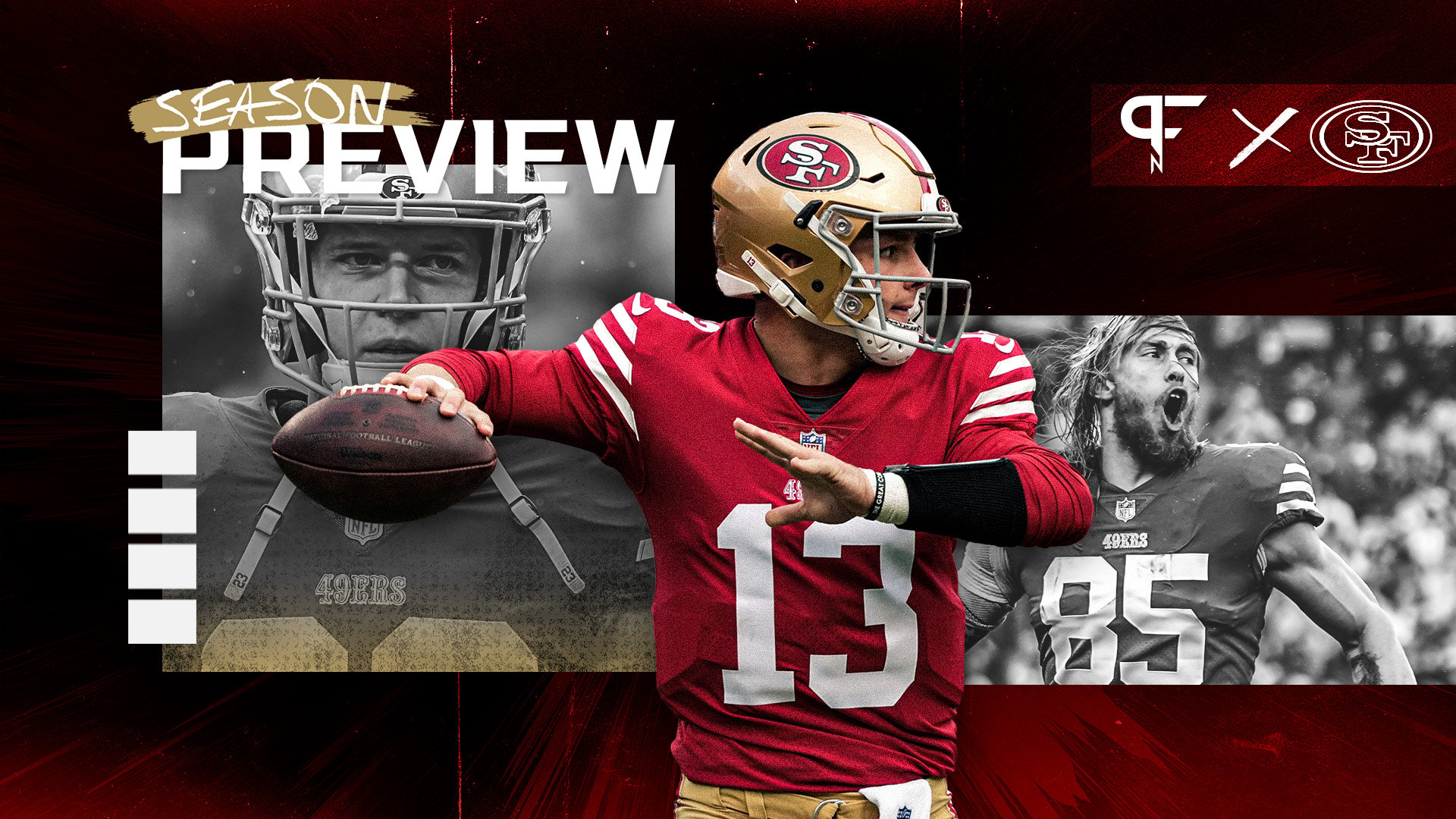 Offense
QB: Brock Purdy, Trey Lance, Sam Darnold
RB: Christian McCaffrey, Elijah Mitchell, Tyrion Davis-Price, Jordan Mason, Kyle Juszczyk (FB)
WR: Deebo Samuel, Brandon Aiyuk, Jauan Jennings, Ray-Ray McCloud III, Chris Conley, Danny Gray
TE: George Kittle, Cameron Latu, Charlie Woerner
LT: Trent Williams, Matt Pryor
LG: Aaron Banks
C: Jake Brendel, Jon Feliciano
RG: Spencer Burford, Nick Zakelj
RT: Colton McKivitz, Jaylon Moore
Defense
DE: Nick Bosa, Drake Jackson, Kerry Hyder, Clelin Ferrell, Robert Beal Jr.
DT: Javon Hargrave, Arik Armstead, Javon Kinlaw, Kevin Givens, T.Y. McGill
LB: Fred Warner, Dre Greenlaw, Oren Burks, Dee Winters, Demetrius Flannigan-Fowles
CB: Deommodore Lenoir, Charvarius Ward, Isaiah Oliver, Darrell Luter Jr., Samuel Womack III, Ambry Thomas
S: Talanoa Hufanga, Tashaun Gipson Jr., Ji'Ayir Brown, George Odum
2022 Results and Standings
The 49ers were outstanding in 2022. After their bye week in Week 9, they seemed unbeatable. Not only were they winning games in the back half of the season, but they were also dominating them. They rattled off 10 consecutive wins and only three of those were by one score or less. They had more wins by more than two scores than wins by fewer than one. Their offense hummed and their defense dominated.
But in true Shanahan fashion, all of his quarterbacks ended up with serious injuries, and they were left to fight against Philadelphia with Josh Johnson. That was proof that Shanahan's offense and the 49ers' personnel didn't make the offense entirely QB-proof.
2023 Power Ranking and Season Outlook
There were five NFL teams in Tier 1 PFN NFL Analyst Dallas Robinson's latest NFL Power Rankings, and the 49ers were one of them. In fact, they ranked fourth in the league, behind only Philadelphia in the NFC.
According to PFN's strength of schedule model, the 49ers also have only the 15th-most difficult schedule in the NFL. They also have the easiest schedule inside their own division despite having a first-place schedule. So the 49ers should be at a huge advantage, given their roster dominance and ease of schedule.
But this is also the Niners, and for some reason, they can't seem to keep quarterbacks healthy, at least when they're playing well. Having Purdy, Lance, and Darnold all on the roster is a very nice weighted blanket that should help people feel comfortable with their situation.
The defensive performance is the most intriguing part of their season. Losing DeMeco Ryans could make a big difference in defensive performance. However, it's not as though Wilks isn't a very good defensive coordinator in his own right. He has also been going through a crash course in the 49ers defense because there are many veterans on the roster and schematic continuity is important.
"You come in here, you make your own secondary," Shanahan recalled his message to Wilks. "But I want you to learn everything we've done here over the past six years."
The 49ers have played quite a bit of Cover 3 zone coverages over the years, although they change up the way they present it often. Wilks has spent a lot of his coaching career preferring man coverage, and the 49ers will likely implement more of it in 2023.
"I think you have to explore and experiment with everything," Wilks said. "My background is diverse in zone as well as man, and I think it can change each week based off your opponent and who you are playing. But do I feel like we have the skill set to play more man? Yes."