Back when I started covering the NFL in 1999, there were "salary cap casualties" all over the place, but that has changed over the years with significant rises in the cap due to CBA negotiations.
So, it's very rare that a club will have to release a player for cap purposes.
Latest NFL News and Rumors: Insight Ahead of NFL Cuts
Teams simply decide not to bring a player back due to performance reasons, and if they have any cap issue, they'll ask players to restructure to create space, extend a player's contract — which gives them cap relief in the current year — or they'll ask players they think are on the decline to take a pay reduction.
With that in mind, let's take an inside look at where some NFC teams are, not only with their current salary cap situation but also in the future, and what challenging situations are ahead of them ahead of the NFL cutdown deadline.
In addition, we'll take an inside look at some contracts that tell a story of where that particular team is at a key position.
Arizona Cardinals
The Arizona Cardinals are in good salary cap shape (over $24 million available) as we get closer to the start of the regular season, so there's no need to do any contract restructures for any potential extensions or release players to create more space.
They did some restructures of roster bonuses converted to signing bonuses for RB James Conner, TE Zach Ertz, and LT D.J. Humphries back in March, which cleared up over $11 million in space.
But for the future, there's one big situation to keep an eye on.
Due to his contract structure, starting QB Kyler Murray's salary cap number jumps from $16 million this season to a whopping $51.9 million in 2024, which could make him a candidate for a restructuring heading into free agency next March.
Atlanta Falcons
With a much bigger cash budget this time around and with a ton of salary cap space available, Atlanta Falcons GM Terry Fontenot was able to be very aggressive in free agency for the first time in his three years with the team.
And armed with over $10 million in current available salary cap space, Atlanta is in good enough shape under the cap to still maneuver if need be.
And that's after they extended starting G Chris Lindstrom (five years, $102.5 million, $48.2 million fully guaranteed) as well as RT Kaleb McGary (three years, $34.5 million, $15 million fully guaranteed) in March.
The Falcons also signed several veteran key free agents, such as:
QB Taylor Heinicke (two years, $14 million, $6.3 million fully guaranteed)
DTs Calais Campbell (one year, $7 million fully guaranteed) and David Onyemata (three years, $35 million, $24.5 million fully guaranteed)
ILB Kaden Elliss (three years, $21.5 million, $10.2 million fully guaranteed)
S Jessie Bates (four years, $72 million, $36 million fully guaranteed)
The team picked up Lindstrom's fifth-year option last year and then extended his contract earlier this year, which could be the same path for starting CB A.J. Terrell.
Terrell, a first-round pick in 2020, is under a team-friendly salary ($2.6 million) and has a cap-friendly number for this season ($4.6 million). His fifth-year option salary jumps to $12.3 million for the 2024 season.
As for veteran RB Cordarrelle Patterson, he's scheduled to earn $4.3 million in non-guaranteed base salary.
While he's scheduled to be a backup this season, the Falcons can easily handle his salary under their salary cap. He's currently dealing with a soft tissue injury, according to head coach Arthur Smith.
Carolina Panthers
In order to be aggressive in free agency, the Carolina Panthers got some veterans to agree to take pay a reduction (TE Ian Thomas and ILB Shaq Thompson) and also were able to get some key veterans to agree to restructured contracts (RT Taylor Moton, G Austin Corbett, and CB Donte
Jackson).
Moton's cap number will jump from $13.5 million this season to $29.8 million in 2024.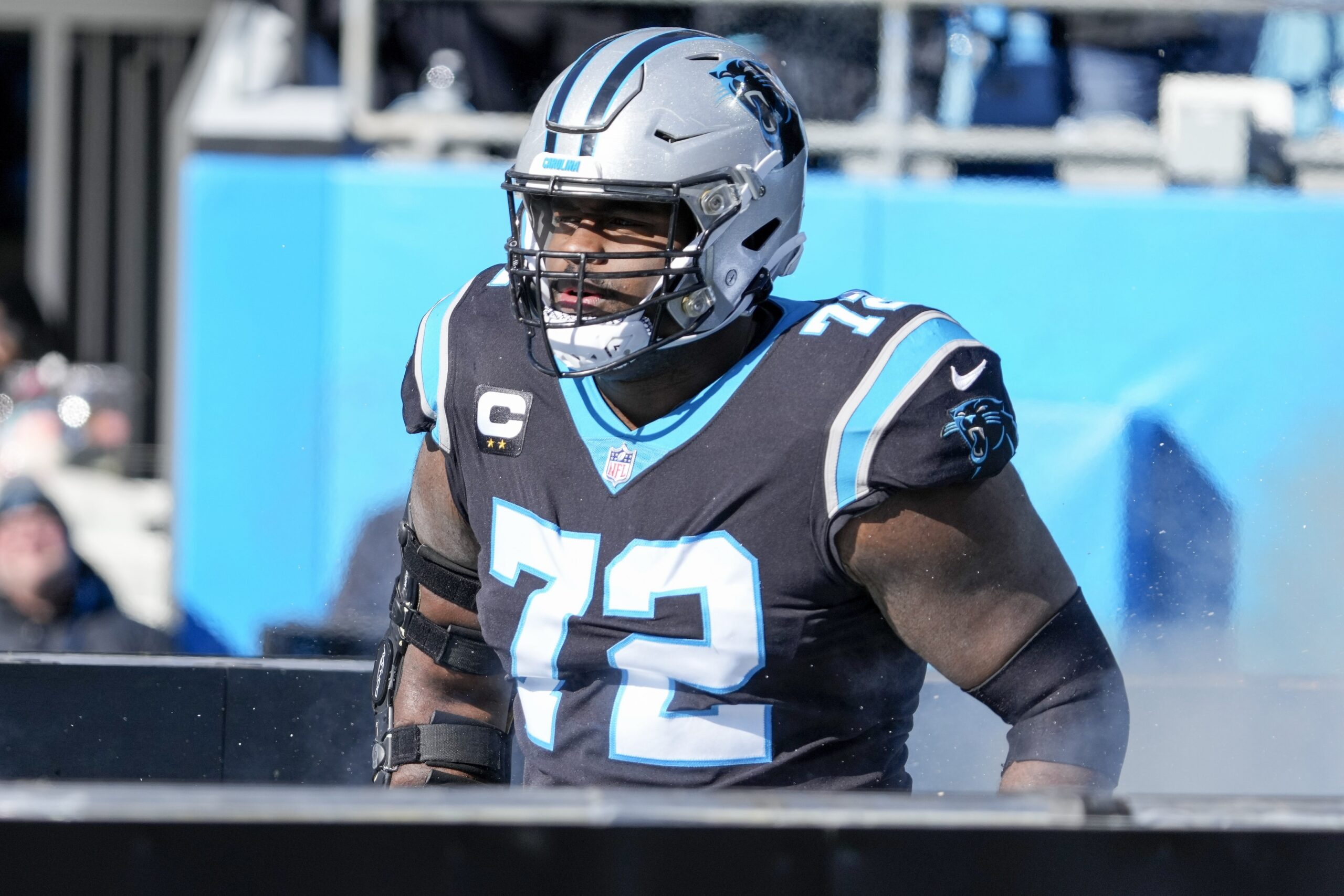 Armed with a much better salary cap situation after making the above moves back in March and also with the strong belief that they were going to draft their franchise quarterback with their first-round pick (Bryce Young), GM Scott Fitterer wisely decided to be aggressive in free agency:
RB Miles Sanders (four years, $25.4 million, $13 million fully guaranteed)
WRs Adam Thielen (three years, $25 million, $14 million fully guaranteed) and DJ Chark (one year, $5 million, fully guaranteed)
TE Hayden Hurst (three years, $21.8 million, $13 million fully guaranteed)
A league source said the Bengals tried to re-sign Hurst shortly before he signed with the Panthers. And Carolina re-signed starting C Bradley Bozeman (three years, $18 million, $10 million fully guaranteed).
Minnesota Vikings
This team's running back situation has been quite interesting this year.
Even with veteran RB Dalvin Cook still on the roster (he wasn't released until June), the Minnesota Vikings re-signed fifth-year RB Alexander Mattison back in March.
Mattison, who an assistant coach on former head coach Mike Zimmer's staff told me was the smartest rookie running back he had been around back in 2019, signed for two years and $7 million with $6.4 million fully guaranteed.
The team guaranteed 90.7% of the two years. And with incentives, he can make as much as $8 million over the two seasons.
According to a league source, Mattison's incentives are $250,000 each season if he posts at least 750 rushing yards and $500k each season if he rushes for at least 1,000 yards.
The word around the team is that the reason they decided to bring back Mattison, who will start, is because they see him as a three-down player, which helps to explain why they guaranteed almost all of his contract.
The coaches are still evaluating who will be Mattison's backup this season.
Philadelphia Eagles
In what can reasonably be called a judicious free agency period, the Philadelphia Eagles signed several veteran free agents to less than $650,000 fully guaranteed each with salaries near the league minimum for their total years of service.
Those players include (with their fully guaranteed salaries):
RB Rashaad Penny ($600,000)
WR Olamide Zaccheaus ($650,000)
TE Dan Arnold ($50,000)
OT Dennis Kelly ($50,000)
DT Kentavius Street ($500,000)
ILBs Zach Cunningham ($25,000) and Myles Jack ($25,000)
CB Greedy Williams ($600,000)
S Justin Evans ($600,000)
The team already released Williams, and Jack told the team last weekend that he's retiring. And it's worth noting that Cunningham had already moved ahead of Jack over the past week.
Cunningham, once seen as one of the top inside linebackers in the NFL by personnel executives, has missed several games due to injury the past few seasons.
However, he has looked healthy since signing with the Eagles a few weeks ago.
As an interesting aside, veteran RB Boston Scott, who is not expected to be the team's starter, will earn the most guaranteed money of the six players currently on the roster at the position.
Scott, who was signed off the New Orleans Saints practice squad in December of 2018, has $1.1 million fully guaranteed of his total $1.8 million in total compensation (base salary and signing bonus).
From talking to general managers over the years, teams like to sign veterans to short-term deals because those players seem to have more motivation to play better in order to get signed for more money and more years.
And the Eagles, who are one of the better NFL teams in terms of contract structure, have had really good success with players who have played on one-year deals or expiring contracts in recent seasons (RB Miles Sanders, G Isaac Seumalo, DT Javon Hargrave, ILBs T.J. Edwards and Kyzir White, CB James Bradberry, and DBs C.J. Gardner-Johnson and Marcus
Epps).
All of those players were key contributors to the team's Super Bowl run last season.