There are very few individuals in the NFL like Wink Martindale. In fact, Martindale's style is an ever-dying breed, and is one that killed the New York Giants' secondary last season. The aggressive blitz rates (first in the NFL) and use of man coverage (third) simply aren't the NFL wave anymore.
Disguising zone coverages from a two-high pre-snap shell is what it's all about now. The Vic Fangio tree continues to sprout more branches, but Martindale's style remains effective… when he has the talent for it.
Comparing Wink Martindale's Defense in 2022 to 2023
That is the most critical question facing the 2023 Giants, particularly on the defensive side of the ball. Do they have the necessary pieces in place in the secondary to find consistent success and limit big plays?
Despite reaching the playoffs a season ago, New York's defense ranked 29th in DVOA and 28th in EPA per play. And while their rushing defense ranked worse than their ability against the pass, the value they allowed against the pass was still worse.
So the question is, did the Giants do enough in the offseason to actually improve the passing defense in a meaningful way? Or does a defense like Martindale's necessitate cornerbacks like Marlon Humphrey and Marcus Peters in their primes with great play in the slot to be successful?
MORE: Best NFL Defenses 2023 — Where Do the Giants Rank?
Julian Love was the most dependable player on the Giant's secondary a season ago. He now, however, resides in Seattle. Meanwhile, Adoree' Jackson missed about half of the team's defensive snaps. The team's other top cornerbacks in 2022 were Fabian Moreau, Darnay Holmes, Cordale Flott, and Nick McCloud. That's a far cry from what we're used to seeing in Martindale's defense.
The safety position is a huge point of contention on New York's defense. Xavier McKinney could probably be penciled in as one of the starters. Bobby McCain, Jason Pinnock, and Dane Belton will all look to round out the safety room, while the team hopes they drafted a gem in Gervarrius Owens in the seventh round of the NFL Draft.
Deonte Banks Fits Martindale's Scheme
Much of the unit's success will come down to how healthy Jackson can remain, and how good first-round pick Deonte Banks could be. But there's no denying Banks' fit in Martindale's defense.
"Sometimes, things just make sense," the Giants' draft grades read. "After the run on wide receivers, it made sense for the Giants to shift their focus to the guys that cover them. Wink Martindale's defense needs CBs who can line up in press and be reactive athletes in man coverage. That is exactly what Deonte Banks brings to the New York Giants' defense."
The pick received an A. But aside from that immediate reaction, everyone nodded in solidarity over Banks' fit in Martindale's defense. Both Giants GM Joe Schoen and Martindale were incredibly excited about the pick.
"He's a prototype from a size standpoint," Schoen told reporters. "He's athletic. He's physical. He can run. He ran 4.32 at the Combine. He has arm length, big hands. He's been a four-year starter. He was hurt a year ago, but he has played a lot of ball there at Maryland, and schematically, he's a good fit.
"And we spent a lot of time with him. Met with him at the Combine. He's a guy that, you know, we went down to the pro day, and we spent a good amount of time with him, and again we felt comfortable with him.
"… You guys know Wink's defense and what he likes, and Deonte fits that mold 'to a T.' He was ecstatic."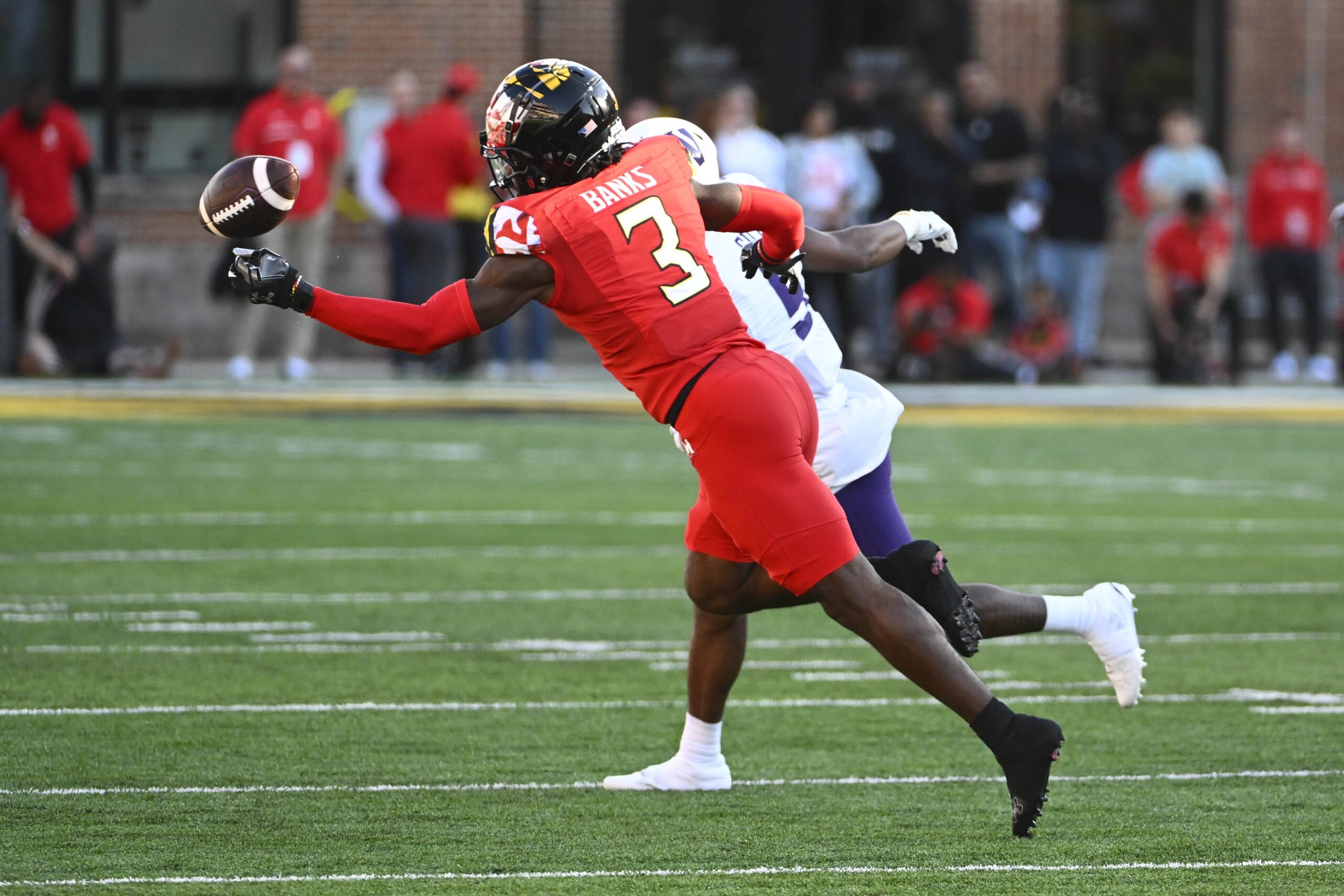 But there are inconsistencies in the cornerback's game that will need to be ironed out playing against professional pass catchers every week. And like Jackson, he needs to remain healthy for a 17-game season. Banks' history and play style threaten that possibility.
Drafting moldable athletes was a trend for New York in the draft. They did the same selecting Tre Hawkins III and Owens. They're throwing darts at the athleticism board, hoping that one of them sticks and can somehow contribute early.
MORE: How Do Deonte Banks, Tre Hawkins III, and Gervarrius Owens Fit in Giants' Secondary?
Flott survived when forced on the field a season ago, but the 2022 third-round pick must continue to improve as a coverage defender if he wants to gain and maintain a starting role.
And we can't count out Aaron Robinson, either. The 2021 third-round pick has only played 340 defensive snaps in two seasons, but it's not because he hasn't been good enough to find the pitch. He was unable to play as a rookie until Week 8, and he suffered a partially torn ACL in Week 4 last year.
Amani Oruwariye joins the roster as a depth option with a lot of starting experience, albeit underwhelming. A starting unit of Jackson, McKinney, McCain, Banks, and Holmes can survive. But having depth and competition with Pinnock, Belton, Flott, Oruwariye, and Robinson can only be a good thing for a Giants secondary that suffered its fair share of injuries a season ago.
The talent along the defensive front should help New York's defensive backfield as well. Kayvon Thibodeaux, Azeez Ojulari, Leonard Williams, and Dexter Lawrence is an unbelievably talented front four. Bobby Okereke's addition as a pass defender in the middle of the New York defense cannot be understated either.
"I have no idea; I don't want to put a ceiling on him," Martindale said of Thibodeaux. "I don't because that's how special I think he is — he and Azeez both."
It will take progress from young players, but the pieces are in place to significantly improve the Giants' passing defense.