The New England Patriots are a team that is trying to find relevance in a division that continues to get more and more difficult. Replacing a Hall of Famer is never easy, and to his credit, Bill Belichick has done it better than most have in recent times. However, it hasn't been enough to keep fans satisfied after the historic run with Brady.
Mac Jones is not yet one of the best NFL QBs, and he likely never will be, given his lack of physical upside. But that doesn't mean that the Patriots are destined for failure, either. The arrival of Aaron Rodgers in New York will certainly make things more difficult, but can this Patriots team somehow find a way to compete in the AFC East?
New England Patriots Schedule
Preseason
Week 1: vs. Texans
Patriots Preseason Network | 7 p.m. ET (Thursday, Aug. 10)
Week 2: at Packers
Patriots Preseason Network | 8 p.m. ET (Saturday, Aug. 19)
Week 3: at Titans
Patriots Preseason Network | 8:15 p.m. ET (Friday, Aug. 25)
Regular Season
Week 1: vs. Eagles
CBS | 4:25 p.m. ET (Sunday, Sept. 10)
Week 2: vs. Dolphins
NBC | 8:20 p.m. ET (Sunday, Sept. 17)
Week 3: at Jets
CBS | 1 p.m. ET (Sunday, Sept. 24)
Week 4: at Cowboys
FOX | 4:25 p.m. ET (Sunday, Oct. 1)
Week 5: vs. Saints
CBS | 1 p.m. ET (Sunday, Oct. 8)
Week 6: at Raiders
CBS | 4:05 p.m. ET (Sunday, Oct. 15)
Week 7: vs. Bills
CBS | 1 p.m. ET (Sunday, Oct. 22)
Week 8: at Dolphins
CBS | 1 p.m. ET (Sunday, Oct. 29)
Week 9: vs. Commanders
FOX | 1 p.m. ET (Sunday, Nov. 5)
Week 10: vs. Colts (Frankfurt)
NFL Network | 9:30 a.m. ET (Sunday, Nov. 12)
Week 11: BYE
Week 12: at Giants
FOX | 1 p.m. ET (Sunday, Nov. 26)
Week 13: vs. Chargers
CBS | 1 p.m. ET (Sunday, Dec. 3)
Week 14: at Steelers
Amazon Prime | 4:25 p.m. ET (Sunday, Dec. 7)
Week 15: vs. Chiefs
ESPN | 8:15 p.m. ET (Monday, Dec. 18)
Week 16: at Broncos
NFL Network | 8:15 p.m. ET (Sunday, Dec. 24)
Week 17: at Bills
CBS | 1 p.m. ET (Sunday, Dec. 31)
Week 18: vs. Jets
TBD | TBD (Saturday, Jan. 6 or Sunday, Jan. 7)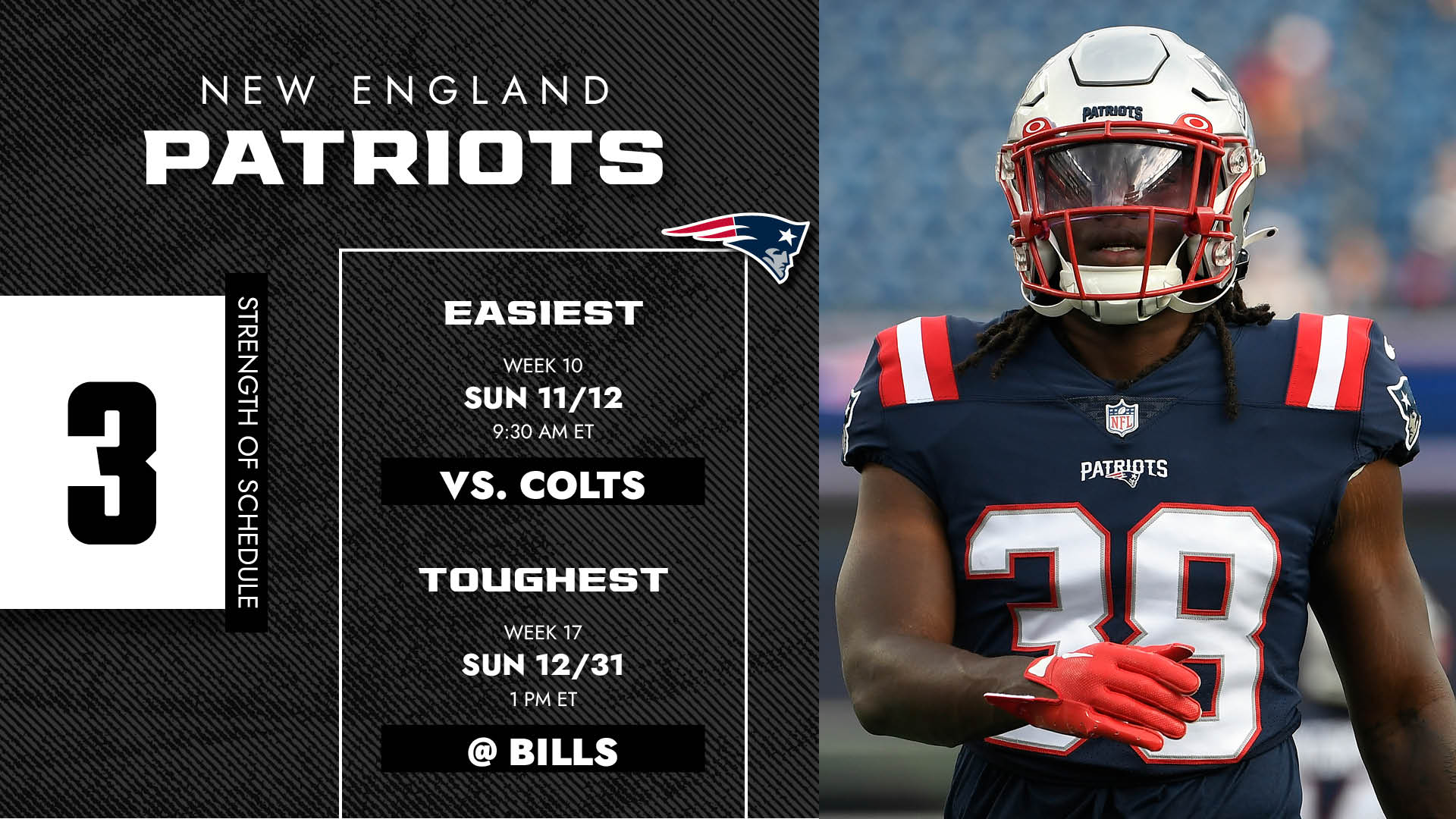 New England Patriots Strength of Schedule
The Patriots possess the third-most difficult schedule in the NFL heading into 2023. And one of their home games, against the Colts in Week 10, is actually an overseas game played in Frankfurt, Germany.
Of all the fourth-place division teams, New England is projected to have the hardest schedule. They lose a home game from the International Series, hurting them even more.
New England Patriots Record Prediction
The Patriots are tasked with building an offense around Jones — if he is to remain their starter. Last year, New England won eight games while having, perhaps, the worst offensive coaching in recent memory.
Belichick is the greatest coach of all time, but he did his entire football team a disservice last season when he allowed Matt Patricia to call the offensive plays and Joe Judge to coach the quarterbacks. Belichick has often gone against the grain with his staff and overall philosophy, but it backfired epically in 2022.
I don't think it can be overstated just how meaningful it is to be bringing back Bill O'Brien as offensive coordinator. A lot of Brady's success in New England was the luxury of never learning a new system. O'Brien has had a ton of success in that role in New England. He's a familiar face and has the experience to construct the right environment to determine if Jones is really the guy.
Although the offense lacks firepower, they don't need to look like the 2011 Patriots to win football games. Adding JuJu Smith-Schuster helps, but the team also loses a bit of continuity with the departure of Jakobi Meyers.
But what's most exciting about the offense from 2022 to 2023 is the addition of Mike Gesicki, who should thrive in an organization that uses tight ends in the passing game better than almost anybody.
The offensive line should be solid. Although O'Brien enjoys having the ability to attack intermediate areas of the field, he can also play to Jones' strength as a facilitator in the pocket, getting the ball to the correct look within 2.5 seconds.
The Patriots drafted both a kicker and a punter before the seventh round. However, they did add to their defense some really strong players who fit wonderfully in Christian Gonzalez and Keion White.
If we can almost count on something being outstanding on the Patriots' roster in 2023, it's the defense. They finished third in defensive EPA per play a season ago, and Belichick continues to find new (or old) ways to exploit offensive weaknesses.
And that should keep them in playoff contention.
Record prediction: 9-8