Just one season after winning the Super Bowl, the Los Angeles Rams bottomed out and finished with a 5-12 record in 2022. Instead of continuing with their "all-in" strategy this offseason, the Rams shifted to a drastically different approach and began jettisoning veterans over the past few months. How will that blueprint affect L.A.'s output next year?
Let's take a look back at Los Angeles' offseason moves as we preview the Rams' 2023 NFL campaign.
Everything You Need Ahead of the Los Angeles Rams 2023 NFL Season
The Rams' offseason was highlighted by more losses than gains — and that was by design.
Los Angeles Rams Roster Changes
Players Signed

QB Brett Rypien
G Coleman Shelton
DT Marquise Copeland

Players Acquired Via Trade

TE Hunter Long

The Rams acquired Long and a 2023 third-round pick (No. 77) from the Miami Dolphins for CB Jalen Ramsey.
Players Drafted

G Steve Avila
EDGE Byron Young
DT Kobie Turner
QB Stetson Bennett
EDGE Nick Hampton
OT Warren McClendon
TE Davis Allen
WR Puka Nacua
CB Tre'Vius Hodges-Tomlinson
EDGE Ochaun Mathis
RB Zach Evans
P Ethan Evans
S Jason Taylor II
EDGE Desjuan Johnson
Players Lost

QB Baker Mayfield (Buccaneers)
QB John Wolford (Buccaneers)
WR Brandon Powell (Vikings)
WR Allen Robinson (traded to Steelers)
OT Ty Nsekhe
G Oday Aboushi
G Chandler Brewer (Jaguars)
G David Edwards (Bills)
C Matt Skura
EDGE Leonard Floyd
DT Greg Gaines
DT A'Shawn Robinson (Giants)
LB Bobby Wagner (Seahawks)
CB Troy Hill
CB David Long (Raiders)
CB Jalen Ramsey (traded to Dolphins)
S Taylor Rapp (Bills)
S Nick Scott (Bengals)
K Matt Gay (Colts)
P Riley Dixon (Broncos)
The Rams were one of the least active teams during the 2023 free agent period, as backup quarterback Brett Rypien was their only significant outside addition. Reserve offensive lineman Coleman Shelton was the only Los Angeles signee to receive more than $1.5 million per year.
Instead, the Rams opted to use the draft to add more depth to their roster. No team made as many 2023 selections as L.A. (14), which opted to take a volume-based approach. General manager Les Snead made three draft-day trades which netted the Rams additional selections and only one deal (a Day 3 move for RB Zach Evans) that cost the club capital.
The Rams didn't have a first-round pick and made just one selection inside the top 75, so the expected hit rate on their prospects will be low. However, Los Angeles has made a habit of maximizing their late-round selections in the past, and the club is hoping that its sheer volume of youthful additions will give its reformed roster a boost. Newly-added rookie contracts will also help the Rams get their salary cap in order in the coming years.
Los Angeles will need some of those rookies to step up immediately, given that the Rams shed several impact veterans over the offseason. The club's offense won't look all that different (except for the missing Allen Robinson), but L.A.'s defensive depth chart will be nearly unrecognizable after they let stars and contributors like Jalen Ramsey, Leonard Floyd, Bobby Wagner, Nick Scott, and Taylor Rapp go.
Los Angeles Rams Coaching Staff in 2023
Head Coach: Sean McVay
Offensive Coordinator: Mike LaFleur

QBs coach/pass game coordinator: Zac Robinson
RBs coach: Ron Gould
WRs coach: Eric Yarber
TEs coach: Nick Caley
OL coach: Ryan Wendell
Pass game specialist: Jake Peetz

Defensive Coordinator: Raheem Morris

DL coach/run game coordinator: Eric Henderson
LBs coach/pass rush coordinator: Chris Shula
OLBs coach: Joe Coniglio
Secondary coach: Chris Beake
DBs coach/pass game coordinator: Aubrey Pleasant

Special Teams Coordinator: Chase Blackburn
Predicting the Los Angeles Rams Depth Chart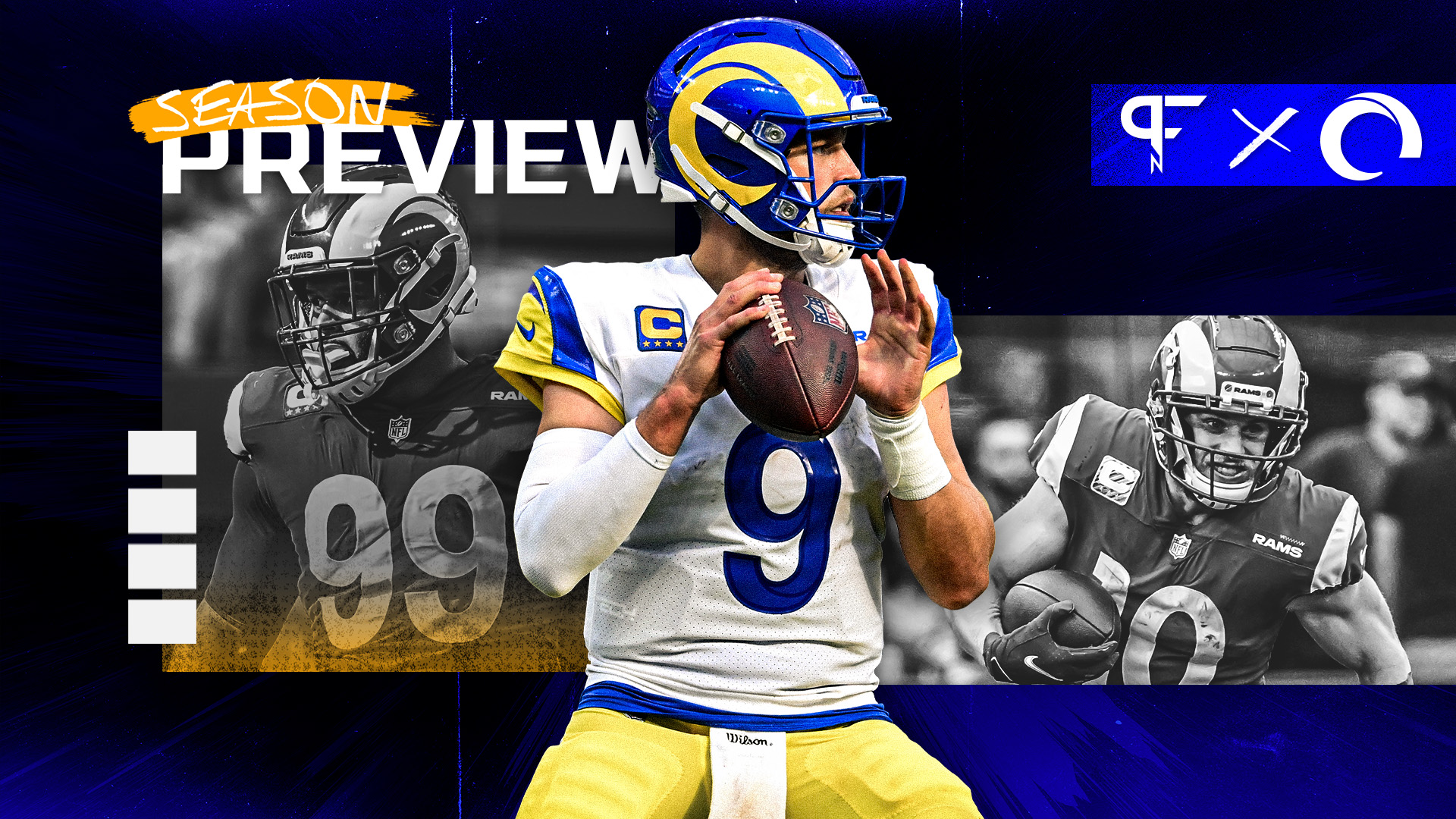 Offensive Depth Chart
QB: Matthew Stafford, Stetson Bennett, Brett Rypien
RB: Cam Akers, Kyren Williams, Zach Evans, Ronnie Rivers
WR: Cooper Kupp, Van Jefferson, Ben Skowronek, Tutu Atwell, Lance McCutcheon, Puka Nacua
TE: Tyler Higbee, Hunter Long, Brycen Hopkins, Davis Allen
LT: Joe Noteboom, Alaric Jackson
LG: Steve Avila, Tremayne Anchrum Jr.
C: Brian Allen, Sean Maginn
RG: Logan Bruss, Coleman Shelton
RT: Rob Havenstein, Warren McClendon
Defensive Depth Chart
DT: Aaron Donald, Bobby Brown III, Marquise Copeland, Earnest Brown IV, Jonah Williams
EDGE: Michael Hoecht, Byron Young, Nick Hampton, Ochuan Mathis, Daniel Hardy
LB: Ernest Jones, Christian Rozeboom, Jake Hummel, DeAndre Square
CB: Derion Kendrick, Robert Rochell, Cobie Durant, Shaun Jolly, Tre'Vius Hodges-Tomlinson, Timarcus Davis
S: Jordan Fuller, Russ Yeast, Quentin Lake, Jason Taylor II
Special Teams Depth Chart
K: Christopher Dunn
P: Ethan Evans
LS: Alex Ward
KR: Jason Taylor II
PR: Jason Taylor II
2022 Results and Standings
After winning Super Bowl 56, the Rams entered the 2022 campaign with a projected win total of 10.5 games and the fourth-best Super Bowl odds in the NFL. This was not a team expected to take a step back, but an embarrassing opening night loss to the Bills was a sign of things to come.
Having posted a 3-3 record by the time their Week 7 bye hit, Los Angeles was still in the playoff race as of late October. However, the Rams subsequently lost seven consecutive games to push themselves out of contention.
Matthew Stafford, dealing with concussion issues and an eventual spinal cord contusion, missed Week 10, came back for Week 11, and then sat out for the rest of the season. Future Hall of Famer Aaron Donald suffered a sprained ankle in Week 12 — with nothing left to play for, he also shut things down for the rest of the year.
The rest of the Rams' season featured Baker Mayfield under center and included a thrilling last-second victory over the Raiders in Week 14 and a 51-14 destruction of the Broncos in Week 16. But neither of those results really affected Los Angeles' bottom line, and they limped to a 5-12 record.
2023 Power Ranking and Season Outlook
The Rams rank 29th in Dalton Miller's post-draft power rankings, ahead of only the Buccaneers, Cardinals, and Falcons.
On the positive side, there's a chance that Los Angeles' offense could still be effective next season. Sean McVay remains one of the most innovative offensive play-callers in the league, and the Stafford-to-Cooper Kupp connection is among the most lethal in the NFL.
No team had more adjusted games lost to injuries on the offensive side of the ball in 2022 than the Rams. If Stafford, Kupp, and L.A.'s offensive line — decimated by health issues last season — can stay healthy, the Rams' offensive production could rebound.
But the defense remains a potential disaster zone. Aside from Donald, there may not be a single player on Los Angeles' defensive depth chart that the average NFL fan would recognize. The Rams will be counting on virtual unknowns like linebacker Christian Rozeboom, cornerback Robert Rochell, and safety Russ Yeast as starters and could end up fielding the worst defense in the league.
It's difficult to imagine L.A. staging a surprising playoff push given their numerous roster issues, and they're staring up at the 49ers and Seahawks in the NFC West. The Rams seem committed to a longish-term rebuilding strategy, but another abysmal campaign could again bring questions about the futures of Stafford, Donald, and McVay.