The Los Angeles Rams won the Super Bowl after the 2021 season, but just one year later, they're already rebuilding after bottoming out in 2022. L.A.'s roster looks much different than it did on their Super Bowl run, and the franchise might have a difficult showing next season as they re-assess their direction. What does the Rams' 2023 schedule look like?
Los Angeles Rams Schedule
Week 1: at Seahawks
FOX | 4:25 p.m. ET (Sunday, Sept. 10)
Week 2: vs. 49ers
FOX | 4:05 p.m. ET (Sunday, Sept. 17)
Week 3: at Bengals (MNF)
ESPN | 8:15 p.m. ET (Monday, Sept. 25)
Week 4: at Colts
FOX | 1 p.m. ET (Sunday, Oct. 1)
Week 5: vs. Eagles
FOX | 4:05 p.m. ET (Sunday, Oct. 8)
Week 6: vs. Cardinals
FOX | 4:25 p.m. ET (Sunday, Oct. 15)
Week 7: vs. Steelers
FOX | 4:05 p.m. ET (Sunday, Oct. 22)
Week 8: at Cowboys
FOX | 1 p.m. ET (Sunday, Oct. 29)
Week 9: at Packers
FOX | 1 p.m. ET (Sunday, Nov. 5)
Week 10: BYE
Week 11: vs. Seahawks
CBS | 4:25 p.m. ET (Sunday, Nov. 19)
Week 12: at Cardinals
FOX | 4:05 p.m. ET (Sunday, Nov. 26)
Week 13: vs. Browns
FOX | 4:25 p.m. ET (Sunday, Dec. 3)
Week 14: at Ravens
FOX | 1 p.m. ET (Sunday, Dec. 10)
Week 15: vs. Commanders
CBS | 4:05 p.m. ET (Sunday, Dec. 17)
Week 16: vs. Saints (TNF)
Amazon Prime | 8:15 p.m. ET (Thursday, Dec. 21)
Week 17: at Giants
FOX | 1 p.m. ET (Sunday, Dec. 31)
Week 18: at 49ers
TV and Time TBD (Sunday, Jan. 7)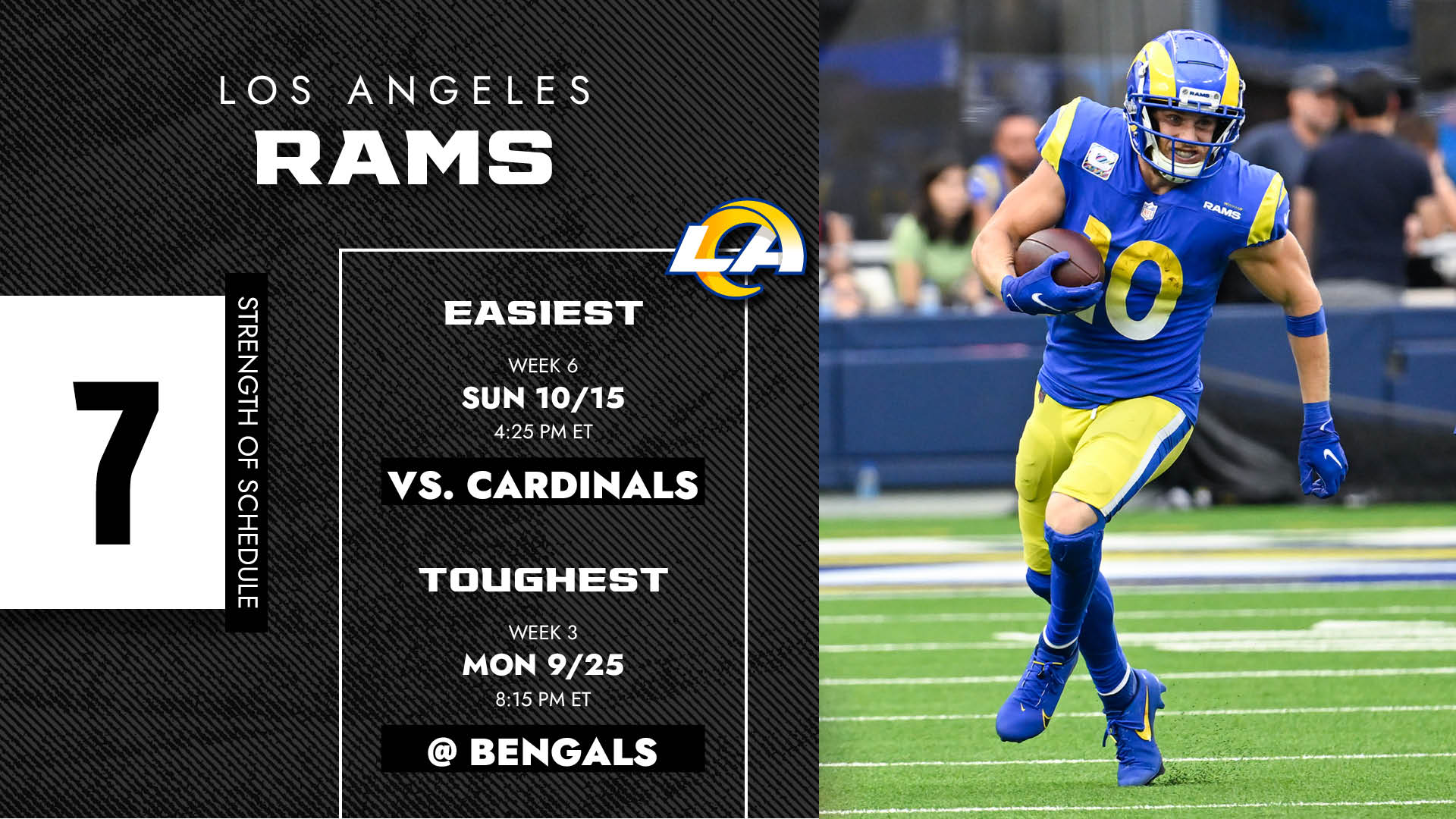 Los Angeles Rams Strength of Schedule
Based on 2023 win-total projections, the Rams project to have the 15th-easiest NFL schedule next season. As usual, Los Angeles will play each of its NFC West rivals at home and on the road. They will also face the entirety of the NFC East and the AFC North.
MORE: FREE NFL Mock Draft Simulator (With Trades)
Additionally, the Rams will play the two remaining NFC teams that finished in third place in their respective divisions: the Green Bay Packers and the New Orleans Saints. Lastly, Los Angeles will round out its schedule by playing the Indianapolis Colts, who finished third in the AFC South in 2022.
Los Angeles Rams Record Prediction
The Rams limped to a 5-12 record a season ago, but might have a similar — or worse — record in 2023. While familiar faces like Matthew Stafford and Cooper Kupp remain in place on the offensive side of the ball, Los Angeles traded Allen Robinson to the Steelers just one year after inking him to a three-year contract.
The Rams' offense is unlikely to be the well-oiled machine it's been for most of Sean McVay's run as head coach. But the club's defense is in even worse shape.
Even the most plugged-in NFL fans may struggle to name any Rams defender aside from future Hall of Fame defensive tackle Aaron Donald and linebacker Ernest Jones. Unproven options like edge rusher Michael Hoecht, cornerbacks Derion Kendrick and Cobie Durant, and safety Russ Yeast will likely be counted on to provide significant snaps.
As the Rams reorganized, they essentially avoided the free agent market altogether. Los Angeles didn't add any external free agents and re-signed only guard Coleman Shelton and defensive tackle Marquise Copeland. They also acquired tight end Hunter Long when they traded cornerback Jalen Ramsey to the Dolphins.
MORE: NFL Team Travel Totals — Who Travels the Most and Least During the 2023 NFL Season?

While the Rams didn't own a first-round pick as a result of the Stafford trade, they did manage to make a whopping 14 selections in the 2023 NFL Draft. After deploying that volume-based approach, Los Angeles will hope to get contributions from early- and mid-round picks like guard Steve Avila, edge rusher Byron Young, and defensive tackle Kobie Turner.
This team is biding its time until it has the cap space or draft capital to fully retool. Given the state of the Rams' depth chart, they're much closer to the Cardinals than the 49ers and Seahawks in the NFC West.
Maybe Stafford and Kupp can stay healthy and provide a redux of their 2021 production. Maybe the Rams' offensive line can stay healthy and deliver. Maybe several of L.A.'s young defensive players will be surprising.
That's a lot of maybes! The Rams' win total is set at 7.5 — if everything falls in place, Los Angeles could beat that number. But the more likely outcome is probably a 6-11 campaign and a top-10 draft pick in 2024.
Projected Record: 6-11