The SEC can be a gauntlet for young defenders, so when a player like Missouri CB Kris Abrams-Draine makes waves early in his career, it's worth noting. The 2023 NFL Draft is now the focus, and with his scouting report, there's a chance Abrams-Draine can add to a very strong CB class.
Kris Abrams-Draine NFL draft profile
There's a certain dynamism that's present in Abrams-Draine's game. That's never truly gone away, and it was present even in high school, at Spanish Fort in Mobile, Alabama.
While Abrams-Draine was always dynamic, he wasn't always a cornerback, however. He began his football career as a wide receiver, and as a sophomore, managed to catch 55 passes for 903 yards and 11 scores on varsity.
Eventually, during his senior season, Abrams-Draine switched to quarterback. In that role, the ball was able to enter his hands often, and he paid dividends with it. He passed for nine touchdowns, but did the brunt of his damage on the ground, churning out 1,745 yards and 19 scores.
MORE: FREE Mock Draft Simulator With Trades
A four-star recruit, Abrams-Draine signed with Missouri. And his experience as a WR and QB has helped him climb the ranks early. After sitting as a reserve WR in 2020, Abrams-Draine switched to CB in 2021 and took a major leap, accounting for 37 tackles, three picks, and seven deflections in 13 games.
In just his first year as a full-time CB, Abrams-Draine showed immense promise. Now, after losing two veterans, Missouri may rely on him to take the next step in his development.
Position: Cornerback
School: Missouri
Current Year: Junior
Height/Weight: 5'11", 178 pounds
Kris Abrams-Draine scouting report
In the 2022 NFL Draft cycle, Tigers cornerback Akayleb Evans was selected in the fourth round. Another Tigers cornerback, Allie Green IV, was signed as an undrafted free agent. Missouri has produced secondary talent in the past. Is Abrams-Draine set to carry forth the trend?
Abrams-Draine's positives
Abrams-Draine may not have overwhelming stature at cornerback, but he's a legitimate athlete. The Missouri CB flashes elite explosiveness when engaging route breaks out of his backpedal. He accelerates extremely quickly upon collecting his feet out of breaks. Moreover, Abrams-Draine carries excellent short-area burst out of his stance, and can easily correct his positioning with that burst.
Abrams-Draine's acceleration capacity is terrific, but at cornerback, you also need to be able to transition. Luckily, his hips are reasonably fluid. The Missouri CB can swing around quickly on breaks and make 90-degree transitions without much strain. On top of that, he's flashed the ability to effortlessly swivel around on 180-degree transitions and pick up his acceleration quickly out of breaks. In off-man coverage, he swings his hips open with very little delay.
Expanding on Abrams-Draine's athleticism, the Missouri CB shows off impressive agility and twitch when he needs to recover quickly. He's a springy short-area athlete who generates instant momentum out of his stance. Further, he's an energetic mover who can control his own tempo very well. Abrams-Draine has also shown to pinch tight angles while accelerating to maintain pursuit paths, and he brings exceptional twitch in tight spaces. He offers superb stop-and-start ability, as well as tremendous foot speed when mirroring WRs in zone.
Abrams-Draine can throttle up, halt momentum, and redirect at stems in rapid succession. But his physicality for his size adds another element to his game. Abrams-Draine is a feisty defender who can use precise, targeted shoulder strikes to get a lever on receivers, then carry them through transitions. He can also employ two-hand jams to control WRs and negate swipes as they commit to angles upfield, and use catch technique to gather opponents.
Abrams-Draine doesn't shy away from contact and can fight through contact to make plays on the ball. Operationally, though he's still a young player, there's already plenty to like with him. He has active feet and is adaptable on his backpedal, and can quickly flip inside and track wide receivers across the field.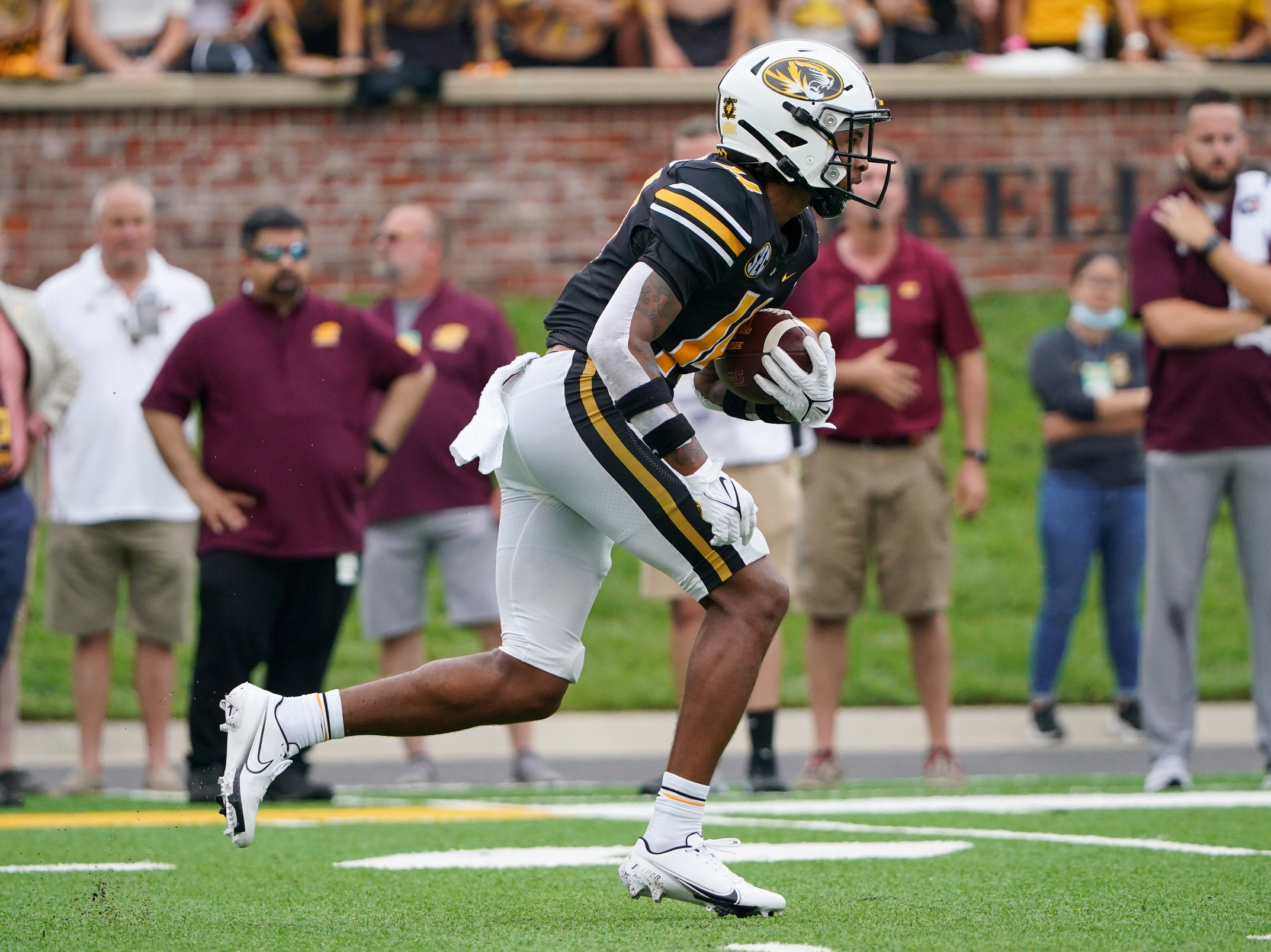 Going further, Abrams-Draine actively squares up WRs at stems and has the corrective foot speed to snap into place. He's shown to match receivers off the line with smooth, efficient shuffle steps, then flip his hips upfield while maintaining acceleration. On those shuffle steps, he effectively aligns his hips to maintain leverage.
Mentally, Abrams-Draine is also strong. The Missouri CB has a competitive edge, but he's also shown to quickly process breaks and flip his hips early in anticipation. He can identify WR screen formations and veer downhill to blanket underneath routes as well. The Missouri CB can effectively process and sift through routes in zone, naturally carrying and passing off WRs. He's a patient zone defender who positions himself well when split between routes.
Playmaking is another valuable skill Abrams-Draine brings to the table. He attacks at the catch point and can extend toward the ball in stride. He's shown to actively target the WR's cage to dislodge passes during the catch process. Abrams-Draine has great coordination, and effectively times his jumps to high-point passes, swatting at throws with little response time. To go a step further, he can also convert on turnover opportunities.
MORE: 2023 NFL Draft Big Board
While Abrams-Draine's lighter frame sometimes hurts him in run support, he still carries value in that phase. The Missouri CB can sift through congestion and swerve past blockers with his short-area athleticism, and his quick diagnosis allows him to be a consistent factor as a support defender. Abrams-Draine is a solid form tackler, who leads with the shoulder and uses the full extent of his length to wrap up ball carriers. He surges into contact as a tackler, using his burst to close gaps.
Among other things, Abrams-Draine has enough speed to run to the sideline with WRs and blanket out routes. He can also effectively play press-bail and align his hips upfield while keeping his eyes open, and has the ability to play both in the slot and on the boundary.
Abrams-Draine's areas for improvement
For his size, Abrams-Draine has above-average length, but overall, he's an average-sized CB with a lighter frame. Until he adds mass and improves his play strength, that can cause problems for him in multiple areas. Abrams-Draine doesn't have the play strength to consistently pry the ball away from larger opponents, and he can also be swept up in run support.
Beyond his size, Abrams-Draine has room to refine his technique. The Missouri CB doesn't always carry elite burst out of transitions, and he could better channel his explosiveness. With his high-energy athleticism, he does sometimes have wasted movement, both at the top of stems and elsewhere. He could be more efficient collecting his feet out of transitions and sometimes plays too tall in his stance. Abrams-Draine also needs to more efficiently plant and drive when responding to screens downhill.
Going further, Abrams-Draine can get frozen by lateral moves at stems and be worked back past his cushion. In a similar vein, his backpedal could be more controlled. He's sometimes flat-footed when mirroring WRs, which can further inhibit his efficiency of motion. To that end, Abrams-Draine sometimes crosses his legs too much when tracking upfield, and needs to more consistently stay in phase so he doesn't get his feet tied up at breaks.
While Abrams-Draine is a good processor, he occasionally takes his eyes off the play in zone and misses underneath routes. He can be tugged out of place by blind-spot manipulation. Additionally, when the ball is in the air, he sometimes fails to get his eyes around quickly enough to track the ball and may interfere in an attempt to compensate. It doesn't help that Abrams-Draine lacks elite long speed. He doesn't consistently close ground in pursuit and can lose a step in deep coverage against receivers with build-up speed.
Overall, Abrams-Draine needs to more efficiently use his physicality. At times, he gets too grabby when attempting to run with WRs and can draw penalties with tugs. He also, occasionally, uses two-hand jams before his feet are set, which can cause him to lurch and lose a step off the line. In run support, Abrams-Draine sometimes hesitates in pursuit, giving the corner to outside runs and exposing himself to blockers. He has to trust his instincts more coming downhill, but also be wary of over-pursuing plays.
Finally, while Abrams-Draine is a stellar athlete in short areas, he can't always pinch tight angles while flipping his hips on transitions. He sometimes has to correct pursuit angles after recollecting his feet. Playing lower in his stance and staying in phase might help him mitigate this issue.
Current draft projection for Missouri CB Kris Abrams-Draine
Being a true junior, it's not a guarantee that Abrams-Draine declares for the 2023 NFL Draft. But based on his 2021 tape, he carries a priority Day 3 preliminary grade. If he can build on a strong sophomore season, there's a chance he could join the Day 2 mix at cornerback.
Abrams-Draine certainly has the athleticism to support a potential rise into the early rounds. His explosiveness is superb, and he has the short-area athleticism, twitch, and foot speed to match receivers and recover leverage. The coverage building blocks are all there, and Abrams-Draine also brings natural playmaking ability at the catch point, as well as gnawing physicality and competitive fire.
MORE: 2023 NFL Draft CB Class
There are a few issues weighing down Abrams-Draine's stock at the moment. His lighter frame impacts his game in multiple phases, and his technique is still very much a work in progress. There are bright flashes from a technical standpoint, but if Abrams-Draine is going to man the slot in the NFL and match wide receivers close to the line, he'll need to be more consistent at a foundational level.
Nevertheless, Abrams-Draine is very young and very early in his career as a CB. And he has all the tools to be a sticky cover man. His versatility between the slot and the boundary, as well as his ability in both man and zone alignments, enhances his value as a defensive back. At his peak projection, Abrams-Draine could be worth a Day 2 pick as a potential starter in the slot with boundary capabilities.
Listen to the PFN Scouting Podcast
Listen to the PFN Scouting Podcast! Click the embedded player below to listen, or you can find the PFN Scouting Podcast on iTunes, Spotify, and all major podcast platforms.  Be sure to subscribe and leave us a five-star review! Rather watch instead? Check out the PFN Scouting Podcast on our Scouting YouTube channel.