Our conversations surrounding the NFL Draft often require us to talk out of both sides of our mouths. Look no further than the way many writers, podcasters, and YouTubers grade NFL players by using round grades as their baseline. On one hand, it gives readers, listeners, and viewers an easily digestible way to consume the content and understand how impressive the player is. Many even add things like top-five or top-10 talent as part of the grade. Unfortunately, it also has a massive drawback.
"But…"
Bijan Robinson is regarded as a top-10 talent in the 2023 NFL Draft class by most people. The latest and final Industry Consensus Big Board places him behind only Will Anderson Jr., Jalen Carter, Bryce Young, and C.J. Stroud. Robinson's a first-round, blue-chip player.
But…
Media should avoid these distinctions and put players into different buckets through their numerical grading scales instead of giving round grades. The system that Bill Belichick presented as a guest contributor for The 33rd Team is descriptive enough without the round designations. It describes what we believe a player could be using a number grade (MVP-caliber, immediate Pro Bowler, immediate starter, eventual starter, developmental starter, backup, boom, or bust, etc.) while also giving us a letter designation to describe whether they fit our prototypical mold or not.
That would allow for positional value to be discussed without saying, "he's a first-round talent, but…"
But should Bijan Robinson be a first-round talent?
Bijan Robinson, Complete RB
"With his combined short-area athleticism and telekinetic processing ability in tight areas, Robinson is a true master of space," PFN Draft Analyst Ian Cummings wrote in Robinson's report.
"Few running backs at 215 pounds are as fluid, abrupt, and in control as he is on a down-to-down basis. He's a rare running talent who rarely shies away from contact and provides legitimate utility in the passing game."
"Overall, Robinson is the complete package as both a runner and receiver with vision, instincts and elusive traits that will translate well to the NFL," Dane Brugler wrote in The Beast. "He is one of the most talented players in the draft class."
"Full-menu back blending a smorgasbord of position-specific traits that allow him to affect games," NFL.com Draft Analyst Lance Zierlein wrote.
"Robinson is well-built with a compact lower half and pairs a low center of gravity with agile feet. There are elements of both fight and flight in his running style, but defenders can never be quite sure what they are going to get. He's a capable inside/outside runner with unique footwork to stack moves and reset pathways, but can plow into tacklers at a moment's notice using elite contact balance to keep the run rolling.
"He might need to dial back efforts to search out big runs so frequently and take what is there a little more often to keep from getting bogged down. His pass-catching talent ensures the opportunity for Robinson to see a high number of touches. He has a chance to become one of the more productive runners in the league very quickly."
MORE: FREE NFL Mock Draft Simulator With Trades
ESPN Draft Analyst Matt Miller said, "Robinson is the best running back prospect since [Saquon] Barkley left Penn State in 2018."
Robinson commands nearly universal praise for his talent.
In the past 10 NFL Drafts, 13 running backs have been selected in the first round. Najee Harris, Travis Etienne Jr., Clyde Edwards-Helaire, Josh Jacobs, Saquon Barkley, Rashaad Penny, Sony Michel, Leonard Fournette, Christian McCaffrey, Ezekiel Elliott, Todd Gurley, and Melvin Gordon III make up the list since 2013.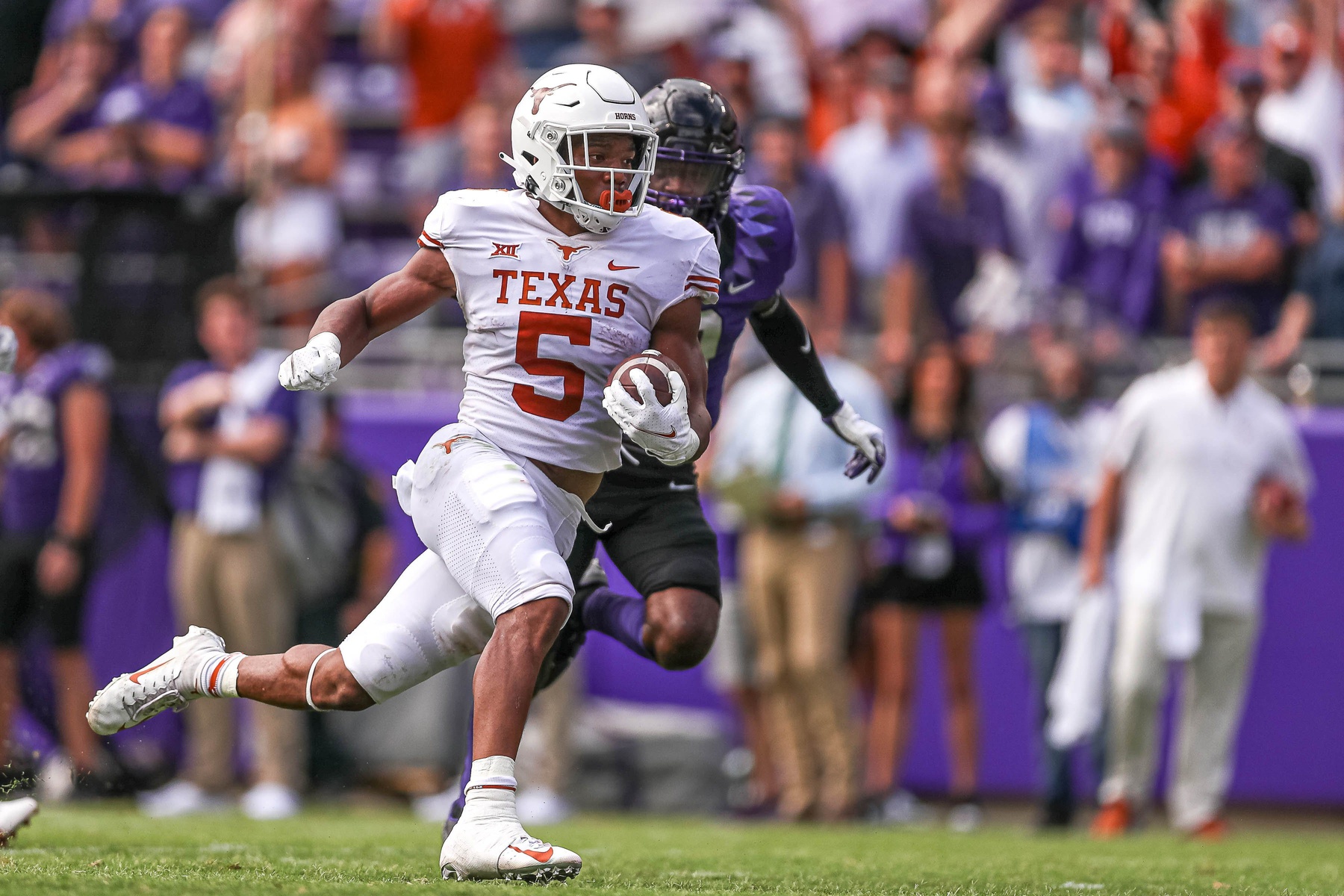 From my perspective, only Barkley, Elliott, and Gurley are Robinson's equal or better as prospects. Furthermore, Robinson has the entire package as a runner that Barkley didn't have, although the Giants and former Penn State RB had superpowers that elevated his draft status to unbelievable proportions.
The positive about Robinson is how short a list of negatives one is able to come up with in his game. Surely, simply being a running back is one for many, but from an on-field standpoint, he's practically bulletproof.
Robinson possesses outstanding vision and contact balance. At 5-foot-11, 215 pounds, he is about as close to prototypical size as an RB can be. On the field, he showed spring in his step laterally and explosive downhill running ability. Robinson was also one of the most elusive runners in college football by the numbers, despite being 215 pounds. He ranked first in missed tackles forced.
During the NFL Combine, Robinson posted an elite speed grade, great explosion grade, and a good size grade on his way to a 9.85 Relative Athletic Score. The Texas RB catches the ball out of the backfield well, can run routes from out wide, and, while still needing to find consistency as a pass protector, shows willingness in that area, which is the most important thing to see in a young runner.
Robinson's weaknesses are nitpicky. Sometimes he can get caught running a bit high. In his pursuit of playmaking, he can sometimes try to be too cute. And his six career fumbles mean he's coughed up the ball once every 90 carries and once every 100 touches. That's not an awful mark, but it could be better.
RB Value Is Missing
Sony Michel has two Super Bowl rings. Edwards-Helaire has a Super Bowl ring. Gurley went to one. But while Michel was a fine player as a rookie on that 2018 Patriots squad — over 900 regular-season yards — the team was captained by the greatest player ever, Tom Brady. By 2021, Michel was on another team (the Rams), where he gained two yards on two carries in the big game.
CEH was a healthy scratch on a team with "future GOAT" Patrick Mahomes at quarterback. Seventh-round rookie RB Isiah Pacheco started over him. Gurley, meanwhile, was outstanding early on, but his knees, unfortunately, couldn't keep the once-elite runner on the field for a decade-long run.
From 2011-2019, just under 62% of first-round picks saw their fifth-year options picked up. Of the 13 running backs drafted over that time, only five saw theirs picked up. We can likely extend that to five of 14 with Edward-Helaire. And while the story isn't yet finished for Barkley in New York, the other four who signed extensions or had their options picked up have been utter disappointments.
Elliott was losing steps as he inked his extension. Gordon played just 12 games and averaged just over 50 yards in his fifth and final season with the Chargers. McCaffrey reset the RB market and followed it up with consecutive injury-riddled seasons in Carolina before being traded to San Francisco.
So of the first-round runners since 2011, none have seen successful second contracts through with the team that drafted them, and only a few remained productive after that first contract (Ingram and maybe McCaffrey in SF).
But if the RB drafted later on in Round 1 is productive for those four or five seasons at little cost, it could be worth it, right?
According to Spotrac, the 15th pick in the NFL Draft, regardless of position, will make $17.5 million over the course of their entire first contract. The 31st pick will make $12.8 million.
But the NFL is about being able to build the best roster as inexpensively as possible. Having a quarterback, offensive tackle, wide receiver, or pass rusher at a value of about $5 million per season is far more valuable than a running back at the same value.
McCaffrey makes about $16 million annually as the top RB contract. Jalen Hurts is making over $50 million. Tyreek Hill makes $30 million. Laremy Tunsil makes $25 million.
Meanwhile, McCaffrey's value to the NFL is on par with Joe Thuney and Joel Bitonio! And unlike most positions, the value of RB contracts since McCaffrey has dipped in value. Although none of Barkley, Jacobs, or Tony Pollard received second contracts in free agency, the highest AAV was Miles Sanders at only $6.25 million.
So as a general rule, a team is better off using those inexpensive slots on premium positions rather than a running back in an attempt to keep total costs down at those premium positions.
To Bijan, or Not to Bijan… That Is the Question
First, we must head back to the meme well for a moment. Arrested Development characters Tobias and Lindsay are discussing the idea of an "open" marriage.
Tobias:
You know, Lindsay, as a therapist, I have advised… a number of couples to explore an open relationship where the couple remains emotionally committed but free to explore extramarital encounters.
Lindsay:
Well, did it work for those people?
Tobias:
No, it never does. I mean, these people somehow delude themselves into thinking it might, but… but it might work for us.
Drafting Robinson is a "but it might work for us" moment. At some point, his talent and value, even as an RB, has to even out with the rest of his draft classmates. In a year where the draft is a bit more lackluster than normal at premium positions, could this be the time it actually makes sense for a player like Robinson to be "worth" selecting in Round 1?
My gut actually wants me to say yes. My heart wants to believe that taking Robinson in Round 1 will work out. That even if he doesn't play for the team drafting him for a decade, those first five years could be so good that it's worth it. Teams with already budding offensive lines and strong run games, like the Philadelphia Eagles, could consider it.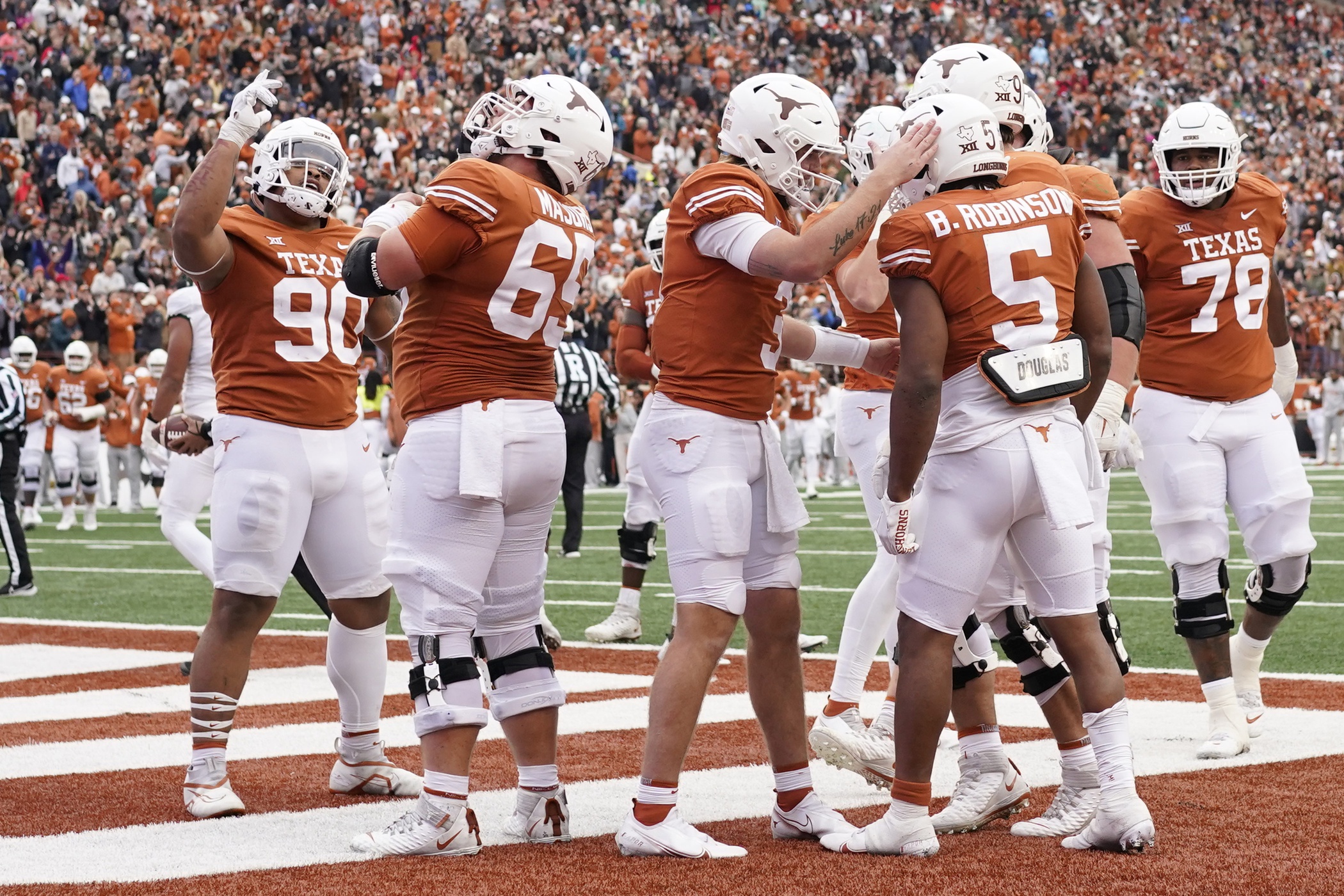 But there's a secondary problem. Those five years will probably need to be three years if the player is what we believe he can be. Workhorse running backs take a beating. And if Robinson sees production similar to Elliott over the first three seasons, it would be foolish of him not to hold the team hostage the minute he becomes extension eligible. The elite at the position cannot sit on their heels when it comes to securing generational wealth.
By Year 5, Elliott was a shell of his former self. Holding out in Cabo was the best decision he ever made. Jerry Jones, a proud man who over the years has struggled to show remorse on many decisions he's made in the past, did just that when discussing the devaluation of running back.
"Zeke was (picked) too high for us," he told the media Monday.
Unless Robinson ends up as a top-15 pick on Thursday, it's unlikely that anybody in front offices will begrudge their decision too much over the next decade. It will be fascinating to see where Robinson lands because all indications point to his name being called on Thursday.
MORE: Bijan Robinson Lands in the Top 10 in Pauline's Final Mock Draft
Should it be? If he goes in the mid-to-late 20s and gives the team three seasons like Elliott's first three (minus the six-game suspension), is that worth it? Because it's likely that he either produces to that level and implores the team to extend him with haste, or things go less than stellar, making the pick a gamble that didn't quite pay off.
My brain can sit here and tell myself, or whoever is making those calls, not to do it. Let someone else make that choice. We'll take the slightly less-talented player in Round 3 or 4 and get 75% of the production. But even I'm intrigued by drafting one of the top five players in the class with a late 20s pick, even if every indication points to running backs not mattering.
Listen to the PFN Scouting Podcast
List to the PFN Scouting Podcast! Click the embedded player below to listen, or you can find the PFN Scouting Podcast on iTunes, Spotify, and all major podcast platforms.  Be sure to subscribe and leave us a five-star review! Rather watch instead? Check out the PFN Scouting Podcast on our Scouting YouTube channel.