The Texas Longhorns shocked the college football world in Week 2, dismantling the Alabama Crimson Tide 34-24 in Tuscaloosa. The Longhorns logged their biggest win in the program's recent history thanks to a dominant performance from the offense. Head coach Steve Sarkisian beat his mentor in his second try, barely losing in their first matchup in 2022.
The star of the evening was Texas quarterback Quinn Ewers. The third-year sophomore completed 24 of 38 pass attempts for 349 yards and three touchdowns. We're diving into how this performance affects his 2024 NFL Draft stock.
Quinn Ewers' 2024 NFL Draft Stock
Ewers entered the season as one of the more volatile quarterback prospects in the 2024 class. Because he's still so young, turning 21 next March, had only one season on the field before Arch Manning joined the Texas program, and missed three games in 2022 due to a non-throwing shoulder injury, we had a muddied picture of who Ewers was as a player.
On one hand, he has an elite pedigree, earning near-perfect grades as a recruit thanks to his beautiful throwing motion and rare touch. Some of that translated immediately upon his arrival to Texas from Ohio State, as he showed off the ability to devastate defenses with pinpoint short and intermediate passes and avoid turnovers.
But it wasn't consistent. While Ewers was brilliant against Alabama and Oklahoma in 2022, he also went through a four-game stretch, completing less than 59% of attempts in each contest. Texas' porous offensive line couldn't protect him, and Ewers' limitations as a creator and deep passer were fully displayed.
At his best, Ewers looked like a cerebral pocket passer who could carve up a defense with a quick release and great accuracy. The bad moments highlighted inconsistent footwork, good but not great arm strength, and a relatively limited athlete outside of the pocket.
With Manning breathing down his neck, Ewers entered 2023 needing to become a star so he could enter the NFL or be faced with transferring again. It's one of the most unique situations we've seen in years because of the new transfer portal rules.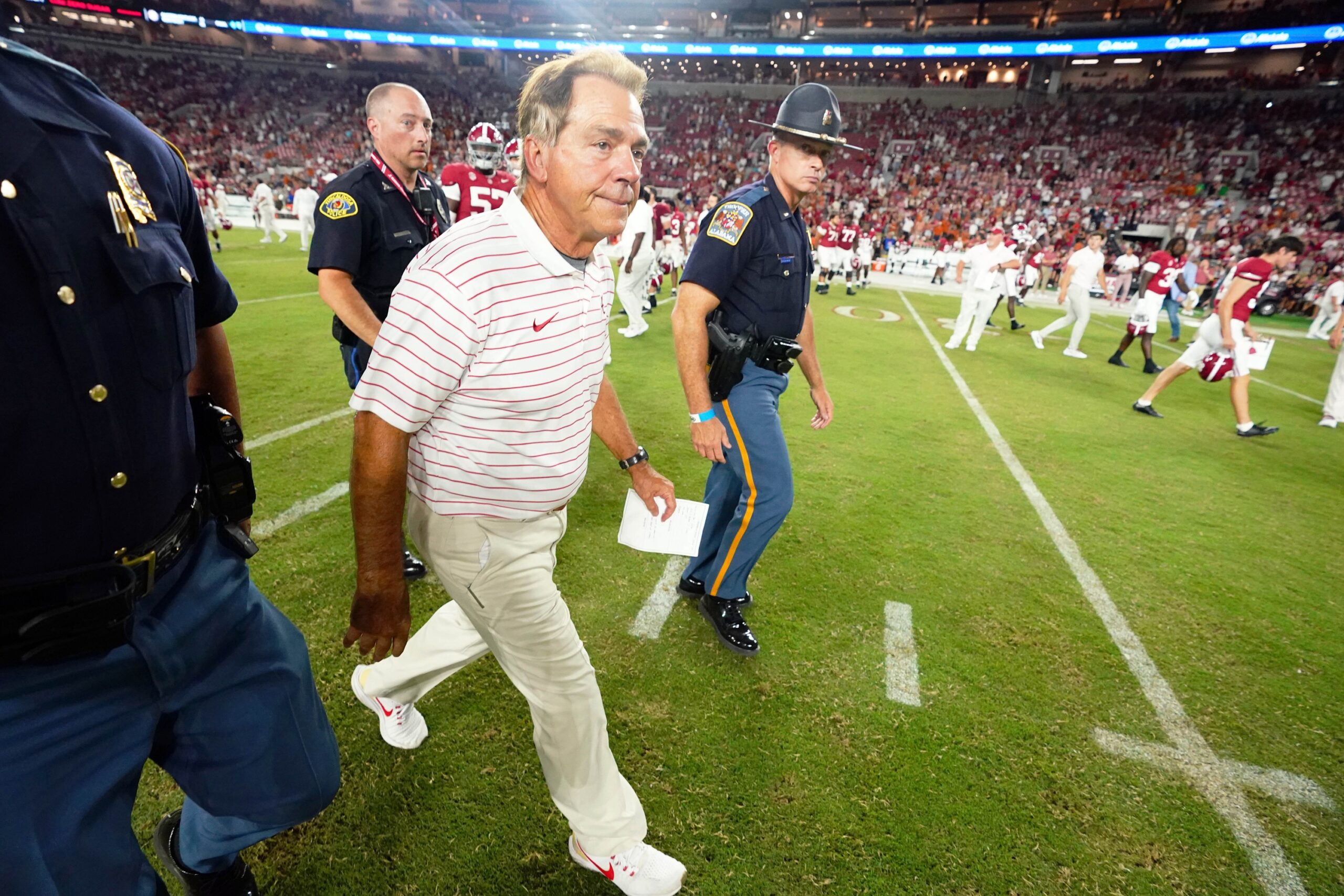 When you look at the list of quarterbacks that have beaten Nick Saban while Saban has been at Alabama, the list is filled with dual-threat quarterbacks who can stretch his vaunted defense horizontally as much as they can vertically. But amongst names like Johnny Manziel, we also know about Cardale Jones and Joe Burrow.
Ewers, of course, is not like Jones as a player. Jones was a power thrower who caught fire at the right time of the year to help propel Ohio State to a national title. However, we can certainly draw a parallel from Burrow to Ewers.
While Ewers has not come into his own in the same way that Burrow did in his senior season at LSU, the two are similar as pocket passers. Burrow is the only true pocket passer of the NFL's elite quarterbacks. No other quarterback in the NFL has as much success as Burrow does being a statue in the pocket.
Oh man this pass from Ewers to Adonai Mitchell is money pic.twitter.com/IHk7bXn3Rx

— Ian Valentino (@NFLDraftStudy) September 10, 2023
At his best, Ewers wins similarly. He's excellent off RPO reads and knows what he's looking at when he reset his eyes on the defense. When his deep ball connects, it's very difficult for a defense to load the box and slow Ewers.
He now has a supporting cast around him at Texas that could fully maximize his skill set. The addition of Adonai Mitchell can't be understated. While Ewers is trending up in draft stock, so is Mitchell.
MORE: Quinn Ewers Draft Profile
Last year, Texas struggled to create easy looks for viewers outside of Xavier Worthy. Worthy has been playing well this season, but it's notable that he's taking a backseat to his new teammate, Mitchell. All in all, Texas is loaded with playmakers.
Ewers' placement, at its peak, is unfreakinbelievable. This would've been a tough catch, but it could've been made. Possibly the third dropped TD by Texas tonight. pic.twitter.com/VxuBYZkm7I

— Ian Valentino (@NFLDraftStudy) September 10, 2023

It's made Ewers' job easier, even without Bijan Robinson in the backfield. That does not mean that Ewers is a product of what's around him, though. In Week 2, Ewers consistently kept the offense moving on time.
Ewers not only ripped off a nine-consecutive completion streak but also owned first downs. He completed 16 of 20 passes for 225 yards and two touchdowns on first downs. That included the first touchdown of the game.
Ewers to Worthy for a 44 yard bomb! Ewers sees the safety isolated and hits the throw with perfect touch. pic.twitter.com/1S9fVc5ggF

— Ian Valentino (@NFLDraftStudy) September 10, 2023

In addition to keeping Alabama's defense on its toes with effective short and intermediate passes was the explosion of deep passes. This was an area where Ewers struggled in 2022. He went several games without completing a deep pass last year due to a mixture of his mechanical failures, consistently dealing with pressure from opposing defensive linemen and an offensive scheme that did not create easier opportunities downfield.
With better playmakers around him, performing well on earlier downs to help avoid third and long situations, and improved mechanics that generate more torque from his core and lower body, Ewers was unstoppable this past week. And that is why Ewers was reminiscent of peak Joe Burrow.
With his great blend of natural arm talent, touch to all three levels of the field, and the ability to read defenders as leverage, Ewers has great instincts and physical ability to put the ball exactly where he needs to whenever he needs to.
Sick juke from Adonai Mitchell to spring free, and Ewers has the ball out as soon as the FS bites on the dig. Beautiful play by both, and both players have stepped up in a big way tonight pic.twitter.com/FZH7ZpDKg0

— Ian Valentino (@NFLDraftStudy) September 10, 2023

There was little that Saban could do to slow Eavers. Though this was not a feared, all-time, Alabama quality defense, it was a good Alabama defense that has playmakers on every level. The key to surviving any Saban-led defense is to get ahead of them and avoid obvious passing situations. Ewers did exactly that, and he sprinkled in some brilliant play, making excellent downfield passes to deliver haymakers to a defense that was built to avoid those at all costs.
Ewers' 2024 NFL Draft Projection
If Ewers' display against Alabama was a sign of what's to come throughout the rest of the season, Ewers will push to be the QB3 in the 2024 NFL Draft class. Several competitors are ready to join the conversation behind Caleb Williams and Drake Maye, including Bo Nix, Shedeur Sanders, Jordan Travis, Riley Leonard, and Ewers.
He doesn't need to be that good every week. Simply playing well and avoiding an elongated stretch of poor play will put him in the first round of the 2024 draft. Teams need help at the position sooner than later, and Ewers is right with Maye as the best pure pocket thrower in the class.
I had Ewers as a second-round value entering the season. This type of performance can shoot him into the top-25 overall, and sustaining close to this level of play for most of the season can vault him even higher. We know QBs get pushed up, so he'll be in the mix to be a top-10 pick if this trajectory continues.
Listen to the PFN Scouting Podcast
Listen to the PFN Scouting Podcast! Click the embedded player below to listen, or you can find the PFN Scouting Podcast on iTunes, Spotify, and all major podcast platforms.  Be sure to subscribe and leave us a five-star review! Rather watch instead? Check out the PFN Scouting Podcast on our Scouting YouTube channel.