We're still in the early stages of the 2023 NFL season, so fantasy football values are still being formulated. After three weeks, though, things are starting to come into focus.
Unraveling all that we saw in Week 3 and translating it into Week 4 WR trade targets is where fantasy managers can differentiate themselves. To help you get your head around it all, here are our thoughts on some WRs to buy low or sell high on entering Week 4.
Looking to make a trade in your fantasy league? Having trouble deciding who to start and who to sit? Check out PFN's Free Fantasy Football Trade Analyzer and Start/Sit Optimizer to help you make the right decision!
Which WRs Should You Trade for in Fantasy Football?
Christian Watson, Green Bay Packers
This one stems from questions I've received about the merits of dropping Christian Watson. Before you gasp at the notion, understand that there are people out there concerned over the fact that Watson hasn't played a game yet.
If there are people willing to drop Watson, they're surely willing to trade him — likely for pennies on the dollar.
MORE: Yates' Projection Tool
Watson appears very close to returning. I think he would've played in Week 3 if the Packers had not had a Thursday night game on the docket. My guess is that Watson returns in this upcoming game and immediately resumes his role as the team's WR1.
If anyone is frustrated enough to trade him now, he's worth acquiring.
Calvin Ridley, Jacksonville Jaguars
I'm advising to buy Trevor Lawrence, so I might as well add his WR1 to the list.
Calvin Ridley exploded to open the season, but he's fizzled out considerably over the past two weeks. After catching eight passes for 101 yards and a touchdown in Week 1, Ridley's combined Week 2 and 3 line is just five catches for 72 yards.
I don't think Week 1 was a fluke. Ridley still physically looks good on the field. If better days are ahead for Lawrence, he'll take Ridley with him. The Falcons are a great bounce-back spot next week after they were torched by WR Amon-Ra St. Brown this past weekend.
If Ridley is being sold at a discount, it's worth it to buy.
Which WRs Should You Trade Away in Fantasy Football?
Courtland Sutton, Denver Broncos
Perhaps Courtland Sutton is still the WR1 for the Broncos ahead of Jerry Jeudy. At the very least, just like last year, the gap between the two in fantasy drafts was too large — just in reverse.
With that said, Sutton just put up 91 yards and a touchdown on eight catches. He also fumbled twice, which I can't imagine went over well with his coaches.
MORE: PPR Rankings
The Broncos are a disaster. HC Sean Payton has done nothing to change this team's trajectory. They are going to lose a lot of games, and there's no salvation in sight.
After next week's matchup against the Bears, the schedule really turns on the Broncos. They get the New York Jets, Kansas City Chiefs, Green Bay Packers, and the Chiefs again. Then, they have their bye. I'm not excited about Sutton's prospects for any of these games. If you can sell him as a WR2, I would do so.
DJ Moore, Chicago Bears
It was another disastrous game for DJ Moore — until the very end of garbage time when he found the end zone. That's two quality fantasy outings for Moore, but it's mostly smoke and mirrors.
The Bears' offense is not good. QB Justin Fields has made no strides as a passer, so this remains a low-volume passing attack. Moore only has 15 targets through three games. If anyone still values him like the fourth-round pick he was in fantasy drafts, sell him at that price.
Trending WR Fantasy Football Trades
Are you considering making a trade in your fantasy football league? Our PFN Trade Analyzer allows you to find the best trades to make in seconds. It also allows us to see trending searches. We've compiled a few of the most popular below.
Should You Trade Cooper Kupp for Jaylen Waddle?
We are heading into Week 4. This is the last week Cooper Kupp is required to miss. Of course, that doesn't mean he'll necessarily return in Week 5, but it's possible.
Jaylen Waddle just missed Week 3 with a concussion but appears on track to return in Week 4.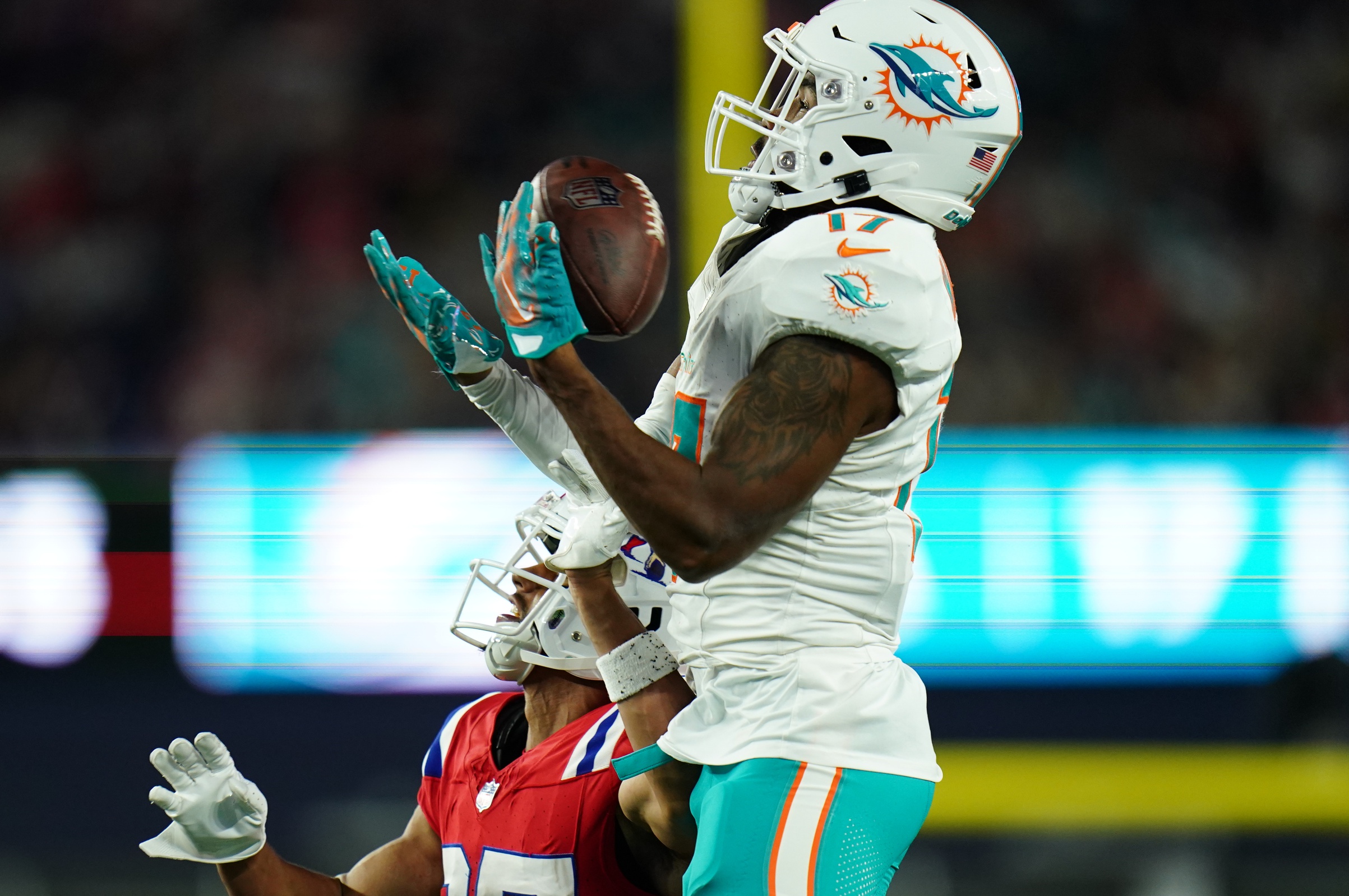 By the time September fantasy drafts rolled around, Waddle was going firmly ahead of Kupp, entirely due to Kupp's hamstring. Now, three weeks of his recovery are already gone. If we knew for sure that Kupp was going to return in Week 5 and stay healthy, I would rather have him than Waddle.
Unfortunately, we don't know that. At this point, I just am not confident enough in Kupp's health to invest in him. If you can move him and take the WR2 in what looks like the best offense in the NFL, that's a move I would make.
Should You Trade Courtland Sutton for Gabe Davis?
At least one thing is objective with these two, Gabe Davis is in the better offense. The problem is that Davis has proven to not be a particularly special player. He's just not capable of earning targets.
Davis has just 15 targets in three games. His fantasy numbers are inflated because he's scored twice.
Sutton, on the other hand, has reestablished himself as the Broncos' WR1 — firmly ahead of Jeudy. Sutton's 23 targets are more than double Davis' targets through three weeks, and he's yet to score below double-digit fantasy points.
Sutton is looking more like the guy who went in the third round last season. Davis is looking like a guy whose Round 7/8 ADP was justified.
I do think Sutton has been overperforming, especially with a quarterback as cooked as Russell Wilson on what is one of the five worst teams in football. So, exploring a trade is not a bad move. But Davis is not the guy I'd be looking to acquire.
Listen to the PFN Fantasy Podcast
Listen to the PFN Fantasy Podcast! Click the embedded player below to listen, or you can find the PFN Fantasy Podcast on iTunes, Spotify, and all major podcast platforms.  Be sure to subscribe and leave us a five-star review! Rather watch instead? Check out the PFN Fantasy Podcast on our Fantasy YouTube channel.