The NFL preseason is officially over, and that means it's time to lock in those fantasy football rankings. Of course, we have you covered, but what has changed over the past month? I'm glad you asked!
Behind in research? Get a trade offer in your dynasty or redraft league? Not sure who to start or sit this week? Leverage PFN's FREE fantasy tools — our Fantasy Football Draft Kit, Fantasy Football Trade Analyzer and Calculator, and Start/Sit Optimizer! Put the finishing touch on your A+ draft with 1 of our 425+ fantasy football team names.
Preseason Fantasy Football Adjustments
Garrett Wilson, WR, New York Jets
Aaron Rodgers made his Gang Green debut, and with a few flicks of that right wrist, he confirmed everyone's priors that Garrett Wilson could be in for a special year.
Whenever you thought you were going to be able to draft Garrett Wilson in fantasy this season you should move that up by about a full round after this.

— Field Yates (@FieldYates) August 26, 2023
Rodgers' first pass was a quick-hitter to Wilson, and his second drive ended with a beautiful 14-yard hookup for six points. Giddy up!
The WR position is so deep that I'm having a hard time moving Wilson higher than WR10 in my ranks, but you need to understand that his ADP is on the rise, and he could come off the board at any point in the second round of your draft.
In 2013, Rodgers missed seven games. Here are his WR1 numbers since, excluding an injury-shortened 2017 and the mess of 2022.
2021: Davante Adams posts a 123-1,553-11 line (16 games)
2020: Davante Adams posts a 115-1,374-18 line (14 games)
2019: Davante Adams posts an 83-99-5 line (12 games)
2018: Davante Adams posts a 111-1,386-13 line (15 games)
2017: Rodgers missed nine games
2016: Jordy Nelson posts a 97-1,257-14 line (16 games)
2015: James Jones posts a 50-890-8 line (16 games)

Nelson tore his ACL in the preseason

2014: Jordy Nelson posts a 98-1,519-13 line (16 games)
You get the idea. When Rodgers has been healthy and entered a season with the WR1 he spent the preseason with, that receiver has been nothing short of elite. Wilson profiles as that guy in New York. You're just going to have to pony up a second-round pick to get him. And if you own an early pick, you may not get a shot to acquire his services.
Rodgers himself remains on the fringe QB1 tier. His lack of mobility is a concern, and his offenses in Green Bay never operated with pace. For a pocket passer on a team looking to minimize the possession count, Rodgers needs to be nearly perfect to return consistent value. He's a four-time MVP, so he could do it, but the risk remains higher than his name value suggests.
James Cook, RB, Buffalo Bills
1) Cook 1-yard gain
2) Cook 6-yard gain
3) Cook 9-yard gain
4) Cook 2-yard gain
5) Damien Harris 2-yard TD
Those are the run plays on Buffalo's first drive of Week 3 this preseason. You could read that in a variety of ways. Either James Cook is clearly the volume guy or Damien Harris is the type of vulture who could stunt Cook's fantasy development.
Part of my math a month ago in labeling Cook a top-20 back was his scoring equity in an offense that is going to live in the red zone. That upside remains, but Harris use to finish off drives is certainly a concern.
MORE: Top RBs To Draft in Fantasy Football 2023
In fact, it scared me enough to drop him in my rankings. I now have Cook ranked as RB23 and second in his family.
For tiering purposes, I have Cook just behind Isiah Pacheco, who plays for a similarly potent offense but carries more of a scoring-friendly role. Initially, I favored Cook's upside as a pass catcher, but if we're talking a difference of 3-5 touchdowns this season, give me the stability of Pacheco.
As for Harris, I'm viewing him as a slightly better version of Ezekiel Elliott. That's not enough of a role to crack my top 40 at the position, but there's a real path for him to carve out a 7-10 role that carries scoring potential. That's good enough for Flex consideration as we get into the middle portion of the season with byes/injuries.
Diontae Johnson and George Pickens, WR, Pittsburgh Steelers
All Kenny Pickett did in the preseason was complete 13 of 15 passes for 199 yards and a pair of scores. For those keeping track at home, yes, that's a perfect QB rating.
The second season has long been one in which quarterbacks take a big leap, and Pickett certainly seems primed to take that step.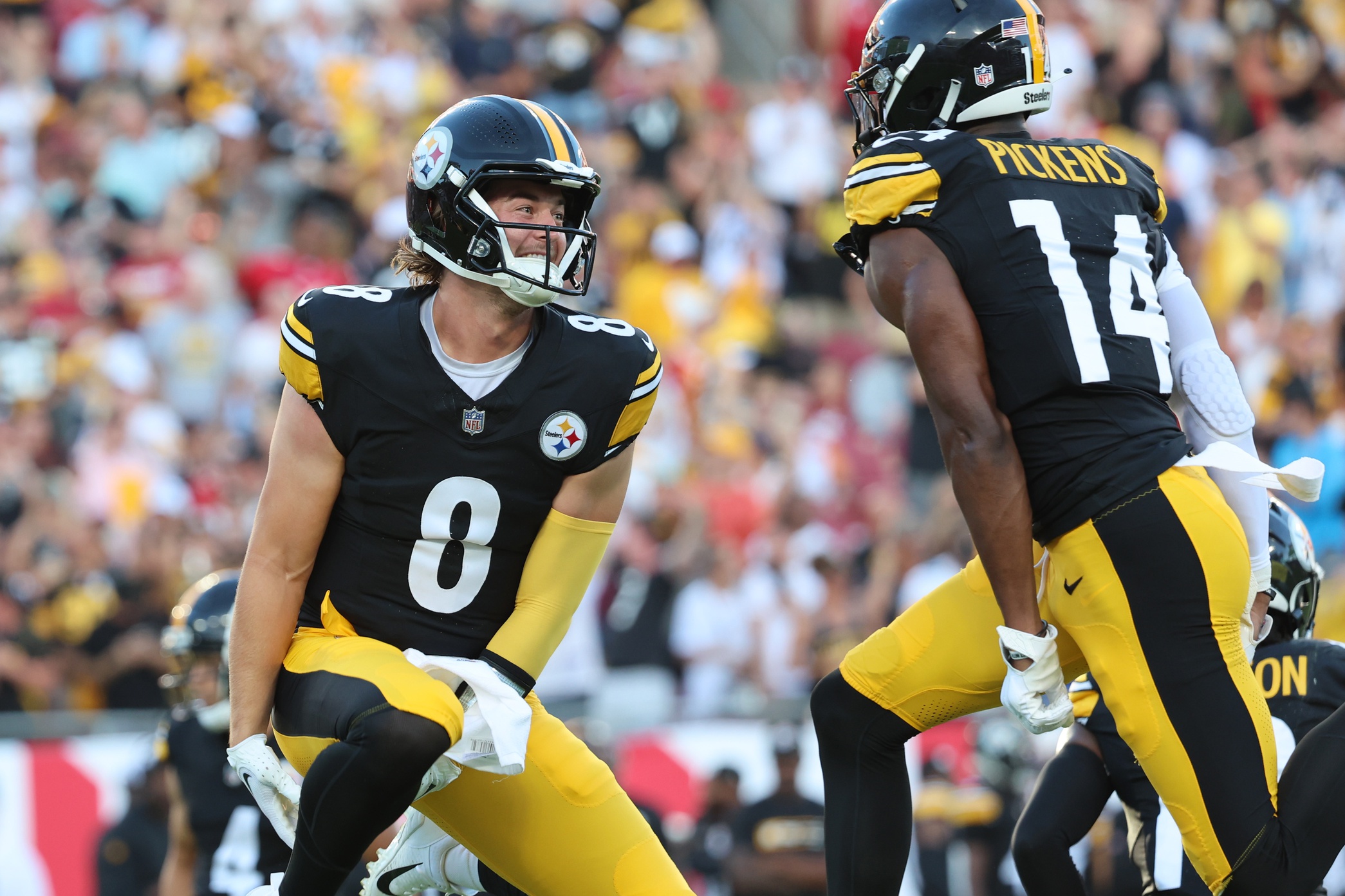 Both Diontae Johnson and George Pickens made plays in their limited work this summer, racking up 141 yards on their seven receptions. The notable part … both were used as downfield weapons. Now we saw that last season, and it didn't work out well for those rostering Johnson.
Here's the breakdown on balls thrown at least 10 yards in 2022:
George Pickens
48 targets
26 catches
623 yards
Diontae Johnson
56 targets
22 catches
379 yards
Pickett's aDOT ranking rose from 27th in the first half of last season to 12th in the second half. Given the play-calling patterns this summer, it stands to reason to think that Pittsburgh's offense is going to be a vertically oriented one.
Pickens and Johnson are both coming off the board in the seventh round right now, a spot where both could return value. It depends on your build and draft strategy, but a focus on big plays would seem to favor Pickens' upside in a major way.
Rashee Rice, WR, Kansas City Chiefs
The race for targets in KC is going to matter for fantasy managers, and the rookie did plenty to impress when given the opportunity. This preseason, Rashee Rice caught 14 of 19 targets for 155 yards (including a nice 8-96 performance in Week 2).
The raw numbers are great, but two things jumped out to me — nearly 79% of Rice's yards came after the catch, and he picked up six first downs.
MORE: WR Fantasy Football Sleepers To Draft — Players Include Zay Jones, Rashee Rice, and K.J. Osborn
As a member of the Chiefs offense, your job is to keep No. 15 on the field as long as possible. Rice is a big target that we saw earn targets at an elite level last season at SMU (96 catches).
The WR room in Kansas City lacks proven talent, and Rice's ADP currently sits outside of the first 12 rounds. The floor remains low, but thanks to some proof of concept, the risk/reward analysis is now leaning in his favor.
Travis Etienne Jr., RB, Jacksonville Jaguars
Plenty has been made this summer about Tank Bigsby and his ability to do many of the same things as Travis Etienne Jr., a player going inside the top 15 running backs for just about everyone.
Confirmation bias set in through two weeks of preseason football as Bigsby ran for 122 yards on 22 carries. But then, the rookie moment happened.
Against the Dolphins this past Saturday, Bigsby lost a fumble on the 2-yard line … the next possession, Etienne punched in a score from three yards out.
I maintain my faith in this Jaguars offense, and as long as Etienne is the featured back, he's going to be a top-15 guy for me every week with the potential to flirt with the top 10. Bigsby remains a viable insurance policy worth grabbing, but Etienne averaged over five yards per carry as a rookie and should continue to get consistent work in an *elite* offense.
Raheem Mostert, RB, Miami Dolphins
We entered August with three backs vying for touches in a Miami offense that will figure to do most of their damage through the air, and that left all three off radars until the later rounds. Well, things have changed.
Jeff Wilson Jr. missed the entire preseason with a variety of injuries, resulting in head coach Mike McDaniel saying that he didn't believe "it would be fair" to put him in a live-game situation as Miami wrapped up their preseason schedule. That's hardly ideal for a 26-year-old back who has yet to reach 140 touches in a season.
Preseason rotations can be taken with a grain of salt in most instances, but the fact that rookie De'Von Achane, when healthy (battling a shoulder injury), played behind Myles Gaskin and Salvon Ahmed was a surprise. While I still project Achane to be in the mix when he's right, it's tough to label him as a real threat to lead this backfield any time soon.
That leaves the 31-year-old Raheem Mostert left standing as the feature back in an offense that led the NFL in yards per play when Tua Tagovailoa was healthy last season. The veteran back set a career-high with 212 touches last season, his first with the team. Considering that Mostert averages 5.8 yards per touch for his career, a role like that would put him on the Flex radar.
Right now, I have Mostert as RB36, a ranking that outpaces his teammates by 10+ spots and puts him in a spot where I'm likely to land him in the 10th round.
Jahan Dotson, WR, Washington Commanders
Jahan Dotson had a productive rookie season, but scoring on 20% of his receptions as a sub-185-pound receiver in an iffy offense wasn't exactly something that was screaming stability.
Fast forward to this preseason, and Sam Howell looks like a real NFL quarterback while Dotson is finding holes in defenses. Those things are more sustainable than what he did last season and make Dotson a legitimate threat to hold Flex value out of the gate.
He caught a touchdown in the preseason opener and followed it up with an impressive five-catch, 76-yard performance in the ending of the Ravens' historic preseason win streak.
I still think Dotson is fighting an uphill battle to crack the top 30 wide receivers, but the fact that he's in that conversation makes him worth consideration in the middle rounds (in the "WR2s with high upside" tier that includes the aforementioned Pickens, Gabe Davis, and rookie Jordan Addison).
Listen to the PFN Fantasy Podcast
Listen to the PFN Fantasy Podcast! Click the embedded player below to listen, or you can find the PFN Fantasy Podcast on iTunes, Spotify, and all major podcast platforms.  Be sure to subscribe and leave us a five-star review! Rather watch instead? Check out the PFN Fantasy Podcast on our Fantasy YouTube channel.