Ezekiel Elliott has seen his star lose some brightness in recent years and not just the one that used to be on the side of his helmet. After being a top-10 pick and bursting onto the scene behind one of the best offensive lines in football, Elliott, in recent years, clearly lost a step and wasn't the playmaker fans and Dallas Cowboys team officials were used to seeing.
Dallas begrudgingly accepted the reality that he wasn't the guy anymore and gave way to the Tony Pollard era. Months after being cut, Elliott is still available to be had. However, a new report suggests that may change and that there are two real possibilities for Elliott to join an NFL team.
Could Ezekiel Elliott Help the Chargers?
There is a natural fit for Elliott in Los Angeles. His former Cowboys offensive coordinator, Kellen Moore, is now the offensive coordinator for the Chargers. The fit here would be based on familiarity alone and not for Elliott to become the expected starter. Rather, he would be seen as being able to provide a spell to entrenched starter Austin Ekeler, especially around the goal line.
MORE: FREE NFL Mock Draft Simulator With Trades
In four seasons with Moore as his coordinator, Elliott scored double-digit touchdowns three times. That's an area where he can provide significant value to the Chargers' offense. Again, however, the expectation should not be that Elliott cements himself as the premier playmaker in the offense.
One of the reasons Moore is no longer in Dallas is because of a difference in philosophical thinking between him and head coach Mike McCarthy. As McCarthy said when Moore left, Moore wanted to "light up the scoreboard," a reasonable thing one would think for an OC to want to do, while McCarthy wanted him to "run the damn ball" so the defense could get rested.
It doesn't sound like Moore would want Elliott to follow him to LA to be the bell cow. More so, if this signing were to take place, it's because the Chargers need an RB2 with a goal-line presence, and that's what Elliott can provide at this point.
Do the Browns Make Sense for Elliott?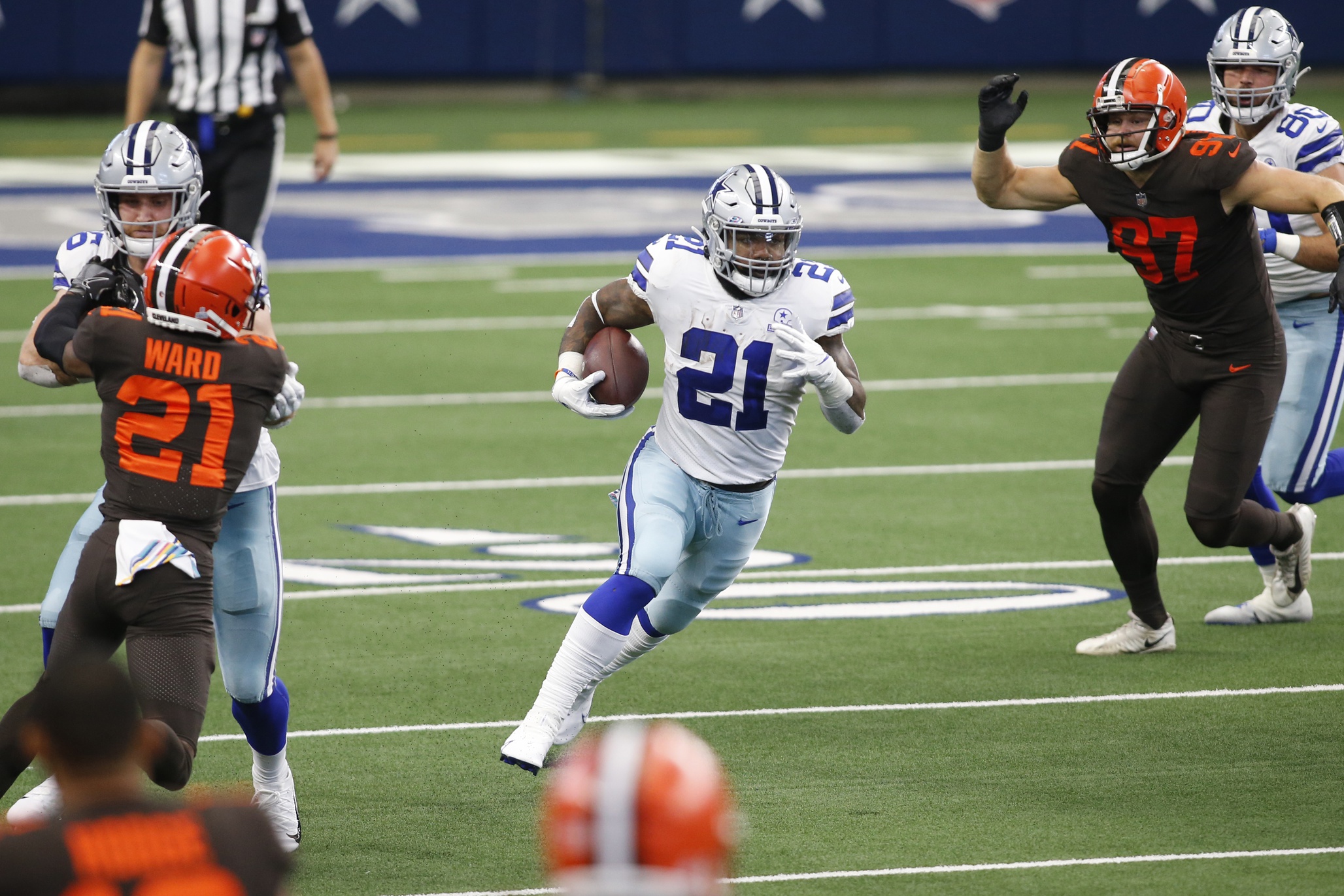 The Cleveland Browns are another team mentioned as a possibility to sign Elliott. With D'Ernest Johnson no longer in the fold, and Kareem Hunt is himself sitting as a free agent, Cleveland needs a running back to back up star Nick Chubb.
MORE: Dalvin Cook Rumors — Latest on Future of Minnesota Vikings RB
Chubb is a true bell-cow RB and one of the best rushers in the NFL. Like with the Chargers, Zeke would be coming in to fall into a rotation. Running backs have a short shelf life, and injuries can happen sooner rather than later. Adding Elliott would provide a veteran presence who has a history of success and could step in if absolutely needed.
Why Is Zeke Still Unsigned?
This is a discussion point because months after being cut, Elliott is still not on an NFL roster. When you have the star power that he once had, the expectation was that eventually, Zeke would sign somewhere, and probably quickly.
However, the truth is, Elliott simply isn't that guy anymore and hasn't been for some time. It took the Cowboys more time than it should have to realize that. Other teams already have. Yet, there's one more person who needs to as well.
Elliott likely needs to come to terms with who he is at this stage of his career as well. For a player of his pedigree, that can be the hardest thing to do, especially if you still believe deep down that you haven't lost a step. Hearing general managers or coaches, or even people like me, tell you that you need to accept a new reality can be incredibly humbling.
That doesn't change reality, though. The NFL's free agent market is a free-market economy. You get paid what you're worth more times than not. It's most likely that when Elliott accepts what the market is telling him, he'll be on a new team.