With the Dallas Cowboys having their first padded practice of training camp, let's look at the depth chart and who has a chance to make the final roster to see if any changes have been made.
Dallas Cowboys 53-Man Roster Projection: Offense
Quarterback (2)
To no one's surprise, this room has not changed at all. However, glimpses at camp have shown us some things: Dak Prescott could be using his legs more than he has been, and Will Grier is striving to improve.
Prescott has been scrambling out of the pocket more in camp. This doesn't solidify that we will see this more when the season starts, but it indicates that he feels more comfortable overall.
Rush is still consistent and getting reps with some of the starting receivers.
Running Back (3)
All eyes were on Tony Pollard as he returned after fracturing his fibula and getting surgery. Pollard looks like he never skipped a beat, especially doing lateral drills with the rest of the running back room.
Early camp standouts for the backup running back position have been Rico Dowdle, Malik Davis, and Deuce Vaughn. Ronald Jones' two-game suspension isn't projected to impact this competition.
Head coach Mike McCarthy said that the young group of running backs are picking up new things they are asking them to do, saying there is more on their plates now than before.
Tony Pollard
Rico Dowdle
Deuce Vaughn
Wide Receiver (6)
The Cowboys' starting three wide receivers are proof that all good things come in threes. Brandin Cooks has quickly shown what an asset he is for this group and how much juice he still has in the tank. Ceedee Lamb and Michael Gallup look fresh, quick, and rejuvenated.
The fourth wide receiver spot is still up for grabs, and projections change daily with how competitive it is turning out to be.
Jalen Tolbert has had one of the best starts to camp. Mike McCarthy said that in the offseason, he was in the weight room every day and had been putting in the extra work to make the connection with Prescott.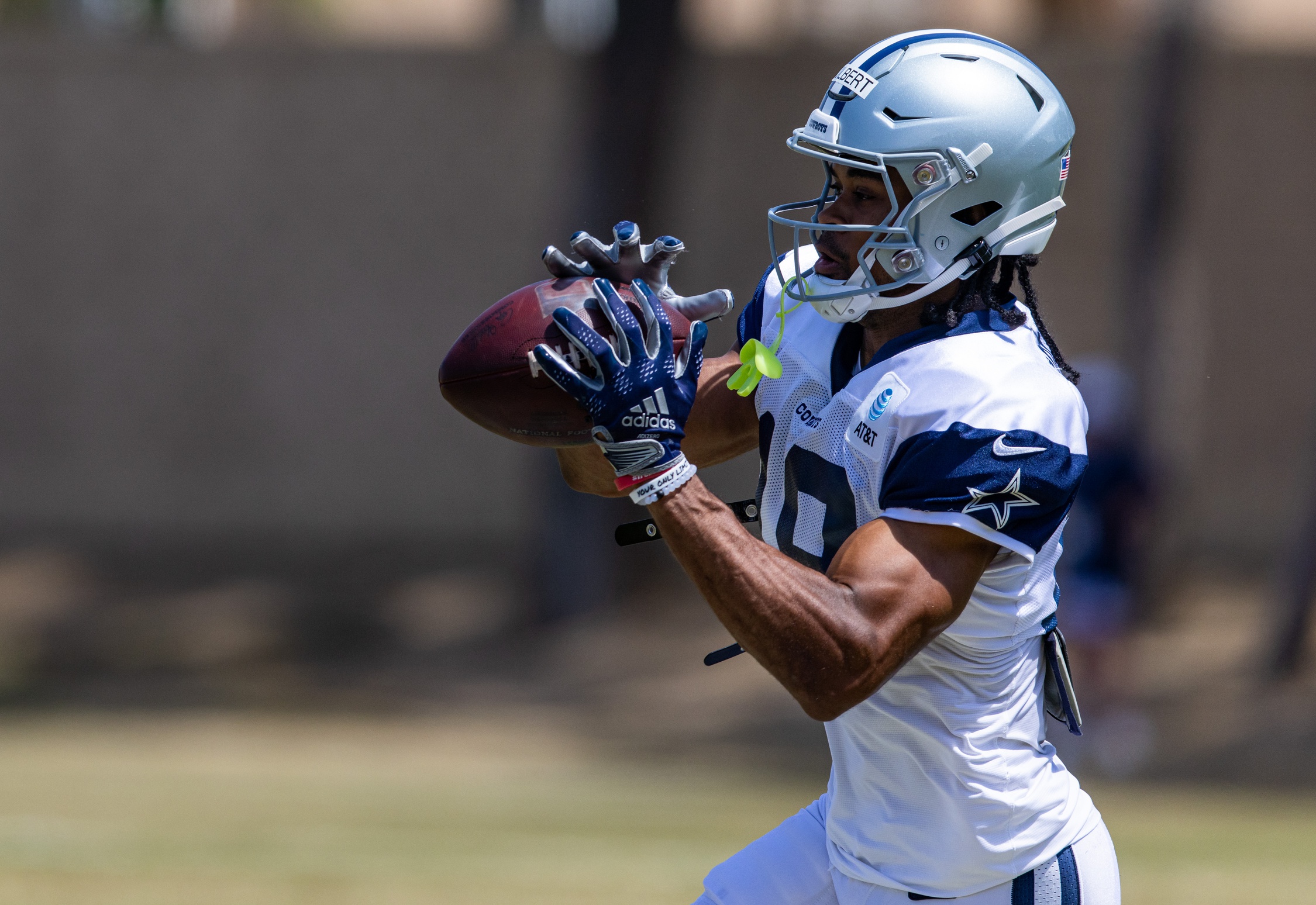 KaVontae Turpin was back at practice after leaving for a few days to be there for the birth of his new baby. But he came back packing a punch. Prescott has praised Turpin's speed plenty ahead of camp, and Turpin has continued to prove that he belongs within the offense with his speed and shiftiness.
Although Simi Fehoko had a tough first day of camp, he is recovering and finding his stride again with Prescott and Rush.
Jalen Moreno-Cropper has been one of the most impressive rookies in camp so far. He has speed, separation, and route-running abilities that shouldn't be ignored.
CeeDee Lamb
Brandin Cooks
Michael Gallup
Jalen Tolbert
KaVontae Turpin
Simi Fehoko
Tight End (4)
The Cowboys' tight end room has stepped up, showing they can handle business without Dalton Schultz.
Jake Ferguson has been on a consistent growth path and has shown more strength at camp.
Sean McKeon is another underrated player with one of the most excellent performances thus far. Offensive coordinator Brian Schottenheimer praised him, saying he has had a great camp.
Although Luke Schoonmaker is on the active/non-football injury (NFI) list because of a partial tear to his plantar fascia, he is still doing the mental work and drills from the sidelines.
Jake Ferguson
Peyton Hendershot
Luke Schoonmaker
Sean McKeon
Offensive Line (9)
The Cowboys' offensive line remains one of the most intriguing groups to look out for, especially with Zack Martin still holding out from camp.
Josh Ball has been taking the most reps with the starters in Martin's absence.
Terence Steele has been in his ramp-up but has been productive on the line and showcasing his strength.
In pads against the defensive line, this group showed that they needed to shore up the edges after allowing three sacks within 11-on-11 play. To be fair, the Cowboys' defensive line was creating havoc, so if they can fight against them, they could be prepared to play at high levels against top defenses around the league this season.
Tyron Smith
Zack Martin
Tyler Smith
Terence Steele
Tyler Biadasz
Asim Richards
Matt Waletzko
Matt Farniok
Josh Ball
Dallas Cowboys 53-Man Roster Projection: Defense
Interier Defensive Line (5)
The trenches have been clogged with Mazi Smith and Johnathan Hankins. This group is doing exactly what they need to and has added strength to the line.
Neville Gallimore
Johnathan Hankins
Mazi Smith
Osa Odighizuwa
Quinton Bohanna
EDGE (5)
One name: Micah Parsons.
Parsons has shown more speed and strength at the EDGE position. He even easily knocked down Tyron Smith on the first day of padded practice. Demarcus Lawrence is staying strong and continues to help disrupt the pocket. These guys are setting the tone for the rest of the team, which shows.
Micah Parsons
Dante Fowler Jr.
Demarcus Lawrence
Sam Williams
Dorance Armstrong
Linebacker (5)
Leighton Vander Esch's ability to communicate has boded well for this group, especially with Damone Clark ready to take a big jump this year.
DeMarvion Overshown has had a great camp so far, and if he can continue his progression, on top of working with the special teams unit, he could find himself on the final roster.
Isaiah Land has had a chance to step up in this camp and has shown strong potential.
Leighton Vander Esch
Malik Jefferson
Damone Clark
DeMarvion Overshown
Jabril Cox
Cornerback (6)
With Trevon Diggs dealing with a bruised toe, according to McCarthy, younger guys have a chance to step up and get more reps.
This isn't stopping Diggs, though, and he will be on the sidelines coaching other guys, most notably Nahshon Wright.
Wright has gotten a fair amount of reps and attention and has shown improvement.
Eric Scott Jr. is also on a come-up and can be polished quickly. He is notably good at pass breakups.
Kelvin Joseph has gotten praise from Dan Quinn and John Fassel for his improvement during this offseason and camp. I wouldn't count him out of having final roster potential yet.
Trevon Diggs
Stephon Gilmore
DaRon Bland
Nahshon Wright
C.J. Goodwin
Kelvin Joseph
Safety (5)
The "three-headed monster" hasn't been in full swing, with Donovan Wilson dealing with a calf strain that will keep him out for 4-6 weeks.
Israel Mukuamu is also dealing with a hamstring injury, so he won't be as involved in the meantime.
But this allows younger guys to get more reps than if Wilson was in the mix. Markquese Bell has taken more reps and took full advantage of this opportunity.
Tyler Coyle, having the first interception of training camp, is someone to also keep an eye on.
Jayron Kearse
Donovan Wilson
Malik Hooker
Israel Mukuamu
Markquese Bell
Special Teams (3)
The kicker competition is barely beginning, as Monday was the first time we saw Tristan Vizcaino and Brandon Aubrey kicking.
Although both guys are on an equal playing field, Aubrey has a slight lead after going 6 for 7 on Tuesday, and Vizcaino going 5 for 7.
This competition is still wide open and probably will be solidified after the preseason.
Brandon Aubrey (K)
Bryan Anger (P)
Trent Sieg (LS)
Listen to the PFN Cowboys Podcast
Listen to the PFN Cowboys Podcast! Click the embedded player below to listen, or you can find the PFN Cowboys Podcast on iTunes, Spotify, and all major podcast platforms.  Be sure to subscribe and leave us a five-star review! Rather watch instead? Check out the PFN Cowboys Podcast on our NFL YouTube channel.