Dallas Cowboys linebacker Leighton Vander Esch is heading into his sixth season after coming off his best outing since his rookie year. Last year, he was referred to as the "thermostat" of the defense by the coaches, setting the tone for the rest of the team. Ahead of the Cowboys' first padded practice on Monday, head coach Mike McCarthy discussed the importance of Vander Esch's role on the field.
"He wears the green dot; he's the communicator on the field. Obviously, the adjustments. I think he does a great job recognizing the protection adjustments or the run adjustment of the offense," said Mccarthy. He also mentioned how LVE plays fast with his mind and has the ability to process information quickly.
McCarthy stated that Vander Esch is in the best shape he has seen since he started his coaching reign in Dallas. Although Vander Esch's role starts the defense's domino effect, his role as a mentor has been especially vital to one player: LB Damone Clark.
Clark and Vander Esch spoke with PFN exclusively about what it's like working with each other, the parallels in their careers so far, and how their bond is making the defense stronger.
Leighton Vander Esch and Damone Clark on Mentorship and Building Confidence
This time last year, Clark couldn't participate in camp because of his recovery from spinal fusion surgery due to a herniated disc — something that Vander Esch could relate to since he had the same surgery for the same injury back in 2019.
Fast forward to now, and Clark is taking the field at camp, saying that both Vander Esch and his coaches challenge him a lot.
"Last year, they had trust in me to put me on the field. I didn't have any offseason, nothing. No preseason, no OTAs, no training camp. They put me out there, and that shows the trust that they have and have that talk with them that it's time for me to take that next step," said Clark.
Clark mentioned that Vander Esch's intentions to help mentor him were evident early last year when he would sit with him during his rehab sessions to tell him that his time was coming and to be ready.
So when Clark's number was called after linebacker Anthony Barr was ruled out with an injury last season, Vander Esch knew it was Clark's time to shine. Clark played in 10 games, five of which he started.
After the season, Clark said he and Vander Esch worked to grow his confidence, watching film, and picking his brain.
He knows that Vander Esch holds him to a high standard and will give him feedback on how to get better after plays — something that Clark says Vander Esch learned from former Cowboys linebacker Sean Lee.
"Sean [Lee] was there for [Leighton Vander Esch] his rookie year when he got here, and Leighton is just passing it on down. Leighton's doing that for me, and there's going to be a point where I'm doing it to somebody younger," said Clark.
Deja Vu for the Cowboys' Linebacker Room
When Vander Esch talks about Lee, he describes him in one word: selfless.
Lee quickly took him under his wing despite being the first-round draft pick in 2018. Vander Esch says that alone tells you a lot about his character, especially for being an eight-year veteran at that point in time.
"Being the young guy and being in that position firsthand and learning from Sean and now being in the same position now in Year 6 with Damone coming into his second year, the least I can do is help him," said Vander Esch.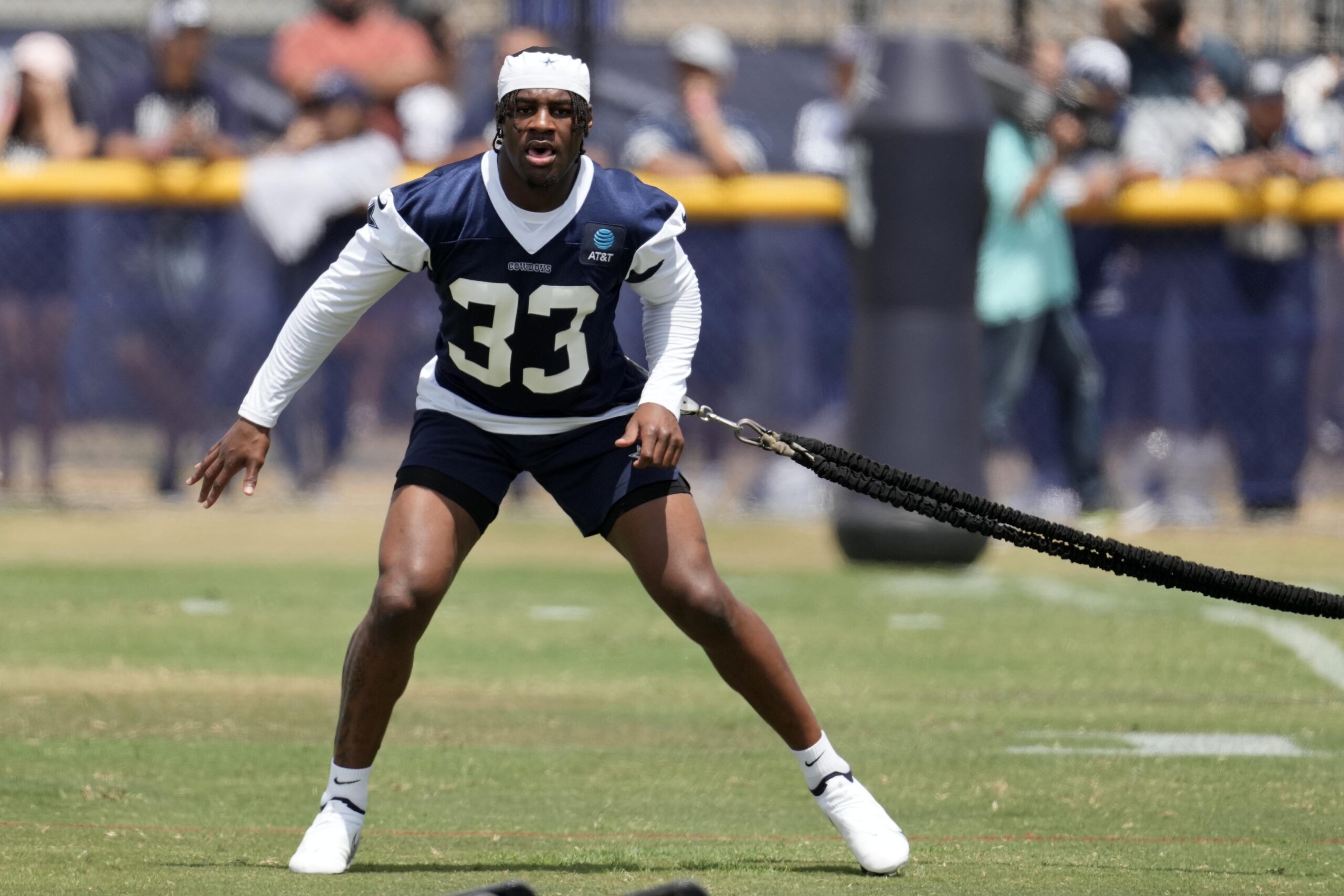 The veteran linebacker also emphasizes that the defense will be solid if Clark is next to him, communicating at a high level as he has been.
"He communicates extremely well. He's very intelligent. So just to teach him the little keys and things here and there that I know and that I've learned from the coaches and from Sean, it's just going to be good for the whole defense… If we're all firing at all cylinders, good things are going to happen," said Vander Esch.
This mindset is part of his role in the defense, saying that being the "thermostat" is something he takes pride in, especially being able to communicate at a high level.
"I love being in this position, and I love that guys can depend on me because I feel like I hold myself to an extremely high standard, and I feel like I do the same of holding everybody else to a high standard," said Vander Esch, echoing what Clark says makes working with him so enjoyable.
As for the expectations for the defense this year, he said they wouldn't be "anything short of that trophy" because that is what they are working for and have in mind and that "this year is going to speak a lot for itself."
Year 3 With Dan Quinn's Defensive System
Vander Esch says a large part of that is the defense is meshing exceptionally well in the third year under defensive coordinator Dan Quinn.
"Taking what the coaches are teaching us and making that bleed off onto the field into our results and how we fly around to make plays," said Vander Esch.
Quinn talked about Vander Esch's improvement in the last couple of seasons, mentioning his tackling is more fluid and his command at the line of scrimmage is strong.
"He's got such a high standard as a pro; it definitely wears off in a very positive way on everybody else, coaches included," said Quinn.
Listen to the PFN Cowboys Podcast
Listen to the PFN Cowboys Podcast! Click the embedded player below to listen, or you can find the PFN Cowboys Podcast on iTunes, Spotify, and all major podcast platforms.  Be sure to subscribe and leave us a five-star review! Rather watch instead? Check out the PFN Cowboys Podcast on our NFL YouTube channel.