Dallas Cowboys sixth-round draft pick Deuce Vaughn is one of the players that the fanbase and coaches have rooted for since Day 1.
Despite his size, he has become an early standout player in training camp, a viable candidate to fill the Cowboys' backup running back position, and a substantial addition on special teams.
Vaughn spoke exclusively with PFN about adjusting to training camp and what his daily goal is.
Dallas Cowboys RB Deuce Vaughn Finding His Training Camp Routine
Vaughn said the first three days of training camp are going well for him, and he is focused on getting his own routine down.
"You're out here in Oxnard, California, and you're practicing getting ready to go and play for an NFL team, which has been your dream since you have been a little kid, so you definitely have some anxiousness, some nerves the first two days, but it's starting to alleviate," said Vaughn.
He said he is taking "as much on his plate" as the coaches will give him.
Dallas Cowboys offensive coordinator Brian Schottenheimer spoke about Vaughn in a news conference.
Schottenheimer and Vaughn have something significant in common: They come from football families by way of their fathers.
Deuce Vaughn is the son of Chris Vaughn, the Cowboys' assistant director of college scouting. Meanwhile, Brian Schottenheimer is the son of the late Marty Schottenheimer, a legendary NFL coach.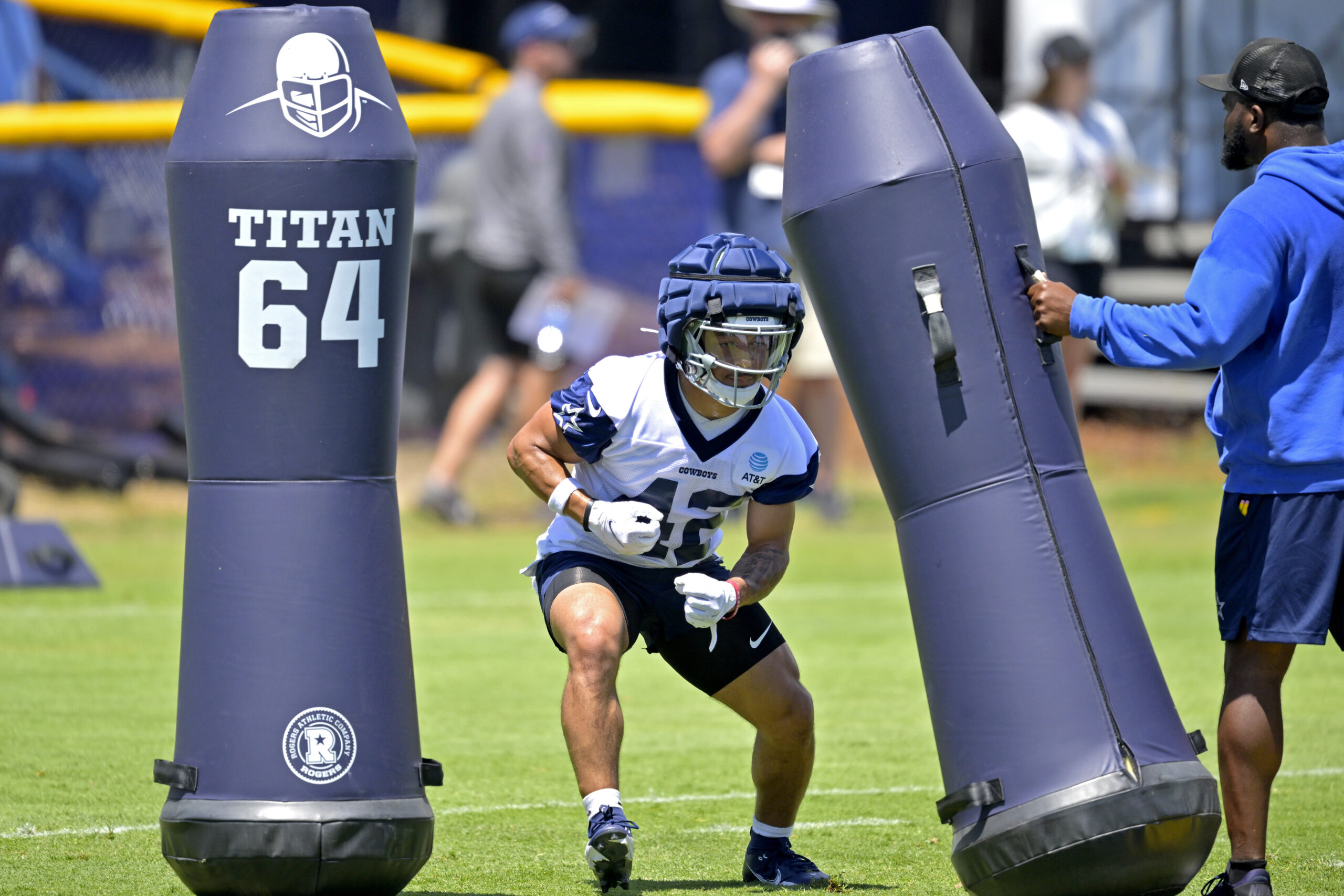 Schottenheimer gave Vaughn kudos for his note-taking abilities while helping him be what he describes as a dynamic athlete.
Although some think Vaughn's size can be a disadvantage, Schottenheimer discussed how it gives him the upper hand over opposing defenses.
"He's truly hard for the defense to see when he's back there behind the offensive line. You see the defensive linemen there engage like, 'I can't see him! Where did he go?' and then when you get him out in space, he's a matchup problem," said Schottenheimer
Schottenheimer said Vaughn has some of the same traits — cutting the hole and making guys miss — as he saw when he coached running back Darren Sproles with the Chargers in 2005.
Vaughn mentioned that Sproles is someone he has always looked up to, which is one reason why he is wearing the number 43 on his Cowboys jersey now.
"I'll reach out to him and ask him things. He's the blueprint; he's the guy that did this for 15 years, sixth all-time when it comes to all-purpose yards in NFL history. Why wouldn't I ask questions to him? He did it at my size," said Vaughn.
#PFN365's #Cowboys beat writer @JessNevarez_ reports from Dallas' Training Camp with updates on Trevon Diggs, Zack Martin, & Dak Prescott! pic.twitter.com/C2M5wlYLgA

— Pro Football Network (@PFN365) July 28, 2023
Teammates Vaughn mentioned that "lead by example" for him are Tony Pollard, Dak Prescott, and Brandin Cooks. He says that those veterans, among others on the team, know how to be successful, and he trusts that they are steering him toward the path to success, inspiring him to be great along the way.
As for Vaughn's mantra right now, it's simple: "Be a sponge."
"Any time you get some intel, any time you get some information, any time you're on the football field, any time you're in the film room, any time that you're in your room, any time that you're talking to a vet, be a sponge," said Vaughn.
Deuce Vaughn on Special Teams
Being a sponge can only work in Vaughn's favor.
Vaughn is a multifaceted player who is an addition to the running back room and a special teams asset.
As we know, the Cowboys' coaching staff will utilize guys who can contribute on special teams. This could work in Vaughn's favor as he aims to crack the final 53-man roster.
Cowboys special teams coordinator John Fassel was asked if he's ever had a 5'6″ personal protector before, and he said, "No, but I'm kind of excited about it!"
Fassel says when a running back is a personal protector, they have a good sense and vision for protection and can handle the football. He also made the connection between Vaughn and Sproles.
"I see him being a punt-pro guy, like a personal protector … I think he's got ability as a punt returner and kickoff returner … He can catch punts; he can catch kickoffs. He has the running back vision," said Fassel.
Fassel emphasized that "really good special teams players come in all shapes, sizes, and speeds" and not to discredit anyone, including Vaughn.
Listen to the PFN Cowboys Podcast
Listen to the PFN Cowboys Podcast! Click the embedded player below to listen, or you can find the PFN Cowboys Podcast on iTunes, Spotify, and all major podcast platforms.  Be sure to subscribe and leave us a five-star review! Rather watch instead? Check out the PFN Cowboys Podcast on our NFL YouTube channel.