There is no shortage of nuance associated with the NFL Draft evaluation process. Player abilities are picked apart with a fine-toothed comb leading up to the event. But interestingly enough, Bryce Young has seemingly escaped it. He's touted as an incredibly clean prospect who just so happened to be short.
And we can't talk about that.
The internet is a great place for a lot of things, but it's horrific for discourse surrounding draft prospects. Like the political spectrum in the United States, the ideas become radicalized, and the discussion point becomes binary in nature. Young's size is either a massive issue or a complete non-issue. Just like everything else in reality, the truth is far more complicated than that. The discussion surrounding his size has often lacked context.
It's important to explore the topics nobody seems to want to broach. But it's also important to note that this will not be a hit piece. Young has proved worthy by the NFL of being the top pick in the draft. In fact, he's so worthy that the Carolina Panthers sold the farm to get into the position to draft the smallest starting quarterback in the modern era.
Young is that good in the eyes of many. But he is not without flaws.
Bryce Young's Game Is His Size … and That Is OK
There is a reason why it's so darned difficult to find a player comp for Young. Nobody has ever played the game quite like the 5-foot-10 Heisman Trophy winner before. That style of play and the effectiveness of it made it so the Alabama coaching staff, fresh off coaching Jalen Hurts and Tua Tagovailoa, was comfortable turning the boost up from 10 to 20 PSI on the turbochargers.
Hurts is coming off an MVP-candidate season that saw his Eagles make the Super Bowl. Tagovailoa spent time as the league's most efficient passer for spurts of 2022 before head injuries shortened his season. Those dudes can ball, but neither was handed the reins the way Young was at Alabama. He was the offense, whereas the other two simply kept things between the lines.
Something Daniel Jeremiah said during a conference call with NFL media last week finally scratched this itch I've been feeling in regard to Young.
"If it was like a blind taste test, if you just read the notes on Bryce Young and didn't look at how big he was and you read your notes on Joe Burrow, they would read almost identical," Jeremiah told media.
That is a lofty comparison. Joe Burrow had arguably the greatest college football season ever as a passer. He was automatic, throwing with incredible anticipation and ball placement, albeit to two of the best college receivers who ended up being two of the best NFL receivers as well. Burrow was already a professional passer in every way, shape, and form.
According to Arif Hasan's comparison between QB classes over the past few seasons, it doesn't appear Young is seen as being on Burrow or Trevor Lawrence's level. And that is because of his size. But as Hasan also wrote in a separate piece, not caring about his size is Young's superpower. It's why Young is in the position he's in today.
But his game revolves around his size. His dropback, which keeps his shoulders parallel to the line of scrimmage, keeps him more upright and able to see over his linemen more effectively. It also, at times, puts him a half-tick behind schedule as he has to reset to begin his throwing sequence. No matter how instant his brain processes the picture, he's a bit late because his lower body is catching up with the rest of him.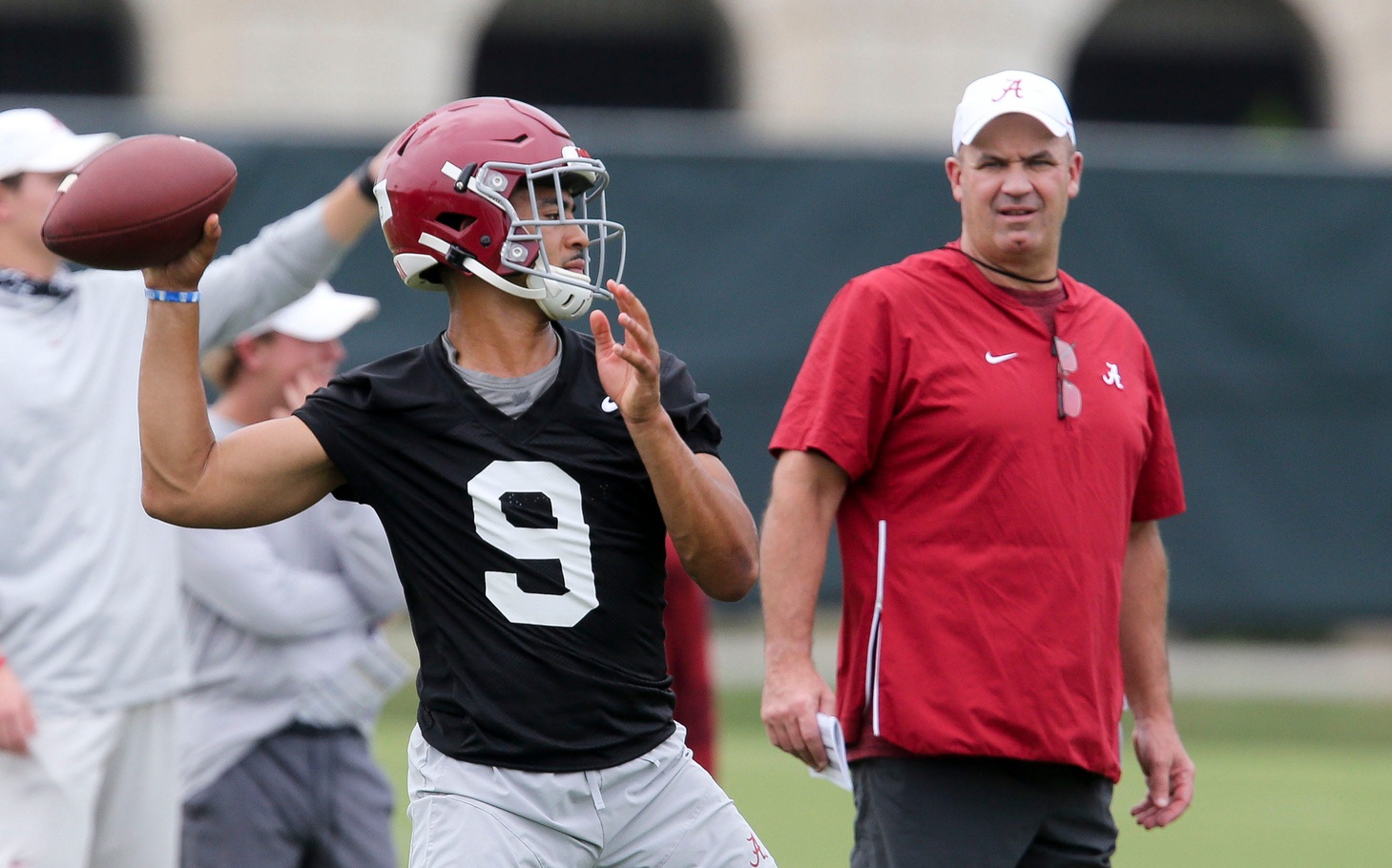 His size disallows him from generating the necessary torque to create above-average velocity on his passes, particularly when he's unable to "finish" throws. If he's pressured in the pocket or fading away as he rolls out passes have a tendency to die.
But arm strength is a largely overrated aspect of quarterbacking. Hurts, Burrow, and Tagovailoa all have average or even below-average arms. It's clear the NFL doesn't take too much stock in it, or else Young wouldn't be the first-overall pick.
As a creator type, it's never a good thing to have passes petering out before reaching their intended target, a phenomenon that isn't an uncommon miss for Young. But with his mischievous nature within the pocket and his penchant for sliding, juking, and spinning about, he has ample opportunity to miss a few throws like that. He converts far more often than not.
And his ability over the middle of the field surely quells concerns about his height. Alabama's offense was practically based on intermediate in-breaking routes. Young's ability to create throwing windows with subtle pocket movement and eye manipulation, along with an outstanding understanding of space and time, make him different from most vertically challenged QBs. Kyler Murray, Baker Mayfield, and Russell Wilson struggle in that area.
But he is not infallible over the middle, either. There will be times in the NFL, just as there were times at the college level, when the pocket has collapsed, and Young physically cannot see that intermediate in-breaking route. The good news is he can create in that instance, Waze his way away from the congestion and make a throw to the open receiver.
Despite his diminutive stature, Young should be a successful NFL passer. If we see Young fizzle out as a pro, it won't be a talent issue. And it won't even necessarily be a size issue.
The Big Red Flag With Bryce Young
It will be a style issue. It's a style the NFL has fallen head over heels in love with. There is no better example of that than watching the league draft Zach Wilson one pick after Lawrence. Scouts and front office members alike are intoxicated by playmaking ability outside of structure. Just look at Patrick Mahomes!
But what's lost in that shuffle is that Mahomes is as much an alien from inside the pocket playing on time as he is as a creator. But the thing that undoubtedly made the NFL fall in love with Young is what frightened me most about his game.
Young is fearless in the pocket, maneuvering within the pocket, and outside of the pocket. His instincts keep his eyes up and in the secondary. Defenders bearing down on him doesn't change his approach in the slightest.
It gives him an extra gear as a playmaker that even some of the best in the game don't have. He's the point guard in the paint that, despite the chaos and towering bodies around him, is able to find the open man for the assist. Many an NFL evaluator has comped Young to Steph Curry or Allen Iverson, and in a lot of ways, those comparisons make more sense than NFL ones do.
Quarterbacks aren't throwing hesis in the pocket to make free rushers look stupid the way Young does. The way he navigates through the chaos is special. But in basketball, that tower can't put their facemask into your chest and drive you to the hardwood.
And that is what scares me about Young at the NFL level. Josh Allen is 6-foot-5, 240 pounds. This offseason, he finally acknowledged that he needs to take fewer hits. He needs to invite contact more infrequently.
"I can't continue to do this," Allen told the media. "I know when I'm using my youth, I feel like I can. But over the course of my career, I'm gonna have to learn to adapt and change."
Cam Newton's prime was cut short not because of a single hit but because of an accumulation of contact. It's the reason why the shelf life of a running back is so short. And more often than not, on those occasions, a player is able to dictate how much contact they're taking and shield themselves from it.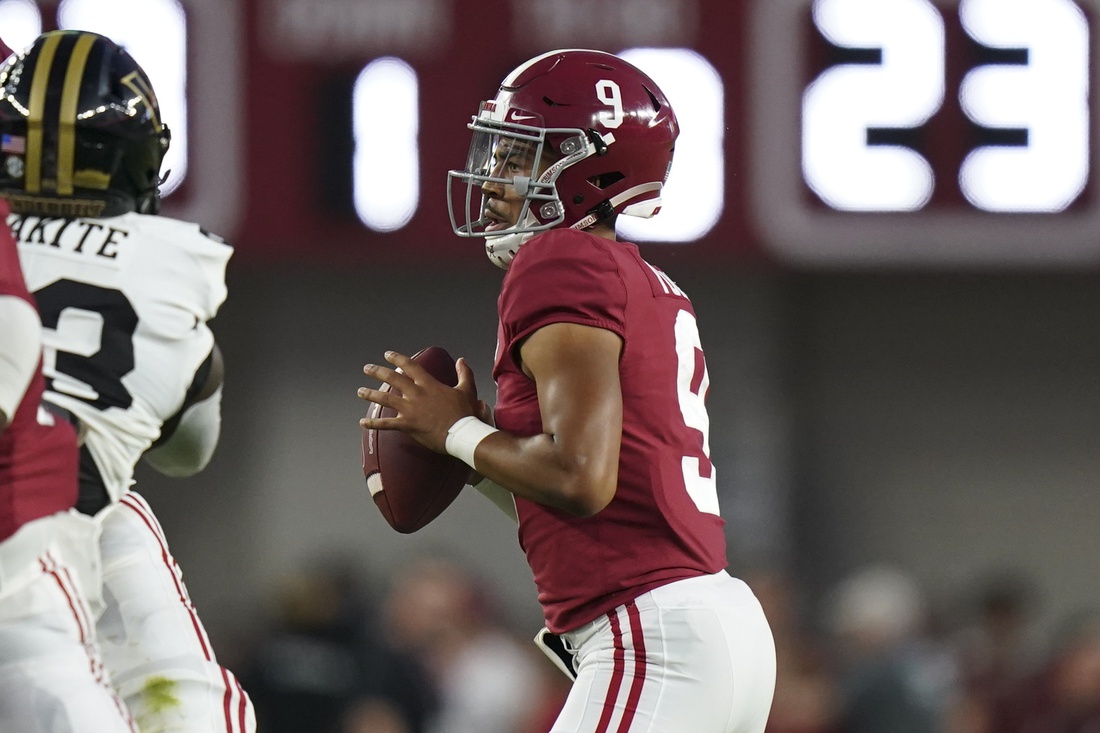 Young puts his own head on a silver platter. He's keeping his eyes up and delivering a pass at the expense of being able to brace for contact. And this isn't an uncommon occurrence. He's doing this every game, usually multiple times a game.
He doesn't run the way Allen, Murray, or Lamar Jackson run. But the way he operates is even more dangerous on a per-incident level. He takes a hit and gets up, but every time he gets hit by a screaming linebacker after creating within the pocket, it sends a shiver down my spine.
The Carolina Panthers Are Ignoring Risk
There is a reason why size thresholds exist at every position on the football field. There is a good reason why despite being a lesser player on film, Tyree Wilson is favored to be a Texan over Will Anderson Jr. Everybody fits the puzzle pieces differently, and there are exceptions to the rule. Drew Brees was an exception. Wilson — as a Seahawk — was an exception. Meanwhile, it appears Murray and Mayfield were not.
The NFL Draft, especially on Day 1, is about risk mitigation. It's why height/weight/athleticism thresholds exist. Teams want to take the best players available while minimizing risk using different mitigating factors. Avoiding outliers is usually a good general rule.
But it appears more teams are beginning to ask what a player can do for them rather than what they cannot. And the list of things that Young cannot do is only a few lines long. He doesn't have elite arm talent, and he's not 6-foot-3, 220 pounds. If he was the exact same player he is now at that size, we would talk about him the same way we did Burrow and Lawrence.
And that is exactly why the Panthers feel comfortable drafting him. The list of what he can do is exhaustive, while what he can't do is summarized almost instantly.
We'll just need to close our eyes and hope for the best every time he stands and delivers as a 270-pound defensive end hits him as he delivers a one-footed sidearm pass after escaping the initial pressure. Because if he can stay healthy, he's going to be an absolute treat to watch play quarterback professionally.
Listen to the PFN Scouting Podcast
List to the PFN Scouting Podcast! Click the embedded player below to listen, or you can find the PFN Scouting Podcast on iTunes, Spotify, and all major podcast platforms.  Be sure to subscribe and leave us a five-star review! Rather watch instead? Check out the PFN Scouting Podcast on our Scouting YouTube channel.