We've never seen a quarterback prospect like the Alabama Crimson Tide QB. It's what makes Bryce Young comps so difficult to make. That's because the game has never before seen a 5-foot-10 quarterback as lightly-framed as Young. He's an outlier of epic proportions.
The bigger issue is his playing weight, likely somewhere between 180-190 pounds. Alabama listed him at 194 pounds, but they also listed him at 6 feet tall. Still, he must have worn the shoes he was seen at during media availability at the NFL Combine during height and weight measurements in Tuscaloosa.
There is no player comp for Young. No matter how we try to slice it, none of the names make great sense. ESPN's Matt Miller brought up Allen Iverson. The Athletic's Dane Brugler, ESPN's David Pollack, and even NFL players like Phillip Dorsett have likened Young's style to Steph Curry.
Those basketball comparisons may be the best way of describing Young. He's an undersized entity in a game full of monsters, yet he rises above it all to prove himself a truly special player in all the ways you want your NFL QB to be. But basketball does not bring with it the same amount of physicality and brutality as football. So what does Young bring from a football perspective?
Bryce Young NFL Comps
According to the Centers for Disease Control, the average American male over 20 is 5-foot-9, 199.8 pounds. For most of my adult life, I've stood 5115 (5-foot-11 and 5/8 inches) and between 190 and 205 pounds.  In other words, I'm bigger than Young.
NFL players and elite college talent, particularly offensive and defensive linemen, absolutely dwarf me. The first time I saw Johnathan Abram — listed at 5-foot-11, 205 pounds — at the Michael Johnson Performance in Dallas, I thought it was some team's inside linebacker. Properly intimating the difference between a normal human and an NFL player is nearly impossible.
Let's take a look at some of Young's professional comps given to him by NFL Draft media members throughout the process and why they do (and don't) make sense.
Drew Brees
In the end, it's hard to think of a better all-encompassing comparison to Young. While Young is endlessly more mobile than Drew Brees could ever dream to be, their similarities as passers alone make this the best of his comps.
Brees could unconsciously work through route concepts in Sean Payton's offense to find the right receiver in the right window. And despite his diminutive stature, he was quite adept at throwing the ball over the middle of the field throughout his career.
The same could be said for Young. Unlike Jalen Hurts and Tua Tagovailoa before him at Alabama, the onus was on Young and largely him alone for the Crimson Tide's offensive success.
Jahmyr Gibbs is an outstanding runner, but Alabama no longer boasts the receiving weapons of yesteryear. Additionally, the offensive structure put more burden on Young's slight shoulders than his predecessors, who worked in Steve Sarkisian's offense that consistently gave easy answers to the test.
Young, like Brees, is a great anticipatory passer. His processor, Tua, also boasted that trait, which made Brees comps come in hot and heavy for the eventual Miami Dolphins QB. It took Tyreek Hill, Jaylen Waddle, and Mike McDaniel to really bring that out in Tua at the NFL level, but he consistently showed that a season ago over the middle of the field.
"He's got leadership skills and character without drama," one evaluator told Yahoo's Charles Robinson. "[Bryce] is also more like Drew Brees in that he plays bigger than his size from the pocket. Watch Bryce's throwing motion and tell me it doesn't look more like Drew Brees."
Kyler Murray
The only thing that Kyler Murray and Young have in common is their height, which was exactly the same when measured at the NFL Combine. While Murray and Young are both creative playmakers, it comes in a completely different package.
Murray can create as a passer on the move, but he's a much greater threat as a runner than Young. Murray's agility, explosiveness, and overall foot speed make him a difficult target. Young is more fluid and calculated in his escapes, all the while keeping his eyes downfield, looking to attack through the air.
Against the odds, Murray showed enough to be the top pick in his draft class despite his size. However, he hasn't necessarily made the case for Young easier, considering he's struggled with injuries in each of the past two seasons and has seen his production decline as seasons wear on as well.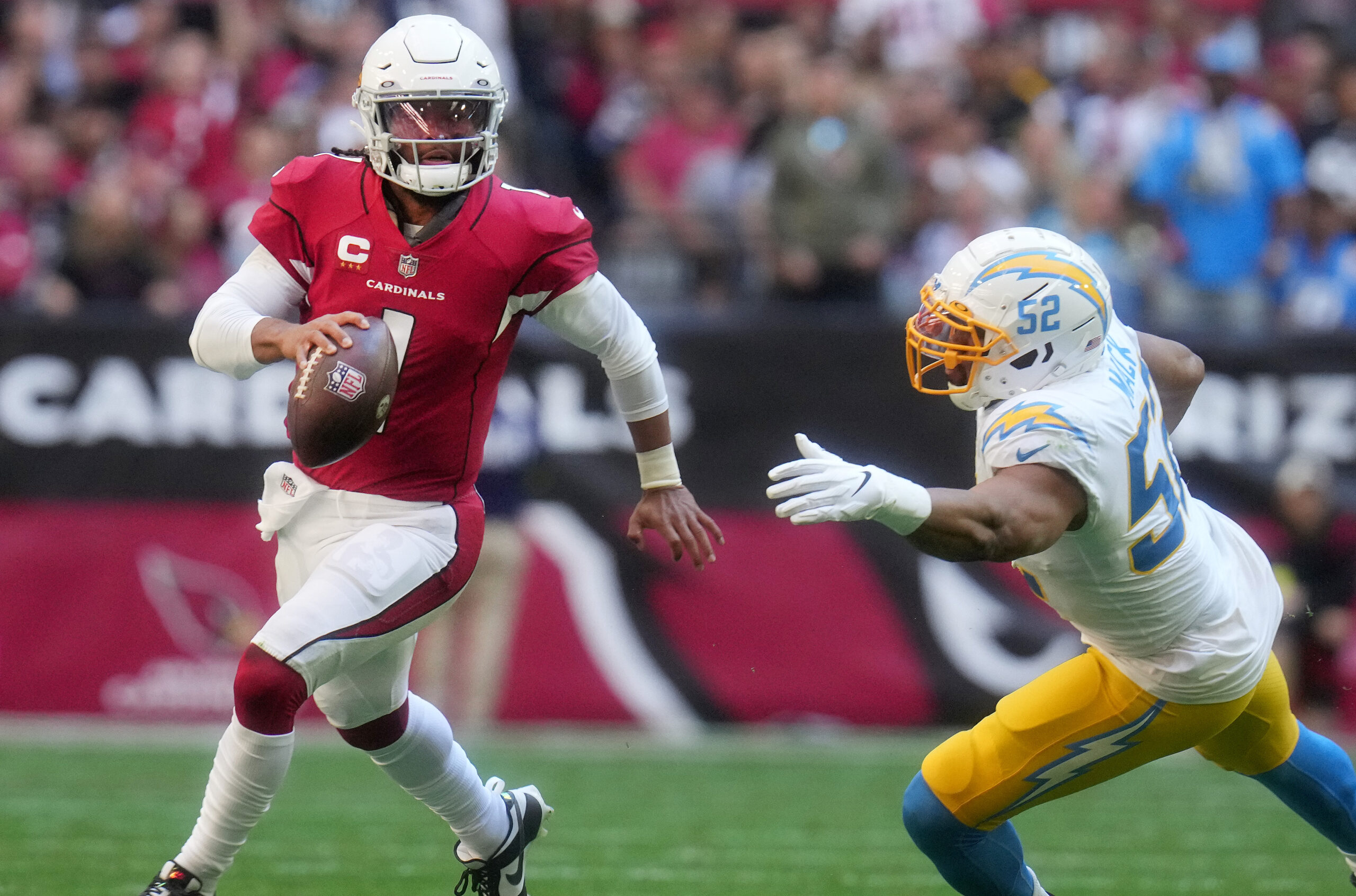 But what makes this a particularly egregious comparison is the difference in their mental makeup. Offensive tackle Kelvin Beachum believes Murray still must undergo maturation.
"It's not a completed process," Beachum said during an interview with Arizona 98.7 FM. "I didn't say he lacks leadership, I just think he needs to grow up a little bit. I think if he has the ability and willingness to grow up, he's going to be just fine.
"[The Cardinals] paid him for a reason — they paid him because of his talent. He has the ability to lead. When you're in that position, we need you to lead more. You're the face of the franchise … you have to lead in every single capacity."
MORE: FREE NFL Mock Draft Simulator With Trades
Meanwhile, leadership appears to be a common theme when discussing Young, whether it be himself speaking or others.
"For me, I really pride myself in my leadership," said Young. "I know that's something I have to earn at the next level. I'm really excited to get into a locker room whatever team does take me and try to earn that trust and respect from the locker room. I get that it's not something I'm entitled to, but at the next level, I'm excited to put in the work to try to earn that trust."
Tony Romo
The Tony Romo comp comes from CBS' scouting report on Young. While Romo was taller and more filled out than Young, there are a few uncanny similarities. One similarity is on the positive end of the spectrum, and another is on the negative end.
Romo's greatest trait was his magical ability to avoid pressure. Tom Brady is likely the best ever at it, but he's far less athletic than either Young or Romo, who both are creators and not pocket passers.
Romo was a magician. He possessed great flexibility and an innate ability to sense pressure and understand where his escape was, all while being able to keep his eyes downfield. Young is also a magician when manipulating the pocket and finding throwing hallways.
Additionally, both have plus arms from an NFL perspective, but neither possesses elite velocity. But it's not all good. With Romo's creativity also came a warrior mindset, and he often took unnecessary damage as a passer. That is what teams should worry about most with Young. It's not his size that is necessarily an issue. In fact, data suggests lighter players become injured more infrequently than heavier players.
But while it is admirable to see Young stand in the pocket and deliver under pressure, he also takes a lot of hits, making one wonder how he so quickly hops back up for the next play. Learning to toe the line between playmaking and recklessness will be Young's greatest learning curve at the next level.
Listen to the PFN Scouting Podcast
List to the PFN Scouting Podcast! Click the embedded player below to listen, or you can find the PFN Scouting Podcast on iTunes, Spotify, and all major podcast platforms.  Be sure to subscribe and leave us a five-star review! Rather watch instead? Check out the PFN Scouting Podcast on our Scouting YouTube channel.