The New York Jets are coming to a television near you. Gang Green has been selected as 2023's Hard Knocks participant, according to ESPN. Although the Jets made it clear they didn't want to be featured on HBO's training camp docuseries, New York didn't have the option to decline.
Teams cannot be required to participate in Hard Knocks if they have a first-year head coach, have made the playoffs in either of the past two seasons, or have appeared on the show in the past decade. The Jets were one of four teams — along with the Bears, Commanders, and Saints — who did not meet that criteria in 2023.
New York Jets Hard Knocks Storylines To Watch
The NFL had such a difficult time finding a club willing to appear on Hard Knocks this season that they asked the Lions — who were on the show in 2023 — if they'd be interested in making a second consecutive appearance. Detroit declined to be featured again, per the Detroit News.
The Jets were probably the first choice of most viewers at home. New York offers a big market, Aaron Rodgers, and Super Bowl aspirations. What should we be watching for when Hard Knocks premieres later this summer?
Aaron Rodgers in the Big Apple
Thanks to their elite defense, the Jets might have been a playoff team in 2022 if they had boasted any semblance of competent play under center. After watching Zach Wilson, Joe Flacco, and Mike White struggle last season, it's no surprise that New York sent a package of picks to the Packers in exchange for Rodgers.
The Jets are now viable contenders to hoist the Lombardi Trophy at the end of the season. New York came in seventh in Pro Football Network's latest Power Rankings, one tier below the AFC's elite trifecta of the Chiefs, Bengals, and Bills.
But Hard Knocks will give us the opportunity to view Rodgers behind the scenes, in meeting rooms, and on the practice field. How will he relate to his new teammates? Will there be any conversations centered around the use of psychedelics? And what about those infamous unwritten hand signals that drove Packers' receivers nuts?
Rodgers is typically prickly with the media anyway, and having cameras around for the duration of training camp adds another dimension of intrusive access. How Rodgers responds should be one of the primary storylines to pay attention to this August.
A Make-or-Break Season for Robert Saleh?
Robert Saleh is not Rex Ryan, the bombastic coach who led the Jets when they appeared on Hard Knocks in 2010. Ryan was so electric on TV that Hard Knocks was nominated for a Sports Emmy (while Ryan himself eventually became a broadcaster).
Saleh is far more reserved. While he's gotten fired up on the sidelines before (especially as the 49ers' defensive coordinator), Saleh is typically quiet and intentional during his meetings with the press.
Still, it's fair to wonder how much pressure Saleh and his staff will be under heading into 2023. The Jets have the NFL's longest playoff drought (12 years) and now face immense expectations. Saleh has won just 11 games over two seasons as New York's head coach — it might be disappointing if they win fewer than 11 games in 2023 alone.
Saleh isn't typically mentioned among the NFL head coaches on the hot seat, but there's a case to be made that he's under as much scrutiny as anyone in the league.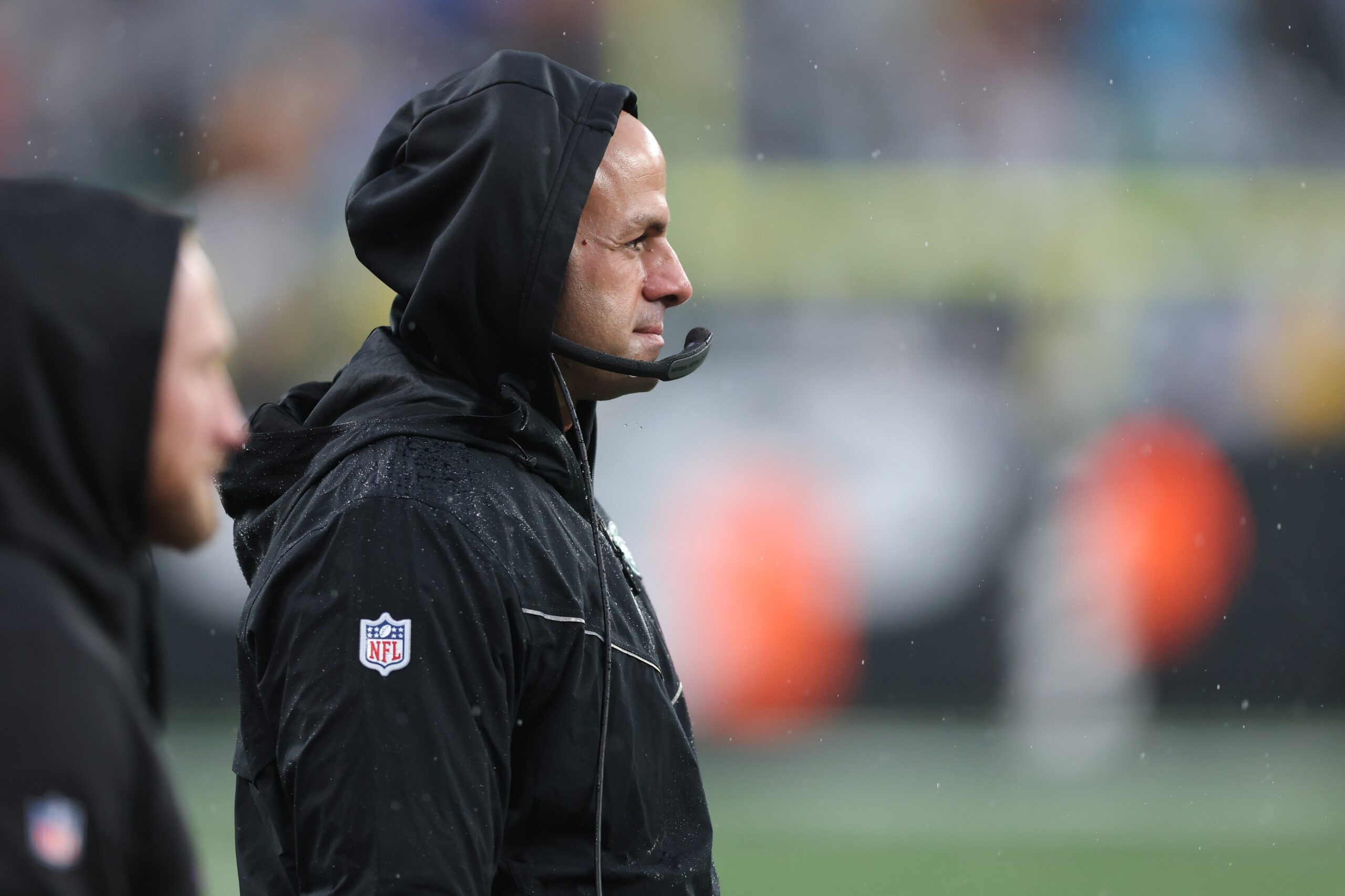 The Nathaniel Hackett Rehab Tour Begins
Speaking of Saleh and his staff, Nathaniel Hackett is now in town after flaming out as the Broncos' head coach in 2022. Hackett, who worked with Rodgers in Green Bay, struggled with schematic issues and game management problems in Denver and joined an ignominious list of head coaches fired before the conclusion of their first season in charge.
Rodgers admitted that Hackett's presence was a key reason he wanted to join the Jets this offseason. But if New York's offense starts to go south, a lot of fingers will be pointed Hackett's way. If the Jets struggle and Russell Wilson thrives under new Broncos head coach Sean Payton, the pitchforks could be out early.
Will Quinnen Williams Report to Training Camp?
Quinnen Williams is in search of a massive contract extension after earning All-Pro honors last season. Without a new deal in place, Williams hasn't participated in any of the Jets' offseason or workout activities.
It's unclear if Williams plans to report to training camp, and his absence will be felt on Hard Knocks if he doesn't. Fellow defensive tackles Jeffery Simmons, Daron Payne, and Dexter Lawrence all received extensions of at least $22.5 million this offseason, and Williams likely plans to surpass that figure.
Reports at the end of May suggested the Jets were progressing on a fresh contract with Williams, but the two sides haven't worked anything out yet. New York has some depth at defensive tackle, but they don't have anyone who can match Williams' output.
Breece Hall's Recovery
Breece Hall may have had a shot at Offensive Rookie of the Year last year, but his October ACL tear ended his season (and eventually allowed his teammate Garrett Wilson to take home the award).
Hall will be more than nine months removed from his injury when training camp gets underway, which could give Hard Knocks viewers a chance to see how his recovery is coming along. However, Hall may also spend a decent period of training camp time on the active/physically unable to perform (PUP) list, meaning he might not be able to practice.
Hall isn't expected to play in any preseason games. Still, Saleh said earlier this summer that he's "very optimistic" that the second-year running back will be available for Week 1 of the regular season.