It's June, and the summer is the land of hopes and dreams for fans of all 32 NFL teams. But the NFL Power Rankings are where dreams go to perish. While there is a path to the playoffs for most NFL teams, whether because of their own merit or the lack thereof in their division, a few teams have no realistic chance at the postseason.
Post-Minicamp NFL Power Rankings: Tier 5 | It Would Take a Miniature Miracle
32) Arizona Cardinals
The Arizona Cardinals aren't necessarily "tanking," their roster is simply so uninspiring that they don't even need to try. However, this is partially by design.
Arizona turned over the front office from top to bottom. They have an inexperienced coaching staff and a completely underwhelming roster, which includes a very expensive Kyler Murray coming off a torn ACL.
Monti Ossenfort still figured out a way to win, even through losing. For the 2024 NFL Draft, the Cardinals have amassed more draft capital than any team in recent memory. Depending on what direction the team wants to go next year, they could either receive a king's ransom for the top pick or reset the clock entirely by drafting the top QB on the board with their own pick.
The Cardinals also hold the Houston Texans' first-round pick, so they could end up with two selections inside the top five.
31) Los Angeles Rams
Nobody approaches the 2023 NFL season with more first-year players than the Rams, who absolutely annihilated their roster during the offseason. Bobby Wagner and Jalen Ramsey are gone. The offensive line is still entirely underwhelming, and it appears L.A. is relying solely on the idea that Aaron Donald may be able to play like an elevated form of being on the interior, because they have nobody aside from him to rush the passer.
Tier 4 | There's a Path But It's Dimly Lit
30) Tampa Bay Buccaneers
Placing the Tampa Bay Buccaneers at 30 is disappointing, but it's hard not to be at this point. Although Tom Brady wasn't quite himself a season ago behind a shell of the offensive line they'd fielded the two seasons prior, he was still going to be a better option than what they're offering today.
Baker Mayfield has flashed some decently high-level play in the NFL, but it was before the shoulder injury that ruined him mechanically for the better part of two whole seasons. The problem is, the rest of the roster is still impressive. So if Mayfield can somehow wind the clock back to 2020, the Buccaneers could have a chance — but unlikely –at the division.
29) Las Vegas Raiders
Josh Jacobs might not play in 2023 amid a contract dispute. The team expects Jimmy Garoppolo to be ready by training camp, but will the veteran QB with a history of not maintaining his ability to stay on the field do so behind the Raiders' OL?
28) Houston Texans
The Texans were scrappy a season ago despite having one of the most underwhelming NFL rosters. Now, they have a new head coach that should be able to get this young and talented defense humming and a rookie QB with all the talent in the world to bring Houston back to a state of league-wide relevancy.
But it will likely take time.
27) Tennessee Titans
The OL remains a point of contention for the Tennessee Titans. Peter Skoronski should certainly help in some capacity, even as a rookie, but there are several unknowns strewn along the rest of the Titans' offensive line.
Additionally, Tennessee has had horrible luck keeping key contributors on the defensive side of the ball healthy over the past few seasons. And aside from Treylon Burks, there isn't much juice on the offensive side of the ball.
26) Atlanta Falcons
The Atlanta Falcons are fascinating. They weren't awful in 2022, but they weren't necessarily competitive either. But that didn't stop them from loading up defensively with aging veterans like Calais Campbell and David Onyemata. Bud Dupree and Kaden Elliss also joined the team defensively, as did Jessie Bates and Jeff Okudah.
It's actually an interesting roster, and adding Ryan Nielsen as the defensive coordinator is another intriguing piece. However, Atlanta's season will ultimately come down to how much development we see from Desmond Ridder and how efficiently the Falcons are able to run the ball.
25) Green Bay Packers
Allen Lazard, Randall Cobb, Robert Tonyan, and Marcedes Lewis are all gone. Oh, and the long-time franchise QB is in New York now. Joe Barry is still the team's defensive coordinator, and Rashan Gary is returning from a serious knee injury. Jayden Reed, Romeo Doubs, and Christian Watson are a young and exciting WR trio, but they're very young.
24) Denver Broncos
The Denver Broncos improved on the offensive line and at head coach, but the season will ultimately come down to the right arm of Russell Wilson. If Sean Payton cannot figure out a way to pull Mr. Unlimited from the abyss, it doesn't matter how good Denver's defense performs, as was painfully evident last season.
23) Indianapolis Colts
The Indianapolis Colts were in a somewhat similar situation to Denver a season ago. They have talent on defense, but QB and OL play let them down. Shane Steichen arrives with Anthony Richardson and Jonathan Taylor in the backfield, and a hopefully improved Bernhard Raimann at left tackle.
The Colts' rushing attack could be entirely devastating, and that will help keep them in many games against better opponents.
22) Chicago Bears
Can Justin Fields improve in the quick game? That is the question for the 2023 Chicago Bears. If he can do that and remain healthy, this Bears team could be surprisingly competitive.
Chicago's defensive line remains anonymous, but they improved drastically at linebacker and are throwing darts at the secondary. Among the newcomers, though, DJ Moore is the main attraction.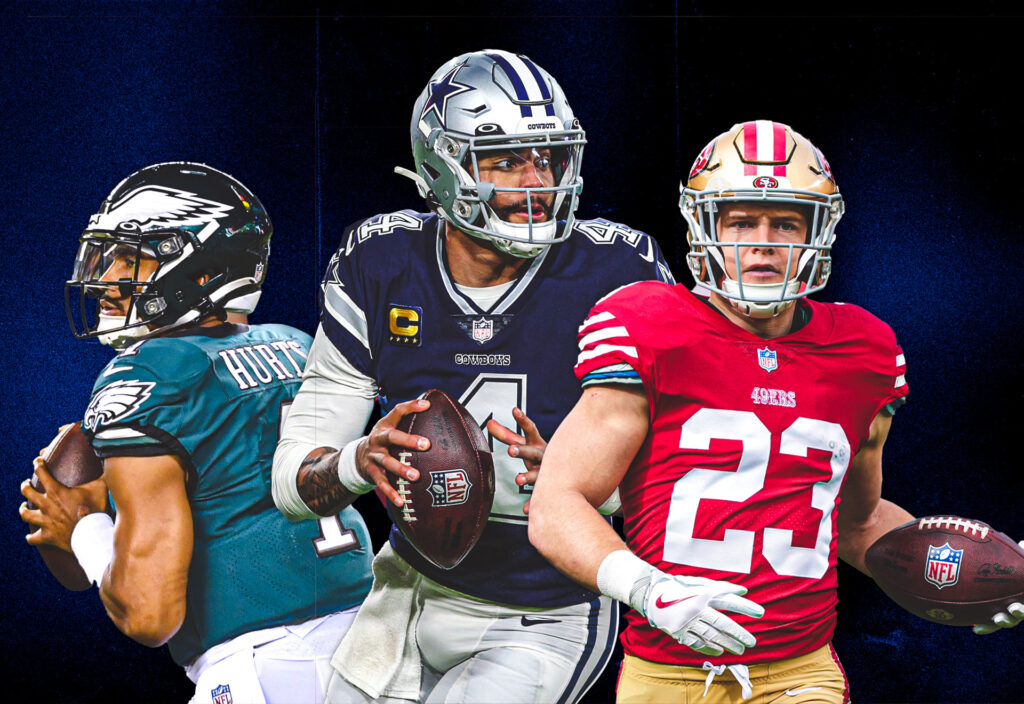 Post-Minicamp NFL Power Rankings: Tier 3 | The Bones Are Good
21) Minnesota Vikings
The Minnesota Vikings are going the wrong way with their roster, but every move they've made has been by design. They've traded or released most of their veteran pieces and could move on from Danielle Hunter before the season starts as well.
The Vikings could still end up winning the NFC North, but they'll need Lewis Cine and Andrew Booth Jr. to take massive developmental leaps, and one of Mekhi Blackmon or Akayleb Evans must contribute. It will be fascinating to see how Brian Flores' aggressive defense plays in Minnesota.
20) Carolina Panthers
The Carolina Panthers put together an all-star staff and used the top pick in the NFL Draft to select their franchise QB. Ejiro Evero should have the back end of the Panthers' defense moving as one, and it will be incredible to see how Jaycee Horn fares in the same defense as his draft-mate Patrick Surtain II did.
19) Washington Commanders
There are few teams in the NFL more confounding than the Commanders. Jacoby Brissett played the best football of his career in Cleveland a season ago. If he played that way again for Washington, he'd give them a chance to compete for a Wild Card spot in the NFC.
The problem is the Commanders' defense has always been talented, but they've also been incredibly inconsistent over the past few seasons. If they play like they did in 2022, they'll be a tough out this season.
18) Pittsburgh Steelers
The Pittsburgh Steelers are allergic to underachieving. Their offensive line has overachieved in the past few seasons, so while Broderick Jones was a developmental piece on the left side, it shouldn't surprise anyone to see him succeed as a rookie.
Kenny Pickett will need to continue taking baby steps forward as a passer and playmaker for Pittsburgh in order to keep pace in a treacherous AFC.
17) New England Patriots
The Patriots are in a somewhat similar situation to the Steelers, except their defense was one of the best in the league a season ago. New England's offense should be multiple levels better by hiring Bill O'Brien to call the offense.
16) Cleveland Browns
Cleveland's ceiling is much higher than 16th best, but they need Deshaun Watson to look like the one we saw for years on the field in Houston. The Browns' most significant issue last year was a soft defensive interior and a secondary that was not on the same page. Adding Jim Schwartz to call the defense and Dalvin Tomlinson, Za'Darius Smith, and Siaki Ika to the defensive line should help improve Cleveland's run defense.
15) Los Angeles Chargers
The Los Angeles Chargers should see an uptick in offensive efficiency with the addition of Kellen Moore and the return of Rashawn Slater. The problem is, we're talking about the Chargers, who always seem to find a way to cock things up after getting us excited about their ability. Keeping Joey Bosa on the field is paramount because L.A. doesn't have a lot of depth behind them.
Tier 2 | The Potential Playoff Field
14) New Orleans Saints
The Saints aren't likely the 14th-best team on paper, but they have the best chance of sneaking into the playoffs in a completely underwhelming NFC South. Garrett Wilson steals the shine of the second-year OSU wide receivers, but Chris Olave is the exact type of WR who could go berserk with Derek Carr playing QB.
Joe Woods may be scary to see as the team's defensive coordinator, but this should still be Dennis Allen's defense, and he'll remain the defensive play-caller. And while splitting responsibilities can be tough for a head coach, it's better for the Saints to have Allen calling plays.
13) New York Giants
The New York Giants won't sneak up on anybody in 2023. After a surprising run to the playoffs with very little offensive firepower, the Giants have added Parris Campbell, Jalin Hyatt, Darren Waller, and John Michael Schmitz to the offense.
Last season, Daniel Jones' legs were an incredible weapon a season ago, and they could save the Giants' rushing attack even without Saquon Barkley, should he decide to sit out the season.
Can New York's secondary survive behind what should be a dangerous pass rush? Wink Martindale's defense puts DBs on an island quite often. There will likely be growing pains with Deonte Banks, but the rest of the secondary must remain healthy if they want their defense to elevate their caliber of play in 2023.
12) Seattle Seahawks
The Seattle Seahawks are exciting. Jaxon Smith-Njigba, DK Metcalf, and Tyler Lockett are immediately one of the top three trios in the NFL. It's the Seahawks, so of course, they also drafted a running back high. And this is all coming off a spectacular campaign for Geno Smith, who didn't show any signs that 2022 was a fluke for him.
It's unfortunate to see Al Woods go elsewhere, but Bryan Mone is a very good nose tackle. Adding Bobby Wagner, Dre'Mont Jones, Jarran Reed, Julian Love, and Devon Witherspoon makes this defense very fun.
11) Detroit Lions
It feels like everyone wants the Lions to run away and hide with the NFC North. But this is a franchise that has never won the NFC North and hasn't won their division since 1993. Since 2000, Detroit's been to the playoffs just three times.
But that all changes in 2023 if Jared Goff remains the QB we saw a season ago behind an offensive line that thrived and a play-caller that helped keep the offense efficient.
Defensively, the Lions should be much improved. Adding Cameron Sutton, Emmanuel Moseley, and C.J. Gardner-Johnson to the mix in free agency should greatly improve the back end. Brian Branch gives Detroit yet another option in the nickel or on the back end.
10) Jacksonville Jaguars
Last year, we saw flashes from Trevor Lawrence suggesting he could round into one of the best quarterbacks in the NFL. Adding Calvin Ridley on the outside should only improve his performance.
Year 3 is massive for young QBs, and one of the best prospects we've seen at the position in a long time could round into one of the best in the league with this roster around him.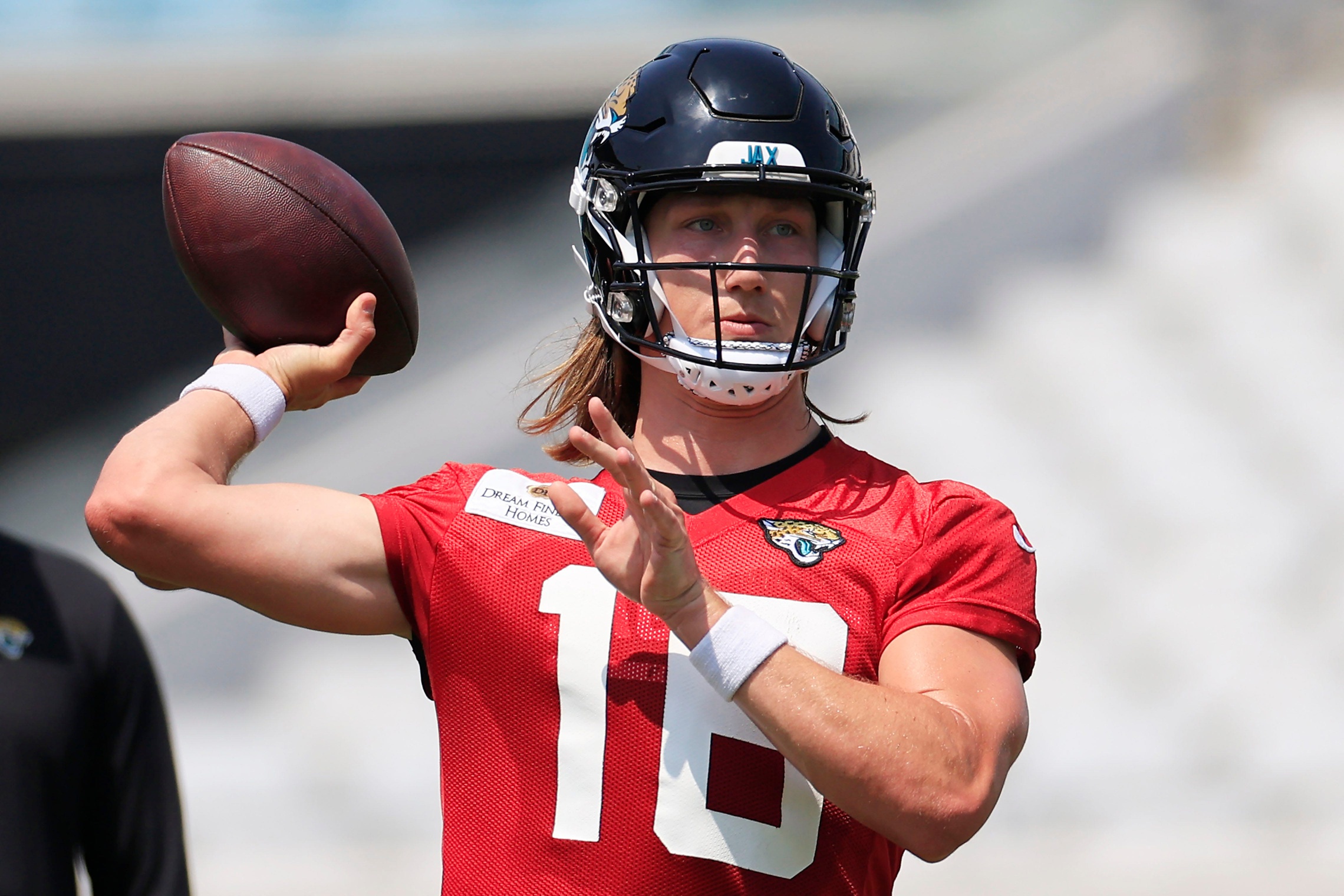 9) Baltimore Ravens
Rashod Bateman, Odell Beckham Jr., Nelson Agholor, and Zay Flowers are an incredible improvement over what we've seen from the Baltimore Ravens in recent seasons on the outside. Getting a long-term deal done with Lamar Jackson also takes a ton of heat off the team, knowing they're secure at QB.
The Ravens have more than enough firepower in the secondary to thrive in Mike Macdonald's defense, and the idea of Odafe Oweh and David Ojabo coming off the edge is terrifying for opposing blockers and quarterbacks.
8) Miami Dolphins
If Tua Tagovailoa remains healthy in 2023, there are few teams in the NFL with a higher ceiling than the Miami Dolphins. Miami's offensive efficiency a season ago was unbelievable, and their ability to attack the intermediate middle of the field was insane.
Adding Jalen Ramsey and Vic Fangio to the defense gives the Dolphins a fierce starting secondary, and unlike last year, they also have depth. Not only will they be much better schematically on defense, but they've also added talent to that side of the ball.
7) New York Jets
The New York Jets have done this before. They've traded for a late-30s Green Bay Packers QB legend, and it didn't go well. But the Jets are in a different spot now, with a young defense that is incredibly talented. They also have offensive weapons and a solid offensive line.
Aaron Rodgers wasn't the MVP-caliber QB a season ago that he was the two prior seasons. Nevertheless, his arm is still absolutely ridiculous, and as long as he trusts these receivers more than he did the very inexperienced unit in Green Bay, Rodgers should be efficient in 2023.
6) Dallas Cowboys
The Cowboys may be a better team on paper than the San Francisco 49ers. They may even be one of the few elite rosters in the NFL. But it's impossible to place them in the top tier because the 49ers have knocked them out of the playoffs in consecutive seasons, and San Francisco can't be in the top tier because there are questions about the health of their QBs.
Adding Brandin Cooks and Stephon Gilmore were as good as they were necessary for Dallas to take the next step. Can the offense actually improve with Mike McCarthy and Brian Schottenheimer?
5) San Francisco 49ers
The 49ers have lost a couple of key pieces, particularly on defense. However, they lost Robert Saleh a few years back, and DeMeco Ryans ended up being a rockstar defensive play-caller. Steve Wilks now takes over San Francisco's defense, and although things may change a little, the continuity they have defensively have made them consistent over the past few seasons.
The 49ers' season, like all of their seasons, will come down to whether or not they can keep a QB healthy. Will Brock Purdy's elbow recover? Can Trey Lance improve enough to push for the starting spot?
They're a talented roster, but San Fran has too many questions to answer to be elevated into the top spot.
Post-Minicamp NFL Power Rankings: Tier 1 | Elite Teams
4) Buffalo Bills
The Buffalo Bills have won double-digit games in four straight seasons and have won the division the previous three. Sure, there's a little bit of hoopla surrounding Stefon Diggs, but that will all be worked out when he gets 150 targets this season.
And all Buffalo's defense did was improve their depth chart, after being one of the best five defenses over the past two seasons. The Bills should be one of the best teams in the NFL once again in 2023.
3) Cincinnati Bengals
The Cincinnati Bengals, despite their flaws on the offensive line, are one of the few elites in the NFL. Zac Taylor and Co. figured out how to make the run game work last season, moving much farther toward shotgun-only sets to maintain some semblance of disguise, and it worked wonders.
Lou Anarumo is one of the best play-callers in the league, and the Bengals have done a fantastic job of mitigating future losses by drafting a year ahead.
2) Philadelphia Eagles
The Georgia Eagles, or the Philadelphia Bulldogs if you prefer that, are arguably the most complete roster in the NFL. The only problem is they don't have Patrick Mahomes or Andy Reid.
1) Kansas City Chiefs
Mahomes. Reid. Super Bowl champions.