While the NFL's dead zone over the summer is a great opportunity for fans to recharge before the season, our analysts are deep-diving into the 2024 NFL Draft class. After studying some of the top names across the nation, we used the Pro Football Network Mock Draft Simulator to come up with our latest mock draft.
Latest 2024 NFL Mock Draft
Using reverse Super Bowl 58 odds– and including one trade — here are the selections for every team in the first round of the latest 2024 NFL Mock Draft.
1) Washington Commanders (From ARI): Caleb Williams, QB, USC
If the Washington Commanders land in the top 10 as Vegas odds have projected, then the Sam Howell experiment likely didn't work out, and the franchise needs to act with desperation to find a star passer. In this mock, they've traded up to No. 1 from 8 — just as the Carolina Panthers did in 2023.
Getting the right to draft Caleb Williams is an immeasurable win. Though no quarterback is ever a lock to be as good as Patrick Mahomes, Williams has a similar profile as a talent thanks to his unique arm talent, ability to create outside of the pocket, and knack for making clutch plays. Williams isn't a lock to go No. 1 ahead of his peers, but his ceiling is the highest.
2) Arizona Cardinals (From HOU): Marvin Harrison Jr., WR, Ohio State
ESPN's Matt Miller reported that Ohio State star receiver Marvin Harrison Jr. is already drawing perfect grades from scouts. It's easy to see why as soon as you watch the 6'4″ pass catcher.
Harrison looks every bit like an NFL Hall of Fame legacy talent and will be considered for the top overall pick in 2024. With a large financial commitment to Kyler Murray persuading them to pass on adding a quarterback to the roster, the Cardinals would be thrilled to add Harrison to their offense. Adding a superstar presence around Murray is a priority.
3) Indianapolis Colts: Olumuyiwa Fashanu, OT, Penn State
If all goes well in Year 1 of the Indianapolis Colts' revamp with new head coach Shane Steichen and rookie quarterback Anthony Richardson, they could be picking much later than this.
The Colts' roster is solid but unspectacular. Adding Pro Bowl-caliber players can take them to the next level.
Though most of Indianapolis' holes long term are on the defensive side, passing up Penn State left tackle Olumuyiwa Fashanu would be foolish. Fashanu isn't nearly as refined as some of his classmates entering the season, but his physical tools are good enough to overcome his raw hand technique. A leap in his technique can solidify him as OT1 in 2024.
4) Tennessee Titans: Drake Maye, QB, North Carolina
It's hard to blame Tennessee for taking Will Levis in the second round of the 2023 class, considering they lacked a clear long-term plan behind Ryan Tannehill at quarterback. But the recent history of Day 2 quarterbacks isn't promising, and teams are as likely to give up on a second-year passer than to continue rolling with them.
If the Titans have the chance to take Drake Maye, then their decision will be made simple. I made the early comparison of Maye to early-Oregon Justin Herbert because both have excellent athleticism with their huge frames, strong arms, and yet maddeningly miss throws they should have hit. Maye has room to go with pre-snap recognition and consistency, but his peaks project to where Herbert is now.
5) Chicago Bears (From CAR): Jared Verse, EDGE, Florida State
The Chicago Bears' prize in 2024 for moving down from No. 1 to No. 9 in 2023 is a fantastic one in this mock. Jared Verse is a blue-chip prospect thanks to his fantastic speed and hip flexibility through contact.
A speed rusher by nature, Verse could improve his run keys and not hunt the backfield quite as much, but he should be considered a lock to go very high in 2024.
6) Atlanta Falcons: Bo Nix, QB, Oregon
If you slept through the 2022 Oregon season, you won't understand why Bo Nix is being mocked anywhere before Day 3. However, his first season in Eugene was so impressive that it's easier to see a pathway for Nix to be a top-10 pick than it is Day 2.
The senior has always had a tremendous physical skill set, but his poor performances against top competition at Auburn played into why he transferred. Nix has the opportunity to continue growing this season before hitting the all-star circuit next offseason. Even a slightly upward trajectory will be enough to get him this high.
Atlanta has to be realistic about what they need at quarterback. If Desmond Ridder can't play near a Pro Bowl level with his surrounding cast, he's not the long-term answer.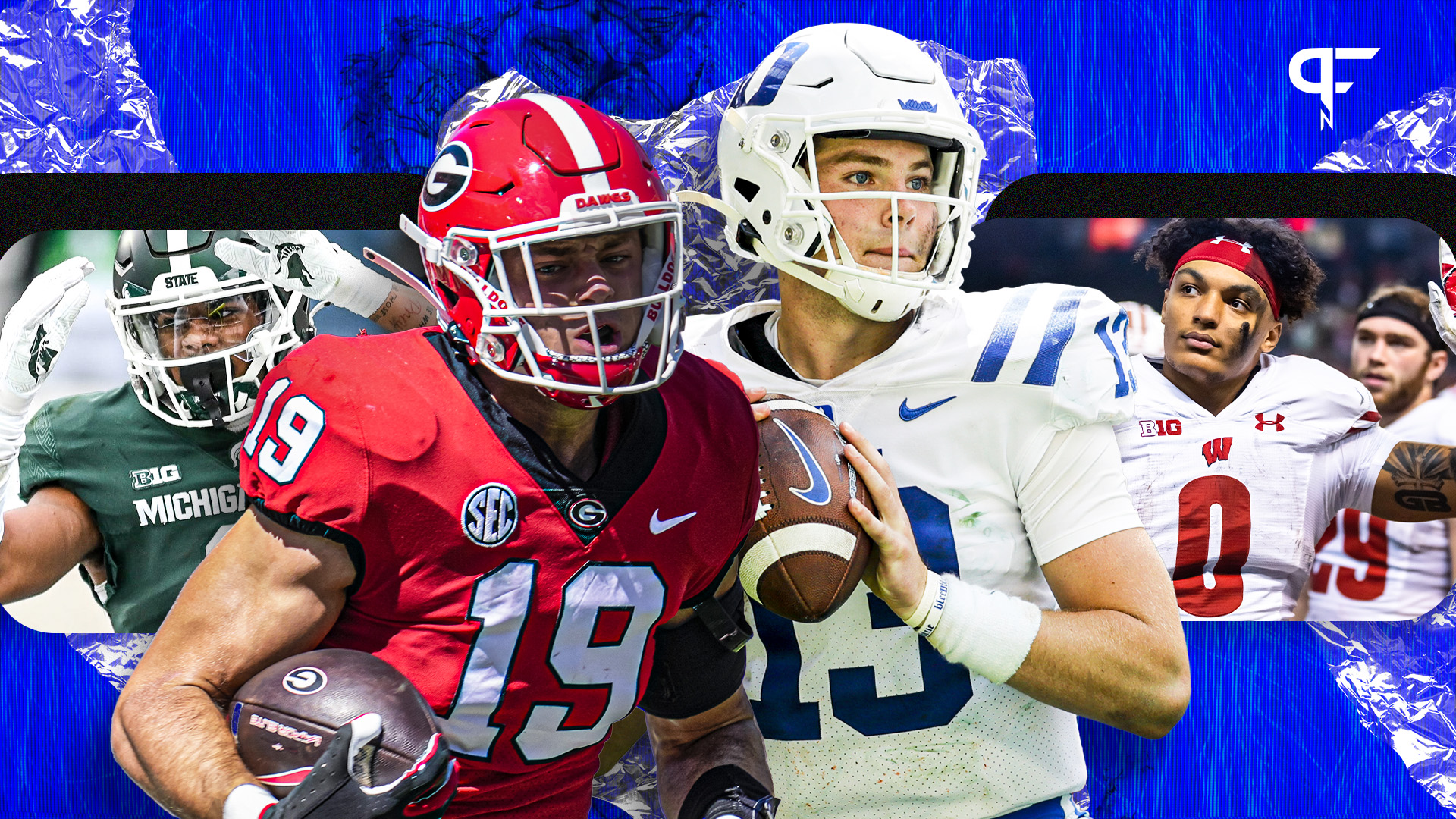 7) Tampa Bay Buccaneers: Riley Leonard, QB, Duke
The Tampa Bay Buccaneers have one of the least inspiring QB rooms across the league. They're hoping that Baker Mayfield can turn back the clock to better days and that both Mike Evans and Chris Godwin bounce back from clear physical drops in their play in 2022. If all that happens, then the Buccaneers might win the NFC South.
But it's more likely that Tampa Bay is entering a rebuild next offseason. A new quarterback will be needed, and one of the top watchlist passers is Duke's Riley Leonard.
Leonard is a big, athletic presence who has good arm strength and touch on passes. With more consistent ball placement and quicker reads, Leonard can give evaluators confidence he's ready to make the jump to the NFL.
8) Arizona Cardinals (From WAS): Kool-Aid McKinstry, CB, Alabama
Landing another premier cornerstone to revamp the roster would be massive for Arizona. Getting Harrison and Kool-Aid McKinstry would redefine the franchise's outlook at two key positions. McKinstry isn't as close to a perfect prospect as Harrison is, but he's already an extremely good cover corner.
Like Patrick Surtain II was before him, McKinstry has lockdown traits and size to challenge pass catchers. We'll see if he can prove to be more of a ball hawk in 2023, but the rest of his game is hard to question.
9) New England Patriots: JT Tuimoloau, EDGE, Ohio State
For as good as Matthew Judon is, the New England Patriots often scheme him free, as Brandon Thorn's research found. Adding another premier talent to Bill Belichick's defense can reduce their need to pull stunts and go into attack mode.
By the end of this coming season, finding JT Tuimoloau still on the board at this point may seem far too low. As last season progressed, Tuimoloau came into his own. At 6'4″, 277 pounds, he's a big strong-side edge defender, and his play strength and impressive quickness project extremely well to the NFL, where he can grow into a unit's primary pass rusher.
10) Los Angeles Rams: Brock Bowers, TE, Georgia
The totality of the Los Angeles Rams' roster is quite bad, but their range of outcomes is fairly significant. If Matthew Stafford is healthy, they have little reason to completely blow up the roster and replace him. If he's not, or if his play continues to be mediocre or worse, then the Rams may have the top overall pick.
If Stafford and Cooper Kupp continue to be franchise pillars and they find Brock Bowers on the board, L.A. has to think about continuing to build upon their strengths. Bowers isn't just a tight end but projects as a legitimate top receiving option in the NFL. It's hard to pass up on more premium positions, but Bowers is the right blend of an elite prospect and unique weapon for Sean McVay that they can't pass on.
11) Green Bay Packers: JC Latham, OT, Alabama
Moving from right tackle to left tackle this fall, JC Latham is the most physically impressive mauler of the draft's top four OTs. Just a freshman in 2022, Latham immediately used his 6'6″, 335-pound frame to bully defenders and box them out. His lateral movement is surprising for someone with such mass.
There are areas to improve with Latham's hand placement and even his nastiness. I'd love to see more pulverizing finishes in the run game and cleaner inside placement of his hands in pass protection. Nevertheless, Latham could absolutely vault to being the OT1 with those areas of growth.
12) Chicago Bears: Emeka Egbuka, WR, Ohio State
The Bears have done well to reshape their offense around Justin Fields, but more work can be done. Barring an unexpected Chase Claypool breakout and Darnell Mooney proving to be indispensable (earning an extension), the long-term prospects at wide receiver besides DJ Moore are lacking.
Enter Ohio State's Emeka Egbuka. Egbuka was a bit hidden behind Harrison last year, but in some ways, is more well-rounded than Harrison. He's an incredibly smooth route runner and dangerous player with the ball in his hands.
13) Pittsburgh Steelers: Dallas Turner, EDGE, Alabama
I have Dallas Turner a bit lower than most right now, but it's not because of his physical tools. Turner has good production as a pass rusher thanks to his speed and presence across from Will Anderson Jr. However, he's easily shut down if his bull rush is withstood and often had to be schemed free.
That's not as much of an issue for a team with a star pass rusher already. Turner can be used as a complementary piece and as a dangerous coverage threat, much like Micah Parsons has been early in his NFL career. Turner is not on Parsons' level as a pass rusher yet, but he offers undeniable traits.
14) Minnesota Vikings: Quinn Ewers, QB, Texas
There's a crowded field of quarterbacks who could be major risers in 2023, including Texas' Quinn Ewers, Nebraska's Jeff Sims, Florida State's Jordan Travis, and more. Ewers had an up-and-down first season starting for the Longhorns, but his peaks were phenomenal, and his best throws are at least as good as Maye's.
However, Ewers also suffered a rough stretch that exposed his apparent unwillingness to drive his core and legs on throws. He showed the same issue in high school. If he can be more consistent in using his core to his advantage and create more torque, Ewers has first-round potential.
15) Las Vegas Raiders: Joe Alt, OT, Notre Dame
The best tackle right now in college football is Notre Dame's Joe Alt. Alt has a mammoth 6'8″ frame but is lighter in the pants at 315 pounds. He's as sharp identifying blitzes as any blocker I've evaluated, giving him even more value for young quarterbacks who may struggle with pre-snap reads.
The difference between Alt and some of his peers is his lack of athleticism for his density. He's a good athlete with great technique, whereas the NFL often prefers great athletes who can be taught technique. Still, the Las Vegas Raiders shouldn't complain if they can draft Alt and plug him in at RT, considering their need.
16) Houston Texans (From CLE): Keon Coleman, WR, Florida State
A breakout star for Michigan State in 2022, Keon Coleman seemingly caught everything thrown in his direction. With 798 yards and seven scores on 58 receptions, Coleman proved to be a true possession threat who could own jump-ball targets. It's uncommon for modern 6'4″ receivers to actually play to their size, but Coleman embraces his strengths.
The Houston Texans have the smaller, shiftier receivers to complement a true alpha playmaker. Slotting Coleman next to Tank Dell and John Metchie III can open opportunities for the two speedy threats.
17) Denver Broncos: Braelon Allen, RB, Wisconsin
With two 1,200-yard rushing seasons already under his belt, Braelon Allen is on a crash course for the NFL. He already has 23 career touchdowns, and NFL evaluators may prefer his 6'2″, 238-pound frame to the smaller statures of his classmates.
Denver Broncos head coach Sean Payton has previously made the most out of backs with thicker bodies, including Mark Ingram and Deuce McAllister, making Allen an easier projection to their situation.
Allen does have to improve his foot quickness to reach the first round, as he's a bit more of a plodder than a dynamic freak at his size like Derrick Henry is. However, a leaner version of Allen can completely upend what we think we know about the running back class in 2024.
18) Los Angeles Chargers: Bralen Trice, EDGE, Washington
Few teams have as much talent as the Los Angeles Chargers do, but it's an aging and expensive roster. With Khalil Mack on the downswing and his cap number rising, adding a replacement on a rookie deal would be wise. With no clear candidate as the fourth-best pass rusher right now, Bralen Trice gets the nod.
Trice isn't as explosive as some of his counterparts who are vying to land as a first-rounder, but he's rock solid. With his 6'4″, 256-pound frame, Trice generates solid power as a run defender and has enough juice off the line to cause issues for quarterbacks. He's a great candidate to complement Joey Bosa.
19) Seattle Seahawks: Maason Smith, DT, LSU
We could see LSU defensive tackle Maason Smith go much higher than this if he can prove healthy in 2023. Smith suffered a torn ACL in the first game of 2022, ending what was sure to be another season filled with disruption.
Big, athletic interior defenders continue to gain value, and the Seahawks can't afford to pass on the opportunity to bolster their defense with Smith if given the chance and he's healthy.
20) New York Giants: Xavier Worthy, WR, Texas
Although the New York Giants invested in adding considerable depth to their receiving corps this offseason, they still lack a playmaker with a bigger frame who can create downfield.
Xavier Worthy is one of the best sideline threats in the country, showing off a mean streak both before and after the catch. He has the size, speed, hands, and demeanor to raise the ceiling of this unit.
21) New Orleans Saints: Calen Bullock, S, USC
Few teams have prioritized having a deep secondary like the New Orleans Saints have, so continuing to pump talent into the unit makes sense. Tyrann Mathieu isn't getting younger, and Marcus Maye was somewhat ineffective in 2022 after tearing his ACL during the 2021 season.
USC's Calen Bullock is a playmaking ball hawk who can be the future of the position for the Saints.
22) Miami Dolphins: Jordan Morgan, OT, Arizona
The future cap situation of the Miami Dolphins is murky, so decisions on key veterans will need to be made sooner than later. But passing on an athletic, talented OT to finally fix the right tackle spot would be difficult.
Arizona's Jordan Morgan was on track to be a first-round pick in 2023 before tearing his ACL in November. An incredibly smooth athlete who can survive on an island, Morgan has to prove he's healthy throughout this campaign. If he is, it's hard to imagine he's anything but a first-round lock.
23) Jacksonville Jaguars: Kamren Kinchens, S, Miami (FL)
There aren't many holes on the Jacksonville Jaguars' roster, giving them some freedom to invest in a physical specimen who can grow into a bigger role on his own timeline. They can stay in the state of Florida with this pick, grabbing Kamren Kinchens from Miami. The speedy playmaker notched six interceptions in 2022.
Blessed with fantastic speed and the discipline needed to be a true free safety, Kinchens' presence looms large on the back end of a talented Hurricanes defense. We haven't seen a more dangerous safety in college since Malik Hooker terrorized offenses with seven interceptions in 2016 for Ohio State.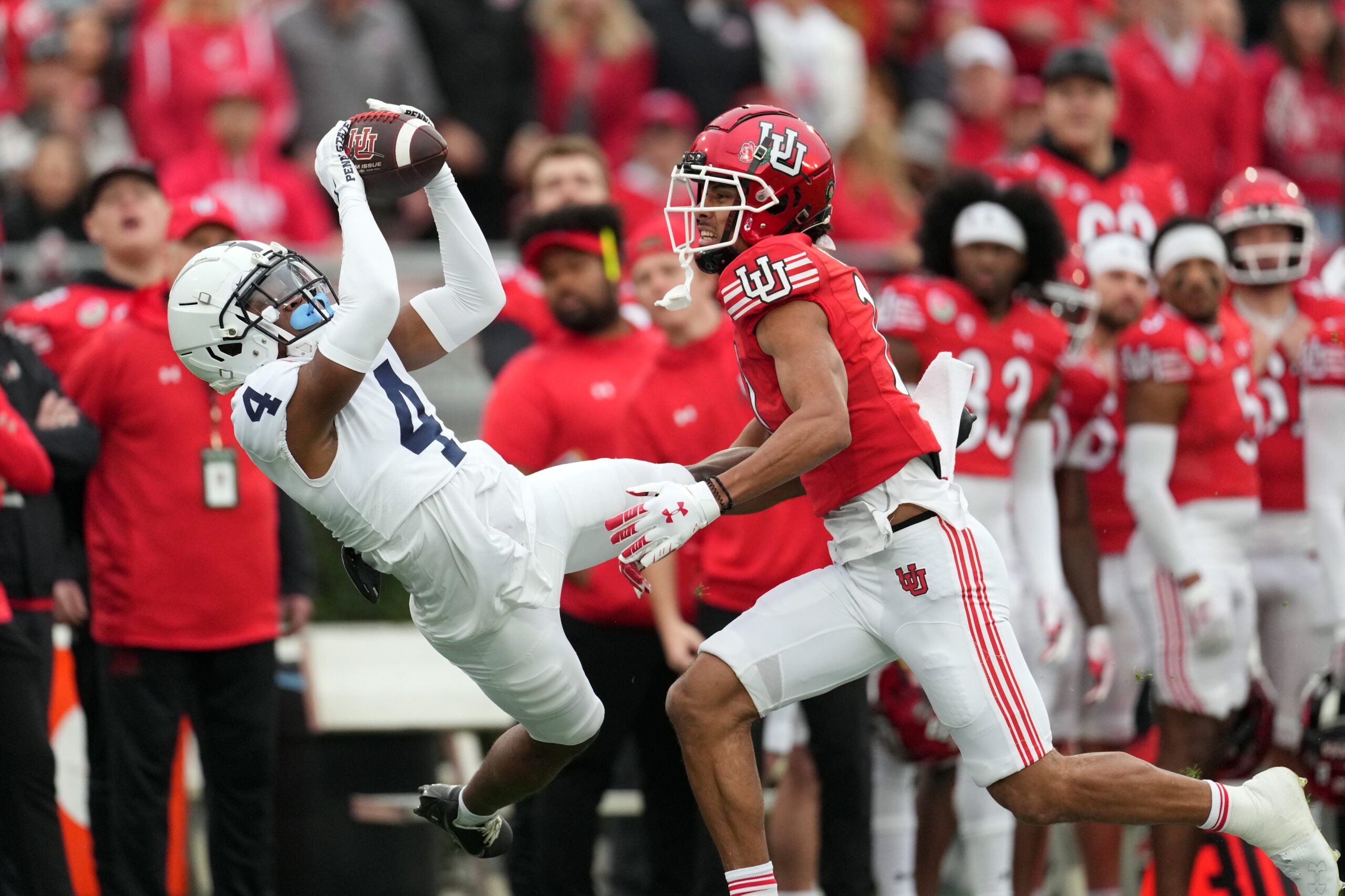 24) Baltimore Ravens: Kalen King, CB, Penn State
A quicker-than-fast CB who is a good fit to cover shiftier receivers in the modern NFL, Kalen King was extremely effective in coverage last year. I have questions about his overall explosiveness and ability to be more than a solid second corner, but if he's paired with Marlon Humphrey, those doubts are mitigated. However, in order to reach his ceiling, King has to be more physical and prove to be more of a difference-maker at the catch point.
25) Detroit Lions: Cooper DeJean, CB, Iowa
The best playmaking cornerback in the 2024 class is Cooper DeJean. Able to play in the slot, as a boundary man who specializes in zone, or even as a box safety, DeJean has the versatility and football IQ that will cause him to rise throughout the pre-draft process. He plays the ball as if he's a receiver, which is why he picked off five passes last year.
The Lions, still in need of long-term answers in the secondary, would be a good landing spot for DeJean as they build the unit around him and 2023 second-round pick Brian Branch.
26) Green Bay Packers (From NYJ): Patrick Paul, OT, Houston
This pick will likely be Green Bay's as it conveys if Aaron Rogers plays 65% of snaps this coming season for the New York Jets.
The Packers have had tremendous success drafting and developing offensive linemen, prioritizing athleticism and length whenever possible. They can continue that tradition as they prepare for life after David Bakhtiari. Houston's Patrick Paul is one of the top blockers in the nation and is going too far under the radar entering the season.
27) Dallas Cowboys: Barrett Carter, LB, Clemson
With an explosiveness to his game, Barrett Carter announced himself to the college football world last season. The Clemson LB is a true do-it-all 'backer, readymade for today's NFL. Carter is big and fast and runs the alley incredibly well while possessing elite coverage abilities.
28) Buffalo Bills: Malik Nabers, WR, LSU
While the Buffalo Bills opted to overhaul the depth of their WR room and against adding another clear-cut starting candidate, the latest situation with Stefon Diggs is a reminder that stars can quickly come and go. Adding Malik Nabers would give Buffalo a near-clone of Diggs as a speedster who also boasts polished routes and a knack for producing in the clutch.
Nabers, 6'1″ and 188 pounds, has averaged 14.3 yards per catch through his first two seasons. He broke out with 72 receptions, 1,017 yards, and three touchdowns as a sophomore in 2022.
29) Cincinnati Bengals: Michael Hall Jr., DT, Ohio State
There aren't a ton of immediate holes on the Cincinnati Bengals' roster until we see how their young secondary performs and how the right tackle position shakes out in 2023. Operating from a place of strength in this mock, the Bengals grab a local product in Ohio State DT Michael Hall Jr.
Hall is an undersized tackle who specializes in getting into the backfield and chasing quarterbacks. Cincinnati already started planning for the future of their defensive line when they invested a 2022 third-round pick into tackle Zach Carter and their 2023 first-rounder into end Myles Murphy. Though neither B.J. Hill nor DJ Reader has seen their performance slip, it's possible Hall will allow the Bengals to move on from one of them as their salaries rise.
30) Philadelphia Eagles: Andrew Mukuba, S, Clemson
Since the Philadelphia Eagles again appear to be stacked on both sides of the ball, it makes sense for them to chase upgrades at positions they haven't invested in recently. That includes safety, where 2023 third-rounder Sydney Brown is the most promising talent.
Unless one of Reed Blankenship or K'Von Wallace breaks out this season, the Eagles will have an opportunity to add a Day 1 starter here. Clemson's Andrew Mukuba would be a solid complementary piece next to Brown. Versatile in coverage while also providing quality run support, Mukuba is a dependable option for a unit that is loaded with playmakers.
31) San Francisco 49ers: Jack Sawyer, EDGE, Ohio State
The San Francisco 49ers are a good candidate to take a playmaker here to replace one of Deebo Samuel or Brandon Aiyuk, but the safest bet is they continue to pour resources into their trenches. They've set the bar high with their player development, so giving San Francisco an elite athlete who can blossom as a rotational player right away makes sense.
Ohio State's Jack Sawyer is a big boom candidate this year because of his movement ability. He's fluid, fast, and powerful but simply lacks reps. Look for Sawyer's production to explode as he takes on a bigger role this season for a Buckeyes defense that figures to be quite good.
32) Kansas City Chiefs: Jer'Zhan Newton, DT, Illinois
For as well as the Kansas City Chiefs have overhauled their defense over recent years, the long-term health of the DT position can be improved. There's not much beyond Chris Jones as far as impactful presences, but adding the 6'2″, 280-pound Jer'Zhan Newton would give an explosive under-tackle who can also rack up tackles-for-loss opportunities.
Newton broke out in 2022 with 14 tackles for loss and 5.5 sacks. Another strong season can help him jump ahead of a deep crop of tackles.
Listen to the PFN Scouting Podcast
Listen to the PFN Scouting Podcast! Click the embedded player below to listen, or you can find the PFN Scouting Podcast on iTunes, Spotify, and all major podcast platforms.  Be sure to subscribe and leave us a five-star review! Rather watch instead? Check out the PFN Scouting Podcast on our Scouting YouTube channel.