The Stefon Diggs drama may end up being a one-day circus. Summer news in the NFL is scant, and there's a chance that Diggs — whose temporary absence from the Buffalo Bills' mandatory minicamp last week left head coach Sean McDermott "very concerned" — will resolve his issues with the team before the 2023 campaign begins.
However, there's also a possibility that the Diggs-Bills marriage has run its course. If Diggs no longer wants to play in Buffalo, what are the Bills' options, both in 2023 and 2024?
Can the Bills Trade Stefon Diggs in 2023?
Diggs didn't participate in last Tuesday's minicamp session, but he was back at practice by Wednesday. It doesn't appear that Diggs is frustrated with his contract, having just inked a four-year, $96 million extension with the Bills last offseason.
Instead, Ben Volin of the Boston Globe reported that Diggs is frustrated with his role in Buffalo's offense and his input in play-calling.
Although Diggs received just 6.5 targets per game over the final month of the regular season, he accrued 19 targets in the Bills' two playoff games. Since joining Buffalo before the 2020 campaign, Diggs ranks second league-wide with 484 targets, trailing only Davante Adams.
Trading Diggs before the 2023 season would present several problems for the Bills. For one, he's far and away the best receiving threat on Buffalo's roster, and the club doesn't have any options to replace him.
Gabriel Davis didn't take the leap forward that many expected in 2022, while Khalil Shakir, Deonte Harty, and Trent Sherfield are tertiary options, not No. 1 wideouts.
A Diggs trade doesn't make sense from a financial perspective, either. The Bills just paid Diggs a $16 million option bonus in March. Maybe the Broncos' Walton family or the Rams' Stan Kroenke would be willing to eat that sum, but Buffalo is unlikely to move Diggs after handing out that sort of cash.
From a cap standpoint, the Bills would actually gain space by trading Diggs. Because we've crossed the June 1 threshold, Diggs' dead money would be split between the 2023 and 2024 seasons in the event of a trade.
Buffalo would gain roughly $500,000 this season by trading Digg, but they'd be on the hook for more than $31 million in dead money next year.
NFL teams have become far more willing to eat dead money, but $31 million might be too much to bare. Diggs' trade would result in the fourth-largest dead cap hit in league history, behind only Matt Ryan ($40.53 million), Aaron Rodgers ($40.513 million), and Carson Wentz ($33.8 million).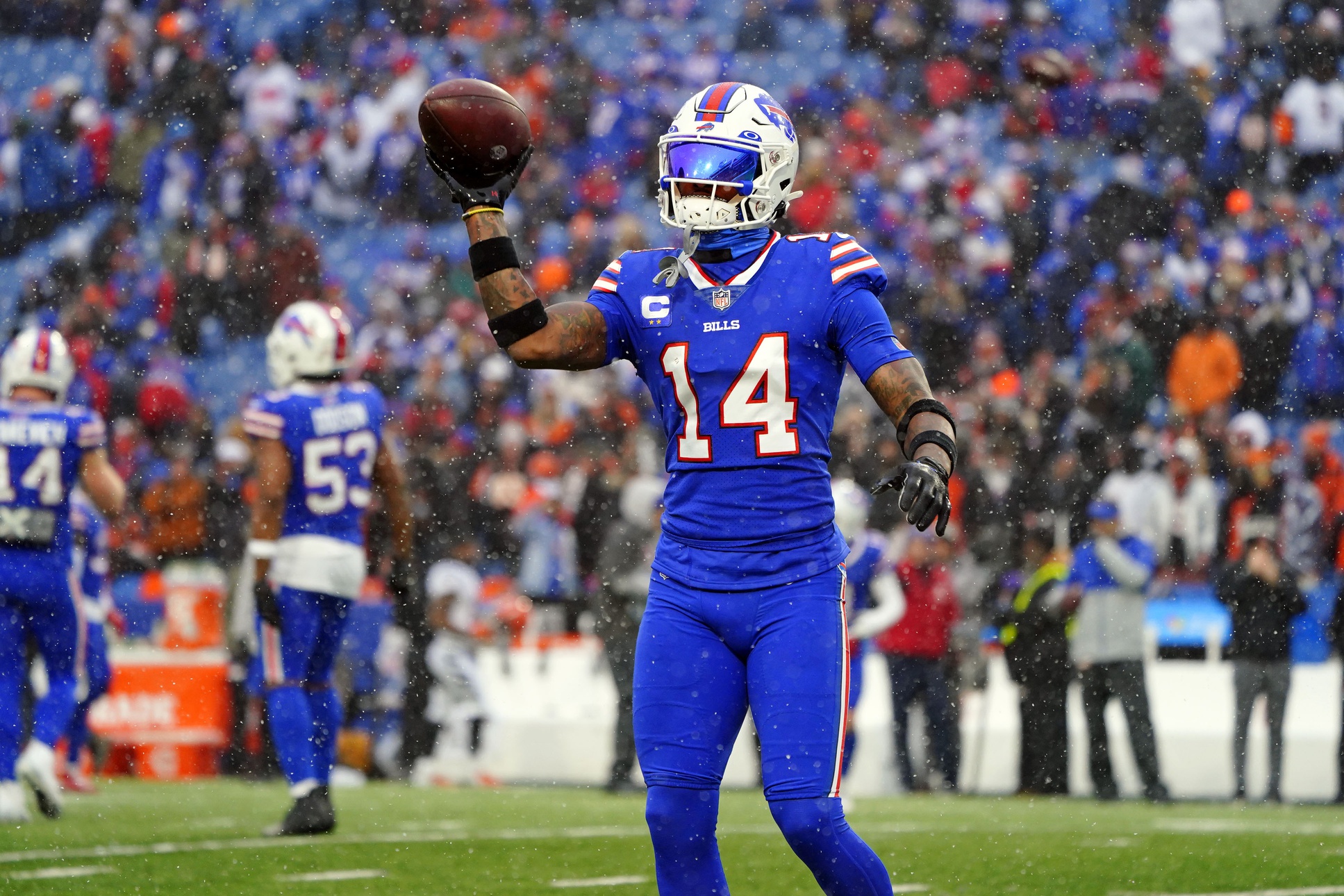 What Are Buffalo's Options With Diggs in 2024?
If a post-June 1 trade in 2023 doesn't make sense for the Bills, then dealing Diggs next offseason won't be in the cards, either. A 2024 Diggs trade would result in the same $31 million of dead money on Buffalo's books.
Theoretically, the Bills could wait until after June 1, 2024, to attempt to trade Diggs. At that point, they'd absorb just $8.5 million in dead money in 2024 and roughly $22 million in 2025. There is no such thing as a post-June trade designation, so Buffalo would have to find a team willing to wait until the summer to acquire the star wideout.
If the Bills have simply had enough of Diggs, they could release him next offseason — but they'd likely have to do some work during the 2023 season. A straight release next spring would leave Buffalo with that familiar figure — $31 million — in dead money on their 2024 salary cap.
However, the Bills could potentially employ a strategy used by the Eagles with Alshon Jeffery in 2021. If Diggs wants out of Buffalo, he could be amenable to reducing his 2024 base salary from $18.5 million to the league minimum. At that point, the Bills could use a post-June 1 release and take on roughly $10 million in dead money in 2024 and $22 million in 2025.
Buffalo would have to approach Diggs and his agent about this possibility during the 2023 season. Teams are prohibited from using the post-June designation on players whose contracts were altered after the regular season, so the Bills would need Diggs to agree to a restructure before Week 18 comes to a close next January.
Diggs has leverage. His $18.5 million salary will become fully guaranteed next March, so he could refuse to play ball and hope the Bills release him and take the cap hit.
And there are problems for the Bills in this scenario, too. They'd be severing ties with a receiver who has earned two All-Pro nods and three Pro Bowl appearances during his time in Buffalo — and not receiving anything but cap space in return. The Bills would likely feel forced to either acquire a veteran pass catcher or use a first-round pick on a new receiver to replace the void left by Diggs.
But if Diggs truly wants out of Buffalo, he might be willing to work with the Bills and reduce his contract figure for next year. He'll be 30 years old next offseason and might not come anywhere close to his current Bills contract on the open market. But if Diggs' issues in Buffalo go beyond money, he could be open to anything.