With Week 1 of college football in the books, who has impressed enough to feature in this 2024 NFL Mock Draft? Following some classic overreaction to some popular prospects, offensive players headline the first-round 2024 NFL Draft talent.
This mock draft is stacked with premier offensive talent, including five quarterbacks, six wide receivers, and six offensive linemen. It also includes eight players from the defensive line showing off the depth within the trenches in the 2024 NFL Draft class.
2024 NFL Mock Draft
The NFL Draft order is set using reverse Super Bowl odds and matches the same order you can find using PFN's Mock Draft Simulator.
1) Arizona Cardinals: Caleb Williams, QB, USC
The Cardinals are in full rebuild mode. Their roster is probably the worst in the NFL right now, but general manager Monti Ossenfort has done a good job of collecting picks. With the rebuild in full swing, Arizona will hit the reset button at the quarterback position and take Caleb Williams, who is one of the top quarterback prospects we have seen in recent memory.
Picking Williams means finding a trade partner for Kyler Murray, which they do in this mock by trading him to the Minnesota Vikings. It would mean eating a lot of dead cap space, but the Falcons managed it with Matt Ryan, and the Buccaneers have managed it with Tom Brady.
2) Arizona Cardinals (From HOU): Marvin Harrison Jr., WR, Ohio State
These first two picks are pretty chalk, but if the Cardinals are going to select a quarterback with the first overall pick, there is no better partner than Marvin Harrison Jr. The son of the NFL great is an elite weapon and is ready to be a pro right now.
Arizona just has to draft good players. They get two elite ones early in this mock draft.
3) Indianapolis Colts: Olumuyiwa Fashanu, OT, Penn State
The bedrock of the Colts has been the offensive line in recent seasons, but they took a step back in 2022. Bernhard Raimann started off slow but did improve at the back end of the season. Still, you can't have too many good offensive linemen. Fashanu is a blue-chip prospect who has the ability to protect QB Anthony Richardson for years to come.
4) Tampa Bay Buccaneers: Drake Maye, QB, North Carolina
If the Buccaneers are drafting this early, then they won't be rolling into the 2024 NFL season with Baker Mayfield under center.
MORE: Is Maye a Contender With Williams for QB1 in the 2024 NFL Draft?
They will have to consider drafting a quarterback so their rookie deal will help them pay some of the big contracts to their veterans that they will have to dish out over the next couple of seasons. Who better to select here than Drake Maye?
5) Las Vegas Raiders: Shedeur Sanders, QB, Colorado
This is where the overreaction begins. Transferring to Colorado, Sanders had to prove that he could maintain the same level of performance as he put together at Jackson State. He did that and then some. If he can consistently put together performances like we saw in Week 1 against TCU, his draft stock will skyrocket.
Sanders possesses an incredibly strong arm and decent athleticism. He has a good enough build to hold up in the NFL while having excellent accuracy, poise, and decision-making.
6) Chicago Bears (From CAR): Jared Verse, EDGE, Florida State
The Bears need to add a productive pass rusher to their defense. Look no further than Jared Verse, who is the top edge in the 2024 NFL Draft class. Verse is extremely productive, plays with physicality and a violent mentality, and possesses the pass-rush skill set of a top-five pick.
7) Los Angeles Rams: J.J. McCarthy, QB, Michigan
The Rams' roster looks extremely depleted of top-end talent right now, and they are staring at a reset.
With the future of Matthew Stafford uncertain, the Rams could use their first-round pick — which is the first time they have held a first-round pick since they drafted Jared Goff in the 2016 NFL Draft — to take a dynamic threat at the position in J.J. McCarthy.
The Wolverine signal-caller is just scratching at the surface of his potential. He looked great in Week 1, and if he can keep up that level of performance, he'll be talked about as a first-round prospect.
8) Tennessee Titans: Amarius Mims, OT, Georgia
Mims is a huge projection at this point, but he is a physically gifted prospect who has a chance to challenge for OT1 in this class. The Titans currently have the worst offensive line in the NFL, and Mims would provide versatility to either play left or right tackle for years to come.
9) Green Bay Packers: Joe Alt, OT, Notre Dame
While the Packers already have a good offensive line, there hasn't been much stability in their core five players. There are also rumblings that David Bakhtiari could be on the trade block after the 2023 season, which would save Green Bay $21.5 million against the cap, according to Spotrac. Joe Alt is a polished, refined, technically sound prospect who can lock down either of the tackle positions.
10) New England Patriots: Keon Coleman, WR, Florida State
The wide receiver room for the Patriots leaves much to be desired. They need to add weapons, and they need to be able to score points if they are going to make any noise in the loaded AFC East.
Keon Coleman would give New England a legitimate outside threat, who is extremely physical and has elite body control to pluck balls out from anywhere. Taking the Seminoles' pass catcher this early may seem like an overreaction to his Week 1 performance because he hauled in three touchdowns, but he really is this talented.
11) Washington Commanders: Brock Bowers, TE, Georgia
This pick is based on the fact that Sam Howell shows enough skill to deserve at least another year as the starting QB. Adding Bowers to the abundance of weapons that the Commanders already have at their disposal would be exciting for Washington.
Bowers has the potential to be one of the best tight-end prospects we have ever seen and will be a top-10 overall player in this class.
12) New York Giants: Malik Nabers, WR, LSU
The Giants' stable of wide receivers still needs a lot of work despite drafting Jalin Hyatt in the 2023 NFL Draft. Malik Nabers would give them an immediate outside receiving threat, which would help further unlock the Giants' passing attack.
Nabers is a true outside wide receiver, who has an extremely high ceiling. He is plenty athletic and shows off great intelligence.
13) Atlanta Falcons: Laiatu Latu, EDGE, UCLA
The Falcons did a good job addressing their defensive frailties in the offseason, but they added veteran guys and are still searching for a young pass rusher who can be the star of the defense.
Laiatu Latu is one of the top edge rushers in the 2024 class. He is technically refined and pro-ready. If his medicals clear up after almost needing to medically retire earlier in his college career, Atlanta would love to add his relentless pursuit to their ranks.
14) Chicago Bears: Jer'Zhan Newton, DT, Illinois
Having drafted Jared Verse with the sixth pick, the Bears return to the well by adding another defensive lineman. They drafted two defensive tackles in the 2023 NFL Draft, but that shouldn't stop them from drafting a premier interior player like Jer'Zhan Newton.
The defensive tackle is an absolute wrecking ball and possesses an explosive pass rush. His aggressive playstyle and instant playmaking ability would go a long way in tidying up the Bears' defensive front.
15) Pittsburgh Steelers: Kalen King, CB, Penn State
Right now, cornerback is the most glaring need on the Steelers' roster. They added Joey Porter Jr. with the 32nd pick in the 2023 NFL Draft, and here, they add his Penn State defensive partner Kalen King to be his running mate.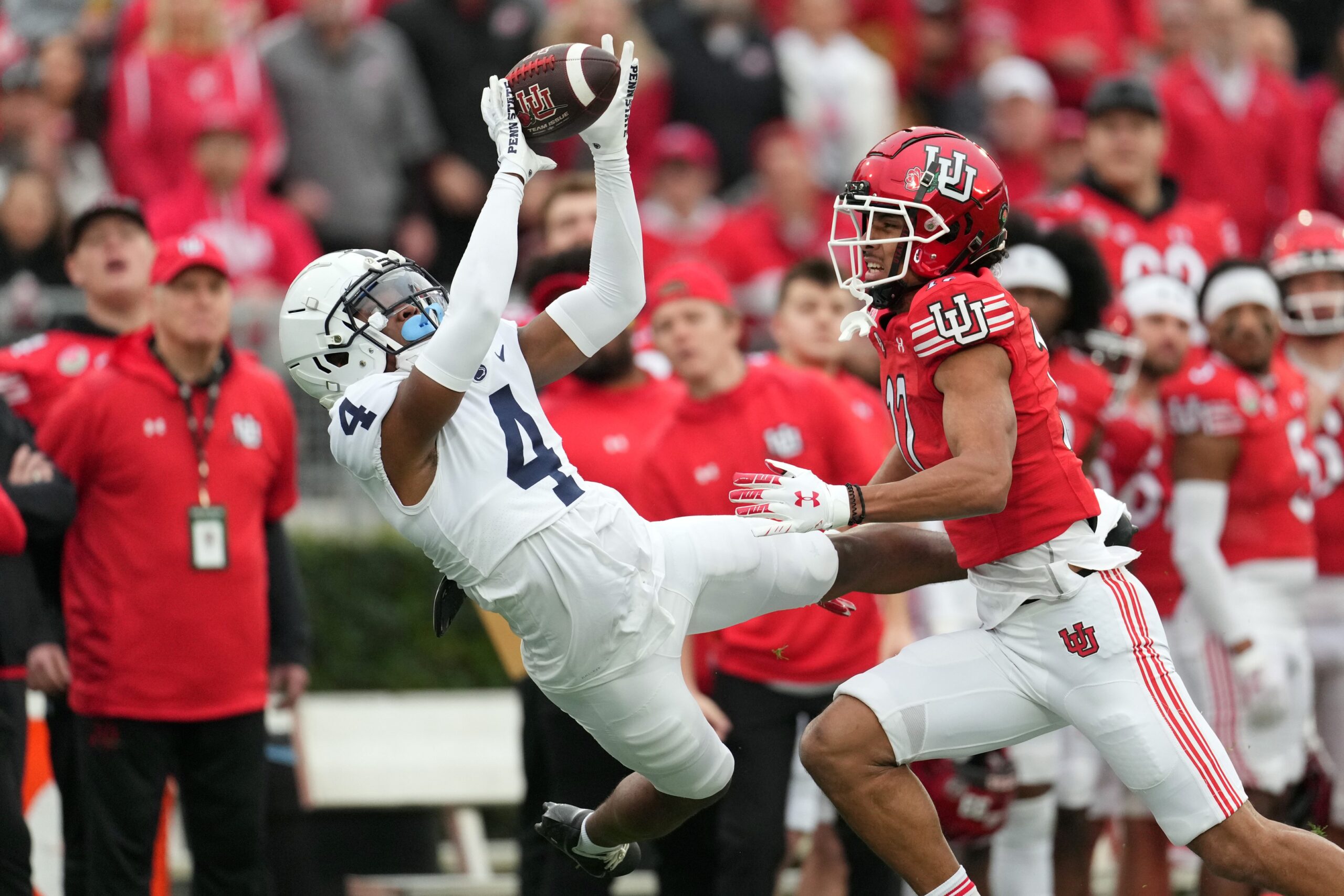 King possesses rare athletic traits — he is smooth and fluid while playing tough and physical. He has fantastic ball skills, instantaneous awareness, and enough anticipation to be a lockdown corner in the NFL.
16) Denver Broncos: Dallas Turner, EDGE, Alabama
The Broncos are getting older along their defensive line, and even if this group performs above expectations in 2023, they should look to get younger and more athletic up front.
Dallas Turner is an excellent athlete who carries bursty explosiveness. His pass rush can be elusive due to his ability to win with pure speed. He has the flexibility and bend to win at the next level despite needing to add some mass to his frame.
17) Houston Texans (From CLE): Chop Robinson, EDGE, Penn State
Outside of Will Anderson, the Texans really don't have much pass-rush ability. Chop Robinson would give them another fantastic option in the defensive front who plays the game just how head coach DeMeco Ryans wants — hard and fast. His great athletic traits make him a pure disruptor.
18) Los Angeles Chargers: Cooper DeJean, CB, Iowa
The Chargers need to add quality to their defensive secondary, and Cooper DeJean is exactly the type of player head coach Brandon Staley wants.
DeJean is versatile, can play anywhere in the secondary, and possesses ball-hawking skills that resulted in five interceptions last season. His versatility and elite athletic traits make him a great addition to L.A.
19) Arizona Cardinals (From MIN): Emeka Egbuka, WR, Ohio State
Trade: Minnesota receives QB Kyler Murray
In this scenario, Minnesota decided to trade for Kyler Murray since Kirk Cousins is in the last year of his contract.
So, Arizona now has a third first-round pick, which would create quite an overhaul of their offense. Emeka Egbuka is an exceptional talent in this wide receiver class and would be a fantastic slot option straight away. Caleb Williams, Marvin Harrison Jr., and Emeka Egbuka — sign us up!
20) New Orleans Saints: Kool-Aid McKinstry, CB, Alabama
The fall stops now for Kool-Aid McKinstry, who is widely regarded as one of the top corners in the 2024 NFL Draft class.
The Saints are happy with Marshon Lattimore and Paulson Adebo, but the value would prove too much in this spot, and McKinstry would open up the playbook.
McKinstry is a physically gifted corner with legitimate long speed and good length. He is sticky in coverage, and his great intelligence, awareness, and anticipation are exactly what you look for in an NFL boundary corner.
21) Jacksonville Jaguars: JC Latham, OT, Alabama
With Jawaan Taylor now on the Chiefs and Cam Robinson suspended, the Jaguars will be rolling with Walker Little and Anton Harrison as their bookend tackles. Latham would be an immediate upgrade over Walker Little due to his mammoth size and physical gifts.
The Alabama product has significant lower body strength at 6'6″ and 335 pounds, making him extremely difficult to get around. While he needs to play with more technical ability and consistency, as well as cutting down on his penalty count, Latham would be a steal this late in the first round.
22) Seattle Seahawks: Leonard Taylor III, DT, Miami (FL)
The Seahawks have needed to add to the defensive line for some time now, and they can find the perfect fit for the interior of their defensive line in Leonard Taylor.
He is a bruiser through the middle who simply gets after the quarterback. He plays with intensity and power, and his explosiveness makes him a complete mismatch when rushing the passer. While still raw, Taylor has all the intangibles to be a first-round player in the 2024 NFL Draft.
23) Miami Dolphins: Graham Barton, OL, Duke
Miami needs to do something to make their offensive line more stable. It could be that Austin Jackson isn't the answer at right tackle, or it could be that they need some help in the interior.
Enter Graham Barton. The Blue Devil is an extremely versatile prospect who will be able to play across the offensive line in the NFL. He has silky footwork and clean, powerful hands. He is great at pulling across the line, where he can use his unique athleticism and movement skills. He would be a great fit for what the Dolphins want to be on offense.
24) Baltimore Ravens: Nate Wiggins, CB, Clemson
The Ravens haven't been able to stay healthy at corner this offseason — Marlon Humphrey is the latest to sustain an injury. With all that bad luck, they should look to add further depth and quality to the position.
Nate Wiggins is a true outside corner. He combines height, length, and speed and is an excellent athlete with the fluid movement skills and twitchy flexibility to stick with receivers.
25) Detroit Lions: Kamren Kinchens, S, Miami (FL)
With C.J. Gardner-Johnson only signed to a one-year contract, the Lions will need to address the safety position and provide a different option outside of Kerby Joseph and Brian Branch.
Kinchens checks all the boxes at the safety position. He can locate the football with his rare range and great ball skills, allowing him to pick the ball out from anywhere on the field. He also plays with intense toughness and intelligent instincts, making him a safety worthy of a first-round pick. His physicality and bruising strength are something that Dan Campbell and the Lions will love.
26) Green Bay Packers (From NYJ): Tyler Nubin, S, Minnesota
With two interceptions in Week 1 of college football, Tyler Nubin will be a riser throughout the draft process.
The Packers' starting safeties, Rudy Ford and Darnell Savage, are in the last year of their contracts and haven't played well enough to think that the Packers are happy in that area. Nubin would be a fantastic addition in Green Bay with his refined technical ability and on-field production.
27) Dallas Cowboys: Troy Franklin, WR, Oregon
Dallas has a pretty good receiving corps, but Brandin Cooks and Michael Gallup are aging, and with contracts needing to be renewed, most notably Dak Prescott's, they should look to get cheaper where they can.
MORE: Top WRs in the 2024 NFL Draft
Troy Franklin is a field stretcher who has explosive burst and twitchy athleticism. His snappy route running and wiggly agility make him a nightmare to cover.
28) Cincinnati Bengals: Jordan Morgan, OT, Arizona
Jonah Williams is currently set to start at right tackle for the Bengals despite requesting a trade earlier in the offseason. It feels like a yearly routine at this point, but the Bengals do still need to look at upgrading at the position.
Jordan Morgan has evolved into a stellar prospect, and his year-on-year growth is extremely promising. He is explosive out of his stance, has natural balance, and is bendy to cope with pass rushers.
29) San Francisco 49ers: Michael Penix Jr., QB, Washington
This, of course, is dependent on whether Brock Purdy can continue what we saw at the end of his rookie season and, most importantly, stay healthy. With Trey Lance now a Cowboy, the 49ers' quarterback room doesn't stoke confidence in a team that thinks they are ready to win a Super Bowl. Michael Penix Jr. would come in and instantly elevate the room and provide instant competition.
Penix is a powerful thrower who is methodical and intelligent. He navigates the pocket really well and has plenty of experience in manipulating safeties and making great decisions. With 450 yards and five touchdowns in the 2023 season opener for Washington, if Penix's medicals come back fine, he should be in the Round 1 discussion.
30) Buffalo Bills: Rome Odunze, WR, Washington
Rome Odunze is a true X wide receiver and would be a great addition for the Bills alongside star receiver Stefon Diggs. He creates great separation with explosive movements, and his strong ball tracking and sharp change of direction make for an easy evaluation into the NFL.
With Gabe Davis, Trent Sherfield, and Deonte Harty having expiring contracts after this season, wide receiver is even more of a pressing need.
31) Philadelphia Eagles: Bralen Trice, EDGE, Washington
We know how much Eagles general manager Howie Roseman loves taking players from either side of the trenches early in the NFL Draft. With Derek Barnett in the final year of his deal and Brandon Graham not getting any younger, it is entirely possible that the Eagles decide to go defensive line again in the 2024 NFL Draft.
Bralen Trice is a heavy-set EDGE who has been extremely productive at Washington. He plays with pure strength and has a surprising power-to-speed ratio. His explosive first step and fantastic motor make him a great fit in Philly.
32) Kansas City Chiefs: Mekhi Wingo, DT, LSU
The Chiefs really needed to add to the interior of their defensive line even before Chris Jones decided he may hold out in the hope of a contract extension. With the possibility of the relationship with Jones breaking down, the need has become even more vital.
Round 1 would be quite the rise for Mekhi Wingo, but he dominated in LSU's loss to Florida State. He caused FSU quarterback Jordan Travis all sorts of trouble and generated absolute panic for their offensive line.
It is clear that Wingo also has all the mental and leadership qualities that you could ask for. He has been trusted with the coveted No. 18 jersey for LSU, which is given to the player to represent the program with their first-class focus, attitude, and attention.
Listen to the PFN Scouting Podcast
Listen to the PFN Scouting Podcast! Click the embedded player below to listen, or you can find the PFN Scouting Podcast on iTunes, Spotify, and all major podcast platforms.  Be sure to subscribe and leave us a five-star review! Rather watch instead? Check out the PFN Scouting Podcast on our Scouting YouTube channel.