The 2024 NFL Draft QB class is already looking like a historic group, but for all of the class' numbers, virtually no one is in dispute over the top two prospects. It's Caleb Williams and Drake Maye at the top.
Has Maye provided supporting evidence for his QB1 argument thus far this season? Let's dive into the film and see.
Can Drake Maye Overtake Caleb Williams as QB1?
In 2022, Maye completed over 66% of his passes for 4,321 yards, 38 touchdowns, and seven interceptions. He lost two top targets in Josh Downs and Antoine Green, and entered Week 1 without his two top transfer additions at wide receiver: Devontez Walker and Nate McCollum.
Thus far through 2023, Maye has been solid, even if his stats aren't close to Williams'. ESPN's Dan Orlovsky stoked the QB1 fire by saying Maye is absolutely in the mix to be taken before the USC Heisman winner.
.@DanOrlovsky7 thinks Caleb Williams going 1st overall in next year's draft is not a foregone conclusion

"Caleb Williams and Drake Maye, it's going to be a fascinating debate who's going to go No. 1."

Full interview: https://t.co/ZvJi5piI0a pic.twitter.com/mBvGe3djfm

— Dan Patrick Show (@dpshow) October 10, 2023
We're returning to our Week 1 film spotlight to see what Maye brings to the table and why he can challenge Williams for the mantle.
Scouting Film Spotlight: A Look at Maye's Week 1 Showing
The best QB prospects don't just have the physical talent; they also know how to stay in rhythm and maximize quick chances with timing and situational placement. That was one quality matrix that stood out on Maye's Week 1 tape: rhythm, timing, and situational awareness.
MORE: 2024 NFL Draft Order
There are simple examples, like his pass on 2nd-and-10, with around 5:40 remaining in the first quarter. It's a quick slant, which Maye can complete in rhythm with smooth, efficient mechanics. He releases promptly as the receiver completes his break and leads the WR upfield with velocity, away from the trailing defender.
Situational placement is easy to show off on bucket throws and boundary passes, but it's just as important in the quick game.

Drake Maye holds his own there, too. See how he leads his WR upfield with velocity on this slant — allowing for the play's maximum outcome. pic.twitter.com/urwqPjjNcy

— Ian Cummings (@IC_Draft) September 5, 2023
But there are other, more advanced examples where Maye layers in his extremely underrated creation capacity, athleticism, and arm elasticity.
It's important to immediately emphasize that Maye is a truly stellar athlete for his size. Williams is often billed as the higher-upside QB1 contender — and Williams' creation ability is truly one-of-one — but Maye is exceptional in his own right. And beyond creating as a thrower, he does have rushing value for his size.
One play, with around 1:51 to go in the first quarter, is an example. Maye senses pressure from the DT and takes quick advantage of running space over the middle of the field.
He starts upfield and freezes the LB for a millisecond with a quick pump fake, creating just enough space to accelerate and disrupt his tackling angle. Then, he shows off the speed and play strength to extend the run through the available seam.
For his size, Drake Maye has excellent functional athleticism — and he shows situational awareness as a runner as well.

Here, he uses a pump fake to freeze the LB just for a millisecond. It's discrete, but it's enough to allow a lane for Maye to bend and accelerate upfield. pic.twitter.com/nK8UP3Jf0o

— Ian Cummings (@IC_Draft) September 5, 2023
Here, you see not only the athleticism but also the situational awareness and football IQ to freeze the defender with the pump fake, creating just enough space to find room upfield. That blend of raw, all-encompassing talent and situational awareness makes Maye so special.
Another example is this next play. It's a simple screen on a designed rollout, showing how Maye's tools can be employed for an offense. He can use his fleet-footed athleticism to get into space and create throwing windows as a rollout passer.
Drake Maye's athleticism and arm elasticity can also be weaponized within a scheme on designed rollouts, as this play helped exemplify.

He has no trouble getting out on the move, and can effortlessly adjust his arm slots while off-platform. pic.twitter.com/AzPtcDvBld

— Ian Cummings (@IC_Draft) September 5, 2023
Moreover, when rolling out, Maye has the flexibility and elasticity to effortlessly swivel and torque his hips even when rolling against his throwing hand. Additionally, he can keep his shoulders level and channel velocity while moving, providing for exciting off-platform potential and malleability.
Maye's creation tool kit can be weaponized within the confines of an offense, but it also allows him to create in adverse situations. This next play is a perfect representation of this.
This was another play of Drake Maye's that generated buzz, and rightly so.

In every phase of creation, you see a keen situational awareness with Maye. Understands how to buy himself additional time and take advantage of fluctuating leverage angles off-script. pic.twitter.com/NgxAf6oLed

— Ian Cummings (@IC_Draft) September 5, 2023
It's third down with around 12:44 to go in the second quarter. This is a big moment in the game, with the teams tied at 7-7. The offense is lined up in an empty set, and Maye knows everyone is approaching him.
It's a passing concept that includes an intermediate post with boundary vertical routes, but quickly off the snap, Maye realizes there's nothing available on his initial reads. He doesn't force anything and stays patient, but when an edge rusher surges in from the left, he uses his quick twitch and explosiveness to evade, swiveling outside and rolling left into space.
When rolling left, Maye resets his base and hip alignment and sees a receiver breaking open, crossing from the right side of the field. He could trigger now, but defenders are closing in and occluding his passing lane, so he doubles back right to stave off the rushers.
It's a moment of anticipation, but there's no panic from Maye. While rolling right, he stays controlled, keeps his eyes up, and triggers on the crossing receiver, who's now sitting in an open zone across Maye's body. Maye can torque and rifle a throw across his body to the WR, allowing him to high-point the pass.
MORE: Top QBs in the 2024 NFL Draft
One could argue that Maye had a chance to throw earlier on this rep, but his control, awareness, and creation ability at each phase allowed the offense to move the chains and keep driving down the field.
Situational awareness is a foundational element of Maye's game beyond his physical talent. And that awareness extends to pure dropbacks as well. Maye had many phenomenal in-structure throws against South Carolina, but perhaps none was more impressive than this next play, a first-and-10 shot with 12:03 left in the third quarter.
This might be my favorite throw of Drake Maye's from Week 1 against the Gamecocks.

Overlapping intermediate crosser and deep post, placing a single-high safety into conflict.

Look at how Maye aligns his hips and shoulders as he climbs. Manipulates the safety into giving space. pic.twitter.com/wU2m39iDlU

— Ian Cummings (@IC_Draft) September 5, 2023
It's a three-step drop back out of play action, with an intermediate crosser from the right overlapped with a deep post from the left. It's a play that's naturally designed to place the single-high safety into conflict, but it's up to the QB to capitalize. Maye swiftly executes here.
After hitting the top of his drop, Maye climbs the pocket angled away from a free second-level rusher. He tilts his base and shoulder alignment closer to the left sideline to draw the single-high safety to the crossing route.
But quietly, while his shoulders are skewed laterally, Maye's front foot faces ahead toward the deep post, revealing his true intent. Maye used his base and shoulders to manipulate the safety into gravitating toward the crosser. Still, with his front foot placed accurately for the post, he can rocket the ball downfield and capitalize on the space created.
Maye uses an elastic sidearm release to widen his throwing angle and lead the post-WR low and away from the looming safety. The safety recognized the throw heading for the post, but by the time he did, it was too late.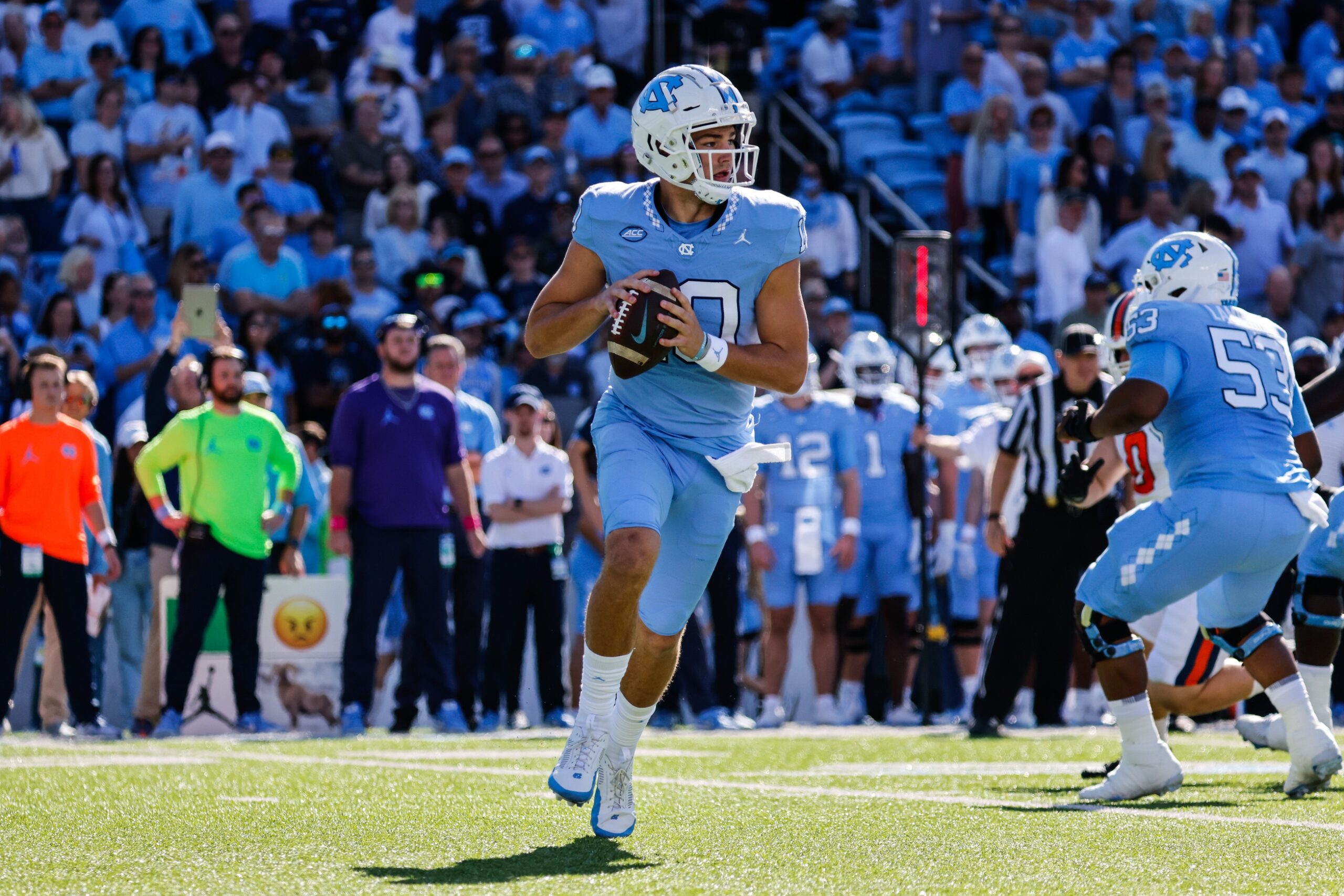 He didn't have enough time to recover ground. Maye created the space and capitalized on it perfectly, using manipulation and mechanical control to put defenders on a string.
Interceptions Show Where Maye Can Improve
Maye completed 75% of his passes against South Carolina. It was, for the most part, an extremely efficient and well-constructed outing. You could argue he wasn't totally at fault even on his interceptions. But those interceptions do shed light on where he can still improve.
Now, let's not gloss over the negatives for Drake Maye. He threw two interceptions, and was partially liable for each.

Here, he did a nice job extending the play, but waited too long to trigger and pushed the ball too far vertically, allowing the DB to undercut in pursuit. pic.twitter.com/4nUO8N07JL

— Ian Cummings (@IC_Draft) September 5, 2023
The first pick, occurring with 2:24 left in the third quarter, resulted from pressure and an imperfect process off-script. Quickly, out of his exchange, Maye sensed overlapping pressure from the left interior and right edge, which forced him to seep out to the right.
Now rolling out to his right, Maye quickly recognizes the intermediate backside dig breaking open and even points out his receiver.
But although he recognizes the receiver quickly on his rollout, he not only hesitates and waits too long to trigger but also fades back a bit while tracking to the sideline, skewing his throwing trajectory vertically, away from the sideline.
In this scenario, Maye should have released quicker and led his WR to the sideline. Instead, his delay between recognition and trigger gives the trailing cornerback time to close in, and his skewed throwing trajectory gave the DB an advantageous angle, allowing him to undercut the pass.
Drake Maye's second INT was on a 50-50 ball — but it didn't have to be a 50-50 ball.

Pre-snap, Maye reads this perfectly. Single-high, hold the safety, take a chance on the slot fade.

But the DB has inside leverage, so Maye should've placed the ball at the back shoulder here. pic.twitter.com/HicDTRK7gy

— Ian Cummings (@IC_Draft) September 5, 2023
Maye's second interception — occurring near the start of the fourth quarter — was more acceptable from a process standpoint. Still, it exemplifies how slim the margin for error can be in tight situations.
On this play, Maye had a quick three-step drop and faced single-high coverage. You can see that Maye has identified a one-on-one opportunity pre-snap with his slot WR on the boundary fade.
Maye holds the single-high safety by keeping his eyes up front on the drop, then zeroes in on the slot fade, releasing quickly.
This snap featured good pre-throw processing and execution from Maye, and it's ultimately a good decision — a calculated risk taken based on situational factors.
MORE: NFL Draft Order — Who Will Get Dibs on QB1?
But the defender had inside leverage when tracking the slot WR upfield. Seeing this, Maye should have aimed for the WR's back shoulder, tucking the ball closer to the sideline.
Instead, Maye throws it inside, and his lack of situational placement turned a leverage advantage into a contested situation, which the DB had the length and physicality to win.
Maye's situational placement is far more often a strength than a weakness, but lapses like these can be costly, and Maye will need to keep cutting down on these instances.
Maye and Caleb Williams as Close as Can Be as QB1 Candidates
There are some things Williams does that even Maye can't do. The comparisons of Williams to Patrick Mahomes are indeed very hasty. But Williams is similar to Mahomes in one distinct way. The play is never over with him — from the snap to the boundary.
Wherever he is, Williams can create new throwing windows and complete jaw-dropping passes from any platform. However, he still needs to improve at taking what's given and controlling defenses from inside the pocket, which might be where Maye clears him.
As is often the case with young quarterbacks, Maye can still cut down on situational lapses with ball placement and timing, as his season's interceptions have shown.
Nevertheless, with his size-adjusted athleticism, effortless velocity generation, and arm elasticity, Maye is almost as enthralling as a physical talent.
He's arguably a more disciplined pocket navigator whose film is dotted with examples of exceptional situational awareness, football IQ, and defensive manipulation.
MORE: FREE Mock Draft Simulator With Trades
So who is QB1: Maye or Williams?
There isn't a definitive, clear-cut answer at this point, and there might never be. Both prospects wholly deserve QB1 consideration, and it might be up to which flavor of passer evaluators prefer.
That's the only certainty: both prospects will earn heavy consideration at the top of the 2024 NFL Draft Board. So far, 2023 has only proven that notion right.
Listen to the PFN Scouting Podcast
Listen to the PFN Scouting Podcast! Click the embedded player below to listen, or you can find the PFN Scouting Podcast on iTunes, Spotify, and all major podcast platforms.  Be sure to subscribe and leave us a five-star review! Rather watch instead? Check out the PFN Scouting Podcast on our Scouting YouTube channel.