The Week 5 waiver wire is very lackluster at the wide receiver position. But there is one guy above the rest that fantasy football managers should be willing to pony up a little extra cash for. Here are a couple of potential WR targets on the wire this week.
Looking to make a trade in your fantasy league? Having trouble deciding who to start and who to sit? Check out PFN's Free Fantasy Football Trade Analyzer and Start/Sit Optimizer to help you make the right decision!
Top WR Waiver Wire Targets in Week 5
More Waiver Wire Targets: QBs | RBs | TEs 
Michael Wilson, Arizona Cardinals (1% Rostered)
After flipping back and forth with Rondale Moore, it appears Michael Wilson has officially won the Cardinals' WR2 job. Additionally, Josh Dobbs is far better than I gave him credit for.
Wilson caught all seven of his targets for 76 yards and two touchdowns. This was one week after he caught two balls for 86 yards.
There isn't much out there on the waiver wire at WR. Wilson is a rookie with talent and unknown upside. He is worth chasing.
FAAB Recommendation: 8-15%
Terrace Marshall, Carolina Panthers (0% Rostered)
I'm not exactly sure what resulted in Terrace Marshall seeing 10 targets, but it happened. Marshall caught nine passes for 56 yards. Adam Thielen did briefly exit the game, but Marshall was still a clear priority for Bryce Young.
MORE: Week 5 Fantasy Buy Low, Sell High
I highly doubt this will continue, but if you're needy at WR, Marshall isn't the worst idea.
FAAB Recommendation: 0-5%
Tyler Boyd, Cincinnati Bengals (37% Rostered)
The Bengals are broken. Joe Burrow does not look like the guy we saw in the past two seasons. That makes Tyler Boyd an uninspiring waiver wire pickup at the moment.
The value in Boyd is that he won't get you zero. Even in a dreadful offensive performance, he saw seven targets. With bye weeks coming up, getting a safe 4-6 points in your lineup could be useful. Additionally, fellow Bengals WR Tee Higgins could be sidelined for multiple weeks with a rib fracture, which would instantly boost Boyd's fantasy value.
FAAB Recommendation: 0%
Which WRs Should You Roster in Fantasy Football?
Should You Roster Michael Wilson or Josh Reynolds?
This is a classic case of the devil you know vs. the devil you don't. We know what Josh Reynolds is. He's been in the league a long time. He is not suddenly going to become an every-week fantasy starter. But if you need him, he probably won't get you zero (even though he did in Week 3).
On the other hand, we don't know what Wilson is. He's a rookie playing on the team I will stop describing as the worst in football because Dobbs has earned that. The Cardinals are certainly not making the playoffs, but they are not the worst team in football.
Given that this offense is better than expected, Wilson is suddenly intriguing. I believe Dobbs is capable of supporting two fantasy-relevant WRs, especially with the Cardinals facing negative game script so frequently.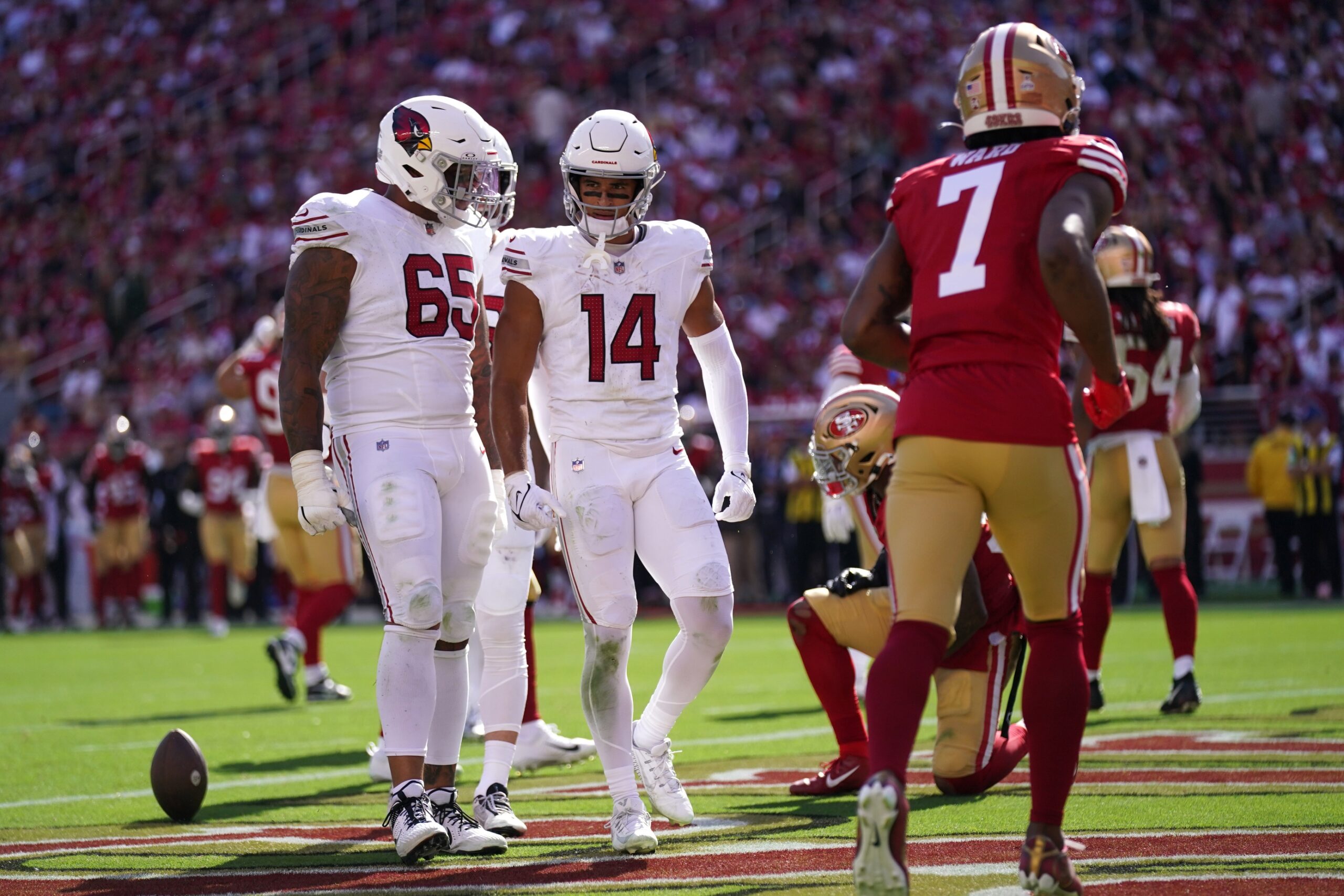 Through four weeks, Wilson has been remarkably efficient, posting an 87.5% catch rate. He's averaging 16.9 yards per reception as well, meaning these aren't just underneath "gimmes."
I chase upside in fantasy football. There is a much greater chance Wilson becomes completely useless than Reynolds. But there's also a much greater chance Wilson becomes an every-week WR2 than Reynolds.
With Jameson Williams coming back this week, Reynolds' role is going to decrease, even if it's not by much. But regardless of that fact, give me Wilson and the upside he brings.
Should You Roster Tyler Boyd or Drake London?
I cannot fathom that this is a real question. Yet, here we are. And the worst part is, it's warranted.
Boyd is who he is. I just talked about how Wilson is averaging 16.9 yards per reception. Well, Boyd's yards-per-reception average is less than half that at 7.5. Joe Burrow is checking everything down, and Boyd was already a low-aDOT guy.
Higgins is likely going to miss a couple of weeks with fractured ribs. That will elevate Boyd to the WR2 role, where he's excelled before. However, that was with a fully functioning Bengals offense, which is clearly not the case here.
London is very clearly super talented. If he was traded to the Chiefs today, he would instantly be valued alongside guys like Chris Olave and Jaylen Waddle. Of course, that's not happening. Instead, he's stuck on the Falcons' 1970s offense.
MORE: Fantasy News Tracker
The real issue for London, though, isn't the offense. It's Desmond Ridder. Prior to Sunday night, Zach Wilson was the only QB I would prefer Ridder to. Well, Wilson's SNF performance was better than anything I've ever seen from Ridder. Currently, Ridder is my No. 32 ranked starting quarterback.
Boyd undoubtedly gives fantasy managers a higher floor. But there is no upside. London still has that. I am holding out hope that the Falcons continue to lose games because their quarterback is just not NFL-caliber.
Given how weak the NFC South is, the Falcons can drop another 2-3 straight and still not be out of it. Arthur Smith wants to win and knows his team can win the division. If Ridder continues to play this poorly, a move to Taylor Heinicke is inevitable.
Once that happens, I truly believe London's fantasy value can be revived. Stick with London, but try to avoid starting him until the change happens.
Listen to the PFN Fantasy Podcast
Listen to the PFN Fantasy Podcast! Click the embedded player below to listen, or you can find the PFN Fantasy Podcast on iTunes, Spotify, and all major podcast platforms.  Be sure to subscribe and leave us a five-star review! Rather watch instead? Check out the PFN Fantasy Podcast on our Fantasy YouTube channel.