The 2023 fantasy football season is firmly underway. Early in the season, values are constantly changing as we figure out the ever-changing fantasy landscape. As always, fantasy managers should be looking to improve their rosters. Here are a handful of players to explore trades for and buy low or sell high on.
Looking to make a trade in your fantasy league? Having trouble deciding who to start and who to sit? Check out PFN's Free Fantasy Football Trade Analyzer and Start/Sit Optimizer to help you make the right decision!
Fantasy Football Week 5 Buy-Low Trade Targets
Here are a few players fantasy managers should be looking to acquire at a low price, if possible.
Anthony Richardson, QB, Indianapolis Colts
Before you attack me for including a guy who just finished as a top-five QB, I know he isn't actually a buy low, in the strictest interpretation of the term. The reason he's included here is because I still don't think he's being properly valued.
At this point, I would consider Richardson a top-five fantasy QB the rest of the way. I just don't see him being valued at that level. He now has four rushing touchdowns in three starts. He is really just a souped-up Cam Newton. I would take him ahead of Jacksonville Jaguars QB Trevor Lawrence and Cincinnati Bengals QB Joe Burrow, for sure. If you have one of those guys and can flip them for the Colts' rookie, do it.
Aaron Jones, RB, Green Bay Packers
After a two-week absence, Jones returned on Thursday night. Unfortunately, things didn't go as planned.
Playing on a pitch count per HC Matt Lafleur, Jones had one of the worst games of his career. He carried the ball five times for 18 yards and caught one pass for -4 yards. He played just 35% of the snaps.
MORE: Fantasy News Tracker
Fantasy managers have now essentially gone three weeks without Jones. If managers with him are frustrated or perhaps concerned that RB AJ Dillon is a threat to Jones' workload — he's not because he's not good — it's worthwhile to explore a trade. Better days are ahead for the lead Packers back.
Bijan Robinson, RB, Atlanta Falcons
Of the elite running backs in the league, few are performing up to par, and the rookie's role is only getting better. Still, his last two weeks may appear lackluster, with 10- and 18.7-fantasy point performances.
The thing with Robinson is that he hasn't scored since Week 1. Still, he's still averaging 16.3 fantasy points over his last three scoreless games.
The touchdowns are coming. Right now, San Francisco 49ers RB Christian McCaffrey is the only running back I'd rather have over Robinson. Trade for him if you can. Buy high if you can.
Christian Watson, WR, Green Bay Packers
Watson returned Thursday night but played limited snaps by design. Luckily, he made it out of the game without aggravating his hamstring strain. As a result, he should see his snap share increase considerably from the 46% he played this week.
WR Romeo Doubs has played well, but Watson remains this team's WR1. We saw his red zone prowess even in limited action, as he scored a short touchdown.
Watson didn't play the first three weeks and was disappointing, even with the touchdown in the fourth week. Perhaps his fantasy managers are frustrated or concerned with Doubs. Watson looks like a strong WR2 moving forward. He is worth acquiring for anything less than that.
Jaylen Waddle, WR, Miami Dolphins
It's been the WR Tyreek Hill show in Miami for the first four weeks of the season. Waddle has been just another guy. I just can't see that continuing.
Waddle has caught exactly four balls in each of his first three games. He's only seen 16 targets over that span.
Waddle is too talented to remain on the WR2/3 borderline. The spike weeks are coming. Buy him now before your opponents do.
Luke Musgrave, TE, Green Bay Packers
It was supposed to be the Musgrave breakout against a Detroit Lions defense that really struggles against the tight end. Instead, his day ended prematurely due to a concussion.
Given the extra three days to rest, Musgrave could very well return in Week 5. Even if he doesn't, players have typically missed only one week with their first concussion under the new rules.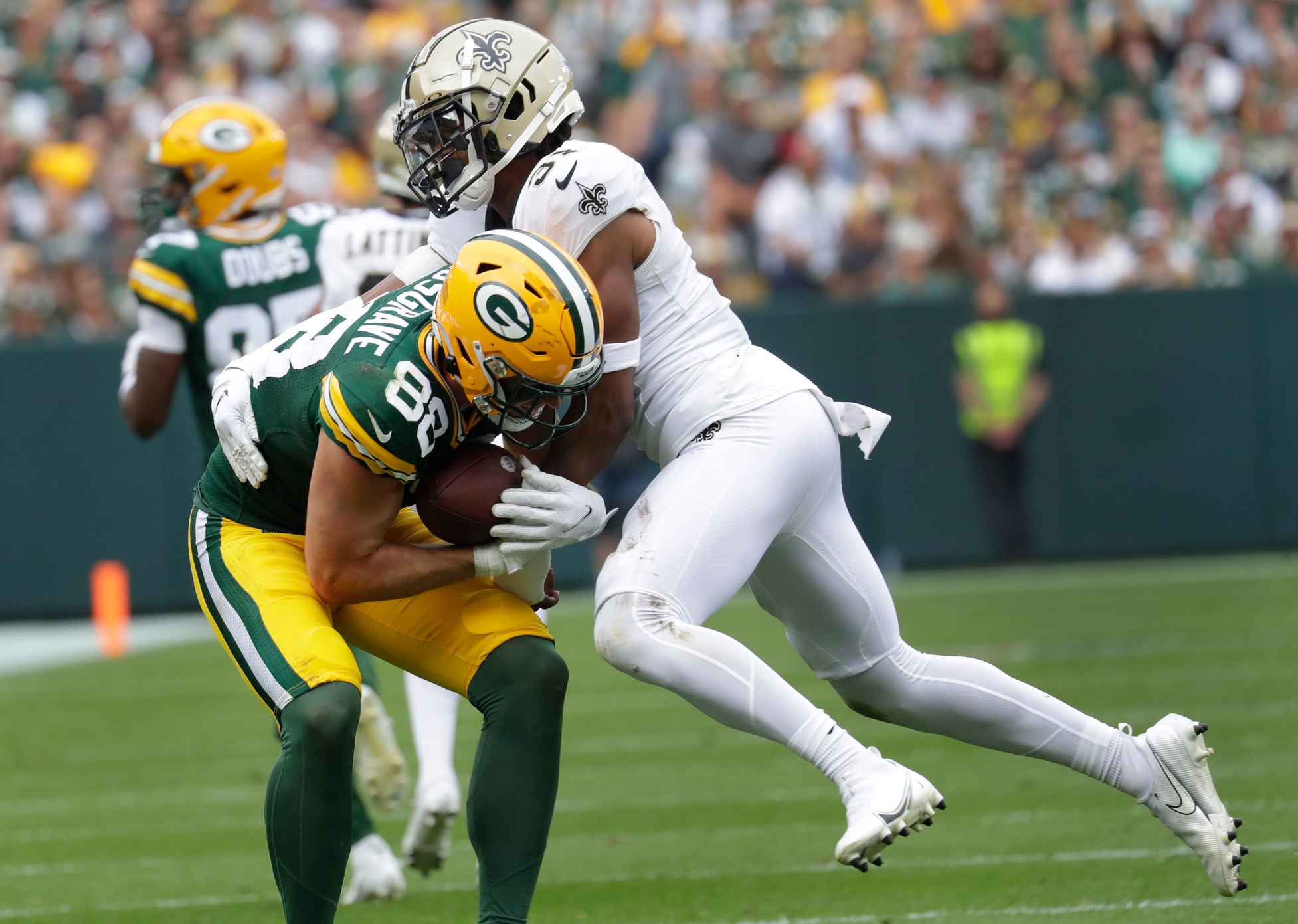 Musgrave's role has still been excellent so far. He played 88% and 86% of the snaps in Weeks 3 and 4, respectively. Things were trending that way again before he was concussed.
I'm banking on him picking up right where he left off when he returns. Given that he only caught one pass for one yard before he departed, his fantasy managers may be ready to give him up or just drop him outright. If that happens in your league, and your TE isn't one of the four or five reliable ones, take a chance on him.
Fantasy Football Week 5 Sell-High Trade Options
Here are a few players fantasy managers should be looking to sell at a high price, if possible.
Justin Fields, QB, Chicago Bears
After three underwhelming efforts to start the season, Week 4 was finally Fields' breakout week. He scored 28.9 fantasy points and threw for over 300 yards for the first time in his career.
Fields also benefited from playing the Denver Broncos, who might have the worst defense in the NFL.
The former Ohio State Buckeye still isn't running. He carried the ball just four times for 25 yards. The prolific passing is not going to continue, so without the rushing, Fields is going to struggle to post QB1 numbers. If someone in your league thinks he's back, take advantage and move him while you can.
Khalil Herbert, RB, Chicago Bears
I hate to pick on the Chicago Bears, but they just had the game of their season. Herbert carried the ball 18 times for 103 yards and added four receptions for 19 yards and a touchdown. Herbert's 22.2 fantasy points were more than his first three games combined.
MORE: Fantasy Football Season Projection Tool
The RB Roschon Johnson takeover hasn't happened yet, and it may not. Still, there's a decent chance Herbert just had his best game of the season. Now is the time to get out of Herbert and the entire Bears offense.
Najee Harris, RB, Pittsburgh Steelers
This was supposed to be the week. The Steelers got a plum rushing matchup against the Texans. Harris did run well. He carried the ball 14 times for 71 yards.
Unfortunately, Harris' passing game role is all but gone. He saw just two targets, compared to six for RB Jaylen Warren, who managed to outscore Harris anyway.
I'm not sure what you can get for Harris, but he's nothing more than an RB3 whose role is only going to decrease as the season progresses. Sell him now if you can.
Romeo Doubs, WR, Green Bay Packers
On a night where QB Jordan Love and the entire Green Bay offense struggled mightily, Doubs was a bright spot. He caught nine of 13 targets for 95 yards. That's double-digit fantasy points in three out of four games this season.
While he has undoubtedly been better than I expected, WR Christian Watson returned on Thursday. He was also on a pitch count, but he immediately flashed his immense upside. As soon as Week 5, Watson should resume his status as this team's WR1.
Doubs is probably still going to be useful, and I will have to take the "L" on him, but he's unlikely to be an every-week WR2. If you can get WR2 equivalent value for him or package him with someone else for an upgrade, that is a great move to make.
Ja'Marr Chase, WR, Cincinnati Bengals
I am officially out on the Cincinnati Bengals for 2023. This is going to be a lost season. QB Joe Burrow looks broken, and they probably are not making the playoffs.
Chase is still really good at football, but if we redrafted today, is he even a first-round pick? Does he go in the second? The answer is probably, but I don't think he should.
MORE: PFN Consensus Rankings
If you sell Chase now, you're not going to get what you paid for him. But even at his reduced value, the perception is still likely higher than what he will provide. There is minimal touchdown upside this season. I'm not sure if he finishes with more than four or five scores.
Especially if you're a struggling team, move Chase for multiple players to plug holes in your lineup. Just make sure the sum of the parts ends up being greater than the whole.
Kyle Pitts, TE, Atlanta Falcons
For the second consecutive week, I am including Pitts here. It was another disappointing week for a tight end who is only still on fantasy rosters because of his name value.
Pitts caught two passes for 21 yards. "Backup" TE Jonnu Smith caught six passes for 95 yards. That's a better game than Pitts has had since 2021.
There is no hope for a Pitts turnaround. He is no different than the random TE you are picking up off waivers. In fact, that random TE is probably better. If someone is willing to "buy low" on Pitts, you should sell low because Pitts is worth less than his perceived value.
Listen to the PFN Fantasy Podcast
Listen to the PFN Fantasy Podcast! Click the embedded player below to listen, or you can find the PFN Fantasy Podcast on iTunes, Spotify, and all major podcast platforms.  Be sure to subscribe and leave us a five-star review! Rather watch instead? Check out the PFN Fantasy Podcast on our Fantasy YouTube channel.