NASHVILLE, Tenn. — The last time the Cincinnati Bengals lost two of their first four games by at least 24 points was 2019. That was the disastrous rookie season for head coach Zac Taylor that ended with a 2-14 record and brought Joe Burrow to Cincinnati.
Losing two of four by 24 with Burrow on the field isn't supposed to happen, even if he is compromised physically.
From the current NFL standings to team depth charts to coverage of every game in the 18-week NFL schedule, we have all the news from around the league to keep you up to speed!
Who Were the Winners and Losers for the Cincinnati Bengals on Sunday?
Sorting through the wreckage of the Titans-Bengals game Sunday at Nissan Stadium, there obviously is an imbalance in the list of winners and losers.
Things were so bad that it only makes sense to start with the losers, and Burrow sits in an unfamiliar perch at the top of the list.
Loser | Joe Burrow
He's obviously playing through pain, but if he's on the field, he's expected to produce, and it's just not happening. His limitations due to the calf are becoming more and more glaring, and defensive coordinators are quickly learning that the guy you're never supposed to blitz is a guy you can rattle with the blitz.
Teams blitzed Burrow only 17.4% of the time last year. Only the Buccaneers, with Tom Brady at the helm, saw a lower blitz rate — just barely at 17.3%.
The number was up to 18.1% before Sunday, and the Titans added to it by repeatedly coming after Burrow. That resulted in a number of hits, three sacks, a lost fumble, and a bunch of off-target passes and hopeless checkdowns.
.@trevisgipson's first game of a Titan and he comes up BIG

📺: Watch #CINvsTEN on @NFLonFOX pic.twitter.com/bxTu6obfmS

— Tennessee Titans (@Titans) October 1, 2023
Burrow finished 20 of 30 for 165 yards against a Tennessee defense that was ranked 28th against the pass coming into the day, allowing 278 yards per game.
He has two touchdown passes this year. Titans running back Derrick Henry trails him by just one.
Burrow had never had fewer than three touchdown passes in any four-game span before walking out of Nissan Stadium without one.
"I'm playing the way I'm playing," Burrow said when asked about fighting his instincts to move in the pocket to let something develop. "Got to do better in practice. Got to continue to stack days. Get better every day."
The offense had one of its best opening drives of the season, with Burow going 4 of 4 for 45 yards to set up first-and-goal at the Tennessee 10-yard line. Burrow nearly threw a pick on second down, and on third down, he checked into a run play that left them with fourth-and-goal at the 3-yard line, and Taylor elected to kick the field goal.
"Good first drive. We weren't able to punch it in the end zone," Burrow said. "That's kind of how the rest of the day went."
Loser | Tee Higgins
Candidate 1A for the top of the list is Higgins, who suffered a first-half rib injury and was quickly ruled out. NFL Network's Ian Rapoport reported Higgins suffered a rib fracture and could miss time.
This is the nightmare scenario for a player who was hoping to get an extension done before the start of the season and, when it didn't happen, went out to bet on himself. In three of the first four games, Higgins has been almost nonexistent on the stat sheet.
He had eight catches for 89 yards and two touchdowns in the Week 2 loss to the Ravens. But in the other three games, Higgins has four catches on 20 targets for 40 yards.
"When Tee's not out there, we aren't as good of a football team," Burrow said. "But like I said, whatever circumstance presents itself, you got to adapt to it and make it work."
Loser | Dax Hill
His unnecessary roughness penalty for grabbing Titans running back Tyjae Spears around the helmet was the play that killed whatever hope the Bengals may have had about coming out of halftime and reversing the first 30 minutes.
MORE: Cincinnati Bengals Depth Chart
Hill's penalty came on 3rd-and-16, gifting Tennessee a first down on what would end up being a 15-play, 65-yard drive that ate up the first 10:22 of the third quarter and ended in a Nick Folk field goal, putting the Titans up 27-3.
Early in the fourth quarter, Hill did his best to make up for the mistake with his second career interception. But there was only 10:39 left in the game at that point.
Loser | Ja'Marr Chase
This isn't performance-based, obviously. But the ineptitude of the offensive is neutering Chase's explosive ability.
Asked if opposing defenses blitzing more often gives him less time to get open, Chase said, "I'm open. I'm always f**kin' open. Excuse my profanity. I'm sorry."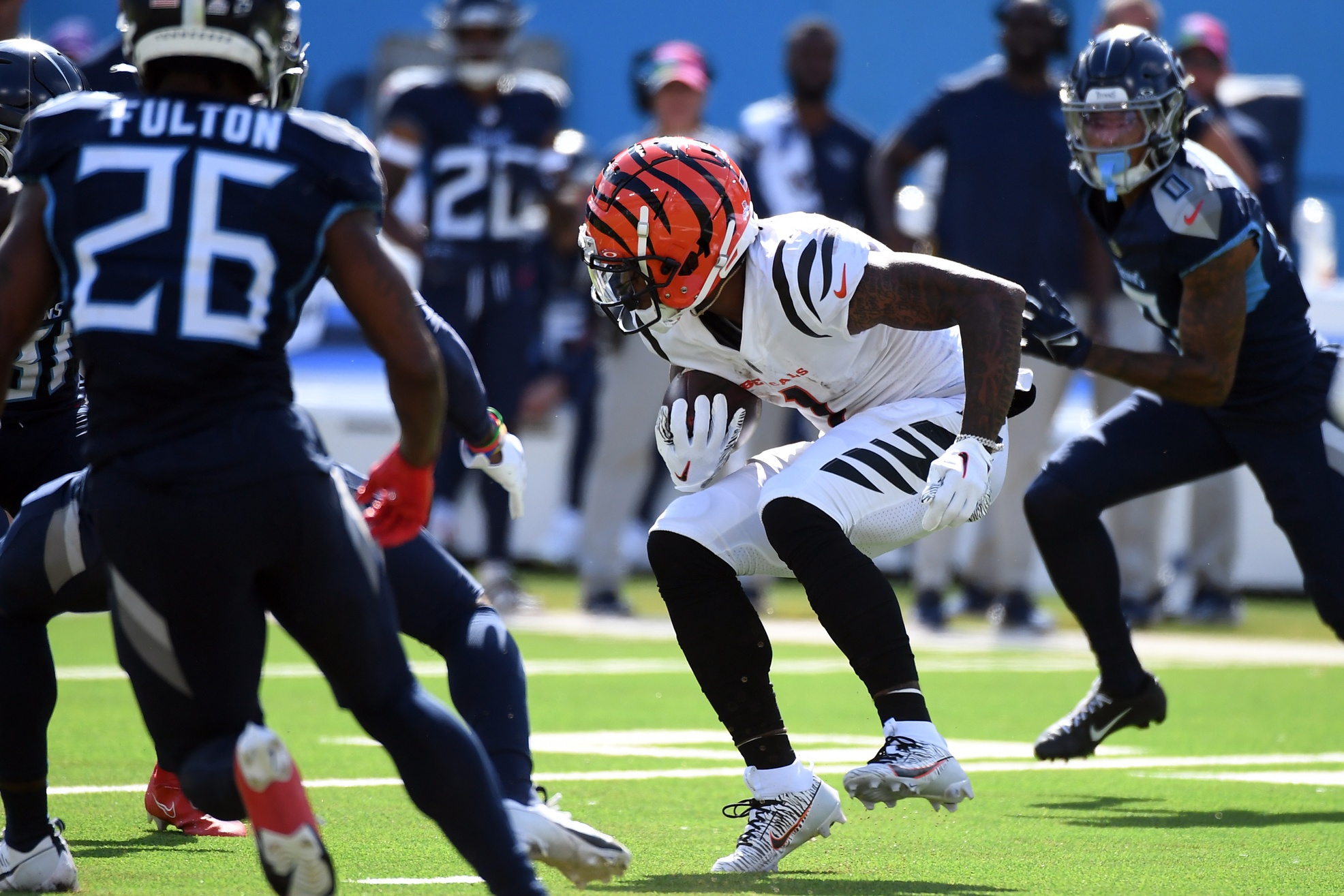 Chase wasn't taking a shot at Burrow with his response, but the frustration is palpable, and if there are a few more Sundays that look like this one, the finger-pointing and the profanity are going to be more pronounced.
For now, they're just leaning on hope.
"We know who we have on our team. We've got special guys, prolific guys at that," Chase said. "We all know what we're capable of. We've just got to find that spark like I keep saying. When we find it, we'll hit that run and hopefully keep going."
Loser | Cam Taylor-Britt
In addition to getting beat on the Titans' two longest plays of the game — a 44-yard pass to Chris Moore late in the second quarter and a 38-yarder to DeAndre Hopkins earlier in the period — Taylor-Britt suffered a concussion and had to leave the game.
The play came on a friendly-fire hit from rookie Myles Murphy while tackling Henry for a two-yard gain.
Taylor-Britt's status for Arizona won't be known until later this week.
Winner | Joe Mixon
Yeah, there probably shouldn't be any list of winners after the kind of game the Bengals played. But there were some positive performances of note, starting with Mixon, who carried the ball 14 times for 67 yards. That 4.8 average marks just the seventh time since the start of 2021 that Mixon has posted that high of a number in a game in which he had at least 14 carries.
The Bengals were 5-1 in the previous six.
If Taylor and the rest of the coaches are going to figure out a way to get the offense moving despite Burrow's limitations, it should start with leaning more on Mixon.
Two of the team's seven longest plays of the game were Mixon runs — a 13-yarder in the second quarter and an 11-yarder in the first.
Winner | Brad Robbins
The rookie had a nice rebound game after three shaky performances to start his career.
Robbins averaged 51.4 yards on five punts, including a long of 62. His only blemish on the day was a 53-yard punt from the 47-yard line that found its way into the end zone for a touchback. Even with that, Robbins still had a net average of 40.0 on the day.
Winner | Myles Murphy
It's been a slow toe-dipping start to the season for Murphy, the team's first-round pick who, before Sunday, had yet to record a tackle. Midway through the second quarter, Murphy finally recorded his first NFL tackle when he sacked Titans quarterback Ryan Tannehill for a two-yard loss.
MORE: NFL Player News Tracker
Murphy finished with three tackles and played 18 snaps. The sack came on 2nd-and-5, but the Titans converted 3rd-and-7, and one play later, Tannehill hit Nick Westbrook-Ikhine for a 13-yard touchdown and a 10-3 lead.
Listen to the PFN Bengals Podcast
Listen to the PFN Bengals Podcast! Click the embedded player below to listen, or you can find the PFN Bengals Podcast on iTunes, Spotify, and all major podcast platforms.  Be sure to subscribe and leave us a five-star review! Rather watch instead? Check out the PFN Bengals Podcast on our NFL YouTube channel.