It's impossible to lay out exactly how your fantasy draft will go. But at least for the first round, we can figure out who will likely be available at each pick. Here are the best players to target if you have the 10th pick in fantasy football drafts.
Behind in research? Get a trade offer in your dynasty or redraft league? Not sure who to start or sit this week? Leverage PFN's FREE fantasy tools — our Fantasy Football Draft Kit, Fantasy Football Trade Analyzer and Calculator, and Start/Sit Optimizer! Put the finishing touch on your A+ draft with 1 of our 425+ fantasy football team names.
The Top Players To Target With the No. 10 Pick
The good news with first-round picks is it's hard to get it wrong. In the first round, every player is good. But that doesn't mean there aren't better picks than others. You still want to make the best pick possible.
For the purposes of this exercise, we are going to keep things grounded in reality. That means we are assuming Justin Jefferson, Ja'Marr Chase, Christian McCaffrey, Austin Ekeler, and Tyreek Hill are gone. It goes without saying that if one of these guys falls, you snatch him up before that timer ticks for two seconds.
In addition to those guys, while not impossible, it is exceedingly unlikely that Bijan Robinson or Cooper Kupp will make it to the 10th pick.
On the other side, I am going to rule out Tony Pollard, Derrick Henry, Garrett Wilson, Amon-Ra St. Brown, and Davante Adams. I love all of them, but the options available at the 1.10 are better.
That leaves us with six plausible options at the 10th pick.
Saquon Barkley, RB, New York Giants
If I'm taking a running back in the first round, it better be someone with overall RB1 upside. Many fantasy managers like to prioritize safety. If you want to be safe, take a wide receiver. At running back, we need the potential for 22+ fantasy points per game. Barkley has that. We know this because he's done it before.
To be fair, the only truly elite year Barkley had was his rookie year. However, there's reason to believe he can do it again this year.
Barkley is in his second year in Brian Daboll's offense. Daniel Jones should be much more in command this season with a full year of experience in the offense and the addition of Darren Waller.
Barkley is one of a very, very small group of RBs that are locked into three-down roles. He catches passes and gets goal-line carries. If Barkley is available at 1.10, I will have a hard time saying no.
Nick Chubb, RB, Cleveland Browns
There's a very real chance Barkley is gone by No. 10, though. We know for sure that five players will be gone. There are still four more players that will go off the board. If Barkley is one of them, that makes Chubb the next man up.
Chubb has been the epitome of consistency over the course of his career. In each of the past four seasons, he's averaged between 15.4 and 17.3 ppg. The problem with Chubb is he's always lacked any real upside.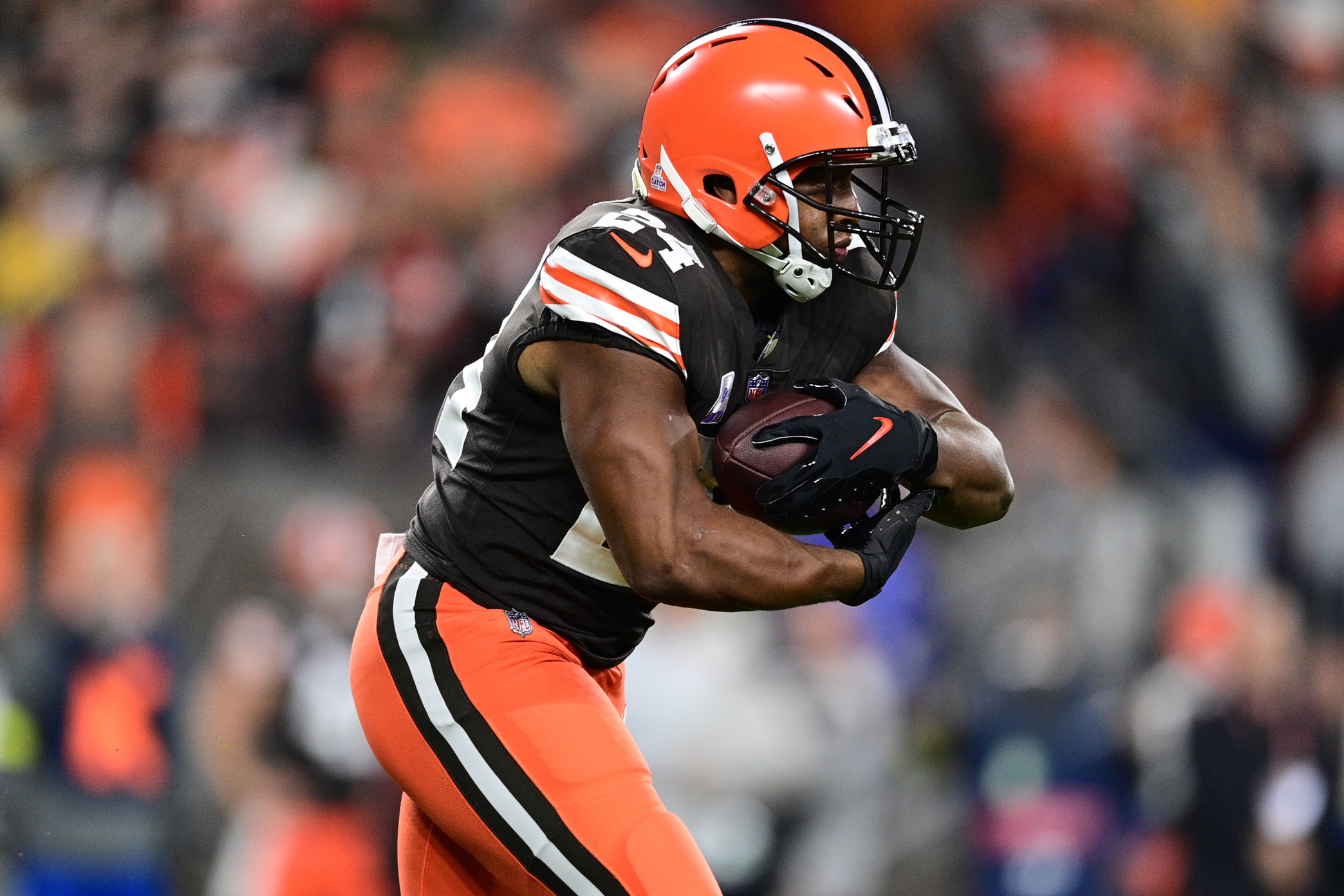 This season, with Kareem Hunt gone, and very little behind him, Chubb could be poised for the largest workload of his career. We know he's good for 300 carries and goal-line work, but this year, he could actually see something like a 10% target share.
That would be enough to give Chubb a level of upside he's never had before, making him well worth a late first-rounder.
Stefon Diggs, WR, Buffalo Bills
There has been a lot of noise coming out of Buffalo regarding Diggs and his feelings toward remaining with the team. I believe that all to be a bunch of malarkey.
Diggs is as safe as it gets at wide receiver. Other than injury, which hasn't been an issue for Diggs since 2017, there's no scenario in which Diggs fails. Plus, he has 20 ppg upside. Coming off a WR5 finish, I will gladly take Diggs at the back half of the first round.
A.J. Brown, WR, Philadelphia Eagles
Once you get past the truly elite WRs, in which I include Diggs and Kupp, the next group doesn't have the same upside. But outside of those guys, Brown is the safest WR in all of fantasy.
Brown averaged 17.6 ppg last season, finishing as the WR8. While he does have more target competition than the other top guys, he's tethered to a truly elite QB in Jalen Hurts on an offense that is going to score a lot of points. You cannot go wrong with Brown at the 1.10.
CeeDee Lamb, WR, Dallas Cowboys
Similar to Brown, Lamb is also incredibly safe. The Cowboys added Brandin Cooks and should have a healthier Michael Gallup, but make no mistake about it, this is Lamb's team. He is the clear top target for Dak Prescott.
All Lamb has done in his career is improve each and every year. Lamb averaged 17.7 ppg last season, despite having to play five games with Cooper Rush. Imagine if he gets Prescott for a full season? 20 ppg is well within his range of outcomes.
Travis Kelce, TE, Kansas City Chiefs
I am not one to typically take a tight end in the first round. But you see, some people are built one way, and others are built a different way. Travis Kelce is one of the latter.
There was no bigger edge in fantasy last season than Kelce. He outscored the TE2, George Kittle, by a whopping 5.2 ppg. It marked the largest gap between the TE1 and TE2 in fantasy history (at least dating back to 2000).
Kelce may be 34 years old, but he has shown exactly zero signs of decline and plays with the best quarterback to ever step on a football field. The Chiefs have one of the weakest WR corps in the NFL. Kelce should once again see an elite target share and finish as the TE1. You can't go wrong with Kelce.
Who Should You Draft?
We've covered the players most likely to be available at pick 10. Now, we have to figure out which one you want.
What I like about the back end is you can pretty much do whatever you want. Regardless of which way you go, you can be confident there will be a running back and wide receiver that you like available in the second round. That gives you tremendous freedom in the first round.
I am a big fan of the next group of WRs that I listed above, and really prefer taking one of them in the second round. That has me leaning toward going running back in the first. If Barkley or Chubb is there, that's likely the direction I would go in.
MORE: How To Win Your Fantasy Football League

With that said, Diggs is very tempting because he brings with him both safety and upside. If Diggs is there, he is the pick at WR. If not, I am looking to Barkley and then Chubb.
If all three are gone, I think that's where you have to pivot to Kelce. As much as I love Brown and Lamb, I don't see them as significantly better than the next group of WRs. Kelce, on the other hand, provides your team with a guaranteed edge at the TE position every week.
Who Should You Draft in Other Slots?
Have another league where you're drafting in a different slot? Want to see what options might be available before or after your pick? We have you covered.
Listen to the PFN Fantasy Podcast
Listen to the PFN Fantasy Podcast! Click the embedded player below to listen, or you can find the PFN Fantasy Podcast on iTunes, Spotify, and all major podcast platforms.  Be sure to subscribe and leave us a five-star review! Rather watch instead? Check out the PFN Fantasy Podcast on our Fantasy YouTube channel.