The NFL returned to action, and with the return of the league season comes the return of NFL power rankings. We know so little about these teams throughout the course of their entire 17-game sample. But we know very little after just one week of football.
We'll separate the 32 NFL teams into two pods for the first week. Making harsh moves based on a single week of play doesn't make sense, even if what happened confirms narratives. But we can use our perception of each team and the Week 1 results to wade into the waters of ranking them within their win-loss pods.
Ranking the 0-1 Teams
16) Arizona Cardinals
The Arizona Cardinals are, by design, one of the worst rosters in recent memory. But the game isn't played on paper, and that fact was on full display during their game against the Washington Commanders. No matter what the front office does to try and secure the top pick in the NFL Draft, the players will continue to play as hard as possible.
The Cardinals' defense was scrappy and made some big plays to keep the game close. They took advantage of Sam Howell's aggressive nature and inexperience with a strip sack that helped an otherwise underwhelming offense get into the end zone.
15) Houston Texans
C.J. Stroud's introduction to the NFL went about as well as one could have reasonably expected. They've struggled with health on their offensive line. Stroud, like his predecessor at Ohio State Justin Fields, feasted on long-developing passing concepts in college. His internal clock obviously needs to improve, but he evaded serious mistakes.
Stroud also seemed much more confident in his athletic ability at the professional level than he showed in college. He moved freely in the pocket to create time and used his legs when needed.
Houston's problem is they lack juice on offense. Some offenses can survive sustaining long drives, but most units in the league are rather dependent upon creating explosive plays to score. With Houston's roster, those splash plays will likely come few and far between in 2023.
14) Chicago Bears
We thought that the Bears defense would still be a massive work in progress in 2023. But the offensive spending throughout the offseason was supposed to keep us from witnessing whatever we were forced to watch against Green Bay.
MORE: NFL and Fantasy Player News Tracker
The dropback passing attack in Chicago remains nonexistent. The offensive line is still a mess, and their young quarterback could still stand to be more decisive as a passer.
13) Tennessee Titans
The Tennessee Titans are (probably) who we thought they were. For stretches during the game, it seemed they'd be able to run Derrick Henry into the teeth of the Saints defense and occasionally throw some play-action into the mix.
But then they tried dropping back and passing the football, and things went poorly. That has never been Ryan Tannehill's strength, and he struggled to the tune of three interceptions and a few more that certainly could have gone the other way.
Tennessee's defense was solid, but they got a massive boost from free agent addition Arden Key, who had Trevor Penning's number throughout the contest.
12) Indianapolis Colts
Like the Titans, the Colts game went very much according to plan. Anthony Richardson was as inconsistent as we should have all known he'd be. However, we must begin to think about what the Colts' floor will be in 2023. Richardson's legs will pick up first downs consistently, and Indianapolis' run game will keep them in a lot of games.
His highs are high, and the lows are long. Richardson's ball placement was inconsistent against Jacksonville, but he protected the ball reasonably well for a young and very inexperienced passer. Avoiding unnecessary turnovers will be another way Indianapolis stays in games.
11) Carolina Panthers
A win would have made Bryce Young the first QB drafted No. 1 overall to win his first start since David Carr in 2002.
Young was rightfully lauded for his processing ability at the college level. Despite his playmaking nature, he was also very good inside of structure. But the rookie made two surprising mistakes with the ball in his first NFL outing. He lost safety Jessie Bates twice in coverage, and the veteran made him pay for it.
10) Denver Broncos
The Broncos and Raiders faced off in a battle of mediocrity in Week 1. Or, at least, that's the perception of each team and the product they put on the field. It's eerie how similar they were from a production point of view.
Each team had 22 first downs. Each team had five rushing, 11 passing, and six by penalty. They both were 5 of 11 on third down. A single yard separated their total net yardage. Each team committed 10 penalties.
9) Minnesota Vikings
Are the Minnesota Vikings worse than "we" thought? Are the Buccaneers better? Or could it be that the Vikings were never very good to begin with, and the Buccaneers' overall roster is not bad at all?
Through just a single game, it's nearly impossible to know who will be among the league's elite and who will stumble later.
MORE: NFL Games Today and Schedule
But one thing that we can absolutely be upset about is the offense forgetting that the best wide receiver on the planet is on their roster. After 138 yards on seven catches in the first half, Jefferson was targeted only twice in the second half after 10 in the first 30 minutes.
Tampa Bay's defense did not magically change their defensive philosophy in the third and fourth quarters. In a close game, not getting your best playmaker involved is inexcusable.
8) New York Giants
The Giants may very well end up being a good football team, but they struggled to get anything going against the Dallas Cowboys on Sunday Night Football. A blocked kick, a big Trevon Diggs hit, and a bad decision by Daniel Jones made what was likely going to be a tall task impossible. Once Dallas got a lead, Dan Quinn let his pass rush eat.
Jones was using legs early on with great success. But if the Giants offense wants to take a step forward in their development, they must find some explosiveness in the dropback passing attack.
7) Pittsburgh Steelers
The Pittsburgh Steelers will likely win nine or more games, and we'll forget how ugly things went in Week 1. But for a team that put in significant snaps throughout the preseason, that was an alarming performance from the Pittsburgh offense.
Sure, Kyle Shanahan's defense is always outstanding. But the nearly perfect Kenny Pickett we saw in the preseason was not the one we saw against the 49ers.
Pickett's aggression and playmaking ability is what will make him a successful NFL QB. However, a few of the decisions he made against San Francisco were a bit baffling. He must find a better balance between aggression and recklessness moving forward this season.
6) New England Patriots
The Patriots' early struggles resembled the team many believed was coming to the field this season. New England has been effectively left for dead in the AFC East, but that doesn't seem entirely fair.
They made significant personnel moves on the offensive side of the ball, and although they remain entirely unexplosive on offense, they were at least able to move the ball against Philadelphia. In fact, they outgained the Eagles, but that could also be chalked up to playing from behind from the jump.
But New England could have rolled over and died in this game, and instead, they fought back to make it close before halftime, and then they kept things relatively close until the final whistle.
5) Seattle Seahawks
The Seattle Seahawks had no answers for the Los Angeles Rams, which is further proof that we know absolutely nothing about these teams until they step on the field in the regular season. But even after a few weeks, it's nearly impossible to know for sure how things will end up looking in January.
But things were grim in Seattle. The Seahawks completely melted down in the second half. They led the game 13-6 at the 30-minute mark and somehow lost it 30-13. They couldn't move the ball at all against a Rams defense that fielded Aaron Donald and only one other player drafted or signed before 2020. The Seahawks managed just 12 total yards in the second half.
4) Los Angeles Chargers
The Chargers might be a pretty dangerous team if they continue to have success on the ground the way they did in Week 1 against the Dolphins. Their defense will have to be a lot sharper if they want to have any legitimate playoff success, but they also won't be faced with Jaylen Waddle and Tyreek Hill every week.
MORE: "Pathetic" – Chargers Head Coach Brandon Staley Ripped Following Latest Defensive Meltdown
No game during Sunday's first two slates was more entertaining than Chargers-Dolphins, which is something that most people saw coming.
3) Buffalo Bills
That was a concerning first outing for the Bills. Josh Allen led the NFL a season ago with 19 turnovers. His three interceptions on Monday Night against the Jets all went to Jordan Whitehead, and each was a poor decision by the QB. His version of Mark Sanchez's "butt fumble" wasn't any more inspiring, as he fumbled twice on the same play.
After the Aaron Rodgers injury, Buffalo simply needed to play under control and score a few more points. Instead, Allen displayed his inability to turn off the gunslinger switch that he himself said he needed to do early in the offseason. The defense is talented. The offense is talented. But they need Allen to take better care of himself and the ball.
2) Cincinnati Bengals
It looks as though we're witnessing a repeat of the 2022 NFL season for the Cincinnati Bengals. There likely isn't some significant flaw we all missed throughout the offseason.
Cincinnati has now lost six consecutive games in Cleveland. The conditions were awful for an aerial attack, which is basically what the Bengals hold their hat on. And again, we saw this 12 months ago when they started 0-2.
1) Kansas City Chiefs
With no Travis Kelce or Chris Jones, Patrick Mahomes was still special enough to sneak a win in Week 1. The problem is that his pass catchers had a different idea.
It's far too early to have any real worry about the long-term future of the Chiefs season. However, it is not too early to question if Mahomes can remain the difference between the Chiefs and the rest of the AFC. As unbelievably gifted as he is, he cannot throw, catch, and play defense for Kansas City.
Ranking the 1-0 Teams
16) Las Vegas Raiders
The Raiders eeked out a win against their divisional opponent, but it likely didn't tell us much about the team. Neither team was particularly well-received throughout the offseason, as was evidenced by their respective win total odds coming into the year.
We will learn much more about Las Vegas' potential over the next three weeks. Games against the Bills, Steelers, and Chargers will be a better barometer of how much improvement we may see from them in 2023.
15) Los Angeles Rams
The Rams were the greatest surprise of all the Week 1 winners. A roster that shopped most of their veterans playing without their best offensive player went to Seattle and beat them handily.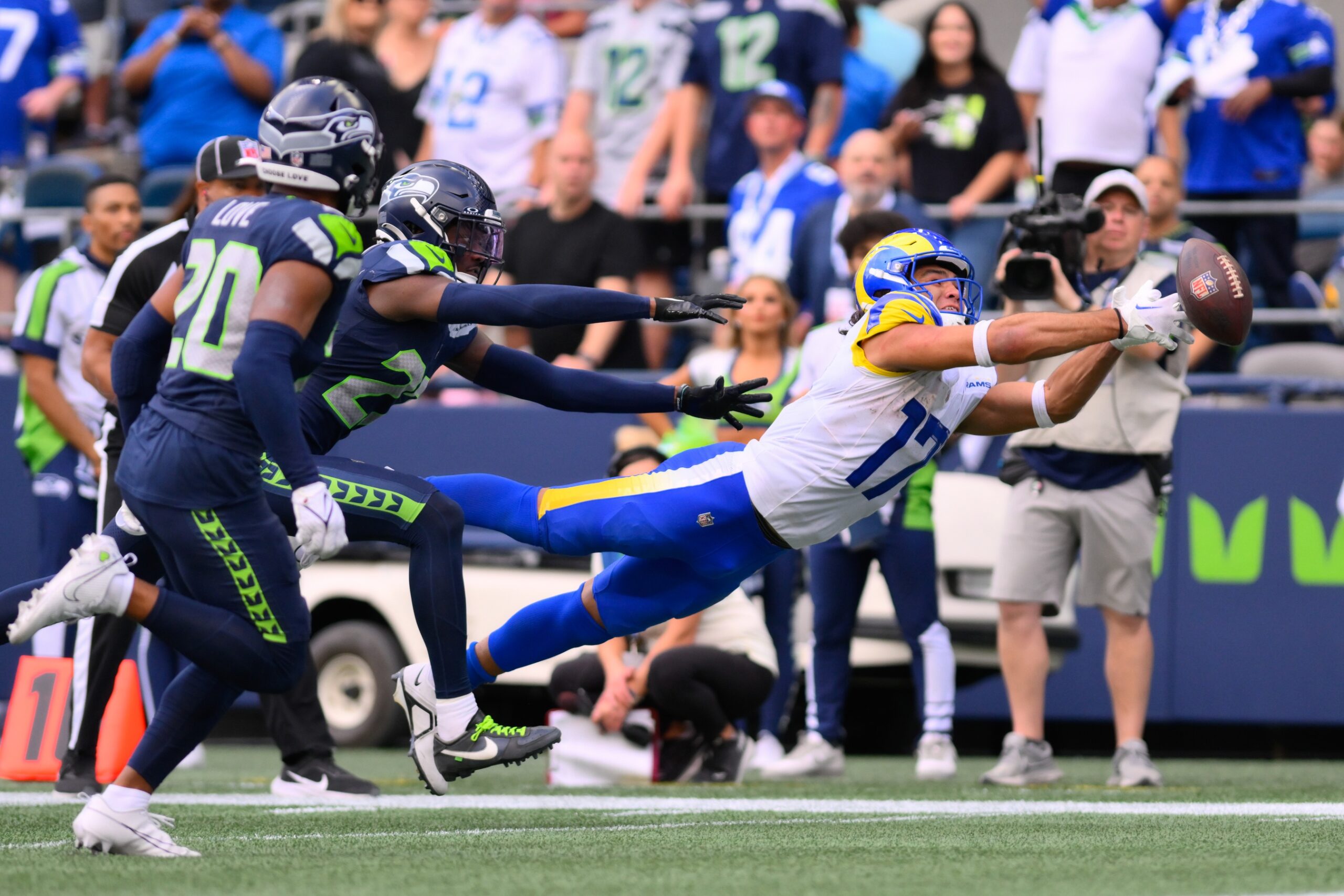 They were simply better on Sunday. And while that doesn't seem like a likely scenario over the course of a 17-game season, the Rams' dominance sure does make things interesting behind San Francisco in the NFC West.
14) Tampa Bay Buccaneers
Tampa Bay's roster was never a bottom-five roster. Their low power rankings throughout the summer came from the belief that even with a strong roster, their offensive line and QB situations wouldn't be conducive to team success.
Baker Mayfield was fine against Minnesota, but it will be a long time before we know if he can find sustainable success for Tampa Bay. The Vikings' secondary was weak on paper, and it was clear that Mike Evans and Chris Godwin had a major talent advantage in Week 1.
13) Washington Commanders
In an incredibly predictable turn of events, Washington and Arizona both struggled to move the football offensively. There's a ton of potential with the Commanders' offense, but Sam Howell is inexperienced, and the offensive line is less than stellar.
MORE: NFL Week 1 Winners and Losers
Washington's defense held up their end of the deal. The Cardinals could only manage 114 net passing yards. But Howell must learn to get rid of the ball more quickly because as scrappy as the Cardinals' defense was, Howell is about to face much stiffer competition over the next few weeks.
12) Atlanta Falcons
The Atlanta Falcons are the most fascinating team in the NFL. They built a veteran unit on the defensive side of the ball, and head coach Arthur Smith is the most unassuming troll in the galaxy. In their win against the Panthers, Desmond Ridder threw for just 115 yards. Accounting for sacks, the Falcons' net passing yardage was 91.
He completed 15 of 18 attempts, but until the Falcons are in a situation where they need to push the issue offensively and score some points against a quality opponent, it's impossible to know how good Ridder might be. If they want to compete with the Saints in the division, Ridder must be more productive through the air.
But again, that could just be a Smith thing. Drake London was targeted once. Kyle Pitts was targeted three times, and they were each top-10 picks. For what, we must ask? For why?
11) Green Bay Packers
Crow doesn't taste very good. But it certainly appears as though the Green Bay Packers have assembled a talented enough roster not to be a complete disaster in 2023. While it's only been one game, Jordan Love, Aaron Rodgers before him, and even Geno Smith could be prime examples of what patience and shadow development can do for a young QB.
The Packers own the Bears. The win Sunday made for nine consecutive victories against their division rival. They've only surrendered three wins to Chicago since 2011.
10) Cleveland Browns
It's impossible to gauge how good or bad the Browns' passing attack might be in 2023. The conditions didn't allow us a clean look at Deshaun Watson, who was underwhelming through the air… until you see how his opponent fared in that same category.
Cleveland's defense, independent of the weather, looked like a completely different unit from a season ago. Their pass rush immediately impacted the game, and the secondary looked completely freed up compared to a season ago.
We won't know for a few weeks if they can find sustainable efficiency through the air. However, there's no denying the ability of Cleveland's offensive line or Nick Chubb to get the run game cooking with grease.
9) New York Jets
The Jets take a tumble in the power rankings despite their win because it cost them Rodgers on the fourth play of the game. It will take time to trust this team if Zach Wilson is forced to remain in action as the starting QB for any significant portion of time.
Despite having one of the very best defenses in the NFL, they simply cannot do enough on a weekly basis to keep this team in the win column. They cannot rely on four turnovers and a special teams score to win games, no matter how talented each unit is.
8) New Orleans Saints
The Derek Carr-led Saints offense was pretty chaotic against a really strong Titans defense. Yet, New Orleans' bend-don't-break defensive philosophy held steady against Tennessee. The Titans couldn't manage a single touchdown in their three red-zone trips.
But Tennessee was moving the ball with Derrick Henry early on. It was peculiar to see him only amass 15 carries for the game, considering how dominant he looked early in the contest. But somehow, Tennesse's wires got crossed, and they tried dropping back and throwing against a talented Saints secondary, which went poorly.
Chris Olave is a star. Rashid Shaheed is an explosive piece that complements Olave and Michael Thomas well. But Carr must play more precise, and Trevor Penning must learn not to open up like saloon doors in pass protection because Carr can't play confidently if he can't trust his blind side.
7) Detroit Lions
The NFL fan darlings of Detroit made one of the PFN game pickers look like a genius. It took many a missed opportunity from Chiefs receivers to get to 1-0. The Lions offense didn't necessarily move the ball the way one might have expected against a Chris Jones-less Chiefs defense.
MORE: Week 1 Rookie Rankings
A few aggressive coaching decisions also played a part in the Lions' close win against Kansas City. But the Lions are also clearly ready to try their hand at competing for an NFC North title in 2023, which would be their first since joining the division.
6) Jacksonville Jaguars
It's impossible to overstate just how much fun it is to see Calvin Ridley playing football again. He made an immediate impact on the Jaguars offense in his first outing in 686 days. He caught eight of his 11 targets for 101 yards and a touchdown on a Trevor Lawrence scramble drill to the left.
Jacksonville's sore spot is on the defensive side of the ball. But if that unit can end up ranking somewhere around the league average by Week 18, there is a good chance the team is pushing for a top seed in the AFC, given their relatively light strength of schedule.
5) Baltimore Ravens
Did you win? Yes. But what did it cost? Everything.
J.K. Dobbins, Ronnie Stanley, Tyler Linderbaum, and Marcus Williams all went down with injuries. Mark Andrew was already not playing in Week 1. Dobbins' torn Achilles and Williams' torn pec are both likely season-ending injuries.
The Ravens' defense suffocated the rookie QB playing opposite of them. But losing Williams will make life complicated for the Ravens secondary, especially after trading veteran Chuck Clark to the Jets this offseason.
4) Miami Dolphins
The Miami Dolphins are the most entertaining team in the NFL. That offensive speed has never been replicated, and it's as close to unstoppable as an offense can become. But they're also far from a perfect product.
For as productive as Tua Tagovailoa is in that offense, some of the decisions and throws he makes (and misses) are entirely baffling. But that only makes this team more intriguing.
Even if their defense continues to leak like a $5 submarine against the run, they have enough firepower to make up for it and score in an instant. Tyreek Hill is unfair, and the Dolphins have no shame in targeting him three times as often as any other player on the team.
3) Dallas Cowboys
The Dallas Cowboys thoroughly embarrassed the New York Giants on Sunday Night Football to begin the season. The Giants moved the ball on the first drive, but then a bad snap and a blocked kick reversed the course of the game.
MORE: Observations From The Dallas Cowboys' Historic Shutout 40-0 Win Against The New York Giants
The Cowboys with a lead are dangerous because of Dan Quinn and their outstanding pass rush, but the Cowboys also felt the benefits of trading for Stephon Gilmore in the secondary.
The offense did not have to do very much, but for as lopsided as the game was, the Cowboys' offense left some meat on the bone. Their tight ends dropped passes in a few big spots on third down and in the red zone.
2) San Francisco 49ers
The 49ers dominated the Steelers from the jump. Despite having legitimate question marks on the offensive line and with a QB coming off a major injury, the team had absolutely no problem thoroughly dismantling the Steelers defense.
And it seems there should be no concern about DeMeco Ryans' departure as the defensive play-caller. After all, this is still Kyle Shanahan's defense.
1) Philadelphia Eagles
The weather wasn't great in New England – that might have hampered the Eagles offensive output in Week 1. But surprisingly enough, the Eagles weren't incredibly efficient on the ground. Kenneth Gainwell received the bulk of touches but wasn't super effective. Meanwhile, New England did a fantastic job defending Jalen Hurts on designed runs.
The Vikings defense the Eagles face in Week 2 should offer some clean looks for the Eagles' talented corps of WRs. Meanwhile, it's worthwhile to keep an eye on how things look over the middle of the Eagles defense at each level.