The San Francisco 49ers started their organized team activities (OTAs) this week, with the first open practice taking place on Tuesday. All eyes were on the 49ers' quarterback situation, and who would take first-team reps? Which QB would step up in Brock Purdy's absence — Trey Lance or Sam Darnold?
After the on-field practice session, we got to hear from head coach Kyle Shanahan as well as the quarterbacks, learning about the offseason developments in the Bay Area.
Trey Lance Update
After Purdy tore his UCL in the NFC title game against the Eagles, the big talking point for the 49ers has been who takes first-team reps. We seem to have got the answer, for now at least, with Lance taking all of them in the first week of practice.
While that news seems promising for Lance's future, Shanahan was keen to dampen any talk before it had started. "It'll even out. We'll make sure to get that right. And the first team is kind of funny because there is no o-line out there, and most of our receivers are second and third team on the first team today, so I'm curious what everyone thinks first, second, and third team is."
While Lance has the first-team reps for now, don't be surprised to see Darnold take them at some point as the open competition continues in San Francisco.
Lance's New Mechanics
Both Shanahan and general manager John Lynch spoke at times last season about how Lance needed to improve his fundamentals. Both stated that he needs to improve his mechanics, his motion, and his base.
One reason this needed fixing is because, throughout his NFL career, Lance has dealt with soreness in his arm. Suffering from arm fatigue impacted his throwing motion and accuracy.
Lance spoke about how he didn't stop throwing from leaving NDSU, throughout the draft process, the offseason, and into the NFL season. This arm fatigue is just one of the reasons that he turned to quarterbacks coach Jeff Christensen for guidance.
Christensen, who also works with Patrick Mahomes, usually takes a day to diagnose a problem with a quarterback's mechanics. For Lance, it took four. Lance worked on everything from his motion to his base. The fix means he now has more velocity, consistent accuracy, and less arm fatigue.
Speaking about his time with Christensen, Lance said, "I learned a ton. I was able to focus on the right things. Just having a better idea, even better this year coming into year three of what is expected of me, how to run the offense."
Lance had also been dealing with a lingering finger issue that had been impacting his ability to throw the ball freely. Speaking about whether the issue had slowed Lance's development, Shanahan said, "I think it impacted him a ton because he had to adjust it during the season just to be able to get through. He was healthy, but it didn't heal healthy."
On his progress, Shanahan reiterated, "That was corrected throughout last year. His grip and everything. I thought he had got that going this time with his time away. He knew what he had to focus on."
Lance's Injury Progress
Coming off both the finger issue and his season-ending ankle break, Lance now feels more prepared than ever.
"I feel like I'm in a really good spot. I honestly don't even feel it or think about it. I'm sure there will be something as the season comes up. Not anything bad, but there can be things that happen. Not missing any time or anything but soreness and things like that. So just continuing to work through it and learn as I go."
Lance clearly isn't undermining the seriousness of his ankle injury, and while he's fully recovered, knows he can't push it this early in the offseason. He had to undergo two surgeries on his right ankle and rightly feels he hasn't had a fair shot at NFL success yet.
Lance sat most of his rookie season behind Jimmy Garoppolo, and Year 2 was cut short after he was carted off in the first quarter of Week 2 against the Seahawks after breaking his ankle on a QB run.
While injuries have set Lance back, keeping quarterbacks healthy has been an issue for the 49ers through recent seasons. Lance, Garoppolo, Purdy, and Josh Johnson all ended up injured in the 2022 season.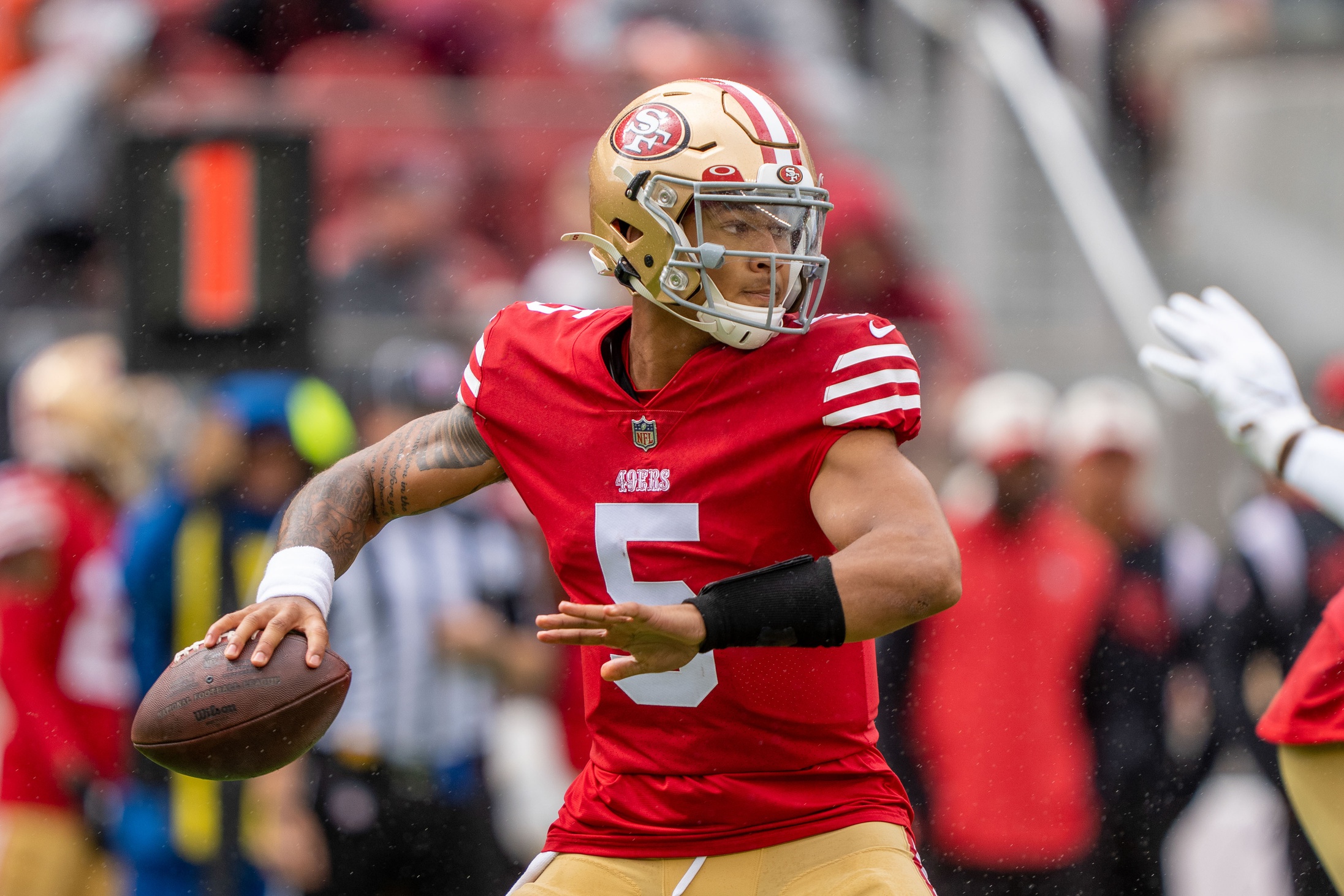 Trade Rumors
With the former No. 3 overall pick falling down the depth chart, there had been multiple trade rumors involving Lance this offseason.
"My opportunity is just to come in to compete, and that's all I wanted. So for me, I don't want to take anything away from Brock," Lance said honestly. "He did what he did last year, and he deserves all the credit in the world for it. Like I said, for me, I just want an opportunity to compete."
Lance claimed he wanted to stay in the Bay Area all along. "I knew where I wanted to be. I just want the opportunity to compete. For me, I love it here. I love the coaching staff. I love working with [Brian] Griese and Klay [Kubiak], and now Klint [Kubiak]. I love the quarterback room, I love the guys in the locker room. This is absolutely where I want to be."
That will quieten the trade rumors down for now, but with Purdy ready to return to throwing footballs shortly, this might not be the end of the rumor mill for Lance.
Brock Purdy Injury Update
Purdy's injury update is the sticking point for Lance. If he is to get the starting job in Week 1, it's likely due to Purdy having a setback in his rehabilitation. Speaking at the NFL owners' spring meeting, Shanahan said Purdy was the leader in the clubhouse when it came to the starting job.
While Purdy has not been participating in on-field activities, he was available to speak to the media about his rehab progress. He was inclined to pump the breaks when it comes to him being on track with his recovery or not and stated multiple times he was taking it one day at a time, listening to his surgeon and physical therapist.
Shanahan, on the other hand, was more optimistic about Purdy starting Week 1. "I think he's allowed to throw sometime next week." Answering questions, Shanahan continued, "We're hoping for week one […] that's kind of the goal we're hoping for, and I don't have any reason to think differently."
It's clear that the 49ers organization believes that Purdy is their starting QB moving forward, but they'll have to have their backup situation right just in case his rehab takes longer than anticipated.
Can Sam Darnold Resurrect His Career?
Darnold is the potential wild card in the QB room. Having bounced from the New York Jets to the Carolina Panthers with little success, he now finds himself down the depth chart. However, he also finds himself with an opportunity to impress under one of the top offensive-minded head coaches in the NFL.
Speaking on potentially getting first-team reps at some point during OTs, Darnold said, "I think the biggest thing for me, whether it's first-team reps or second-team reps, they're reps, and it's just being able to be dialed in every play and just compete."
This comes after Jeremy Fowler from ESPN reported last week that many NFL teams expected Darnold to get "meaningful snaps as early as week 1 and believe his major talent has gone largely untapped."
Signing just a one-year deal with San Francisco, this is a prove-it year for Darnold, who needs to prove that he isn't the bust that he's being labeled.
As labeled by our NFL Lead Analyst Dalton Miller, the Shanahan offense is quarterback-proof, and if Darnold can see the field at any point in the 2023 season, he won't have a better chance to redeem himself.
"Darnold has not been put in a position to succeed throughout his five-year career," says Miller. "If Darnold can't show something in San Francisco, it likely wasn't meant to be."