The best NFL coaches are the ones who know how to take advantage of rules, personnel, and schemes. But no coach is perfect. Each one has their flaws, including the greatest of all time, which showed a season ago.
Who are the best coaches in 2023? Let's start at the top, where the HC that just won the Super Bowl still resides.
From the current NFL standings to team depth charts to coverage of every game in the 18-week NFL schedule, we have all the news from around the league to keep you up to speed!
Who's the Best Head Coach in the NFL?
Andy Reid is the best head coach in our NFL Power Rankings. Reid now has two Lombardi trophies and the best collection of Aloha button-ups in the continental U.S.
Patrick Mahomes is a cheat code, and Reid was already arguably the best offensive mind in the game before drafting an alien to play QB for him.
And although Bill Belichick remains the greatest ever, his sins from a season ago have not yet been forgiven nor forgotten.
Head Coach Rankings 2-10
2) Bill Belichick, New England Patriots
Regular-season record: 299-154 (.660)
Despite Belichick's decision to hire Matt Patricia as the Patriots offensive coordinator and Joe Judge as the QB coach, there's no denying his ability to coach. He wakes up in the morning able to grow a top-five defense out of thin air, and even though he had the greatest quarterback ever on his side, it is impossible to argue with six championships.
Hiring Bill O'Brien to right the offensive ship was a step in the right direction. It will be fascinating to see how much juice the offense can squeeze from the surrounding talent. But while everyone counts the Patriots out, Belichick is too good to lay down.
3) John Harbaugh, Baltimore Ravens
Regular-season record: 149-96 (.608)
The only thing that has slowed down the Baltimore Ravens recently has been their horrendous injury luck. They've still been to the playoffs in three of the last four seasons, and the roster looks poised to contend in a top-heavy AFC again in 2023.
4) Mike Tomlin, Pittsburgh Steelers
Regular-season record: 165-94-2 (.636)
Mike Tomlin and the Pittsburgh Steelers organization are the best in football. Tomlin has cemented his status as an elite football coach, particularly over the past few seasons. Underwhelming rosters haven't been enough to erase his streak of seasons without a losing record.
MORE: Top Player Rankings — QB | RB | WR | TE | OT | G | DT | EDGE | LB | CB | S | K
Ben Roethlisberger's arm was jello at the end of his career, the offensive line had dissolved, and none of it mattered because the Steelers simply refuse to be bad. They're perpetual overachievers, and that simply comes down to luck and coaching.
5) Sean McVay, Los Angeles Rams
Regular-season record: 61-40 (.604)
McVay can still work wonders, but given his dalliances with retirement, there will always be questions about how long he intends to remain on the sidelines. He's also seen his once talented-but-thin roster turn into just a thin roster.
The Rams most likely will have a bad 2023, but McVay is at least saying all the right things about his future, and how his historically young team has rejuvenated him as a head coach.
6) Kyle Shanahan, San Francisco 49ers
Regular-season record: 55-46 (.545)
Kyle Shanahan is an emotional head coach who tends to hold grudges against players for minor offenses. But his play calling, offensive system, and ever-spreading coaching tree are impossible to ignore. He's a man with many flaws, but his strengths have kept San Francisco relevant with less-than-ideal QB talent for years.
Which makes the Trey Lance situation all the more frustrating.
7) Doug Pederson, Jacksonville Jaguars
Regular-season record: 52-47-1 (.525)
The turnaround in Jacksonville was inevitable. Urban Meyer left them a jumbled mess that could only improve. But Doug Pederson completely flipped the culture upon his arrival, and by the end of the season, the Jaguars were a legitimate contender in the playoffs against Mahomes, Reid, and the Chiefs.
Pederson is one of the league's best play-callers and is also an outstanding leader of men. He also happened to win a Super Bowl against Tom Brady with Nick Foles as his starting quarterback. It's always nice to see when two parting parties land on their feet, and that's exactly what happened with the Eagles and Pederson after his departure.
8) Nick Sirianni, Philadelphia Eagles
Regular-season record: 26-11 (.703)
Nick Sirianni is the perfect head coach for the city of Philadelphia. In another life, Sirianni was or will be the best heel in professional wrestling. You could say he missed his calling, but Sirianni is fine coaching football.
Being a great coach is oftentimes about hiring the right people. Since arriving in Philadelphia unceremoniously, particularly after an… interesting… introductory press conference, he's hired all the right people. Hiring Brian Johnson to work closely with Jalen Hurts as the QB's coach was superb, and elevating him to OC was the correct decision after Steichen left to coach the Colts.
9) Sean McDermott, Buffalo Bills
Regular-season record: 64-36 (.640)
Sean McDermott is one of the few modern defensive coaches to find success at the NFL level. Everyone above him is either an offensive-minded coach or has been at the helm long enough that their careers can legally drink in most countries worldwide.
Playoff success never comes easy. The 2021 Divisional Round is living proof of that. Even 13 seconds was too much time on the clock for Patrick Mahomes and the Chiefs. But McDermott and the Bills have parried every attack from the AFC East in recent seasons.
10) Pete Carroll, Seattle Seahawks
Regular-season record: 163-113-1 (.590)
Pete Carroll is special. Along with an army of defensive geniuses, he revolutionized how NFL defenses played. He helped create the Legion of Boom. Then, at 70, he completely changed his philosophies. He's living proof that you can teach an old dog new tricks.
But for Carroll, age is just a number. He can take the field and legitimately run with his players. Maybe there's something special in his gum. Or maybe chewing incessantly keeps the body younger somehow. Whatever his secret is, we all want to know it.
Top Head Coaches Remaining
11) Brian Daboll, New York Giants
Regular-season record: 10-9-1 (.525)
Brian Daboll won Coach of the Year after leading the Giants to a playoff appearance, shattering expectations for a team that many thought would be in line for another top-10 draft pick. With both of his coordinators back, Daboll must add talent to New York's roster, but he's already shown he can get the most out of what he's given.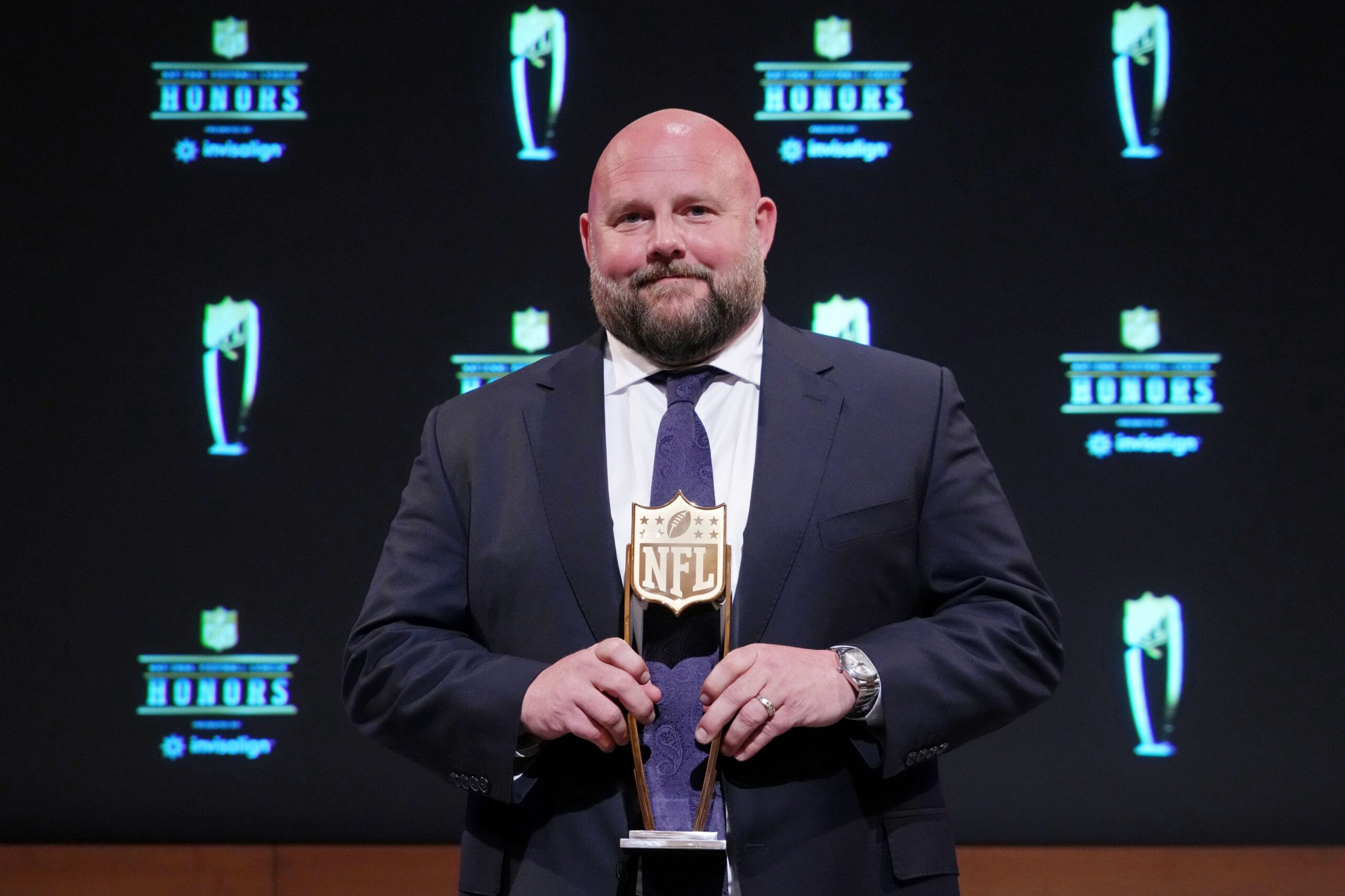 Daboll's best trait may be his understanding of the modern NFL game and the importance of the QB run. However, hiring is an important part of coaching, and gathering a staff of Mike Kafka and Wink Martindale was an outstanding decision.
12) Matt LaFleur, Green Bay Packers
Regular-season record: 48-21 (.700)
Joe Barry is keeping Matt LaFleur from being higher on this list. More accurately, Barry's defense is the black cloud hanging over LaFleur's head. However, his .712 winning percentage is the best of any active NFL coach, and that is nothing to scoff at.
13) Mike McDaniel, Miami Dolphins
Regular-season record: 12-8 (.600)
Mike McDaniel is the ultimate dichotomy. He's got the look of an IT specialist but is arguably the coolest coach in the sport. He was the 49ers' run game specialist, but he had the Dolphins' passing attack looking like the 84′ Dolphins for a while.
He's new and he's cool. But with so little experience, it's impossible to determine if he's a great coach yet. But hiring Vic Fangio to man the defensive responsibility was an elite move.
14) Mike McCarthy, Dallas Cowboys
Regular-season record: 157-98-2 (.615)
Mike McCarthy might catapult the Dallas Cowboys to heights they haven't reached in literal decades. That is not something anyone expected when they announced his hiring.
The Cowboys are leaning on analytics, using more than just the NFL Draft to build their roster, and McCarthy has hired arguably the best coaching staff in the NFL with Dan Quinn and John "Bones" Fossel.
15) Sean Payton, Denver Broncos
Regular-season record: 152-92 (.623)
The 2023 NFL season could be the first true indication of how good a coach Sean Payton is or is not. He only spent one season as the Saints head coach without Drew Brees.
However, in Payton's one-year absence from professional football in 2012, the Saints went 7-9. That record was sandwiched between 13 and 11-win seasons, respectively.
16) Zac Taylor, Cincinnati Bengals
Regular-season record: 29-38-1 (.434)
Zac Taylor may or may not be a good head coach. Honestly, the jury is still out. However, he made significant strides in how the offense operates a season ago, and it significantly improved the team.
With Joe Burrow, Ja'Marr Chase, Tee Higgins, Tyler Boyd, and Joe Mixon on the roster, it's difficult to know for sure if Zac Taylor is an offensive wizard or the product of an unbelievable cast of talent. However, the tactical improvements he made to the offense in 2022 were evidence that he knows what he's doing.
MORE: Highest-Paid Head Coaches in 2023
They moved nearly their entire offense to the shotgun. They couldn't run under center because they never passed from it. He also hired Lou Anarumo, which is single-handedly the best decision he's made as a coach because those defenses are the reason the Bengals have made a few serious postseason runs the past two years.
17) Mike Vrabel, Tennessee Titans
Regular-season record: 49-36 (.576)
What Mike Vrabel accomplished with the 2021 Titans was nothing short of extraordinary. Somehow a team with more injuries (real) than a football team has through the course of their entire season (fake) captured the top seed in the conference. But that luck has run dry.
The personnel side of things has taken a turn for the worse over the past two seasons, and there were whispers that, like his old coach, Vrabel has been trying to seize more control over the roster. That's spelled disaster for a few Belichick disciples in the past. Does Vrabel have what it takes to prosper where others have failed?
18) Frank Reich, Carolina Panthers
Regular-season record: 40-36-1 (.526)
Frank Reich won a Super Bowl with the Eagles as Pederson's OC with a heavy dose of RPOs. Bruce Young is one of the best we've seen at that operation, and it should be a big part of the Panthers' offense in 2023.
After being fired by the Colts midway through last season, Reich quickly hopped back onto his feet. His first task was hiring an all-star staff. Adding OC Thomas Brown, DC Ejiro Evero, QBs coach Josh McCown, and RBs coach Duce Staley was about the best he could have hoped for.
19) Dan Campbell, Detroit Lions
Regular-season record: 20-29-1 (.410)
Some football coaches are leaders of men. Tomlin is the first coach to come to mind in that category. Dan Campbell is the second. Campbell has the facade of an old-school knuckle-dragger, but he is aggressive in all the right ways, and his players legitimately appear to love and fight for him.
The "rah-rah" coaches are often present as insincere. But Campbell is a man secure enough to sit at a podium and openly weep after a loss because he legitimately feels for his players.
20) Kevin Stefanski, Cleveland Browns
Regular-season record: 28-25 (.528)
Kevin Stefanski led Cleveland to their first playoff victory since before Princess Diana died. But since then, he's managed only 15 wins in 34 games. Joe Barry may or may not have been the main culprit for their defensive woes. Hiring Jim Schwartz was the right move, which points the arrow up for Stefanski.
21) Kevin O'Connell, Minnesota Vikings
Regular-season record: 13-7 (.650)
Kevin O'Connell changed the culture in Minnesota, helping the Vikings move on from the dour atmosphere former head coach Mike Zimmer left behind. But it's still unclear how good the Vikings are.
Minnesota went 11-0 in one-score games and finished with a negative point differential. O'Connell deserves any praise, but he'll have to prove it again in 2023.
22) Brandon Staley, Los Angeles Chargers
Regular-season record: 20-17 (.541)
Brandon Staley got bullied into being a coward on fourth downs, and we must bully him back into playing the numbers and being aggressive on money downs. But as a defensive-minded coach, blowing a 27-point lead in a playoff game is detrimental to your ranking as a coach.
Kellen Moore is an upgrade from Joe Lombardi, but the offensive roster may still not have enough speed to properly show off Justin Herbert's supreme skill set.
23) Arthur Smith, Atlanta Falcons
Regular-season record: 16-21 (.432)
The Falcons' roster hasn't been competitive enough to show us whether or not Arthur Smith is a good head coach. It's impossible to argue with his ability to create an efficient rushing attack, and his play-action passing attack allows a decent offensive line to look far more productive than their talent would suggest.
24) Robert Saleh, New York Jets
Regular-season record: 12-25 (.324)
Robert Saleh isn't the general manager and likely was not the main reason why the Jets drafted Zach Wilson. However, that decision still falls partially on him, as does the team's decision to chase a ring with Aaron Rodgers.
Saleh is in the Campbell and Tomlin mold of being a leader of men, but he is also a very talented defensive coach in his own right. That unit flies to the football like none other in the league, and that secondary is as well-coached as any as well.
25) Ron Rivera, Washington Commanders
Regular-season record: 100-91-2 (.523)
Ron Rivera will take his riverboat to retirement someday and wonder if coaching the Commanders while Dan Snyder was the owner was worth the stress. Not many head coaches have to deal with an ownership situation like the Commanders', and Rivera is excellent at maintaining spirits in Washington.
Despite never having a franchise quarterback with the Commanders, Rivera has posted three consecutive seven-win campaigns.
26) Todd Bowles, Tampa Bay Buccaneers
Regular-season record: 36-51 (.414)
There is some optimism surrounding the Tampa Bay Buccaneers team locally in 2023, but it would take a magical resurgence from Baker Mayfield to keep the ship from capsizing. The roster as a whole doesn't mimic that of your normal bottom-tier team, but last season and Mayfield's recent history don't fill many with optimism.
27) Dennis Allen, New Orleans Saints
Regular-season record: 17-39 (.304)
Derek Carr might be enough to save Dennis Allen's career as an NFL head coach. But if New Orleans can't win this NFC South, Allen's goose is cooked. The Saints are throwing everything they have at the next two seasons, making 2023 a do-or-die (figuratively) situation for Allen.
28) Josh McDaniels, Las Vegas Raiders
Regular-season record: 18-30 (.375)
Things have not gone well so far in Josh McDaniels' second (third?) act as a head coach in the NFL. Now it appears Chandler Jones is unhappy with his situation in Las Vegas and could be on the way out. Meanwhile, the defense already lacks any semblance of cohesion.
As the late great Dennis Green once famously said, "They are who we thought they were, and we let them off the hook!"
29) Matt Eberflus, Chicago Bears
Regular-season record: 3-17 (.150)
It's impossible to know whether Matt Eberflus is head coaching material or if he should have remained a defensive coordinator. The Bears roster was awful a season ago.
Although the Bears' roster seemingly improved since last season, the offense and defense have regressed. Additionally, the team seems to lack the necessary fight to compete in football games so far in 2023.
First-Year Head Coaches
The 2023 NFL season will feature three first-time head coaches on the sidelines. It's too early to judge them, so we'll list them alphabetically rather than rank the trifecta.
Jonathan Gannon, Arizona Cardinals
Regular-season record: 1-2 (.333)
Jonathan Gannon doesn't stand a chance with the Arizona Cardinals unless the organization is willing to give him three full seasons to try and turn things around. His roster is the worst we've seen in at least a decade.
DeMeco Ryans, Houston Texans
Regular-season record: 1-2 (.333)
DeMeco Ryans flirted with head coaching opportunities in 2022, but he'll now return to the Texans, where he starred as a linebacker from 2006-11.
MORE: 2023 NFL Offense Rankings | 2023 NFL Defense Rankings
Ryan has added some of "his guys" defensively to bring young talents along, and the team landed their franchise passer in the NFL Draft. It might take time, but things are looking up in Houston.
Shane Steichen, Indianapolis Colts
Regular-season record: 2-1 (.667)
Shane Steichen is the perfect play-caller for rookie QB Anthony Richardson. While the young passer will take his lumps early, Steichen's malleable offensive process should be able to maximize Richardson's strengths while he matures as an inexperienced QB.