The early top tight ends rankings in the 2024 NFL Draft feature the first blue-chip TE prospect since Kyle Pitts, as well as a level of depth that spans all the way to the honorable mention section. As we near the 2023 college football season, what does the incoming TE group look like, and who are the potential risers?
Ranking the TEs in the 2024 NFL Draft
The 2023 NFL Draft TE group boasted Dalton Kincaid, a first-round pick for the Buffalo Bills, and Michael Mayer, a prospect deemed worthy of first-round capital by many evaluators. That alone helped the class' perception, but there's reason to believe the 2024 class might be even better. Here's a look at some of the top names in the preseason conversation.
10) Jaheim Bell, Florida State
Versatility is becoming a common theme for TE prospects in the modern era of NFL football. The traditional in-line tight end molds are still valuable in their own way, but having a player who can fill unique roles and wear many different hats is becoming more and more coveted, especially for offensive coordinators looking to stay one step ahead.
Looking at things within that lens, Florida State's Jaheim Bell has much to offer. He's never been an elite producer, but at 6'3″, 232 pounds, Bell's a hyper-dense RAC threat with a high-level blend of explosiveness and contact balance. And in an offense with Jordan Travis, Keon Coleman, and Johnny Wilson, the H-back hybrid could have his best year yet.
9) Luke Lachey, Iowa
Every cycle, it seems the Iowa Hawkeyes bring more evidence to the table that they are indeed "Tight End U." They already had a strong case with products like T.J. Hockenson, Noah Fant, and Sam LaPorta. But in the 2024 NFL Draft cycle, they have two more on deck — Michigan transfer Erick All and rising star Luke Lachey.
Lachey, who towers at 6'6″, 253 pounds, is the son of former NFL All-Pro tackle and Super Bowl champion Jim Lachey. The elder Lachey was known as a freak athlete in his time, and his son has similar gliding athleticism for his size at tight end. He's a smooth seam threat at his size and brings the toughness to drag defenders and finish forward after the catch.
8) Jalin Conyers, Arizona State
It'll be interesting to see what Kenny Dillingham can do for the Arizona State football program. Dillingham's ability as an offensive mind is well-documented, and he has a few high-quality weapons at his disposal, among them TE Jalin Conyers.
Now a redshirt junior, Conyers — a former four-star recruit — is coming off a career year and is poised to produce more. Conyers transferred to the Sun Devils' program from Oklahoma and delivered on his potential with 38 receptions for 422 yards and five scores in 2022.
At 6'4″, 265 pounds, Conyers has one of the largest frames in this class. That translates to impressive play strength in contested situations, as well as physical extension ability after the catch.
7) Cade Stover, Ohio State
2023 will be a resetting year of sorts for Ohio State's offense, with C.J. Stroud departing for the NFL. Luckily, the Buckeyes will have lots of continuity outside of their QB position. Ohio State returns two of their top starting wide receivers, as well as their stud tight end Cade Stover, who put up 36 catches for 406 yards and five touchdowns in 2022.
Reliable is the word that most often comes to mind when watching Stover's tape. Though he's not the most dynamic athlete in this TE class, he's a versatile player with superb coordination and hand strength, enough burst to work up seams, and the physicality and toughness to churn out yards after the catch. As a bonus, he's a stellar blocker, too.
6) Brevyn Spann-Ford, Minnesota
Stover would perhaps have a strong case for being the best Big Ten TE prospect entering the year — if it weren't for the presence of Minnesota's Brevyn Spann-Ford. The title fight remains open, but Spann-Ford arguably has the strongest argument after racking up 42 receptions for 497 yards and two touchdowns in 2022.
At 6'7″, 270 pounds, Spann-Ford is a tall, streamlined athlete with impressive flexibility for his size. He can use that flexibility to invade and exploit open zones. At the catch point, he's a bear with his combined box-out ability and body control, and serves a dual function as one of the most unapologetically tenacious blockers in the 2024 NFL Draft.
5) Seydou Traore, Mississippi State
Seydou Traore re-entered the transfer portal shortly after Colorado's spring football showcase. He'd originally transferred to Colorado from Arkansas State but now finds himself as a member of the Mississippi State Bulldogs.
In Traore, Mississippi State added a very dynamic receiving talent, as evidenced by his 50 catches, 655 yards, and four scores in 2022.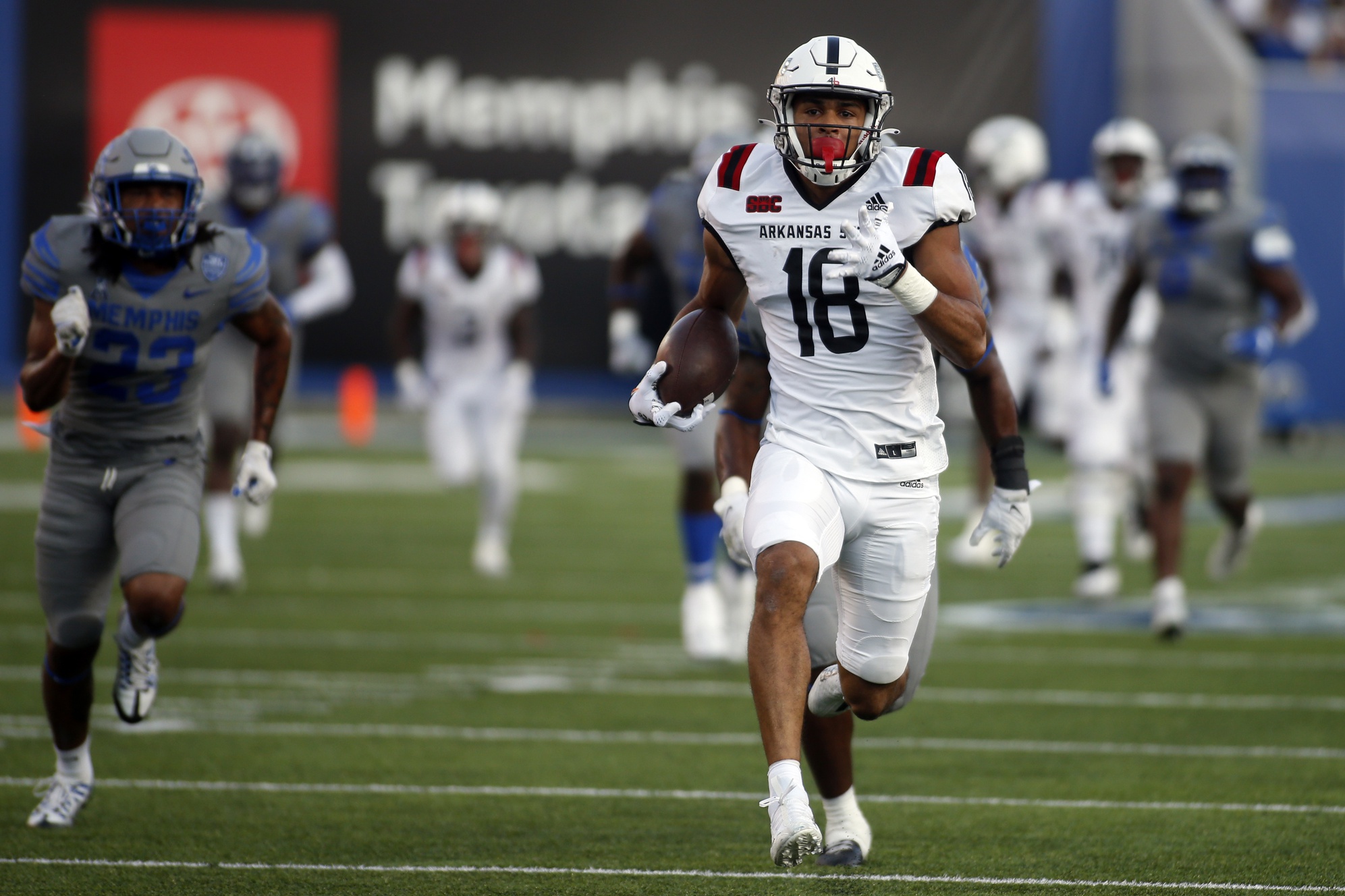 Fun fact: Traore used to be a standout soccer goalie playing in London. But in the States, receiving tight end has grown to become his best role.
At 6'4″, 223 pounds, Traore is a free-flowing move TE with a different brand of athleticism. His strides are quick in space, he can offset defenders with cuts, and he comes up big when tasked with winning 50-50 balls.
4) Ja'Tavion Sanders, Texas
If Texas' offense in the summer of 2022 was the "dream team," then this year's Longhorns squad is the dream team 2.0. Bijan Robinson is a big loss, but on top of Quinn Ewers, the Longhorns have Xavier Worthy, Adonai Mitchell, Jordan Whittington, and Isaiah Neyor in the receiving corps. They also have one of the nation's best tight ends in Ja'Tavion Sanders.
Sanders quickly became a favorite target of Ewers' across the 2022 campaign, amassing 54 catches for 613 yards and five touchdowns as a redshirt freshman. At 6'4″, 249 pounds, Sanders offers great size and length, and he's a good blocker. But the brunt of his appeal comes from his fleet-footed athleticism, certifiably elite-catching instincts, RAC utility, and reliable hands.
3) Ben Sinnott, Kansas State
Ben Sinnott's name hasn't hit the mainstream yet in the 2024 draft cycle, but he's arguably one of the top three most compelling prospects at his position. Sinnott put up a respectable 31 catches for 447 yards and four touchdowns in 2022 and could have an eye on more this season. Either way, his impact goes beyond the stat sheet.
Sinnott is one of the most functionally versatile tight ends in this group. He can block or catch passes from just about anywhere, and he's not an ambiguous "master of none." At 6'4″, 245 pounds, he's a visibly explosive athlete with exceptional corrective twitch in his movement. He's also an impressively nuanced route runner with RAC value and natural hands-catching ability.
2) Oronde Gadsden II, Syracuse
It's tricky to give Oronde Gadsden II a positional designation. But if you're of the mind that a player like Darren Waller should have a TE listing, then so too should Gadsden.
In truth, it's a title that comes only out of necessity. Gadsden has the size of a TE hybrid at 6'5″, 223 pounds, but he's so much more than a one-dimensional, monochromatic force.
Gadsden — who amassed 61 catches for 969 yards and six touchdowns in 2022 — is an intermediate and vertical dissector at just about every alignment. He can play the boundary and splice up the boundary or through seams. He attacks over the middle of the field with his fleet-footed athleticism and hand strength, with the range and flexibility to win 1-on-1 in contested situations.
Who Is the Best TE in the 2024 NFL Draft?
There's plenty of depth to be had in the 2024 NFL Draft, and that'll help teams looking for ancillary threats in the middle and later rounds. But right now, there's one prospect who stands all alone at the top of the TE group. Evaluators have had premonitions of Georgia's Brock Bowers' first-round-worthy report for two years now.
1) Brock Bowers, Georgia
It's Brock Bowers, then everyone else. And while there's always the chance someone else rises from the crowd, it's relatively likely that Bowers will persist through the cycle as the consensus TE1 — similar to how Florida's Kyle Pitts did a few cycles earlier.
Bowers has dominated at the collegiate level since stepping on the field as a true freshman. Through two seasons, the Bulldogs star has 119 catches for 1,824 yards and 20 touchdowns. Forget needing time to ramp up — Bowers was that guy from the moment he set foot on campus.
Even with Stetson Bennett and Todd Monken gone, Bowers should continue to produce. He offers an elite skill set for the modern brand of football. Even before the season, he grades out as one of just a few blue-chip prospects in the 2024 NFL Draft.
At 6'4″, 230 pounds, Bowers doesn't have elite size — but that's one of the only knocks in his profile. He's a functional route runner who best operates when he's able to use his explosiveness to exploit seams. In that role, Bowers has extraordinary catching instincts, vice-grip hands, and brawling RAC ability. And he doubles as a game-changing blocker.
Things like alignment versatility, natural slot ability, and receiving value helped Kincaid become a first-round pick in the 2023 class. Bowers fits a similar mold, but he's younger and has even greater tools at his disposal. It stands to reason that he could go off the board very early next April.
Honorable Mentions
Bryson Nesbit, North Carolina
McCallan Castles, Tennessee
Caden Prieskorn, Ole Miss
Gavin Bartholomew, Pittsburgh
Benjamin Yurosek, Stanford
Terrance Ferguson, Oregon
A.J. Barner, Michigan
Mason Fairchild, Kansas
Erick All, Iowa
Tanner McLachlan, Arizona
Listen to the PFN Scouting Podcast
List to the PFN Scouting Podcast! Click the embedded player below to listen, or you can find the PFN Scouting Podcast on iTunes, Spotify, and all major podcast platforms.  Be sure to subscribe and leave us a five-star review! Rather watch instead? Check out the PFN Scouting Podcast on our Scouting YouTube channel.