As injuries have started to pile up, fantasy football managers have already had to start looking toward their benches for help in their fantasy leagues. Drafting a deep team comes in handy as the year rolls on and the options on your roster start to dwindle.
But who are some of the best options to get into your Flex position this week? Who is a player that can give your team that added boost in your matchup?
Looking to make a trade in your fantasy league? Having trouble deciding who to start and who to sit? Check out PFN's Free Fantasy Football Trade Analyzer and Start/Sit Optimizer to help you make the right decision.
Who Should I Put in My Flex Spot?
Below are a few great options for your Flex position in any of your fantasy leagues. If you have any of these players on your roster, they are a great start for Week 3.
Jordan Addison, WR, Minnesota Vikings
Coming into the 2023 season, it was hard to say if any rookie wide receiver would have a big enough impact early in redraft leagues that we would be starting them. Then along came Puka Nacua, who is the talk of the fantasy world.
But another rookie wide receiver who has been great for his fantasy managers is Minnesota Vikings wide receiver Addison. Addison, a first-round draft pick out of USC, has been able to find paydirt in back-to-back weeks to begin his career.
Both touchdowns came on deep passes, as well. Addison's first career touchdown in Week 1 against the Tampa Bay Buccaneers was a 39-yard snag and his second touchdown in Week 2 against the Philadelphia Eagles was a 62-yard bomb.
While these two catches make up a big chunk of the rookie's 133 receiving yards on the season, Addison is a hard player to keep on your bench now.
While you likely have a couple of options on your roster ranked higher than Addison for your WR slots, the Flex position can always use a player with the big-play ability Addison has.
In an offense like Minnesota runs, passes come at a high frequency. As Addison adjusts to the pro game, he will continue to get more looks from Kirk Cousins.
And in a game against the Los Angeles Chargers on Sunday where the Vikings desperately need to get in the win column, Addison could see a good share of targets. I love Addison this week against a susceptible Chargers defense.
Jaylen Warren, RB Pittsburgh Steelers
When the Steelers pulled out their first win of the season on Monday Night Football against the Cleveland Browns, it felt like the team was lucky to walk out with a victory. Two defensive touchdowns played a key role in the outcome for the Steelers, while the offense sputtered most of the game.
Included in that boring offensive performance is Steelers running back Najee Harris, who seems to be struggling to get going in 2023.
Back-to-back rushes of 21 and 17 yards late in the third quarter seemed to show life in the back, but the other eight rushing attempts Harris had Monday night resulted in only five yards on the ground.
MORE: Fantasy Football Week 3 Cheat Sheet
Meanwhile, Warren was a bolt of energy when he was checked into the game. The back only had 20 yards on six carries, but he grabbed four of six targets for 66 yards. Bringing any life to this offense was a welcome surprise and Warren may be set to see more action as we move further into 2023.
In Week 3, a Las Vegas Raiders team fresh off surrendering 38 points to the Buffalo Bills faces off against the Steelers. I believe Warren will get involved in the offensive plan and is a fantastic option for your Flex position.
With Harris struggling and Warren sparking the offense, the Steelers will need to give the young back more chances on Sunday.
Nico Collins, WR, Houston Texans
In his first two years in the NFL, wide receiver Collins was not able to fully break out for the Texans. In 24 games in 2021 and 2022, the receiver saw only one game where he made it to the 80-yard mark.
A mix of injuries and low-level quarterback play were a contributing factor, but the bottom line was Collins was a bit of a non-factor in fantasy.
But 2023 has been a completely different story. In the first two weeks, rookie quarterback C.J. Stroud has targeted Collins 20 times. The receiver has turned that into 13 catches for 226 yards and a touchdown. In 0.5 PPR leagues, Collins is currently WR7 on the year!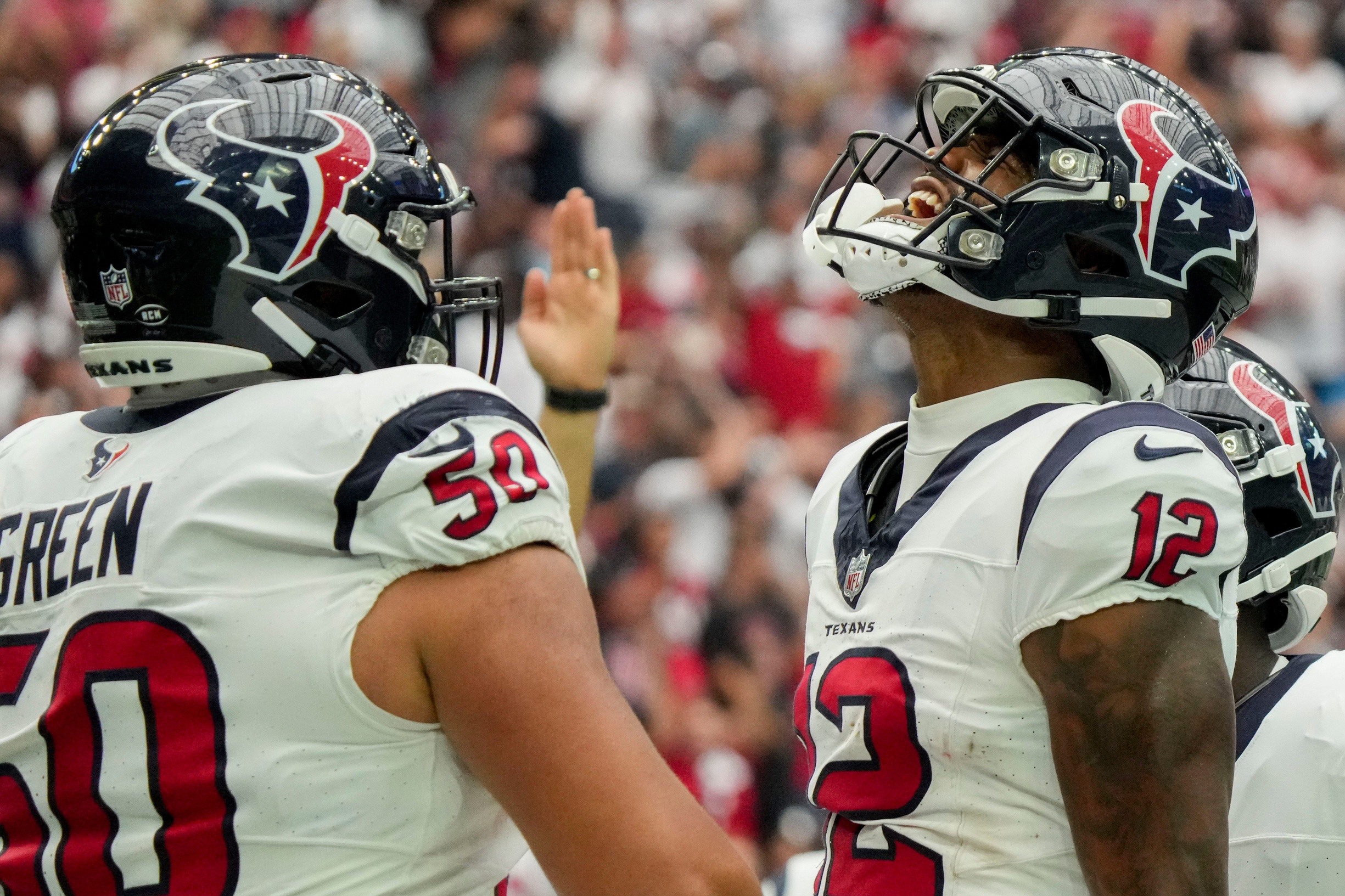 Maybe Collins shouldn't be included as a Flex option. Maybe he is already locked into a pure WR slot on your team. But I would venture to think that some managers are still skeptical about putting Collins that high.
Until you are, Collins is one of the best options available for your Flex position. The receiver is seeing tons of targets and making the most of his opportunities. If this continues, Collins could be one of the breakout stars of 2023.
At the very least, he should be able to get you some solid fantasy numbers this weekend when the Texans travel to take on the Jacksonville Jaguars.
Josh Reynolds, WR, Detroit Lions
With the Lions' second-year wide receiver Jameson Williams missing the first six weeks of the season with a suspension, the team has a void in their passing game. After Amon-Ra St. Brown, there is an opening for anyone to jump in and take advantage of some target opportunities.
MORE: Fantasy Football Updated Rest-of-Season Rankings Week 3
The receiver that has emerged thus far in 2023 is Reynolds. A seventh-year pro in the NFL, Reynolds has become a reliable target for Jared Goff and a contributor for fantasy managers everywhere.
In Week 1, Reynolds was able to turn seven targets into four catches for 80 yards against the defending Super Bowl champion Kansas City Chiefs. Then in Week 2, Reynolds took things a step further with five catches for 66 yards and two touchdowns.
Finding the end zone twice, Reynolds was tied as WR7 on the week with the Eagles' DeVonta Smith. If Reynolds is going to keep getting this kind of opportunity with Williams out, you should take advantage of it as a manager.
While Reynolds isn't quite at the point to be in a WR slot, he is a shoo-in for your Flex position. Players who have a realistic range of outcomes that include a top-10 week at their position are exactly what you want at Flex.
With the Lions taking on the Atlanta Falcons at home on Sunday, expect Reynolds to once again be involved in the offensive game plan. He is a fantastic option for your Flex.
Listen to the PFN Fantasy Podcast
Listen to the PFN Fantasy Podcast! Click the embedded player below to listen, or you can find the PFN Fantasy Podcast on iTunes, Spotify, and all major podcast platforms.  Be sure to subscribe and leave us a five-star review! Rather watch instead? Check out the PFN Fantasy Podcast on our Fantasy YouTube channel.