With the Tennessee Titans' schedule for 2023 in mind, we can start to look ahead to what could be a very telling 18 weeks for the franchise. Tennessee is very much on the edge of a rebuild, but they appear committed to pushing for one more shot at the AFC South and the playoffs.
In Round 2 of the 2023 NFL Draft, the Titans added Will Levis but appear to still be committed to Ryan Tannehill heading into the offseason. In what could be a telling season in Tennessee, let's take a look at the Titans' full 2023 NFL schedule, the strength of that schedule, and what their fortunes may look like this year.
Tennessee Titans Schedule
All times Eastern
Preseason Week 1: at Bears
WKRN-TV | 1 p.m. (Saturday, Aug. 12)
Preseason Week 1: at Vikings
WKRN-TV | 8 p.m. (Saturday, Aug. 19)
Preseason Week 1: vs. Patriots
WKRN-TV | 8:15 p.m. (Friday, Aug. 25)
Week 1: at Saints
CBS | 1 p.m. (Sunday, Sept. 10)
Week 2: vs. Chargers
CBS | 1 p.m. (Sunday, Sept. 17)
Week 3: at Browns
CBS | 1 p.m. (Sunday, Sept. 24)
Week 4: vs. Bengals
FOX | 1 p.m. (Sunday, Oct. 1)
Week 5: at Colts
CBS| 1 p.m. (Sunday, Oct. 18)
Week 6: vs. Ravens (Tottenham Hotspur Stadium)
NFL Network | 9:30 a.m. (Sunday, Oct. 15)
Week 7: BYE
Week 8: vs. Falcons
CBS | 1 p.m. (Sunday, Oct. 29)
Week 9: at Steelers (TNF)
Prime | 8:15 p.m. (Thursday, Nov. 2)
Week 10: at Buccaneers
CBS | 1 p.m. (Sunday, Nov. 12)
Week 11: at Jaguars
CBS | 1 p.m. (Sunday, Nov. 19)
Week 12: vs. Panthers
FOX| 1 p.m. (Sunday, Nov. 26)
Week 13: vs. Colts
CBS | 1 p.m. (Sunday, Dec. 3)
Week 14: at Dolphins (MNF)
ESPN | 8:15 p.m. (Monday, Dec. 11)
Week 15: vs. Texans
CBS | 1 p.m. (Sunday, Dec. 17)
Week 16: vs. Seahawks
CBS | 1 p.m. (Sunday, Dec. 24)
Week 17: at Texans
FOX | 1 p.m. (Sunday, Dec. 31)
Week 18: vs. Jaguars
TBD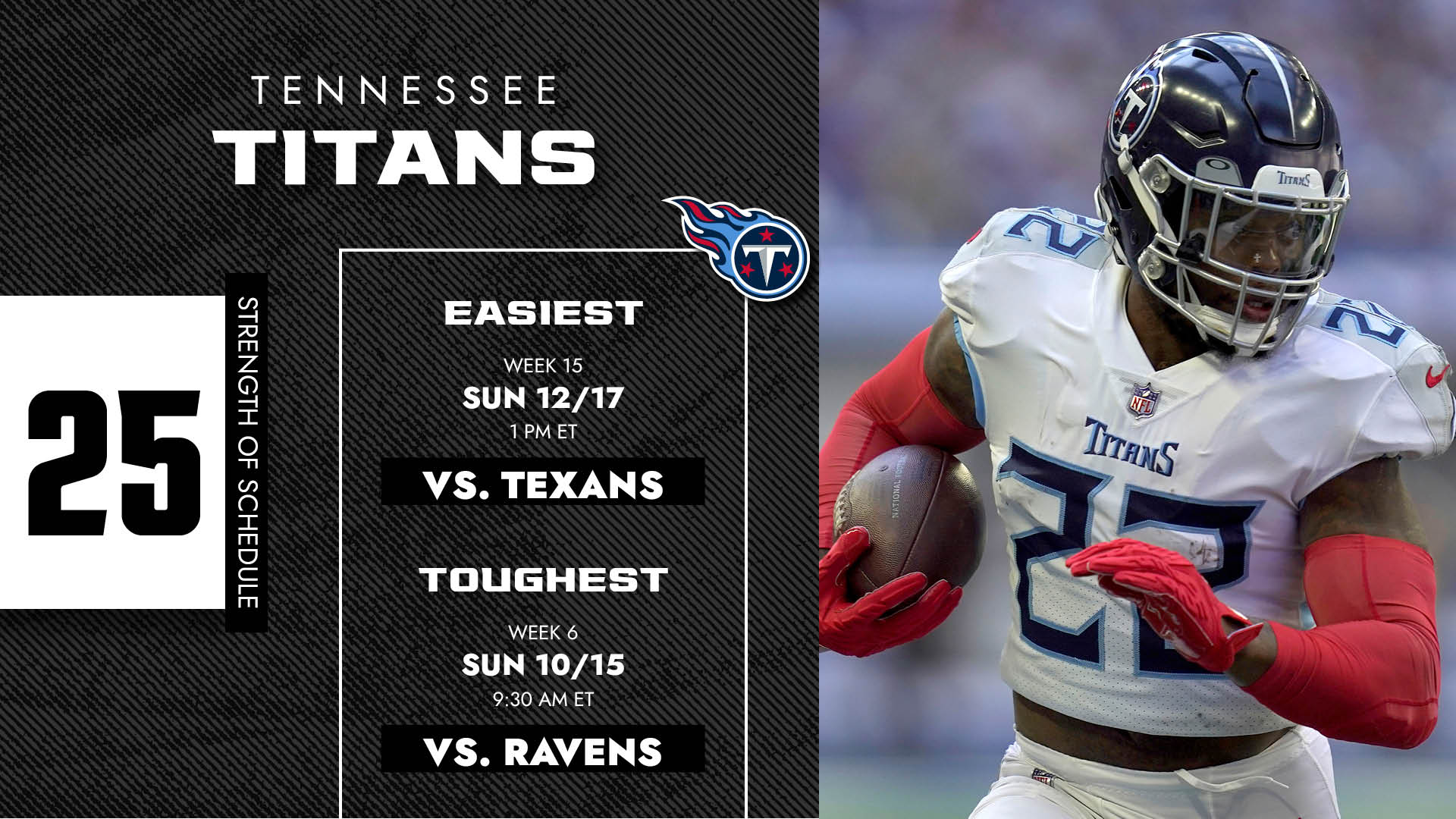 Tennessee Titans' Strength of Schedule
The Titans are no longer the big dogs in the AFC South. The Jacksonville Jaguars have taken the crown and don't appear to be giving it back. The Houston Texans began their rebuild with a new centerpiece on both sides of the ball. And the Indianapolis Colts got their new quarterback but expect growing pains from one of the more raw prospects in the draft.
MORE: FREE Mock Draft Simulator With Trades
With questions all over the roster, the Titans are poised to take a step back. Aiding them is that 50% of their games will be against the worst two teams in their respective divisions, along with four games against the putrid NFC South. All opponents considered, Tennessee has the seventh-easiest schedule in 2023, according to PFN NFL Analyst Arif Hasan's all-encompassing strength of schedule matrix.
Tennessee Titans Record Prediction
To some extent, the Titans had been outperforming expectations over the past few years. That came to a screaming halt last season when they lost their last seven games to fall to a 7-10 record and miss out on the playoffs. That ended a run of three straight postseason berths and seemingly signaled a changing of the guard at a number of positions.
MORE: Tennessee Titans 2023 NFL Draft Grades
At this stage in the offseason, Tennessee appears to be committed to Tannehill. That said, Levis is lurking, and the leash on Tannehill is likely short. The other QB on the roster is a third-round pick from the 2022 NFL Draft, Malik Willis, but there has been some talk that the Titans are ready to move on.
When you look across the Titans' roster, there are some really good players, but it's hard to envision this team making a deep playoff run. The worst-case scenario for Tennessee is a repeat of last season, where they start hot and then fall away later in the season. They either want to have a sustained challenge or be in a position where they can kickstart their rebuild by being sellers at the trade deadline.
Unfortunately for the Titans, the most realistic outcome is something very similar to last year, with a record just below .500. Given that we expect the Jaguars to take a step in 2023, the best the Titans can likely hope for is second in the division and a shot at Wild Card spot in the final few weeks.
Projected Record: 7-10