The San Francisco 49ers 2022 draft class was headlined by their late-round picks. Day 3 selections of Brock Purdy and Spencer Burford made up for Day 2 picks who struggled to contribute. Heading into OTA workouts there are a number of 49ers players who are going to need to prove they have the capability and skill to take on larger roles during the 2023 season.
Sophomore Players That Need To Impress at San Francisco 49ers OTAs
Selecting Purdy with the last pick of the 2022 NFL Draft has ended up being a genius move.
After tearing his UCL in the elbow of his throwing arm during the NFC Championship Game, Purdy seems to be on track in his recovery. Currently still only throwing with a towel, he's expected to resume throwing in early June after head coach Kyle Shanahan said they expect Purdy back for training camp.
MORE: 2024 FREE NFL Mock Draft Simulator — With Trades
However, it's the rest of last year's rookie class that really needs to impress during San Francisco's organized team activities (OTAs). The 49ers' OTAs are due to begin on May 22, and there are players who are going to need to prove they can contribute more in their sophomore seasons.
Both third-round selections in RB Tyrion Davis-Price and WR Danny Gray failed to live up to their draft status in their rookie seasons, and while edge rusher Drake Jackson played in 15 games, the second-round pick struggled to pack the stat book.
Drake Jackson
Jackson started his rookie season strong with three sacks in his first five games. But he didn't record a single sack for the rest of the NFL season and failed to contribute enough. He even ended the season as a healthy scratch — not what the 49ers expected when they selected him at No. 61 overall.
While Defensive Player of the Year Nick Bosa was the dominant force in the 49ers' defensive front with 18.5 sacks in 2022, San Francisco is going to need Jackson to contribute more in 2023. After Bosa, the next highest in sacks was Samson Ebukam with five and then Charles Omenihu with 4.5. Both players have since signed with the Indianapolis Colts and Kansas City Chiefs, respectively.
Heading into OTAs, Jackson needs to show he's up to the task of taking on a bigger role in this star-studded defense. When talking about Jackson, GM John Lynch stated that "he needs to get a little bit stronger," while defensive coordinator Steve Wilks said he saw "a lot of inconsistency" in Jackson's game.
Talking to the media, Wilks further stated that "I am looking forward to him taking a sophomore leap," and he "has been here all spring working out, doing things that he needs to do to improve his game."
It seems Jackson has been answering the questions about his strength, but he'll need to show up to OTAs and prove he can be trusted as the starter opposite Bosa.
Danny Gray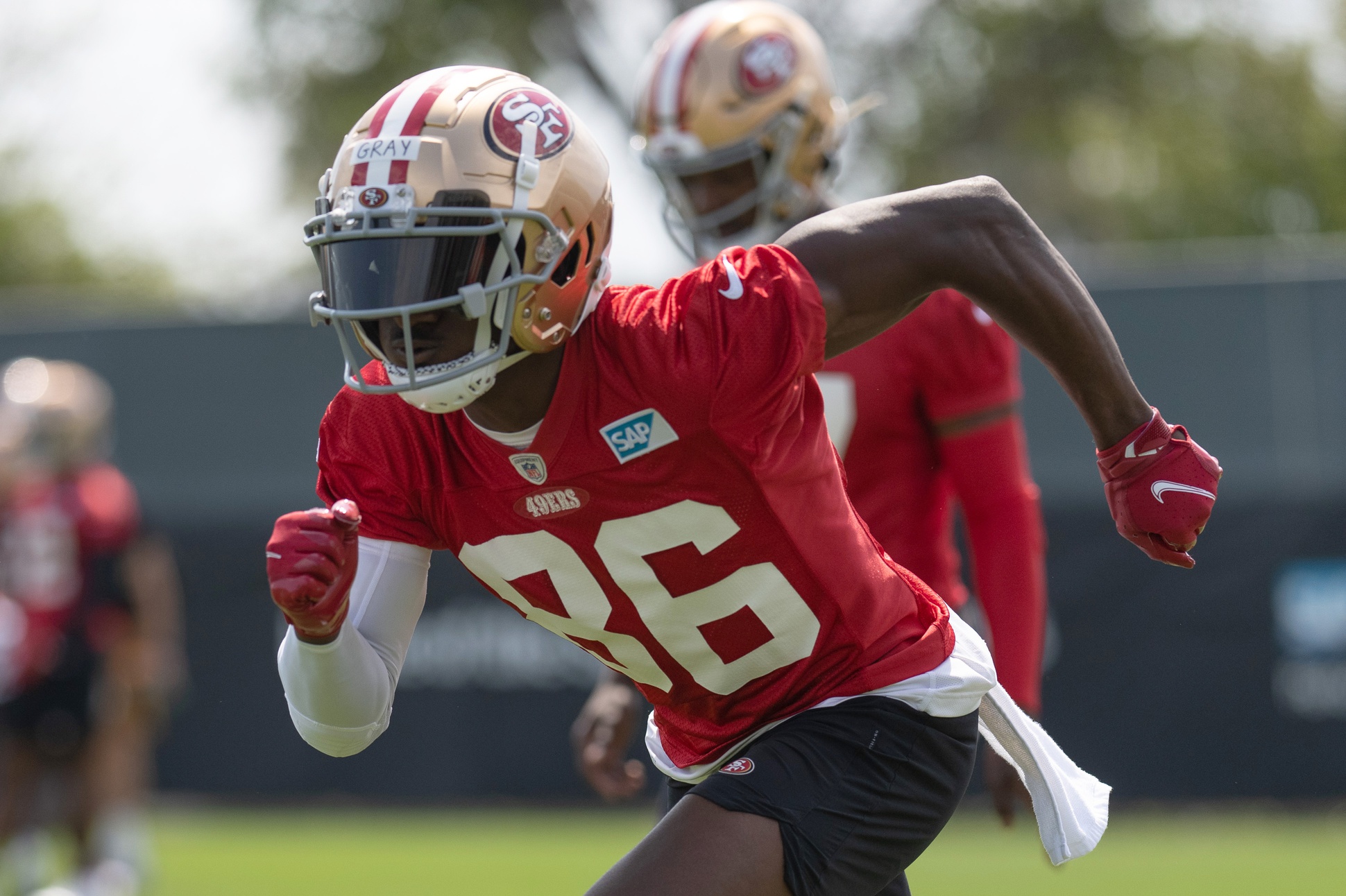 For Gray, 2022 did not go as planned. The former SMU wide receiver and third-round pick had an extremely disappointing rookie season that saw him targetted only seven times, with one reception for 10 yards.
While he did contribute on special teams during the 2022 season, the 49ers are going to have to see more from Gray in upcoming OTAs if they're to carry him on their roster.
Brandon Aiyuk and Deebo Samuel are cemented as the star receivers on a roster that also includes Jauan Jennings and Ray-Ray McCloud. Gray will also have to beat out Chris Conley, Willie Snead IV, and Ronnie Bell, who was selected in Round 7 of the 2023 NFL Draft, showing he can contribute something different.
Speaking during the 2022 season on a media conference call, Kyle Shanahan shared that they needed more from Gray.
"He just has to be more consistent, be able to do everything," Shanahan continued. "It can't just be stuff that suits your skill set. You have to be able to block, you have to be able to run other routes, you have to know where to line up."
Looking at the depth chart, Gray is going to have to impress at OTAs if he is to carry a precious roster spot. After drafting two tight ends this past cycle, it's rumored that the 49ers may only carry a maximum of six receivers on their roster. If that's the case, Gray has to impress at OTAs.
Tyrion Davis-Price
Davis-Price is another third-round pick that failed to justify his draft value. With the arrival of Christian McCaffrey from Carolina, Davis-Price struggled to make an impact and even lost reps to undrafted free agent Jordan Mason.
After stepping into the lineup in Week 2 after Elijah Mitchell got injured, Davis-Price looked like the next man up. However, he suffered a high ankle sprain that kept him out for three games. When he returned, Davis-Price was fighting a losing battle, and he fell down the 49ers' depth chart with McCaffrey's arrival.
There is little doubt that Davis-Price has fallen down the pecking order. With CMC and Mitchell certain of roster spots, and with Mason seemingly ahead of him, it looks difficult for Davis-Price to recover.
Ultimately, the 49ers expect more from their running game than what Davis-Price showed in 2022. Only putting up 99 yards on 34 rushes isn't going to cut it.
The 49ers are not shy from moving on from players if you're not good enough. They moved on from another running back, Trey Sermon, after just one year following his selection in Round 3 of the 2021 NFL Draft. Davis-Price needs to impress — starting in OTAs — to make sure he doesn't fall victim to the same fate.