The 2023 NFL offseason has brought a flurry of action like we've rarely seen before. The No. 1 overall pick was traded, and a record 43 trades were made during draft weekend. There were also 14 trades including players through the end of the draft.
With the NFL hitting its relative dead period before training camp arrives in the summer, we're ready to put a bow on the offseason. We're ranking the best NFL player trades from the 2023 offseason.
The Best NFL Trades From the 2023 Offseason
Our list from No. 14 to No. 1 considered all factors involved, including the impact of the trade for both teams, the compensation swapped, and the importance of the trade for the league as a whole.
14) Falcons Grab Jonnu Smith
Another trade that was essentially a salary cap dump came courtesy of the New England Patriots. Two years after a disastrous spell of spending that included a splurge of $50 million on Jonnu Smith, the Patriots were able to find a taker for a deal that was disastrously structured. If the Patriots couldn't trade Smith, they wouldn't have seen noticeable cap relief if he was released until next year.
Luckily for the Patriots, Smith's former offensive coordinator in Tennessee, Arthur Smith, was in the market for a backup tight end. The Falcons nabbed Smith for the 245th overall pick. It's a low-risk deal where both parties win but has minimal impact.
13) Zane Gonzalez Goes to San Francisco
After missing the entire 2022 season with a "significant" groin injury, the Carolina Panthers shipped kicker Zane Gonzalez to the San Francisco 49ers. The 49ers, who lost Robbie Gould in free agency, replaced the skilled veteran with a conditional swap of late-round picks in 2025.
MORE: FREE Mock Draft Simulator With Trades
Prior to suffering his injury, Gonzalez had enjoyed two excellent seasons in his previous three years. He hit 90.9% of field goals in 2021 and all but one of his 23 extra points. Gonzalez has a strong leg and can hit field goals as far as 57 yards.
12) Texans Bolster Line With Shaq Mason
The Houston Texans haven't made a lot of shrewd moves since general manager Nick Caserio took over, but we continue to see former Patriot front office members reunite with former Patriot players. The Texans were able to trade the 179th overall pick to the Tampa Bay Buccaneers for veteran guard Shaq Mason and the 230th selection.
Mason, who was dealt to the Buccaneers last March from the Patriots as the team looked to improve their pass protection for Tom Brady, is still a decent starter at right guard. Turning 30 this August, Mason said he's a "perfect fit" for the Texans' new zone-blocking offense. He'll also be able to mentor second-year left guard Kenyon Green, who struggled mightily as a rookie in 2022.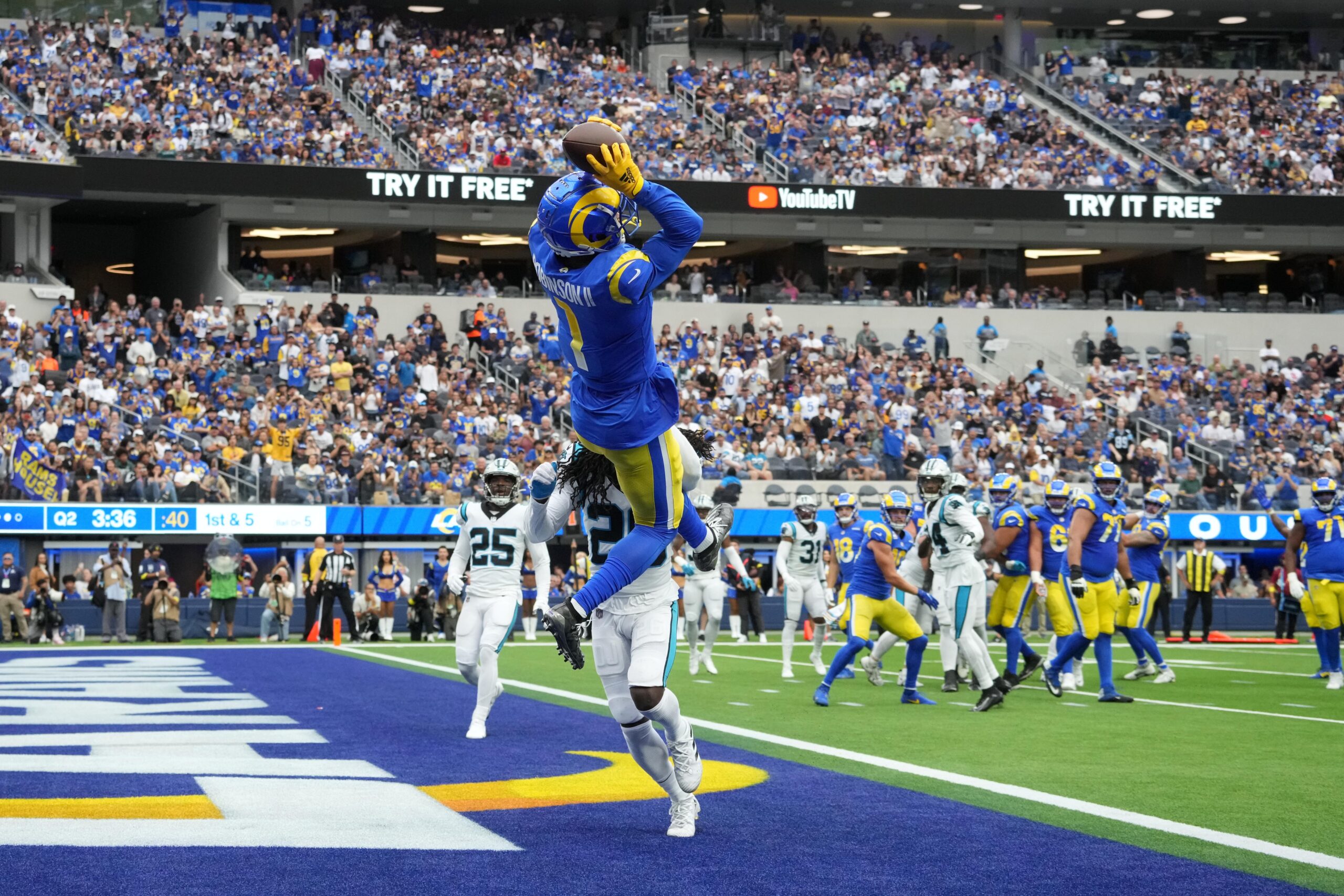 11) Allen Robinson Gets Traded for Peanuts
The Los Angeles Rams went into recovery mode as they rebooted for the 2023 season. After unloading Jalen Ramsey, Leonard Floyd, and Bobby Wagner in order to save cap space for now and in the future, the final challenge was dumping wide receiver Allen Robinson. Robinson, who has only 749 receiving yards on 71 receptions over his last two years, was a free agent bust signing last offseason.
Despite signing a three-year, $46.5 million deal in 2022, Robinson was unable to get on the same page with Rams quarterback Matthew Stafford. Even when Robinson was creating space, Stafford relentlessly targeted Cooper Kupp. Robinson also missed seven games due to a foot fracture.
In order to shed Robinson's salary, the Rams ate $10 million and traded their 251st overall pick to the Pittsburgh Steelers for the 234th selection. Though head coach Sean McVay said he had plans to "better utilize" Robinson had he returned, it was wise for the Rams to open playing time for a cheaper, more explosive player.
Meanwhile, the Steelers also took a reasonable gamble on a player who can help quarterback Kenny Pickett improve. Young quarterbacks often struggle trusting possession receivers, and Robinson could prove to be a capable contributor if Pickett gives the veteran receiver some contested-catch opportunities.
10) Falcons Take a Flier on Jeff Okudah
It's never a good sign when a team already lacking talent at a position trades one of the one or two intriguing pieces at that position. That's what happened when the Detroit Lions dealt cornerback Jeff Okudah to the Falcons for the 159th overall pick in the 2023 NFL Draft. Okudah, who had started the 2022 season well, was benched in Week 18.
Okudah's season almost ended in Week 10 after he suffered a scary "suspected brain injury" that caused him to miss the following week as well. The entire Lions' defense was a mess throughout the year, so it's hard to pin any performance directly on Okudah. However, he ranked 89th in yards allowed per reception, 63rd in receptions allowed, and 64th in man coverage success rate in 2022.
Once an excellent prospect out of Ohio State, Atlanta is taking a chance that Okudah is more comfortable in their scheme and more explosive another year removed from the torn ACL he suffered in 2021.
9) Jets Snag Chuck Clark
It's common for NFL teams to shop veterans who they plan to cut before making a release official. Seeing late-round pick swaps for capable contributors who carried large cap numbers used to be less frequent, but we saw more of it this year. The Baltimore Ravens, naming Chuck Clark as their defensive captain in previous years, opted against keeping Clark long-term after drafting Kyle Hamilton in the first round in 2022.
The New York Jets landed Clark for a 2024 seventh-round pick, cleaning the Ravens of his salary commitment. Jets head coach Robert Saleh described him as someone who has a "tremendous mindset" and lauded him for being an "iron man" who plays through injuries. With the Jets lacking a bona fide starter next to Jordan Whitehead, Clark is in for another big role on a stellar Jets defense.
Clark has four consecutive seasons with at least 73 tackles, proving to be one of the best box players at his position in the league.
8) Eagles Land D'Andre Swift
While the Philadelphia Eagles earned praise for how they managed to land an impressive array of rookie talent with their picks in the 2023 NFL Draft, their draft-day trade for D'Andre Swift was notable. Swift, who lost his job as soon as the Lions selected Jahmyr Gibbs 12th overall, was dealt for a swap of seventh-round picks in 2023 and a 2025 fourth-round pick.
The Eagles needed an infusion of talent at running back after allowing Miles Sanders to walk in free agency. Swift, who has struggled to handle more than a few carries and receptions per game, can hopefully augment a backfield that also added Rashaad Penny this offseason. He has the right mindset, saying he wants to be "a piece of the puzzle" in the Eagles' offense.
He certainly brings a new element to the group. The Eagles struggled to find success throwing to their backs last year, but Swift is an excellent player with the ball in his hands. We should see the Eagles find more success on screens, in particular.
7) Stephon Gilmore Lands in Dallas
Taking on an aging defender in the secondary can be a gamble. Although Stephon Gilmore turns 33 in September, the Dallas Cowboys quickly jumped at the opportunity to trade the 176th overall pick for him. Gilmore was solid in his lone season with the Colts, but the franchise opted against bringing him back at his high cost.
MORE: Biggest Roster Holes for Contenders After 2023 NFL Draft
Instead, the Cowboys saw the opportunity to add the 6'1″, 202-pound former Defensive Player of the Year to a secondary lacking a stud second corner. Producing at least two interceptions in all but two seasons of an 11-year career, Gilmore effectively balances being a playmaker and a great coverage defender.
Dallas is going all-in to win, and it was a weak cornerback free agent class, so the deal made sense for them. The Colts may regret it more as they failed to replace Gilmore and subsequently drafted a running back who will fight to make their final roster.
6) Jets Trade Elijah Moore to Browns
In an effort to revamp their offense to make it more attractive for Aaron Rodgers, the Jets boldly sold low on slot receiver Elijah Moore. With New York creating room for speedster Mecole Hardman, the Browns were able to nab Moore and the 74th overall pick for their 42nd overall pick in the 2023 NFL Draft. Moore adds desperately needed speed to the Browns' offense.
The Browns are embracing more spread concepts in 2023 as they cater to Deshaun Watson's strengths, meaning speed and the dynamic ability to create with the ball in a player's hands was necessary. Although his raw numbers were nothing special after playing with Zach Wilson, Joe Flacco's corpse, and whatever Chris Streveler is, Moore's advanced numbers paint an incredibly useful player for the Browns.
He ranked fifth in true catch rate and 12th in target separation for the Jets. For as well as Amari Cooper and Donovan Peoples-Jones have played, neither is particularly quick or dangerous on downfield routes. Expect Watson to favor Moore early and often.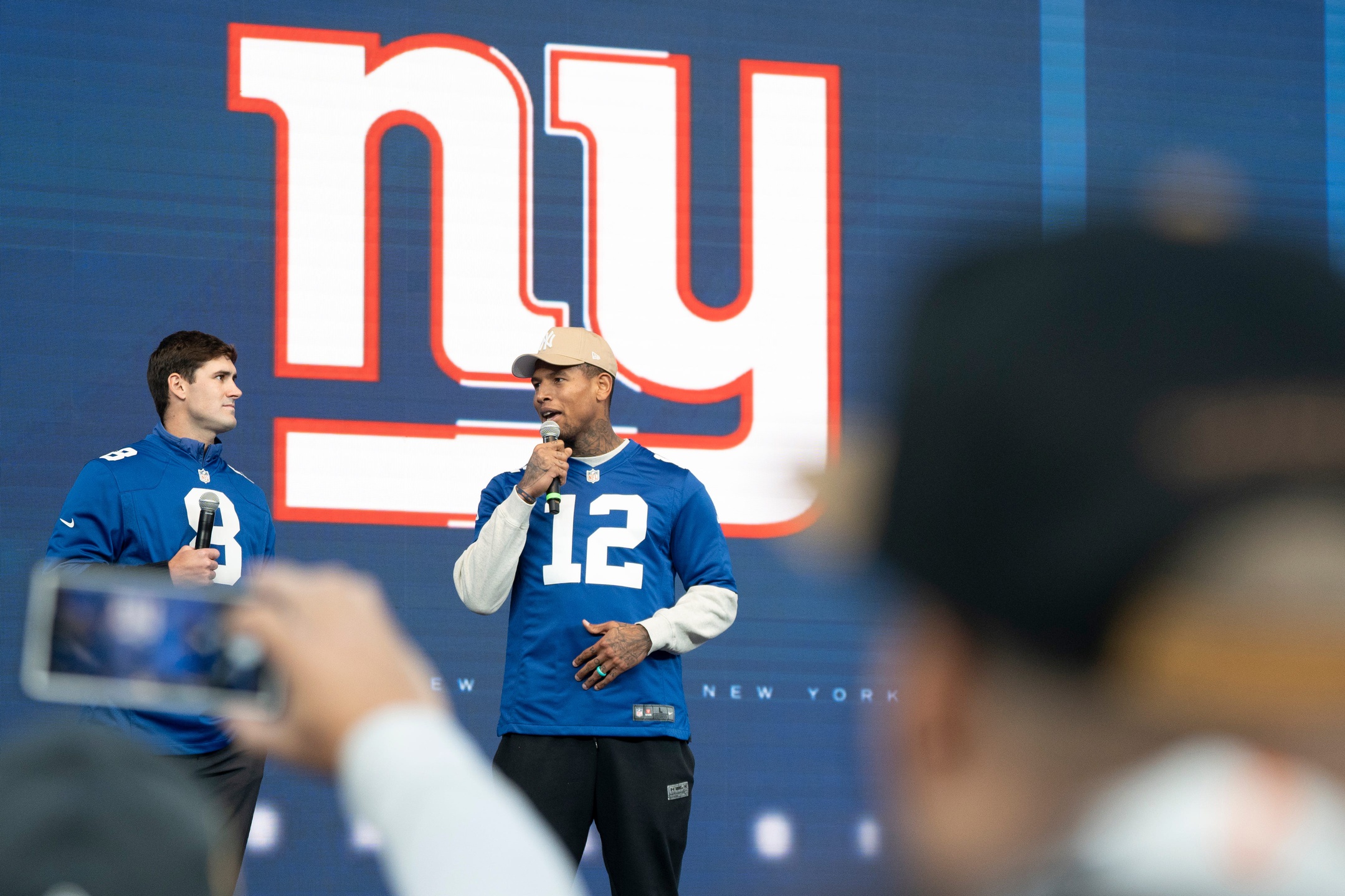 5) Giants Roll the Dice on Darren Waller
The New York Giants entered the offseason needing to upgrade their playmaking corps on offense, but a very limited group of free agents made that difficult. Out of seemingly nowhere, the Giants were able to nab tight end Darren Waller from the Las Vegas Raiders for the 100th overall pick. Waller, who played in only 20 games over the last two years due to injuries, is one of the top few tight ends in the NFL when he's healthy.
The Raiders clearly were done counting on Waller's health despite handing him a three-year, $51 million deal last September. However, the deal made sense for the Giants after they were forced to start fourth-round rookie Daniel Bellinger last year. Waller can help stretch the field for quarterback Daniel Jones and draw safety attention away from their receiving corps.
It's certainly a gamble on health, and it's not a perfect fit that magically solves the Giants' spacing issue. But taking a swing on a potentially elite tight end, who Rob Gronkowski believes will be "a Pro Bowl-caliber" player this year, is easily justified.
4) Jalen Ramsey Heads to Miami
My initial thought when the Rams were shopping Ramsey for a first-round pick was that a team was set to be swindled if they paid such a heavy price. Though Ramsey is undoubtedly one of the smartest and most athletic players in the NFL, even as he nears his 29th birthday, his pure coverage rates have never been particularly strong. He thrives due to his ability to force turnovers and provide excellent run defense more than being a lockdown corner.
However, instead of giving up a high pick, the Dolphins were able to land Ramsey for a much more reasonable package. The Rams acquired the 77th overall pick and tight end Hunter Long for Ramsey, a pittance compared to what expectations were. They were limited, though, as Ramsey said he'd only accept a trade to the Dolphins.
Now with Ramsey and Xavien Howard paired together, Miami has arguably the best cornerback duo in the NFL.
3) Cowboys Steal Brandin Cooks
One of the most consistent playmakers in the league since entering in 2014, Brandin Cooks continues to produce regardless of his situation and role. Despite being a speedy threat who still appears to run in the low 4.3s, Cooks has served as Houston's possession receiver over the last two years. He's hit the 1,000-yard mark in six of his nine career seasons.
On his fourth team in that span, Cooks landed in Dallas for the 174th overall pick and a 2024 sixth-round pick. Houston also sent $6 million in cash to cover part of his $18 million salary, then the Cowboys restructured his contract to create more cap space. Despite previously stating he never wanted to be traded again, it's clear the losing got to Cooks.
Cooks said his stint with the Texans was "fueling the fire" to be a part of a winning team. There's no doubt he has the chance to make a big impact on the Cowboys. Dallas saw their offense stagnate in key moments in 2022 as quarterback Dak Prescott fell into a slump without another competent receiver besides CeeDee Lamb.
With any luck, Lamb, Cooks, and a healthier Michael Gallup will lead a much-improved unit in 2023.
2) Bears Land DJ Moore from Panthers
The Carolina Panthers did everything they could to land the No. 1 pick, and including star wide receiver DJ Moore put their offer above the competition. Along with Moore, Carolina traded the ninth and 61st overall picks this year, their 2024 first-round pick, and their 2025 second-round pick for the No. 1 selection. They selected Alabama quarterback Bryce Young with the pick.
It's clear the Panthers are all-in on Young, but the Bears now become the more interesting team moving forward. Getting Moore was a massive immediate boost for an offense desperately needing more talent at the receiver position. For as bad as the Chase Claypool trade looks, considering the pick they moved for an inconsistent pass catcher, Moore helps the unit look more capable.
Only 26, Moore has overcome terrible quarterback performance for the majority of his career and has still produced at least 788 yards in all five seasons played. In what's shaping up to be a critical year for Justin Fields' own development, having Moore, a healthy Darnell Mooney, fourth-round pick Tyler Scott, and Claypool is a suddenly more interesting unit.
What Was the Best NFL Trade of the Offseason?
1) Jets Make Blockbuster Deal for Aaron Rodgers
It took far too long for an inevitable deal to be finalized, but there's no question that Aaron Rodgers' relocation from Green Bay to the New York Jets is the biggest deal of the offseason.
Not only does it have a short-term implication as the Jets look to compete for a Super Bowl, but there are also major long-term ramifications for both teams. The Jets paid heavily for a short-term stint with Rodgers, including a swap of their 2023 first-round pick with the Packers, the 42nd and 207th overall picks this year, and a conditional second-round pick that is likely to convert into a first-rounder in 2024.
MORE: Ranking All 8 NFL Divisions Entering 2023
Even if the Jets overpaid as they lost leverage as time passed, the move is one that can't really backfire too much as long as Rodgers stays healthy and doesn't completely fall off a cliff with his performance. The Jets' history of quarterback play is astoundingly bad, and they fielded a competitive team in 2022 with an atrocious rotation of incompetence under center. Rodgers can be perfectly mediocre, and the Jets should still make the playoffs in 2023.
Green Bay is a net winner from an asset accumulation standpoint but lost Rodgers the moment they drafted Jordan Love to eventually replace him. Love, who struggled with inaccuracy and decision-making throughout his Utah State career, faces an uphill climb to now finally see the field and develop.