It's time to make our NFL Week 4 predictions!
Last week, the Dallas Cowboys lost to the Arizona Cardinals in what was the biggest upset of the season so far. As six-point favorites at home against the New England Patriots, will the Cowboys bounce back today? Keep in mind that it's also Ezekiel Elliott's return to Dallas, which is one of many revenge games today.
The Cardinals, meanwhile, coming off their first win of the season, are 14-point underdogs against the 49ers, the biggest point spread in 2023. Will Arizona continue its ATS winning streak?
The NFL Week 4 betting lines this week include five home underdogs. The Chicago Bears have looked so bad after three weeks that they're getting 3.5 points to a team that gave up 70 points last week.
The PFN betting team did well with their picks last week, will we stay hot today? Let's get into the NFL week 4 predictions, picks against the spread, favorite player props, and more.
Our Betting Lines page has the freshest lines and promos to get BANG for your buck. PFN's FREE Parlay Calculator and Betting Odds Calculator are also available for your betting process! New to sports betting? Check out our guide on How to Bet on the NFL. Visit our Sports Betting Legal Tracker on how to bet legally in the U.S.
NFL Week 4 Picks and Predictions
All odds are from DraftKings Sportsbook. Click here to place your bets!
Atlanta Falcons vs. Jacksonville Jaguars Prediction
Spread
Jaguars -3
Moneyline
Falcons +145, Jaguars -175
Total
42.5
Game Time
9:30 a.m. EST
Location
Wembley Stadium
How To Watch
ESPN+
Blewis: The Jaguars have been very disappointing so far. They had the potential to be one of the best teams in the AFC this season but haven't looked good on either side of the ball so far. They looked poised to take advantage of a weak AFC South, but it looks like far from a sure thing they win this division.
If there has been any bright spot for this Jaguars team so far this season, it has been their run defense. Through three weeks, they're second in success rate in stopping the run. They haven't faced a rushing attack like the Falcons, but we saw last week in their loss against the Lions that they aren't completely matchup-proof, as they were held to 2.2 yards per carry.
I also expect the Jags to get less unlucky. Despite losing by 20 points to the Texans, they out-gained them by 40 yards, and 14 of Houston's points came from a kick-return TD and a 68-yard pass play. Return touchdowns are rare, and I'm not expecting an explosive pass play from Ridder.
The Jags should also improve their red-zone efficiency sooner rather than later, as this offense is too talented to only convert 20% of their red-zone appearances into touchdowns, which has been the case the last two weeks.
This is also a Calvin Ridley revenge game, who ranks sixth among wide receivers in target share in the red zone.
Picks: Jaguars -3 (-108 at DraftKings), Calvin Ridley anytime touchdown (+135 at DraftKings)
Soppe: The game total tells us that the sportsbooks are projecting the Jaguars to score 23-plus points, and who am I to argue with the wise guys?
Well, over the past 11 months, the Jags have reached 23 points seven times:
ATS record: 7-0
Average coverage margin: 10.6 points
Those are some strong trends leading into a matchup that projects well for the Jags.
The Falcons went from a conservative defense last season (sub-17% blitz rate) to a much more aggressive unit this season (over 26%), something that shouldn't be a problem given that Trevor Lawrence is getting the ball out of his hands in a hurry (bottom-10 in aDOT, a 5.5% drop from last season despite the addition of Calvin Ridley).
My Falcons vs. Jaguars same game parlay picks and predictions article dives deeper into the prop angles around this matchup.
Pick: Jaguars -3 (-110 at FanDuel)
Miami Dolphins vs. Buffalo Bills Prediction
Spread
Bills -2.5
Moneyline
Dolphins +120, Bills -142
Total
53.5
Game Time
1 p.m. EST
Location
Highmark Stadium
How To Watch
CBS, Paramount Plus, Fubo TV, NFL Sunday Ticket
Bearman: It took a lot of willpower and previous memories to stop me from taking the Dolphins with the field goal. Instead, I'm playing the over at 53.5.
The Dolphins' offense doesn't need any introductions or explanation after last week's 70-point affair over Denver, and yes, the Bills' defense is much better.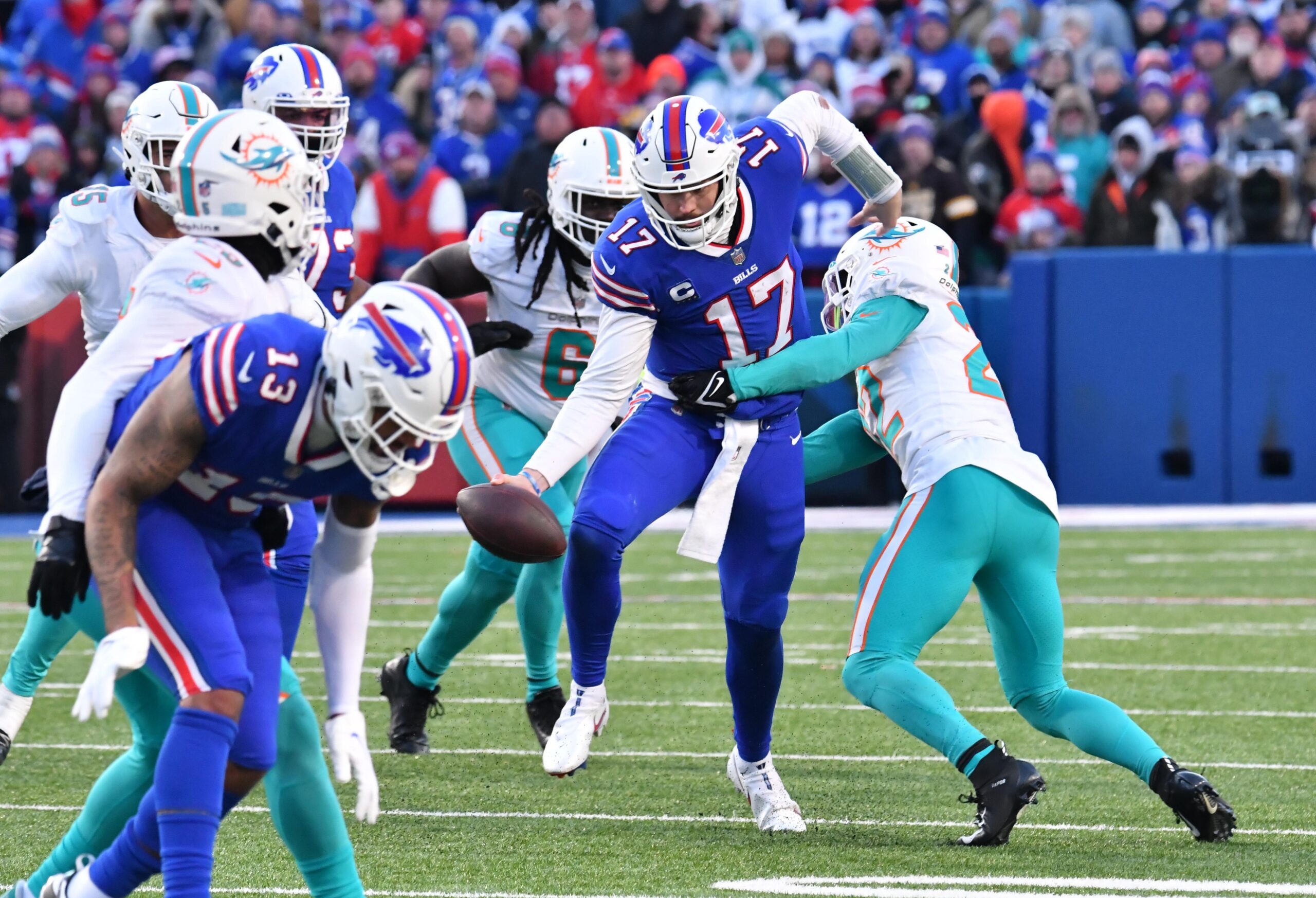 The play here is on the fact the last two times these teams played, in December and January, they combined for 61 and 65 points, respectively. And the January playoff game featured third-string QB Skylar Thompson. Even in the earlier game in 2022, which only had 40 total points, the Bills turned the ball over at the goal line and on downs at the 2-yard line.
Simply put, these two teams don't stop each other often. The Dolphins' defense, whose mistakes were overshadowed by the explosive offense last week, ranks in the bottom half of most categories and has only played one good offense. I expect points in this one and lots of them.
Pick: Over 53.5 (-110 at DraftKings)
Pittsburgh Steelers vs. Houston Texans Prediction
Spread
Steelers -3
Moneyline
Steelers -162, Texans +136
Total
41.5
Game Time
1 p.m. EST
Location
NRG Stadium
How To Watch
CBS, Paramount Plus, Fubo TV, NFL Sunday Ticket
Blewis: At first, I liked the Texans in this spot, considering they'll be missing both of their starting offensive tackles going against this Steelers pass rush led by T.J. Watt had me rethinking my decision.
But now, I like the under instead. The Steelers' offense has looked horrific to start the season, with only two of their six touchdowns not being a defensive score or coming off a pass play of at least 60 yards.
MORE: NFL Standings
C.J. Stroud has been very impressive as a rookie and is coming off the best game of his short NFL career in their 37-17 win over the Jaguars. After being sacked 11 times in the first two games, the Jaguars, who rank 31st in pass rush win rate, didn't get to Stroud once last week. But today, he will be facing Watt, who is on a tear to start the season with six sacks in three games.
As long as Matt Canada is running the Steelers offense and their defense has an advantageous matchup, I'll take the under whenever it's above a key number.
Pick: Under 42 (-110 at DraftKings)
Los Angeles Rams vs. Indianapolis Colts Prediction
Spread
Rams -1
Moneyline
Rams -112, Colts -108
Total
45.5
Game Time
1 p.m. EST
Location
Lucas Oil Stadium
How To Watch
FOX, Fubo TV, NFL Sunday Ticket
Blewis: The Colts are sitting at 2-1, but I don't think they're as good as their record shows they are. They got bailed out by an uncalled DPI on a 4th down stop in their win last week, and the Ravens had two fumbles, one of which was deep in their territory.
Head coach Shane Steichen is doing a tremendous job of getting the most out of his limited personnel. But it's only so sustainable. Their passing offense is extremely conservative, as Anthony Richardson has the lowest aDOT in the NFL and Gardner Minshew has the 6th-lowest.
The Colts' pass rush has been better than expected to start the season, but they should not give Matthew Stafford as much trouble as the Bengals and 49ers did the last two weeks. Look for him to have more time to throw today, with Puka Nacua having another big game.
Pick: Rams +1.5 (-120 at FanDuel)
Minnesota Vikings vs. Carolina Panthers Prediction
Spread
Vikings -4.5
Moneyline
Vikings -218, Panthers +180
Total
46.5
Game Time
1 p.m. EST
Location
Bank of America Stadium
How To Watch
FOX, Fubo TV, NFL Sunday Ticket
Soppe: Targeting perceived uncertainty can be an advantageous move in the player prop market, and I think we have a chance to capitalize in this game.
The Panthers are missing a league-high 13 tackles per game, and that opens them up to struggle in a big way against one of the league's best offenses through three weeks.
The uncertainty I mentioned for this game comes by way of Cam Akers. I mentioned it in the Week 4 Cheat Sheet, Minnesota spent hardly anything to bring in Akers, a running back that projects as depth more than a threat to Alexander Mattison (84.8% of Viking RB carries this season).
Through three weeks, Mattison is averaging 13 carries per game, not a terrible number considering that Minnesota has yet to win a game. With the projected for a positive game script this week, I'm viewing that as more of a floor. Even if that floor is realized in this game, four yards per carry gets us home!
Pick: Alexander Mattison over 50.5 rushing yards (-120 at DraftKings)
Tampa Bay Buccaneers vs. New Orleans Saints Prediction
Spread
Saints -3.5
Moneyline
Buccaneers +150, Saints -180
Total
40
Game Time
1 p.m. EST
Location
Caesars Superdome
How To Watch
FOX, Fubo TV, NFL Sunday Ticket
Soppe: Betting an "over" in a game doesn't require an offensive masterpiece. A game that projects to be a mistake-prone mess can be a good target for over-bettors, as short fields allow even poor offenses to put points on the board.
Derek Carr averaged 8-9 passes per quarter this season and thus roughly 35 per game. In games where Jameis Winston throws at least 35 passes, there has been an average of 49.4 points scored (72.3% of those contests seeing at least 42 points scored).
Both of these defenses are aggressive, and with a pair of aggressive quarterbacks (Baker Mayfield is a top-10 QB in aDOT), I see a chaotic game that can produce points in bunches.
Pick: Over 39.5 (-112 at DraftKings)
Washington Commanders vs. Philadelphia Eagles Prediction
Spread
Eagles -9.5
Moneyline
Commanders +340, Eagles -440
Total
43
Game Time
1 p.m. EST
Location
Lincoln Financial Field
How To Watch
FOX, Fubo TV, NFL Sunday Ticket
Soppe: Finding plus-money props is difficult, but there's one on the board that has my interest piqued. To tail this pick, you need to trust an overall process more than trusting the player/defense involved.
Conservative offense
Cautious QB
A defense that encourages low-risk
The Commanders led the league in time of possession last season (highlighted by a game in which they held the ball for over 40 minutes in ending Philadelphia's undefeated start) and are again among the best at holding onto the ball this season.
MORE: NFL Defense Rankings 2023
Sam Howell owns the fourth-lowest aDOT through three weeks, something we should see extended into this game against an Eagles defense that ranks third in pressure rate. Philadelphia generates heat and is more willing to give up the short pass than be beat deep downfield.
That probably helps them win this game, and I'm hoping it helps me cash in plus money here in a line that I believe is an overreaction to last week's disaster.
Pick: Sam Howell under 0.5 interceptions (+145 at DraftKings)
Denver Broncos vs. Chicago Bears Prediction
Spread
Broncos -3.5
Moneyline
Broncos -166, Bears +140
Total
46.5
Game Time
1 p.m. EST
Location
Soldier Field
How To Watch
CBS, Paramount Plus, Fubo TV, NFL Sunday Ticket
Katz: Death. Taxes. Running back rushing yards over against the Bears. In Week 2, Rachaad White ran for 73 yards on 17 carries. Last week, Isiah Pacheco ran for 62 yards on 15 carries, and Clyde Edwards-Helaire ran for 55 yards on 15 carries.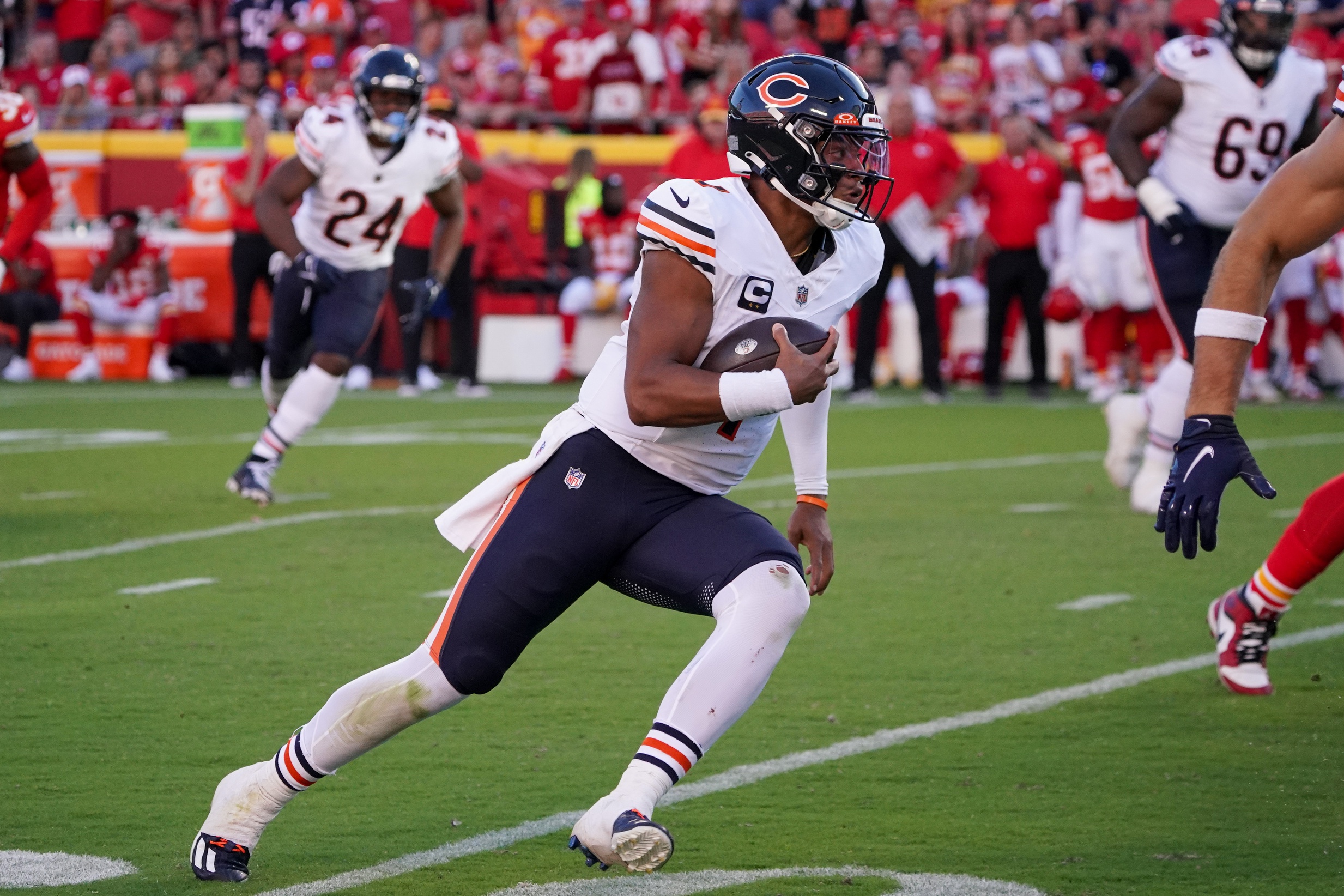 Javonte Williams has struggled to get going mostly because the Broncos can't win any games. But he looks healthy and is running with power. Denver is favored in this one. I'm feeling a Williams breakout game.
Pick: Javonte Williams Over 53.5 Rushing Yards (-110 at BetMGM)
Baltimore Ravens vs. Cleveland Browns Prediction
Spread
Ravens -2
Moneyline
Ravens -125, Browns +105
Total
38.5
Game Time
1 p.m. EST
Location
Cleveland Browns Stadium
How To Watch
CBS, Paramount Plus, Fubo TV, NFL Sunday Ticket
Bearman: This might surprise some people, but the top defense in the league right now resides in Cleveland.
The Browns' defense is number one in total yards allowed, passing yards, and points allowed per game, and second in rushing yards per game. They have allowed just one defensive touchdown all year, and it was a 71-yard touchdown to George Pickens on what was a blown coverage play. That's it.
We're still waiting for the Ravens' offense with Jackson to go back to his MVP days, but that may not happen. In the last four matchups between these squads, the highest score has been 46 points, including a 13-3 barnburner last year.
I'm not worried about the low total, as I took under 36.5 in Patriots/Jets last week, and it was never a sweat.
Pick: Under 41 (-110 at DraftKings earlier this week)
Blewis: I'm with Bearman here; he just got it at a better number than I did. This Browns defense has been as good defensively as the Dolphins have been offensively to start the season.
Both teams have major injuries on offense that are playing a factor here though. In addition to their injuries on the offensive line, the Ravens will be without two of their three best wide receivers, Rashod Bateman and Odell Beckham Jr.
MORE: NFL Schedule
Deshaun Watson was ruled out Sunday morning, meaning rookie QB Dorian Thompson-Robinson will get the start. DTR flashed in the preseason, but the regular season is an entirely different beast. Despite Watson's struggles up until last week, this is a downgrade and bodes well for the under.
The total has dropped a couple of points, but I would play it down to 38.5.
Pick: Under 40.5 (-110 at DraftKings earlier this week)
Cincinnati Bengals vs. Tennessee Titans Prediction
Spread
Bengals -2.5
Moneyline
Bengals -155, Titans +130
Total
41.5
Game Time
1 p.m. EST
Location
Nissan Stadium
How To Watch
FOX, Fubo TV, NFL Sunday Ticket
Blewis: Although they looked better last week, Joe Burrow and this Bengals passing offense still doesn't seem right, to say the least. They get a more favorable matchup, however, against a Titans pass defense that is 30th in dropback success rate and just allowed Watson to have his best game as a Brown.
This might not be the Browns' defense, but this Bengals unit is very good in its own right and should put pressure on Ryan Tannehill and a Titans offensive line that has struggled mightily so far. I don't trust either team to put up enough points here.
Pick: Under 41 (-110 at FanDuel)
Katz: Death. Taxes. Running back rushing yards unders against the Titans. Joe Mixon is averaging just 4.0 yards per carry this season. He's looked fine but hasn't had anywhere to run.
Now, he gets what may be the best run defense in the NFL. Tennessee is allowing just 2.7 yards per carry and has allowed a total of 156 rushing yards through three games.
I'm expecting a pass-heavy game plan from the Bengals against the Titans' pass-funnel defense. Look for Mixon to finish with something like 14 carries for 42 yards.
Pick: Joe Mixon Under 53.5 Rushing Yards (-105 at DraftKings)
Las Vegas Raiders vs. Los Angeles Chargers Prediction
Spread
Chargers -6.5
Moneyline
Raiders +235, Chargers -290
Total
48
Game Time
4:05 p.m. EST
Location
SoFi Stadium
How To Watch
CBS, Paramount Plus, Fubo TV, NFL Sunday Ticket
Blewis: This Chargers defense doesn't scare me off from betting on a backup QB getting just under a touchdown. So far this season, they allow the most passing yards per game, and yards per attempt, at a whopping 3327 YPG and 9.1 YPA.
While Jimmy G is out for the Raiders, the Chargers have a lot of injuries themselves. In addition to Mike Williams' season-ending injury from last week, they will be without Joey Bosa, Derwin James, and Austin Ekeler today.
This should also be a home game for the Raiders playing in Los Angeles, which should be factored in here.
Pick: Raiders +6.5 (-110 at DraftKings)
New England Patriots vs. Dallas Cowboys Prediction
Spread
Cowboys -6
Moneyline
Patriots +215, Cowboys -265
Total
43.5
Game Time
4:25 p.m. EST
Location
AT&T Stadium
How To Watch
FOX, Fubo TV, NFL Sunday Ticket
Bearman: This won't be a popular play, but we are here to win money.
The Patriots defense is quietly a top-five unit, and that's after playing Philly and Miami. They held the Eagles' offense to 18 points and Miami to a third of what Denver allowed.
Scheming has always been part of the Patriot Way, and even more important now with less talent than usual across the board.
As for the Cowboys, per usual, we never know what we're going to get. What we do know is they're coming off an awful loss to Arizona in which neither the offense nor defense played well.
The Patriots have a huge advantage on the coaching side, and seven points feels too many here for me.
Pick: Patriots +7 (-110 at DraftKings earlier this week)
Blewis: One excuse for the Cowboys in their embarrassing loss last week to the Cardinals was that they were missing three starting offensive linemen. Against a much better pass rush in the New England Patriots, two of those OLs should be returning this week, as Zack Martin and Tyler Biadasz were limited participants in practice on Thursday.
The Cowboys were 1-5 in scoring touchdowns in the red zone last week, including one horrible interception from Dak Prescott. I don't want to sleep on this Patriots' defense, but I think they see some positive regression in converting touchdowns this week.
MORE: NFL Offense Rankings 2023
Mac Jones and his lack of playmakers against this Cowboys defense is a big enough mismatch to give me confidence in a bounce-back spot for Dallas at home.
Pick: Cowboys -6.5 (-105 at FanDuel)
Soppe: With this spread approaching a touchdown, I'm getting cold feet about betting this ATS, but that doesn't mean you avoid this clear mismatch together.
We get a front-running Cowboys team (44 first-half points in their two wins this season) that holds a significant talent edge over a Patriots offense that isn't built to play from behind. They're a bottom-10 defense in terms of yards per play and have allowed a touchdown on two-thirds of opponent red-zone drives, flaws that figure to prove fatal against Dallas.
Pick: Cowboys halftime/full-time (-145 at DraftKings)
Katz: Thankfully for everyone on the Patriots, JuJu Smith-Schuster's knee has not exploded. But he's a shell of his former self.
Smith-Schuster has surpassed 30 receiving yards just once this season, back in Week 1. Since then, he's seen his snap share go up, but his target share goes down. JuJu's targets went from seven to six to three. Last week, he ran a season-low 18 routes.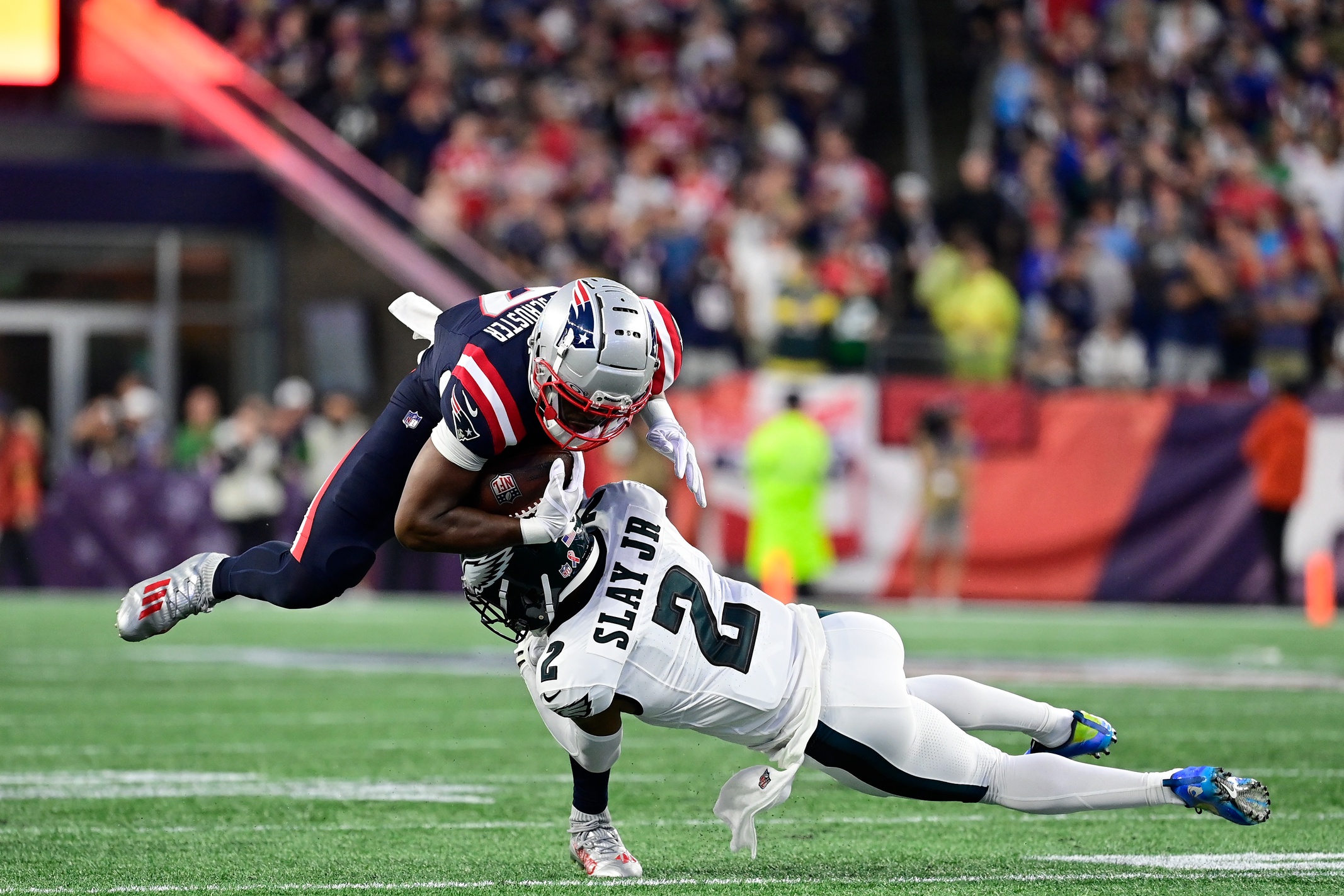 Smith-Schuster is the fifth option in this passing game behind DeVante Parker, Kendrick Bourne, Hunter Henry, and Rhamondre Stevenson. He's not explosive and no longer capable of splash plays.
As we saw in Week 2, he's capable of racing up five receptions and still not getting to 30 yards. Against an angry Cowboys defense, I wouldn't be surprised if he goes catchless.
Pick: JuJu Smith-Schuster Under 30.5 Receiving Yards (-115 on BetMGM)
Arizona Cardinals vs. San Francisco Prediction
Spread
49ers -14
Moneyline
Cardinals +625, 49ers -950
Total
43.5
Game Time
4:25 p.m. EST
Location
Levi's Stadium
How To Watch
FOX, Fubo TV, NFL Sunday Ticket
Bearman: The Arizona Cardinals, yes those Cardinals, are 3-0 ATS this season, and none have ever been in doubt with a cover margin of 9.6 — fifth best in the league. They have led at halftime in all three games, blowing two of them, but holding on last week to defeat the Cowboys.
The Niners will be a step up in competition, especially off long rest, and I don't expect the Cardinals to pull off another upset. However, I do see them covering. Per John Ewing of BetMGM, teams getting 14+ points are 30-24-2 (56%) ATS over the last five seasons.
Arizona's first-half spread of +8.5 has my interest as well since they have won the first half outright all three weeks.
Pick: Cardinals +14 (-110 at DraftKings)
Kansas City Chiefs vs. New York Jets Prediction
Spread
Chiefs -9.5
Moneyline
Chiefs -425, Jets +330
Total
41.5
Game Time
8:20 p.m. EST
Location
MetLife Stadium
How To Watch
NBC, Peacock
Soppe: Isiah Pacheco has run for over 50 yards in 11 of Kansas City's past 13 wins, and seven of the Chiefs' past eight regular-season wins have come by at least six points. The fact that I can back both trends and get plus money in this mismatch has me very interested.
Pick: Pacheco 50+ rush yards, Chiefs -5.5 (+100 at DraftKings)