The NFL betting lines for next week came out yesterday evening before Sunday Night Football, and a few things stick out. Before we dive into the early NFL Week 5 predictions, let's dig into the numbers a bit.
For the first time since Week 2, there are no double-digit favorites this coming week, with the Miami Dolphins (-9.5) giving the most points in their home game against the New York Giants. With how the betting lines shift throughout the week, however, there is a possibility that the Dolphins get up to at least -10 in what could be a bounce-back spot.
The game of the week will be on Sunday Night Football between the Dallas Cowboys and San Francisco 49ers. A Divisional Round playoff rematch from both last year and the year before, the 49ers are one of two undefeated teams remaining, but this will be by far their biggest test to date.
We also had quite a handful of injuries to notable players in Sunday's NFL action that could have an impact on the Week 5 betting lines. Players who got hurt in Week 4 and didn't return include Tee Higgins, Kenny Pickett, Matthew Judon, Tre'Davious White and Javonte Williams, to name a few. Mike Evans got injured as well, but the Buccaneers have a bye week coming up.
Let's dig into the rest of the betting lines as well as my early NFL Week 5 predictions and picks against the spread.
Our Betting Lines page has the freshest lines and promos to get BANG for your buck. PFN's FREE Parlay Calculator and Betting Odds Calculator are also available for your betting process! New to sports betting? Check out our guide on How to Bet on the NFL. Visit our Sports Betting Legal Tracker on how to bet legally in the U.S.
NFL Week 5 Betting Lines
All odds are from FanDuel Sportsbook. 
Chicago Bears vs. Washington Commanders Prediction
Spread


Commanders -6.5

Moneyline


Bears +240, Commanders -290

Total


44.5
The Commanders put up a great fight against the Eagles on Sunday and maybe could've won the game in regulation if Ron Rivera had elected to go for two at the very end of the game. The Bears, meanwhile, might've ruined their best chance to win a game this season, blowing a 28-7 lead against the Denver Broncos.
This is too many points for me to back Washington. I would lean Chicago on the point spread, but I'm more interested in the point total. The Commanders have a competent offense, and the Bears' defense is dreadful, to say the least.
Pick: Over 44.5 (-110)
Jacksonville Jaguars vs. Buffalo Bills Prediction
Spread


Bills -5.5

Moneyline


Jaguars +190, Bills -230

Total


48
Week 1 is a distant memory for the Buffalo Bills, huh? After so many people were writing them off after one loss, Buffalo has been perhaps the best team in football ever since. They did suffer one massive blow in their 48-20 win over the Dolphins, as CB Tre'Davious White tore his Achilles.
MORE: Super Bowl 58 Odds
The Jaguars got back on track against the Falcons, but Josh Allen is a far different beast than Desmond Ridder at quarterback. I'm still not totally convinced that the Jaguars' offense is back to where it should be, and I don't think they can keep pace with the Bills.
Lean: Bills -5.5 (-108)
Houston Texans vs. Atlanta Falcons Prediction
Spread


Falcons -1.5

Moneyline


Texans -104, Falcons -112

Total


40.5
This line indicates that on a neutral field, this would probably be a pick, and rightfully so.
The Falcons may have more talent at the skill positions, but C.J. Stroud is vastly superior to Ridder. I can see the public betting the Texans up in this one because of the disparity at quarterback, and I'm aligned with them.
Pick: Texans +1.5 (-118)
Carolina Panthers vs. Detroit Lions Prediction
Spread


Lions -8.5

Moneyline


Panthers +330, Lions -420

Total


43.5
It's time for me to start respecting the Detroit Lions. Going into the season, I thought they were overhyped, and I wasn't ready to jump on the bandwagon after what I thought was a lucky Week 1 win over the Chiefs. But this is a legitimate playoff contender in 2023, and they're going against one of the two winless teams remaining in the Carolina Panthers.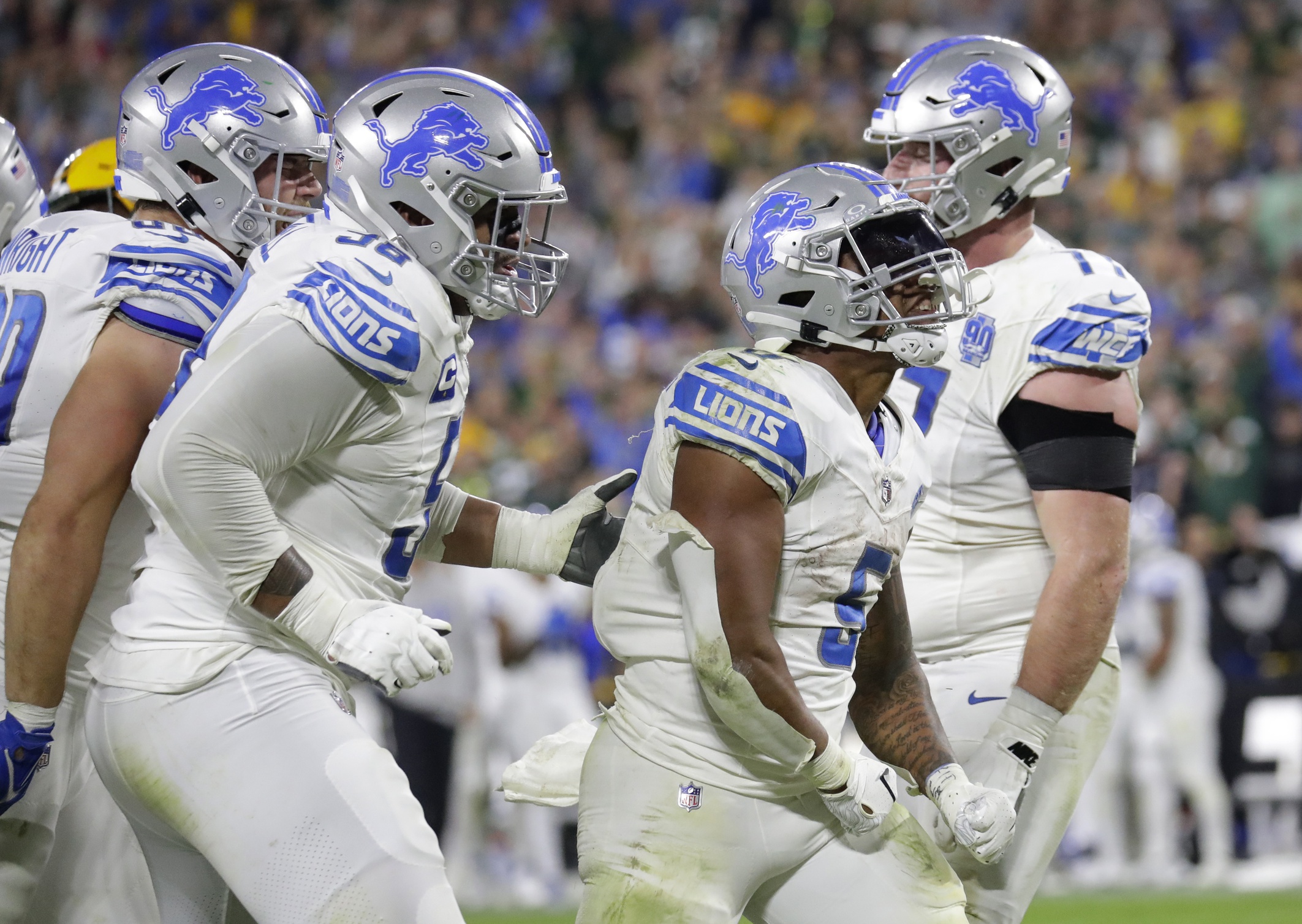 This total seems high for a game featuring a team that hasn't scored more than 17 points with its starting quarterback. Especially when the Lions' defense surprisingly ranks eighth in EPA/play so far this season.
Pick: Under 43.5 (-110)
Tennessee Titans vs. Indianapolis Colts Prediction
Spread


Colts -1.5

Moneyline


Titans +100, Colts -118

Total


41.5
The Colts nearly pulled off a 23-0 comeback yesterday before losing in overtime. Regardless of the result, it was a very impressive effort.
The Titans, meanwhile, dominated the Bengals on both sides of the ball, as they not only held Joe Burrow and Cincy's offense to three points, but they averaged 6.5 yards per play offensively.
The key to beating Tennessee is attacking their weak pass defense, and as impressive as Anthony Richardson has been for a rookie, I don't think he's there yet as a passer to exploit this.
Pick: Titans +1.5 (-110)
New York Giants vs. Miami Dolphins Prediction
Spread


Dolphins -9.5

Moneyline


Giants +370, Dolphins -480

Total


49.5
The Dolphins weren't going to score 70 points every week, but their defense is certainly an issue. But they should have a much easier time stopping this Giants offense than they did with the Bills in Week 4.
It might look like too many points, but this Dolphins team seems like one that will blow teams out who are vastly inferior.
Pick: Dolphins -9.5 (-115)
Baltimore Ravens vs. Pittsburgh Steelers Prediction
Spread


Ravens -4.5

Moneyline


Ravens -220, Steelers +184

Total


40.5
We don't know if Kenny Pickett will be playing in this one, but does it really matter? Pickett has been one of the worst starting quarterbacks this season, which is disappointing after he seemed poised for a second-year breakout following his play in the preseason.
MORE: Steelers OC Matt Canada on the Hot Seat
Given the history of this AFC North rivalry and Mike Tomlin's record as a home underdog, it's hard not to take the Steelers getting points here. But it's worth waiting to see if the line continues to go up.
Lean: Steelers +4.5 (-104)
New Orleans Saints vs. New England Patriots Prediction
Spread


Patriots -1.5

Moneyline


Saints -102, Patriots -116

Total


39.5
A banged-up Derek Carr vs. Mac Jones might be perhaps the most boring QB matchup of the slate. Given how he played on Sunday, it's worth wondering if the Saints were better off starting Jameis Winston instead of a clearly-not-fully-healthy Carr, as the passing offense averaged just 3.6 yards per attempt.
The Patriots, however, suffered injuries to perhaps their two best defensive players so far this season in Matthew Judon and Christian Gonzalez. Without each of them, their defense could take a major hit, even against a struggling Saints offense.
Lean: Saints +1.5 (-115)
Cincinnati Bengals vs. Arizona Cardinals Prediction
Spread


Bengals -3.5

Moneyline


Bengals -164, Cardinals +138

Total


42.5
Who would have thought the Bengals would be just 3.5-point favorites over the Cardinals in Week 5 before the season?
Well, things are that bad in Cincinnati right now, as Joe Burrow doesn't look remotely close to 100% healthy. Their defense also gave up 27 points and 400 yards to a struggling Titans offense.
It's hard to have any faith in the Bengals' offense for the time being, especially if they don't have Tee Higgins for this week and beyond. Still, their defense is better than how they played in Week 4.
Pick: Under 42.5 (-110)
Philadelphia Eagles vs. Los Angeles Rams Prediction
Spread


Eagles -4.5

Moneyline


Eagles -200, Rams +176

Total


49.5
Starting the season 4-0 is impressive, no matter how you slice it, especially given the recent history of the previous year's Super Bowl loser usually starting off slow the following year. Yet, despite being undefeated, the Eagles look very vulnerable.
Matthew Stafford suffered a hip injury on Sunday but returned to the game and led a game-winning drive in overtime. Stafford should be able to pick apart this Eagles pass defense, especially if Cooper Kupp returns. I mean, look at how Sam Howell did against them.
Lean: Over 49.5 (-110)
Kansas City Chiefs vs. Minnesota Vikings Prediction
Spread


Chiefs -5.5

Moneyline


Chiefs -235, Vikings +194

Total


52.5
This is the highest total of the week and certainly has the makings of a shootout. The Vikings finally held an opponent to under 20 points, but the Panthers are perhaps the worst offense in the NFL.
The Chiefs' defense, meanwhile, which looked really good in the first three weeks, made Zach Wilson look competent on Sunday night.
MORE: Bad Beats for Chiefs Bettors — How One Play by Patrick Mahomes Cost Chiefs the Cover
The Vikings consistently play in one-score games, and this point spread indicates that it might be their sixth in a row dating back to last postseason. It's a high total, but I'm leaning towards the over at the moment.
Lean: Over 52.5 (-110)
New York Jets vs. Denver Broncos Prediction
Spread


Broncos -2.5

Moneyline


Jets +122, Broncos -144

Total


42.5
This is one of the games everyone had circled on the calendar in the preseason after Sean Payton bashed Nathaniel Hackett's coaching last season to the media. The Jets should be motivated for this one, as they did not take Payton's comments lightly at the time.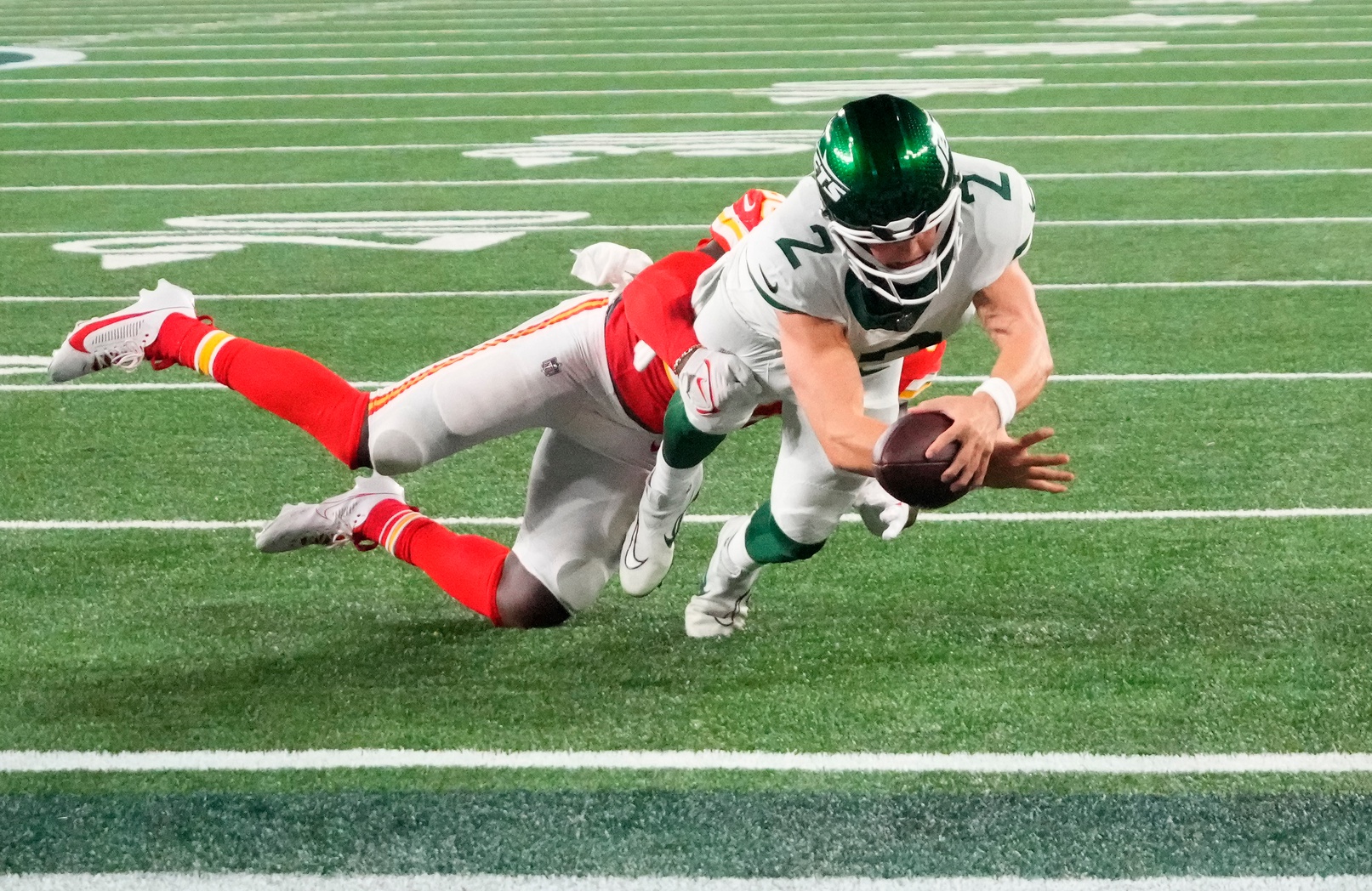 Given how bad the Broncos defense is, this total looks fairly low. But would taking the over here be buying too high on Zach Wilson's stock following his SNF performance? Maybe, but it's also Denver's defense we're talking about here.
Lean: Over 42.5 (-110)
Dallas Cowboys vs. San Francisco 49ers Prediction
Spread


49ers -3.5

Moneyline


Cowboys +145, 49ers -175

Total


45.5
This is easily the game of the week. After losing to the 49ers in the playoffs two seasons in a row, will the Cowboys get their revenge on Sunday night? I can see this game coming down to a field goal, so it's too enticing to bet the Cowboys getting points and the hook while it's still available.
The 49ers have looked like the best team in football so far this season, but they really haven't been tested, with wins against the Steelers, Rams, Giants, and Cardinals.
Pick: Cowboys +3.5 (-114)
Green Bay Packers vs. Las Vegas Raiders Prediction
Spread


Packers -1.5

Moneyline


Packers -132, Raiders +112

Total


43.5
Jordan Love's inaccuracy has come back to bite him, but a long week against the Raiders is a more favorable matchup than a short week against the Lions, even on the road.
Aidan O'Connell looked like a rookie — to say the least — against the Chargers, but they came very close to tying the game late in the fourth quarter after trailing by 17 points.
I'm expecting that Jimmy G might be back for this one, so I'm going to hold off here until we get more clarity.