PFN's NFL Week 4 predictions are back, and they're wackier than ever. After a strong week from all five analysts, can their against-the-grain selections this week guide them to supremacy, or will they look like fools?
From the current NFL standings to team depth charts to coverage of every game in the 18-week NFL schedule, we have all the news from around the league to keep you up to speed!
Pro Football Network's Week 4 NFL
First, let's settle down from the first three weeks of the NFL season among the game selectors.
Year to Date
Dalton Miller:

33-15

Dallas Robinson:

32-16

David Bearman:

31-17

Adam Beasley:

30-18

Jay Morrison:

24-24
Last Week
Robinson:

13-3

Miller:

12-4

Beasley:

11-5

Bearman:

10-6

Morrison:

9-7
These predictions are simply deciding between winners and losers. There are no point spreads here. For that, head over to our Week 4 betting predictions.
Detroit Lions at Green Bay Packers
Beasley:

Packers

Bearman: Packers
Miller: Lions
Morrison: Packers
Robinson: Lions
The old men (not derogatory, simply factual) have too many poor memories of the Lions to see the product they've built over the past few seasons. The two youngins' are all-in on Detroit with Dan Campbell.
Sure, the Packers' advanced metrics are currently better, but their schedule has been far easier than the Lions' has. Detroit has matched up against the Chiefs and Seahawks, while Green Bay has played the Bears and Saints.
Their one common opponent, the Falcons, beat the Packers by a point and looked completely lost against Detroit.
Atlanta Falcons at Jacksonville Jaguars
Beasley:

Jaguars

Bearman:

Jaguars

Miller:

Jaguars

Morrison:

Jaguars

Robinson:

Jaguars
The Jaguars are the most frustrating team in the NFL right now. Trevor Lawrence is dealing, but it's not showing up because Jacksonville's ball security has been horrific and the offensive line has been underwhelming on the right side.
The Falcons offense doesn't seem to have the necessary juice to be a consistent competitor, but their schedule is favorable for the rest of the year. Lawrence is the best QB they'll face for the rest of the year! Their defense has improved, but they shouldn't be able to keep up with the Jags' offense.
Miami Dolphins at Buffalo Bills
Beasley:

Bills

Bearman:

Dolphins

Miller:

Dolphins

Morrison:

Dolphins

Robinson:

Dolphins
It's not cold enough in Buffalo to worry about Miami's offense falling flat. It's looking like 70 degrees and sunny, which is bad news for the Bills' defense.
MORE: More Than Revenge on Miami Dolphins' Mind vs. Buffalo Bills
Unless Tua Tagovailoa finally has a bad day at the office mentally, which seems unlikely considering how he's protected the ball so far in 2023, it's hard to see how Buffalo stops that offense.
Having savvy veteran safeties should help slow things down a bit over the middle, but Miami is so schematically sound, and Tua is so anticipatory that he's able to mitigate pressure.
Minnesota Vikings at Carolina Panthers
Beasley: Panthers
Bearman: Panthers
Miller:

Vikings

Morrison:

Vikings

Robinson:

Vikings
Adam Thielen said this will feel like a playoff game. That might be true for him, but that is a truth known only to him. Neither team will sniff the playoffs in 2023.
Bryce Young is back at practice, which is actually bad news for the Panthers' offense. Andy Dalton is currently the better option at QB for Carolina, and that's not a bad thing. But 2023 is about Young's development. They're not a contending team.
Without Jaycee Horn, it's hard to imagine anyone in that secondary finding success against Justin Jefferson and Kirk Cousins. Ejiro Evero is a fine defensive coordinator, but even the best play-callers need players to make plays.
Denver Broncos at Chicago Bears
Beasley: Bears
Bearman: Bears
Miller:

Broncos

Morrison:

Broncos

Robinson:

Broncos
Shall we be afeared that our colleagues have not seen the Chicago Bears play football yet in 2023?
In all seriousness, the Bears look like the most unserious team we've seen in quite some time. Even the bad teams in recent years have found ways to play tough and scrap their way to tough losses. Chicago is losing by an average of 19.7 points in their first three games.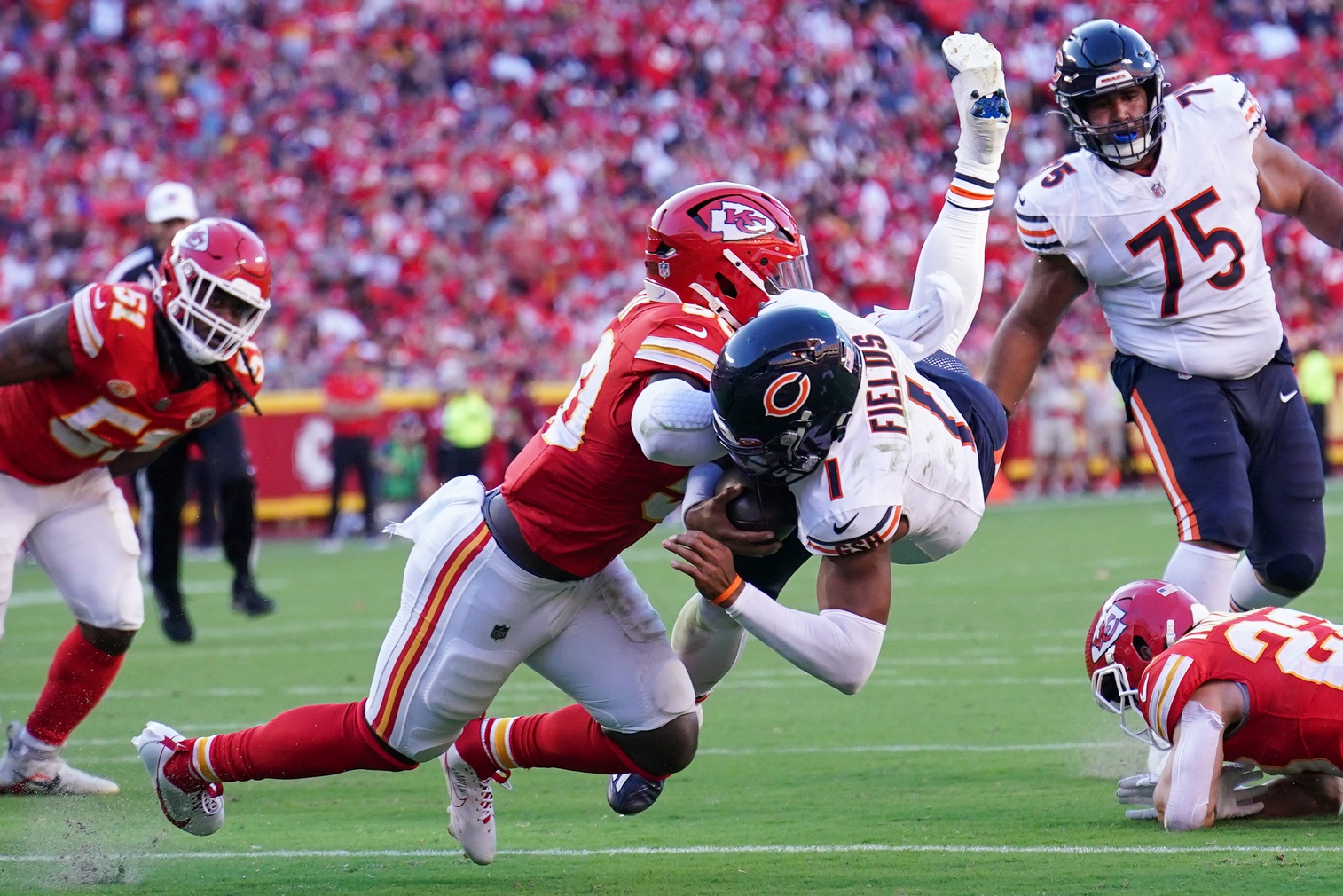 Meanwhile, the Broncos' offense still isn't good, but it's way better than it was a year ago. Sure, their defense is terrible right now, but the Bears' offense might be even worse. Once again, we have a stoppable force meeting a moveable object. Who wins? Not the viewer!
Baltimore Ravens at Cleveland Browns
Beasley: Browns
Bearman: Browns
Miller: Browns
Morrison: Browns
Robinson: Browns
The Browns have been the most dominant defense in the NFL so far. In fact, the top three success rates defensively are all owned by Cleveland. Jim Schwartz is deep in his bag, the pass rush is disgusting, and the talented defensive backfield is playing FAST!
The Ravens will provide easily the most difficult test. However, Baltimore is doing the whole "get more hurt than any team in the NFL" thing again. Baltimore's issue is that key players are the ones dropping.
More bad news for the Ravens? Deshaun Watson is coming off easily his best game as the Browns' QB. Can Mike Macdonald and the banged-up defense goat him into mental mistakes? We don't believe it will be enough.
Pittsburgh Steelers at Houston Texans
Beasley: Steelers
Bearman: Texans
Miller: Texans
Morrison: Steelers
Robinson: Steelers
It might feel weird to consider the Houston Texans being part of an intriguing matchup, but a new coaching staff and a hot young quarterback make things much more fun.
MORE: Pro Football Network's Week 4 NFL Power Rankings
Pair that with a Steelers defense that is vulnerable in the secondary but dominant on the edges, and the unknowns begin to pile up. An injured right tackle, left tackle, and backup left tackle will have T.J. Watt and Alex Highsmith licking their chops.
Los Angeles Rams at Indianapolis Colts
Beasley: Colts
Bearman: Colts
Miller: Colts
Morrison: Rams
Robinson: Rams
Two teams that most probably considered future top-10 draft picks look a lot stronger through three weeks than expected.
The Rams only have one win, but they've played well against Seattle and San Francisco. The offense looked disjointed against the Bengals, but the defense has looked solid against three really good offenses.
However, the Colts' offense is different, particularly with Anthony Richardson likely returning from concussion protocol. He's practicing but hasn't yet been cleared. That also muddies the waters for L.A.'s defense, which must plan for two completely different kinds of quarterbacks.
And Shane Steichen can meld his system to fit both perfectly.
Tampa Bay Buccaneers at New Orleans Saints
Beasley: Saints
Bearman: Saints
Miller: Buccaneers
Morrison: Saints
Robinson: Saints
Even as PFN's resident Jameis Winston STAN, it's hard for me to imagine the Buccaneers' defense being one that he's legitimately able to take advantage of. However, Tampa Bay has been giving up big plays at a higher rate than we're used to.
The Buccaneers are likely better than we expected, but if Winston can play close to the level of Derek Carr, the Saints likely have the advantage.
But Trevor Penning against Shaq Barrett is nightmare fuel for Saints fans, and Winston's ball security history isn't necessarily "good."
Washington Commanders at Philadelphia Eagles
Beasley: Eagles
Bearman: Eagles
Miller: Eagles
Morrison: Eagles
Robinson: Eagles
Sam Howell and the Commanders' offense may not necessarily be good, but they're entertaining. The young QB will take his lumps and keep pushing the ball. And the Eagles' defensive line will be sure to give him a few more lumps on Sunday.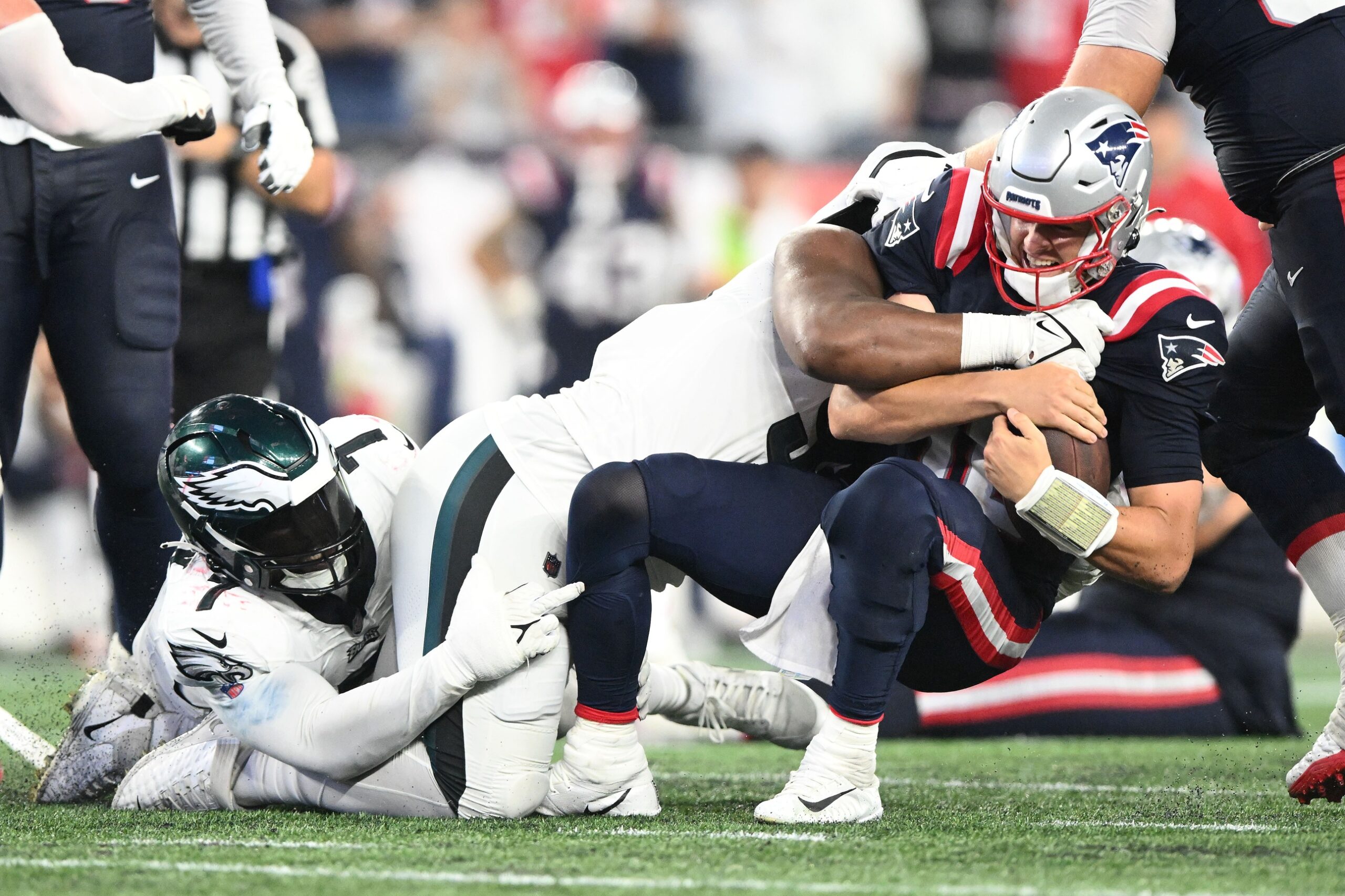 Howell holds the ball for a very long time. That will be an issue against Fletcher Cox, Jalen Carter, and Jordan Davis. And those are just the devastating names in the middle of Philadlephia's defense.
Sprinkle in the Commanders' communication issues on the back end, and the Eagles' passing attack feels primed to finally hit on some big plays downfield in Week 4.
Cincinnati Bengals at Tennessee Titans
Beasley: Bengals
Bearman: Bengals
Miller: Bengals
Morrison: Bengals
Robinson: Bengals
Ninety-four yards. Just six first downs (one by penalty). The Bengals' defense isn't as dominant as the Browns', but they have the talent and scheme to make Ryan Tannehill's life hell once again.
If Tennessee can stay in the game early, they can potentially win. However, when forced to drop back and pass the ball, they fall completely flat on their face.
It's a shame because their defense, particularly on the defensive line, is incredibly potent. If they can get to Joe Burrow early and often, Cincinnati's offense will continue to shuffle its feet.
Las Vegas Raiders at Los Angeles Chargers
Beasley: Chargers
Bearman: Chargers
Miller: Chargers
Morrison: Chargers
Robinson: Chargers
Justin Herbert played out of his mind a week ago, even without Mike Williams for a chunk of the game. Las Vegas, meanwhile, is absolutely going through it on and off the field. After a one-point win against the Broncos, they were blown out by the Bills and then beaten handily by the Steelers.
MORE: Unhappy Davante Adams Calls Out Raiders After Loss
The Raiders' defense simply doesn't have the juice to consistently make stops. Even the Steelers were able to put together a few drives and pick up first downs with relative ease.
New England Patriots at Dallas Cowboys
Beasley: Cowboys
Bearman: Cowboys
Miller: Cowboys
Morrison: Cowboys
Robinson: Cowboys
The Cowboys played an embarrassing game a week ago against the Arizona Cardinals. And while they didn't particularly show up, some real issues arose defensively. They struggle to defend against pulling linemen and sniffers in the backfield.
The Patriots are also a better football team than they've been given credit for. Their defense is legitimately talented and well-coached. Although they may lack talent, or more precisely, explosiveness offensively, they can schematically mitigate the risk of pressure against Mac Jones, which takes away the Cowboys' biggest defensive strength.
And if Dallas' red-zone woes continue, it wouldn't be shocking to see New England come away with a win.
Arizona Cardinals at San Francisco 49ers
Beasley: 49ers
Bearman: 49ers
Miller: 49ers
Morrison: 49ers
Robinson: 49ers
The 49ers, like the Cowboys the week before, are a consensus pick to beat the Cardinals. And while Arizona's defense plays with their pants on fire, the system in San Francisco is on a different level than in Dallas. And the weapons are better.
Kansas City Chiefs at New York Jets
Beasley: Chiefs
Bearman: Chiefs
Miller: Chiefs
Morrison: Chiefs
Robinson: Chiefs
In 10,000 simulations, Zach Wilson never once outplayed Patrick Mahomes.
That's not a real stat, but would you be surprised if it was? A Chiefs loss here would be far more shocking than the Cowboys' loss to Arizona a week ago. Kansas City's defense has been en fuego to start this campaign.
Seattle Seahawks at New York Giants
Beasley: Seahawks
Bearman: Giants
Miller: Seahawks
Morrison: Giants
Robinson: Seahawks
Seattle's passing attack has been absurdly efficient the past few weeks. Meanwhile, the Giants' secondary has struggled mightily so far in 2023. That wouldn't have been surprising, no matter how the season unfolded.
But because the Giants can't rush the passer well despite blitzing as much as anyone in the league, those young cornerbacks never stood a chance.
Seattle's defense is struggling. However, their struggles have come over the middle of the field in coverage. Jones and the Giants' passing offense has mostly struggled, but in Week 2, they found some success in that area of the field.