A wild Week 3 saw some big upsets, with the Colts taking down the Ravens, the Texans shocking the Jaguars, and Arizona getting its first win of the season, knocking off the Cowboys at home. The PFN betting team went 14-2 with their best bets in Week 3 and are back for more in Week 4.
Week 4 betting lines came out during Sunday Night Football. The lines this week feature six road favorites, including a team that allowed 70 points last week while laying three.
Our Betting Lines page has the freshest lines and promos to get BANG for your buck. PFN's FREE Parlay Calculator and Betting Odds Calculator are also available for your betting process! New to sports betting? Check out our guide on How to Bet on the NFL. Visit our Sports Betting Legal Tracker on how to bet legally in the U.S.
NFL Week 4 Picks and Predictions
All odds are from FanDuel Sportsbook. 
Detroit Lions vs. Green Bay Packers Odds
Spread
Lions -1.5
Moneyline
Lions -124, Packers +106
Total
45
For 45 minutes, most of us were right about the Packers losing to the Saints in Week 3. But then, Jordan Love and the offense took over, scoring the final 18 points of the game.
MORE: NFL Week 4 Betting Lines
The Lions pushed the previously undefeated Falcons around in an easy win, but this is a tougher task at Lambeau. While Detroit ended years of frustration, winning in Green Bay last year to end the Aaron Rodgers era, I lean towards the home team — who is 3-0 against the spread (ATS) this season — getting points here.
Lean: Packers +1.5
Atlanta Falcons vs. Jacksonville Jaguars Odds
Spread
Jaguars -3
Moneyline
Falcons +134, Jaguars -158
Total
43.5
The Falcons faced a step up in class last week in the Lions and didn't show up. Jacksonville, coming off a surprising loss to the Texans, will look to rebound and take control of the AFC South. I will chalk last week up to concern but not panic in Duval.
Pick: Jacksonville -3
Miami Dolphins vs. Buffalo Bills Odds
Spread
Bills -2.5
Moneyline
Dolphins +120, Bills -142
Total
53.5
If you didn't believe in the Dolphins' offense before Week 3, well, you do now. This won't be the Broncos' or Chargers' defense, but still one Miami scored 31 on in last year's playoffs with third-stringer Skylar Thompson.
Buffalo has the crown, winning the last three AFC East championships, but the gap has shrunk. Expect points in this one.
Pick: Over 53.5
Pittsburgh Steelers vs. Houston Texans Odds
Spread
Steelers -3.5
Moneyline
Steelers -170, Texans +142
Total
41
The Steelers have rebounded from a horrible Week 1 loss to the Niners with back-to-back prime-time wins. The Texans, meanwhile, shocked most people with their wire-to-wire win over the Jaguars and now are getting 3.5 points at home in this one.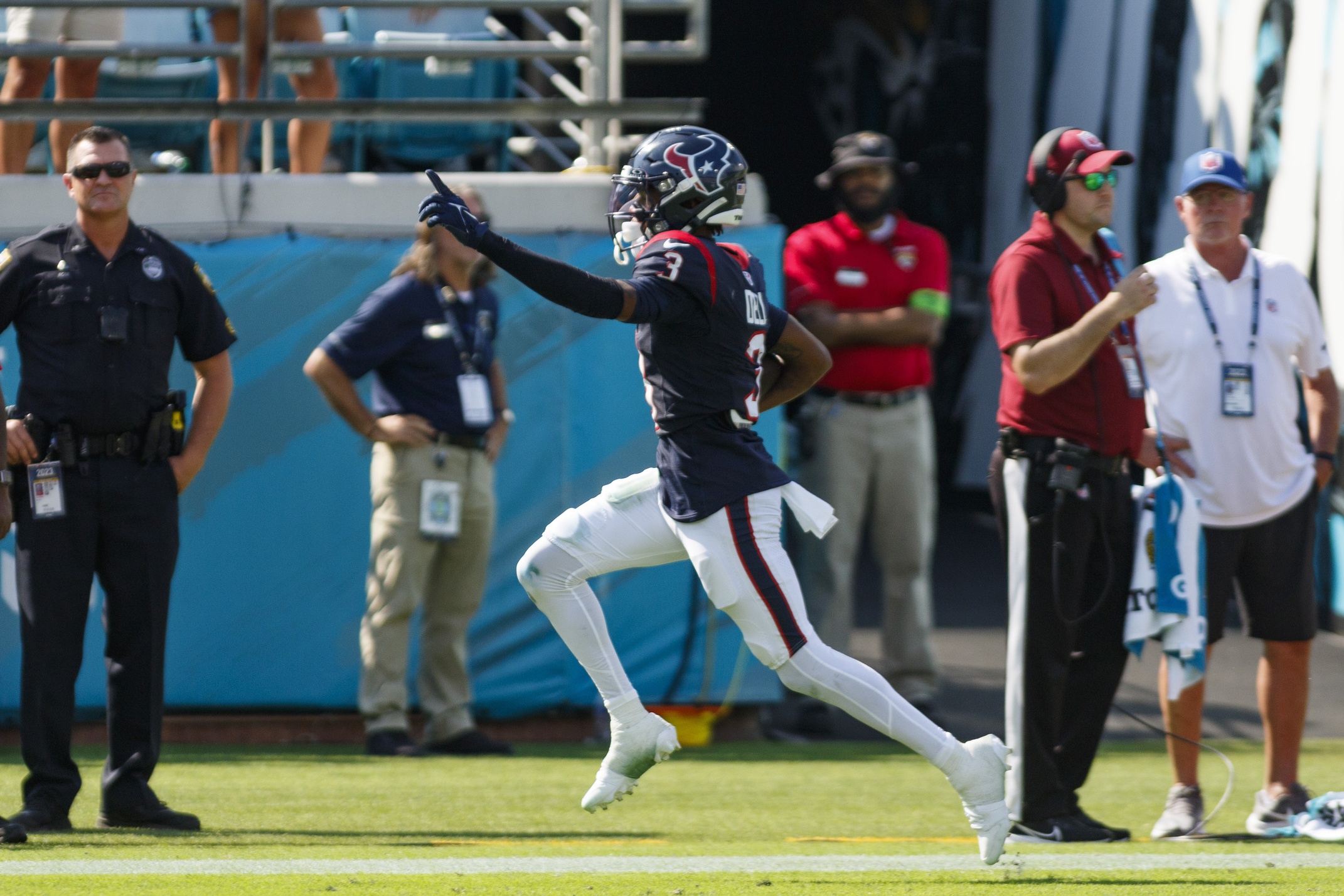 While I don't think the Texans will contend for the postseason, they can hang around in the AFC South race for a bit.
Lean: Texans +3.5
Los Angeles Rams vs. Indianapolis Colts Odds
Spread
Rams -1.5
Moneyline
Rams -112, Colts -104
Total
45.5
We will learn more about the Rams Monday night vs. the Bengals, but are you ready to lay points on the road?
MORE: Rams vs. Bengals Same Game Parlay Picks
Indy has been better than many thought under rookie coach Shane Steichen, hanging tough with the Jags and then beating Houston and Baltimore.
Lean: Colts +1.5
Minnesota Vikings vs. Carolina Panthers Odds
Spread
Vikings -3
Moneyline
Vikings -146, Panthers +124
Total
44
Unless there is a tie, one of these teams will end Week 4 with their first win of the season. The Vikings have lost all three games by one score after going 11-0 in one-score games last season.
The Panthers finally showed a pulse in Week 3 behind Andy Dalton, but the result was the same. If Dalton starts again, Carolina can win this one.
Lean: Panthers +3
Tampa Bay Buccaneers vs. New Orleans Saints Odds
Spread
Saints -3
Moneyline
Buccaneers +138, Saints -164
Total
40.5
Come January, the Saints are going to want that Green Bay game back, blowing a 17-0 lead on the road. And they lost Derek Carr.
Now New Orleans gets a Bucs team that will be coming off an MNF matchup vs. the Eagles. This game will go a long way to determining the NFC South title, which I believe the Saints will win. However, without Carr, it's now the Jameis Winston show.
Pick: Saints -3
Washington Commanders vs. Philadelphia Eagles Odds
Spread
Eagles -7
Moneyline
Commanders +275, Eagles -340
Total
44.5
The Commanders came back to earth, getting crushed at home vs. the Bills.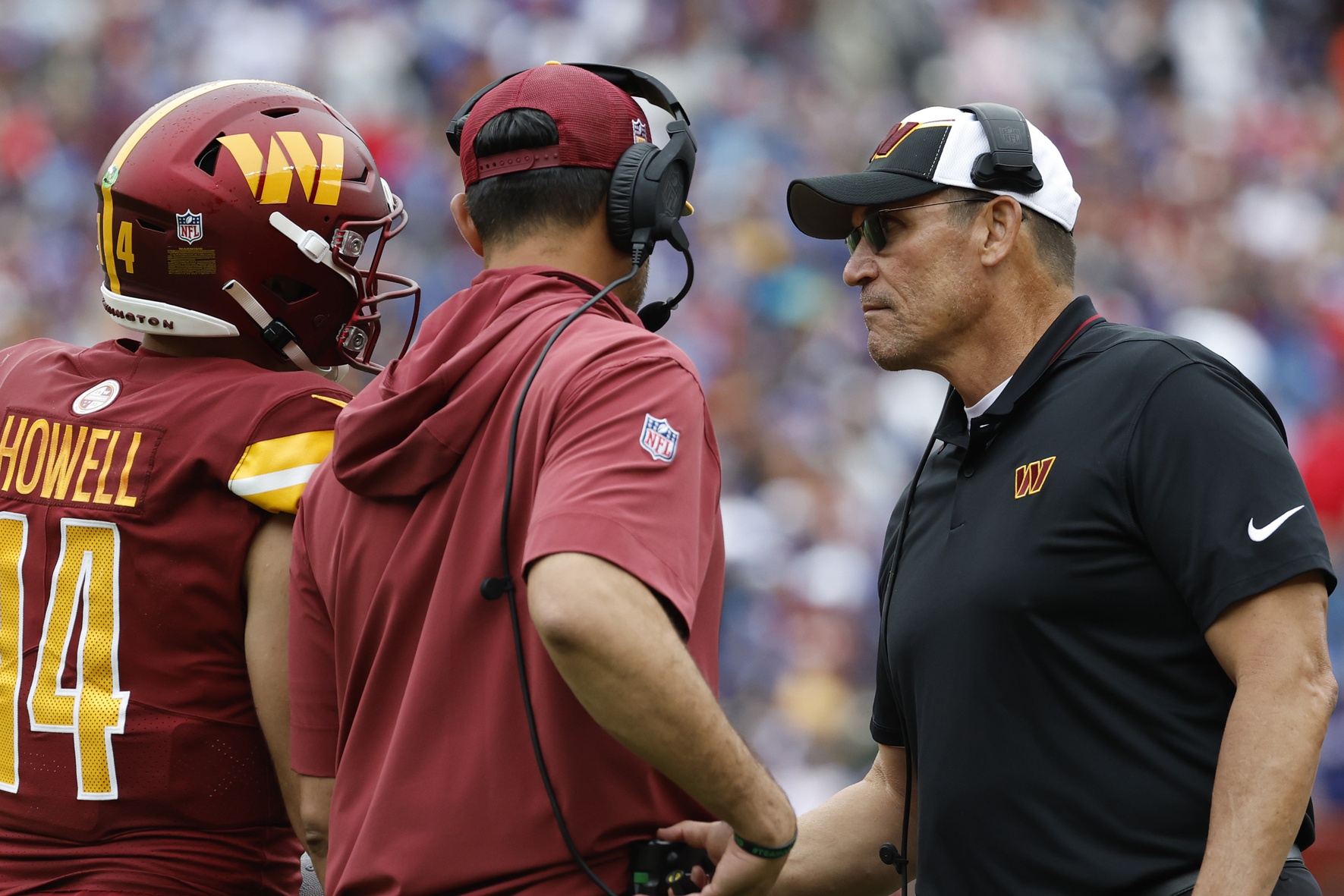 This one won't be much different on the road at Philly, though the Commanders did upset them last year to give the Eagles their first loss of the season.
Lean: Eagles -7
Denver Broncos vs. Chicago Bears Odds
Spread
Broncos -3
Moneyline
Broncos -144, Bears +122
Total
45.5
A team that gave up 70 points is a three-point road favorite this week in Chicago. Think about that. Both teams are 0-3 ATS this season, so something has to give, right?
Lean: Bears +3
Baltimore Ravens vs. Cleveland Browns Odds
Spread
Browns -1.5
Moneyline
Ravens -102, Browns -116
Total
42.5
The Browns showed the league something in Week 3's blowout of the Titans… they have a really good defense. I'm still not buying them, but the Ravens didn't look the part at home vs. the Colts, either.
Pick: Under 42.5
Cincinnati Bengals vs. Tennessee Titans Odds
Spread
Titans -1.5
Moneyline
Bengals +110, Titans -130
Total
41.5
A lot will depend on the health of Joe Burrow, who is questionable for Week 3's game vs. the Rams. Not much to question in Tennessee, where the Titans' offense has yet to show up for the 2023 season — 94 total yards!
Lean: Bengals +1.5
Las Vegas Raiders vs. Los Angeles Chargers Odds
Spread
Chargers -4.5
Moneyline
Raiders +170, Chargers -205
Total
50.5
People will be questioning Josh McDaniels' decision to settle for a field goal down eight for a long time, but he just has to look across the field to see another coach questioned at every turn, as Brandon Staley seems to have one of those questionable ones each game.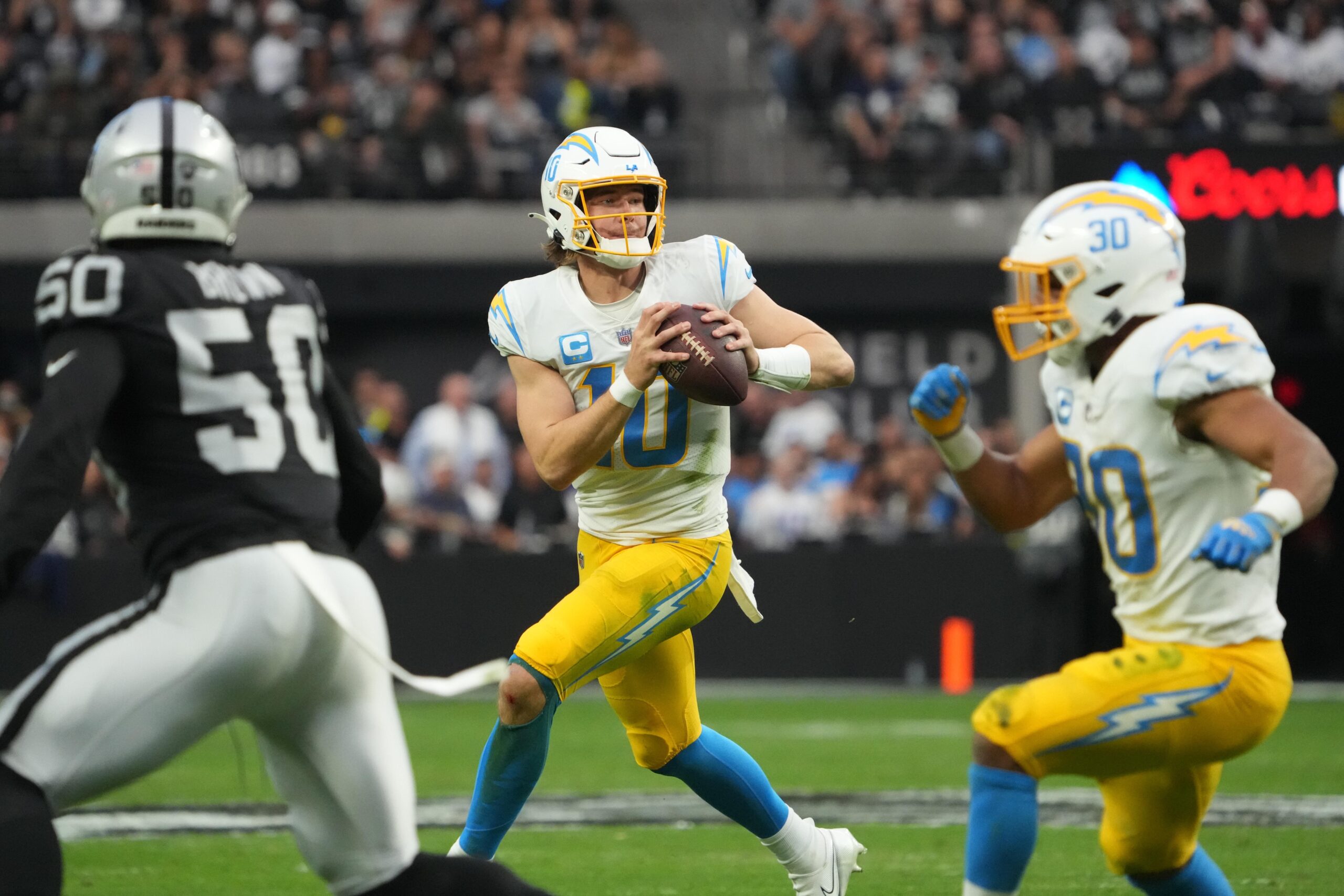 I don't want to lay points with Staley's team, and I don't have any faith left in the Raiders. I just expect enough mistakes to lead to points.
Pick: Over 50.5
New England Patriots vs. Dallas Cowboys Odds
Spread
Cowboys -6.5
Moneyline
Patriots +250, Cowboys -310
Total
42
The Cowboys definitely missed Trevon Diggs in the loss at Arizona, while the Patriots completely shut down the Jets. Was the loss a one-week thing, or is there trouble in D-town? Either way, 6.5 points is too much here.
Pick: Patriots +6.5
Arizona Cardinals vs. San Francisco 49ers
Spread
49ers -14
Moneyline
Cardinals +610, 49ers -900
Total
42
The Cardinals have been in all three games this season, leading at the half in all three, covering all three, and upsetting Dallas last Sunday. A letdown could be coming for sure, but 14 is a lot of points for a team that has hung around in each game.
Lean: Cardinals +14
Kansas City Chiefs vs. New York Jets Odds
Spread
Chiefs -8.5
Moneyline
Chiefs -450, Jets +350
Total
43.5
Without Aaron Rodgers, the Jets' offense is what we thought it would be without the future Hall of Famer… pretty bad. Meanwhile, the Chiefs clicked on all cylinders vs. the hapless Bears and should be in for more here.
Lean: Chiefs -8.5
Seattle Seahawks vs. New York Giants
Spread
Seahawks -1.5
Moneyline
Seahawks -120, Giants +102
Total
45
Two teams that are difficult to figure out that might be battling it out come January for a Wild Card spot. That's IF the Giants can get past this tough stretch, possibly without Saquon Barkley again.
The Seahawks are playing much better football, but this one fits into the "must-win" category for the Giants, already 1-2 with the Dolphins and Bills coming up after Seattle.
Pick: Giants ML (+102)