It's no secret that to own an NFL team, you need to have deep pockets and several commas in your bank account. Based on net worth, who are the NFL's richest owners, and where does the newest owner, Rob Walton, rank? Let's take a look at all 32.
Richest NFL Owners Ranked by Net Worth
Here's how the NFL's 32 owners stack up in terms of their net worth according to Forbes' Real-time Billionaires list. If an owner is not listed on the Forbes list, we have sought other sources to estimate their net worth for a complete picture across the league.
32) Green Bay Packers
Right off the bat, this is a bit of a technicality. The Green Bay Packers are the only team not to have a traditional "owner." Instead, they sell stock in the Packers, allowing fans to become pseudo-owners and shareholders. With that said, they are one of the wealthiest teams in the NFL, regardless of the dynamic.
Net worth: n/a
31) Mike Brown, Cincinnati Bengals
Mike Brown's father, Paul Brown, was the original coach of the Cleveland Browns and the founder of the Cincinnati Bengals in 1968. Mike Brown took control of the Bengals after his father passed away in August of 1991.
Brown has spent most of his adult life working within the organization, and his net worth of $925 million is based on a report from Forbes in 2015. However, he's not currently listed on the Real-Time Billionaires list at this time.
Net worth: $925 million
30) Art Rooney II, Pittsburgh Steelers
Art Rooney II's grandfather, Art Rooney Sr., founded the Pittsburgh Steelers in 1933. The Rooneys have made the majority of their wealth from the team rather than outside funds or other business ventures and are one of the most well-respected families in the NFL.
Net worth: $1.2 billion
29) Mark Davis, Las Vegas Raiders
Mark and his mother, Carol Davis, inherited the Las Vegas Raiders after Al Davis passed away in October 2011. Mark has worked exclusively for the Raiders throughout his adult life, including stints in the equipment department and retail sales, as he now finds himself at the top of the organization.
Net worth: $1.9 billion
T-27) Virginia Halas McCaskey, Chicago Bears
Much like the Rooneys, the Halas/McCaskey family has made their wealth via owning and running their NFL team and have been doing so for a very long time. Virginia's late father, George Halas, bought the Chicago Bears three years before she was born in 1920. McCaskey, 100, is the oldest owner in the league.
Net worth: $1.3 billion
T-27) Zygi Wilf, Minnesota Vikings
The Wilf family business is Garden Homes, a nationwide leader in retail, commercial, and private residential development. Zygi began work as an attorney before joining the family business and becoming head of one of the company's affiliates, Garden Commercial Properties.
The Wilfs' companies own more than 100 shopping centers and 90,000 apartment units around the country, as the Vikings are just another piece of their impressive portfolio.
Net worth: $1.3 billion
26) Michael Bidwill, Arizona Cardinals
Similar to the Steelers and Bears, the Arizona Cardinals are a family-run business. Michael Bidwill's grandfather, Charles Bidwill, bought the team in 1932. Michael was a federal prosecutor before he joined the Cardinals in 1996.
Net worth: $1.4 billion
25) Amy Adams Strunk, Tennessee Titans
Amy Adams Strunk's father, Bud, was one of the founders of the AFL and the Houston Oilers, which became the Tennessee Titans. Bud Adams made his money in the petroleum business before delving into football. Adams Strunk also founded Kenada Farms and the Little River Oil and Gas Company.
Net worth: $1.6 billion
24) John Mara and Steve Tisch, New York Giants
The Giants' situation is a bit unique. The team is co-owned by John Mara and Steve Tisch with a 50-50 share. Mara is a former labor lawyer and is the grandson of original team investor Timothy Mara and the oldest son of Wellington Mara.
MORE: List of Current NFL General Managers
Tisch is a movie producer and the son of Bob Tisch, co-founder of the Loews Corporation, which bought a 50% stake in the team in 1991 and has maintained the split since.
Net worth: Mara – $500 million, Tisch – $1.5 billion
23) Sheila Ford Hamp, Detroit Lions
A descendant of Henry Ford, Sheila Ford Hamp's family runs the massive car powerhouse, Ford Motor Company, headquartered in Michigan. Hamp took over as principal owner of the Detroit Lions in June 2020 after her mother, Martha Firestone Ford, stepped down after leading the organization. The Ford family is worth $2 billion, according to Forbes, of which Hamp is the matriarch.
Net worth: $2 billion
22) Dean Spanos, Los Angeles Chargers
In 1960, Dean's father, Alex, founded AG Spanos Companies, one of the most prominent apartment developers in the country. The company remains among America's largest family-owned businesses.
After failing to secure a new stadium in San Diego, Dean Spanos moved the Chargers to Los Angeles, where they are currently situated. The team is owned by the family, which, as a whole, is worth $2.4 billion.
Net worth: $2.4 billion
21) Jim Irsay, Indianapolis Colts
Jim Irsay's father, Robert, was a Chicago-based industrialist who built his fortune mostly on various heating and air conditioning businesses. Jim, the current owner of the Indianapolis Colts, inherited the team and his father's wealth when the latter passed away in 1997.
Robert initially bought the Los Angeles Rams in 1972 for $19 million but traded the team to Carroll Rosenbloom in exchange for the Baltimore Colts and has since controlled the Colts organization as we know it.
Net worth: $3.9 billion
20) Jeffrey Lurie, Philadelphia Eagles
In 1983, Jeffrey Lurie joined General Cinema Corporation, a major film company founded by his grandfather, Philip Smith, and headed by his uncle, Richard A. Smith. He then founded Chestnut Hill Productions in 1985, which produced a string of Hollywood movies and TV shows.
Having initially tried to purchase the Patriots in 1993, Lurie purchased the Philadelphia Eagles in May 1994 for $195 million and has been in control of the franchise since.
Net worth: $4.4 billion
T-18) Gayle Benson, New Orleans Saints
Gayle married Tom Benson in 2004. Tom was a businessman and owner of multiple car dealerships. He eventually purchased several small Southern banks and formed Benson Financial, which he sold to Norwest Corporation in 1996. In 2018, Gayle inherited the New Orleans Saints and New Orleans Pelicans following Tom's passing.
Net worth: $4.7 billion
T-18) Glazer Family, Tampa Bay Buccaneers
Malcolm Glazer was a real estate and business mogul who purchased the Tampa Bay Buccaneers in 1995. The Glazers also owned Manchester United before selling their shares in 2021, but now, they are mainly focused on the NFL and their Buccaneers franchise.
MORE: Highest-Paid Players Entering the 2023 NFL Season
At the time of his passing in 2014, Glazer owned a diverse portfolio of investments, including food service equipment, food packaging and supplies, marine protein, broadcasting, health care, property, banking, natural gas and oil, stocks, and bonds. His family inherited the team after his passing.
Net worth: $4.7 billion
17) Jimmy and Dee Haslam, Cleveland Browns
Jimmy Haslam is the CEO of Pilot Flying J, a company his father Jim founded in 1958. Haslam purchased a small stake in the Steelers in 2008 before purchasing the Cleveland Browns for $990 million in 2012. His brother, Bill, was the governor of Tennessee from 2011 to 2019.
Net worth: $4.8 billion
16) Janice McNair, Houston Texans
Janice McNair, the widow of Robert (Bob) McNair, inherited her late husband's 80% stake in the Houston Texans following his passing in 2018. In 1999, Bob sold Cogen Technologies, the largest privately owned energy cogeneration company in the world at the time, to Enron for $1.5 billion, laying the foundation for the dynamic at the top of the Texans we see today.
Net worth: $5.0 billion
15) Denise DeBartolo York and Jed York, San Francisco 49ers
Denise is the granddaughter of Edward DeBartolo Sr., an Ohio-based construction mogul and commercial real estate developer who purchased the San Francisco 49ers in 1977.
Denise also presided over the Pittsburgh Penguins during their 1990-1991 championship season, making her the third woman to serve as president of a Stanley Cup-winning team, adding to her impressive business résumé.
Net worth: $5.1 billion
14) Josh Harris, Washington Commanders
After graduating from Penn and Harvard, Josh Harris worked in mergers and acquisitions at Drexel Burnham Lambert before co-founding the alternative investment firm Apollo Global Management alongside billionaires Mark Rowan and Leon Black in 1990.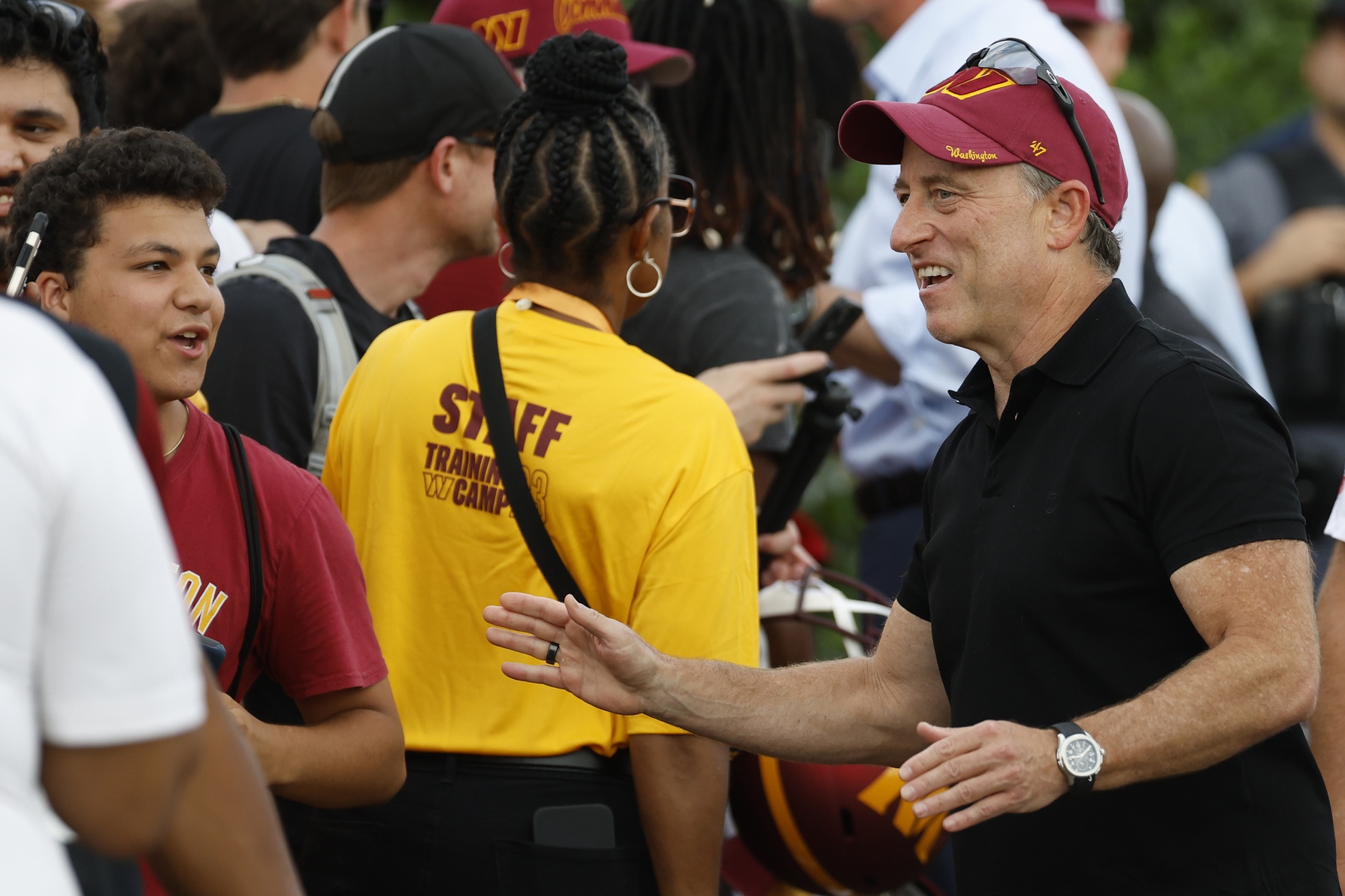 Harris stepped down from day-to-day duties at Apollo in 2021. In Sept. 2022, he founded a new asset management firm called 26North, which reportedly has more than $5 billion in assets under its control and is entering his first season as the man at the top of the Commanders franchise.
Net worth: $5.8 billion
13) Steve Bisciotti, Baltimore Ravens
Steve and his cousin, fellow billionaire Jim Davis, started what is now called Allegis Group in 1983 and turned it into the largest staffing firm in the U.S. In 2000, Biscotti purchased 49% of the Baltimore Ravens following the approval of NFL owners.
In the deal, he had the option to purchase the remaining 51% for $325 million in 2004 from Art Modell, which he exercised, setting up the power dynamic that Bisciotti currently oversees.
Net worth: $6.4 billion
12) Kim and Terry Pegula, Buffalo Bills
Terry Pegula made his fortunes in the fracking industry. He sold the bulk of the assets of his company, East Resources, to Royal Dutch Shell in 2010 for $4.7 billion. Terry and his wife Kim married in 1993 and have been in business dealings together ever since.
In 2011, they purchased the Buffalo Sabres for $189 million. In 2014, they bought the Buffalo Bills for $1.4 billion, outbidding groups led by former President Donald Trump and Bon Jovi.
Net worth: $6.7 billion 
11) Arthur Blank, Atlanta Falcons
Arthur Blank and Bernie Marcus co-founded Home Depot in 1978 after being fired from their jobs at a regional hardware store. Blank retired as Home Depot's co-chairman in 2001 and purchased the Atlanta Falcons in 2002 for $545 million, and that has been his main operation control for the last 21 years.
Net worth: $7.8 billion
10) Robert Kraft, New England Patriots
Robert Kraft sold newspapers growing up and then amassed a fortune as the owner of paper and packaging companies Rand-Whitney and International Forest Products.
He purchased the New England Patriots in 1994 for $172 million, and it has grown into one of the most popular and successful franchises in all of sports.
Net worth: $10.6 billion
9) Woody and Christopher Johnson, New York Jets
Woody and Christopher Johnson are businessmen and owners of the New York Jets. They are great-grandsons of Robert Wood Johnson and heirs to the Johnson & Johnson empire. The Johnson family was reported to be worth $10.7 billion in 2020.
Net worth: $10.7 billion
8) Stephen Ross, Miami Dolphins
Stephen Ross was a tax attorney before founding Related Companies in 1972 as an affordable housing developer. Related has developed or acquired $60 billion worth of properties since its inception. Ross also owns the Miami Dolphins and has stakes in Equinox Fitness, SoulCycle, and numerous restaurant chains.
Net worth: $11.6 billion
7) Shahid Khan, Jacksonville Jaguars
Shahid Khan is an engineer who bought Illinois-based Flex-N-Gate, an auto parts supplier, in 1980. His design for a one-piece truck bumper was key to his success, and the company now has 69 plants and more than 26,000 employees worldwide. Khan purchased the Jacksonville Jaguars in 2012. Now, he and his son, Tony, are front and center for the day-to-day operations of the Jaguars.
Net worth: $11.7 billion
6) Stan Kroenke, Los Angeles Rams
Stan Kroenke is a real estate magnate who also owns the Denver Nuggets, Colorado Avalanche, Colorado Rapids, and the Arsenal Football Club in England.
He owns some 60 million square feet of real estate, more than 1.5 million acres of ranches across the U.S. and Canada, and is married to Ann Walton, the daughter of late Walmart co-founder Bud Walton. Kroenke is one of the biggest powers in sports, with an impressive catalogue of teams under his control.
Net worth: $12.9 billion
5) Jerry Jones, Dallas Cowboys
Dallas Cowboys owner Jerry Jones made a name for himself as an oil wildcatter, making his first million in oil investments in the 1970s. Jones still invests in drilling opportunities, along with retail and residential real estate projects in Dallas, while also being one of the most powerful and polarizing owners in all of sports.
Net worth: $13.6 billion
4) Hunt family, Kansas City Chiefs
The Hunts are one of the wealthiest families in America. Clark Hunt, CEO of the Kansas City Chiefs, is the son of Lamar Hunt, who was one of H.L. Hunt's 14 children. The family remains active in the oil and gas businesses, as well as in real estate.
MORE: List of Current NFL Head Coaches
They also own FC Dallas of MLS and a minority stake in the Chicago Bulls. Lamar Hunt helped launch the American Football League, and their family played a huge part in the history of the game we know and love.
Net worth: $15.3 billion
3) David Tepper, Carolina Panthers
In 2018, David Tepper bought the Carolina Panthers for $2.8 billion. Tepper is a hedge fund manager. His Appaloosa Management hedge fund firm now manages nearly $13 billion in assets.
Net worth: $18.5 billion
2) Jody Allen and the Paul G. Allen Trust, Seattle Seahawks
Jody and Paul Allen were once considered the richest owners in the NFL. Paul Allen, who passed away in 2018, co-founded Microsoft with Bill Gates. At the time of his passing, he owned the Seattle Seahawks, Portland Trail Blazers, and was part-owner of the Seattle Sounders.
Jody is currently the chairwoman of the Seahawks. Her family's estimated net worth is around $20.3 billion.
Net worth: $20.3 billion
Who Is the Richest NFL Owner?
The Denver Broncos have been sold to the Walton-Penner ownership group. The group led by Walmart heir Rob Walton, Greg Penner, and Carrie Walton-Penner, and including limited partners Mellody Hobson, Condoleezza Rice, and Lewis Hamilton, will be the Broncos' first new owners in 38 years.
Now that the sale has been made official, Walton is considered the richest owner in the NFL by net worth. According to Forbes, Walton's net worth is $59 billion, which makes him twice as rich as any of the other NFL ownership groups.
Net worth: $59.8 billion