Last week, our betting experts went a combined 6-3 in making picks on NFL preseason games. Pretty, pretty, pretty good! Let's see if they can carry over their momentum and continue giving out winners. Our NFL betting experts, Chief Content Officer David Bearman, Betting Director Brian Blewis, and Betting & Fantasy Analysts Jason Katz and Kyle Soppe, give out their Week 2 preseason picks and predictions.
All the NFL betting odds at a moment's notice — visit our Betting Lines page, bookmark now, and always get the best line and bang for your buck. Our FREE Parlay Calculator and Betting Odds Calculator are also available for your betting process!
Looking to get in on the action this NFL preseason? Click on one of these sportsbook sign-up offers and place your bets!
NFL Week 2 Preseason Picks and Predictions
All odds from DraftKings Sportsbooks unless noted otherwise
New Orleans Saints (-3.5) vs. Los Angeles Chargers
Blewis: After Chargers head coach Brandon Staley's decision to play the starters in a meaningless Week 18 game last season backfired tremendously, will he ever make that mistake again?
A little-known fact is that Justin Herbert hasn't played a single preseason snap in his short NFL career. The preseason was canceled during his rookie year due to the pandemic, and Staley didn't want to put him at risk the previous two years.
I'm expecting that to still be the case and not see Herbert tonight, despite having a new scheme under new offensive coordinator Kellen Moore to get acclimated to.
The Saints played all of their starters last week, and they looked impressive. Derek Carr looked sharp, leading the Saints to a touchdown on the opening drive, and the defense held Patrick Mahomes scoreless in his one series. That makes me confident that they won't see many starters, if any, tonight.
I'm expecting both coaches to be conservative in this one, which makes me think this will be a low-scoring game. Give me the under.
Pick: Under 37.5 points (-110)
Place your NFL MVP bet using this widget!
NFL Preseason Week 2 Recap
Current Week 2 Record: 9-3-2
Cleveland Browns vs. Philadelphia Eagles (-3.5)
Final score: 18-18 tie
In a bizarre game where both teams struggled to find the end zone in the first half, we saw our first overtime tie of 2023. Browns rookie QB Dorian Thompson-Robinson continued to impress in this one, as did Eagles rookie QB Tanner McKee. Veteran QB Marcus Mariota struggled mightily for the Eagles, however, going 9 of 17 for 86 yards and one interception.
The star of the evening was Browns WR Austin Watkins Jr., an undrafted free agent in 2021. Watkins had seven receptions for 139 yards and a touchdown. For the Eagles, RB Trey Sermon had a 33-yard touchdown run, and rookie pass rusher Nolan Smith had an impressive outing before leaving the game with an injury.
The Browns covered the spread, and the under of 36.5 points just barely hit.
Our analysts went 1-0-1 picking this game, with Jason Katz winning his pick of Browns first half +3.5 (-110) and Kyle Soppe pushing on Browns ML (+154) after these teams tied and there not being any overtime in the preseason.
Carolina Panthers vs. New York Giants (-3)
Final score: Giants 21, Panthers 19
The Giants' starters played in the beginning of this game and absolutely dominated the Panthers. QB Daniel Jones led a near-flawless opening drive, connecting with TE Daniel Bellinger for a touchdown. Giants fans also got a first look at the Jones-to-Darren Waller connection, with Waller going for three receptions for 30 yards in limited action.
It was a struggle yet again for No. 1 overall pick Bryce Young, throwing for just 35 yards on six attempts. Giants DE Kayvon Thibodeaux got to him with a sack early in the first quarter.
The Giants had a 21-3 lead at halftime but then got shutout in the second half. The Panthers' backups put up 16 second-half points, including a 20-yard touchdown pass from Jake Luton to Gary Jennings Jr. with 6:47 remaining.
That fourth-quarter touchdown and their stout defense in the second half helped our analysts win their bets, as both David Bearman and Brian Blewis had the Panthers +3. After being down 18 points, what a miraculous cover!
Cincinnati Bengals vs. Atlanta Falcons (-6.5)
Final score: 13-13 tie
Another tie in the preseason!
This was a very low-scoring affair, with just one touchdown in the entire game. The first-team Atlanta Falcons offense had a chance to score on the opening drive of the game until a Desmond Ridder pass attempt was deflected and eventually intercepted inside the Bengals' 5-yard line.
This was our first look at rookie RB Bijan Robinson, who had four carries for 20 yards. His first carry of the game was an impressive 12-yard run, reminding us why he was drafted so high this past spring.
Kyle Soppe's best bet for this game was never a sweat, with under 38.5 points cashing easily.
Detroit Lions vs. Jacksonville Jaguars (-4)
Final score: Jaguars 25, Lions 7
This was a battle of the backups, with the Jaguars winning easily.
Jacksonville's backup quarterbacks far outplayed Detroit's backups, combining for 254 passing yards compared to just 96 yards through the air for the Lions.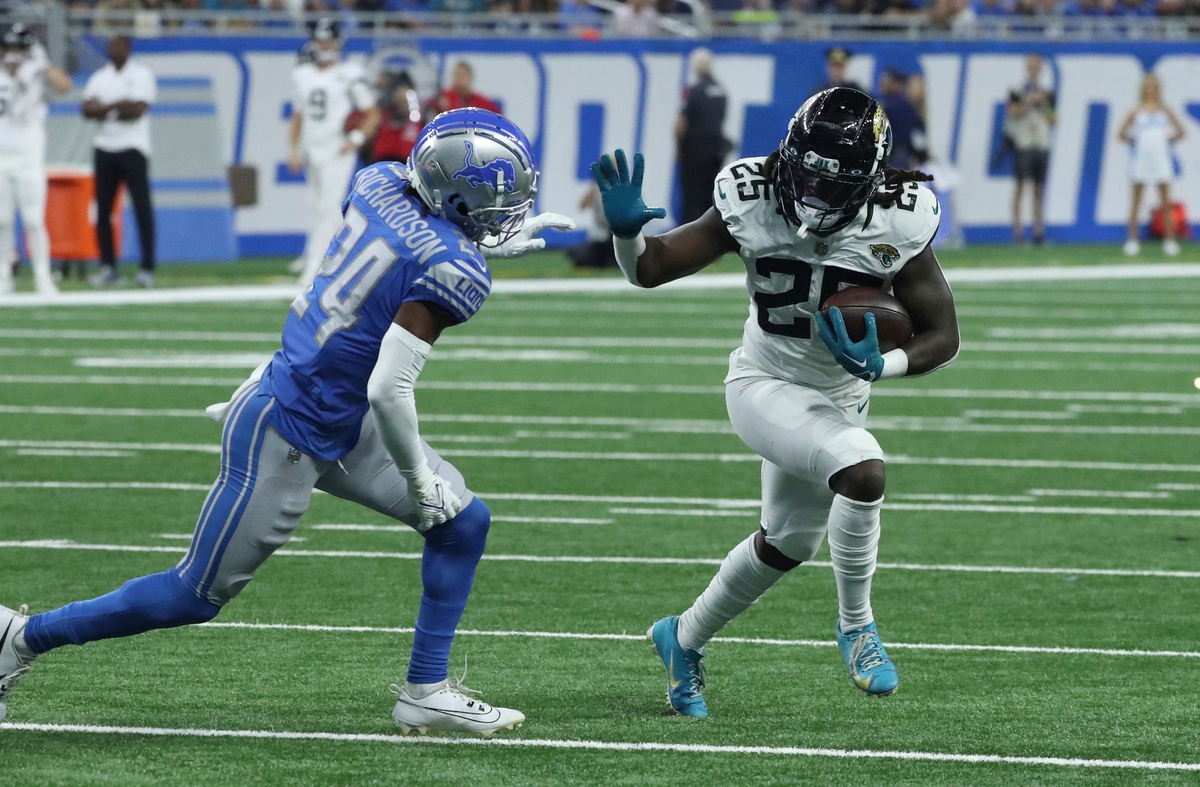 Veteran RB D'Ernest Johnson ran for two rushing touchdowns, and rookie RB Tank Bigsby had 13 carries for 70 yards.
Our best bet for this one was under 39.5 points. Another winner!
Place your bet on this year's Super Bowl winner directly on the widget below!
Miami Dolphins vs. Houston Texans (-1)
Final score: Dolphins 28, Texans 3
The Dolphins' starters played in the beginning of this one, and the very first play of the game was an interception thrown by Tua Tagovailoa. The Dolphins' first-team offense bounced back the next drive, however, marching 93 yards down the field for a touchdown.
No. 2 overall pick QB C.J. Stroud went 7 of 12 for 60 passing yards until backup QB Davis Mills took over for the rest of the game. The Texans' offense struggled mightily, however, failing to score a touchdown.
Veteran RB Salvon Ahmed had a big day running the football, going for 12 carries and 99 yards. Unfortunately for the Dolphins, rookie RB Devon Achane was carted off the field with a shoulder injury.
Our pick for this game was Texans -3 (before the line moved in the opposite direction), and it was our first loser of the week.
Buffalo Bills (-1) vs. Pittsburgh Steelers
Final score: Steelers 27, Bills 15
This was a game dominated by the Steelers. They had a 21-0 lead at halftime and led 27-0 entering the fourth quarter until the Bills finally got on the board, scoring 15 consecutive points.
The highlight of the game was a 62-yard touchdown run by Steelers RB Jaylen Warren. Pittsburgh's starting QB Kenny Pickett played the first two drives of the game and threw a touchdown pass to TE Pat Freiermuth in his final series.
Our analysts went 1-1 on this game, with David Bearman winning on Steelers -2.5 (before the line moved in the Bills' direction) and Jason Katz on Bills -0.5 first half. Two easy wins!
Chicago Bears vs. Indianapolis Colts (-5)
Final score: Colts 24, Bears 17
Another game featuring primarily backups!
No. 4 overall pick Anthony Richardson sat out this one, with Gardner Minshew and Sam Ehlinger taking the snaps at quarterback for the Colts. No surprise we didn't see Justin Fields and the first-team Bears offense after their stellar performance last week.
The Colts' backup quarterbacks had an impressive day, going a combined 22 of 29, 220 yards, and a touchdown pass from Minshew. Ehlinger even led the team in rushing with 60 yards and a score.
PFN Betting & Fantasy Analyst Kyle Soppe cashed his Colts -3.5 bet in this one, which looked like it was in jeopardy entering the fourth quarter. Down 17-7, the Colts scored 17 consecutive points to win the game and cover the spread.
Tampa Bay Buccaneers vs. New York Jets (-2.5)
Final score: Buccaneers 13, Jets 6
The Jets' defense was dominant yet again in this one, with three sacks and allowing just one touchdown. But the Buccaneers defense was even more impressive, holding the Jets to just six points and 4.8 yards per passing attempt.
With Baker Mayfield sitting out this one and Kyle Trask getting the majority of the Buccaneers' snaps at quarterback, it appears Mayfield has already won the starting job. Trask had a solid outing, going 20 of 28 for 218 yards and a touchdown.
Our best bet for this game — Jets (-2.5) from Brian Blewis — lost. Robert Saleh entered this game with a 6-1-1 record straight up in the preseason (including the Hall of Fame Game), but the Jets' second and third-team offense unfortunately couldn't get anything going.
Tennessee Titans (-2) vs. Minnesota Vikings
Final score: Titans 24, Vikings 16
This was a game dominated by the Titans' rushing offense, with 40 carries, 281 yards, and two touchdowns, including a 55-yard TD run from rookie Julius Chestnut.
Malik Willis played the entire game at quarterback for Tennessee with mixed results. He threw for just 85 yards on 17 attempts but had 91 yards rushing.
Vikings RB Ty Chandler, who is the primary backup in Minnesota at the moment, had 11 carries for 24 yards.
Soppe and Bearman each took the Titans to win and cover in this one, as Vikings head coach Kevin O'Connell still has yet to beat the spread in a preseason game.
New England Patriots vs. Green Bay Packers (-3)
Final score: Patriots 21, Packers 17
This game was called early, ending with 10:29 remaining in the fourth quarter after Patriots CB Isaiah Bolden was carted off the field.
Both teams played their starters in the beginning of the game. First-year starting quarterback Jordan Love was impressive, going 5 of 8 for 84 yards and a 19-yard touchdown pass to rookie WR Jayden Reed.
With this game ending early, our best bet of Packers -3 officially pushes.