On a night that saw an astonishing five injuries, the Philadelphia Eagles and Cleveland Browns didn't see many positives in what became a rather sloppy Thursday night preseason game.
But there was nothing about the "S" word that applied to Dorian Thompson-Robinson — who continued to be the talk of Browns preseason and may have threatened the QB2 spot behind Deshaun Watson.
NFL World Reacts to Another Strong Dorian Thompson-Robinson Performance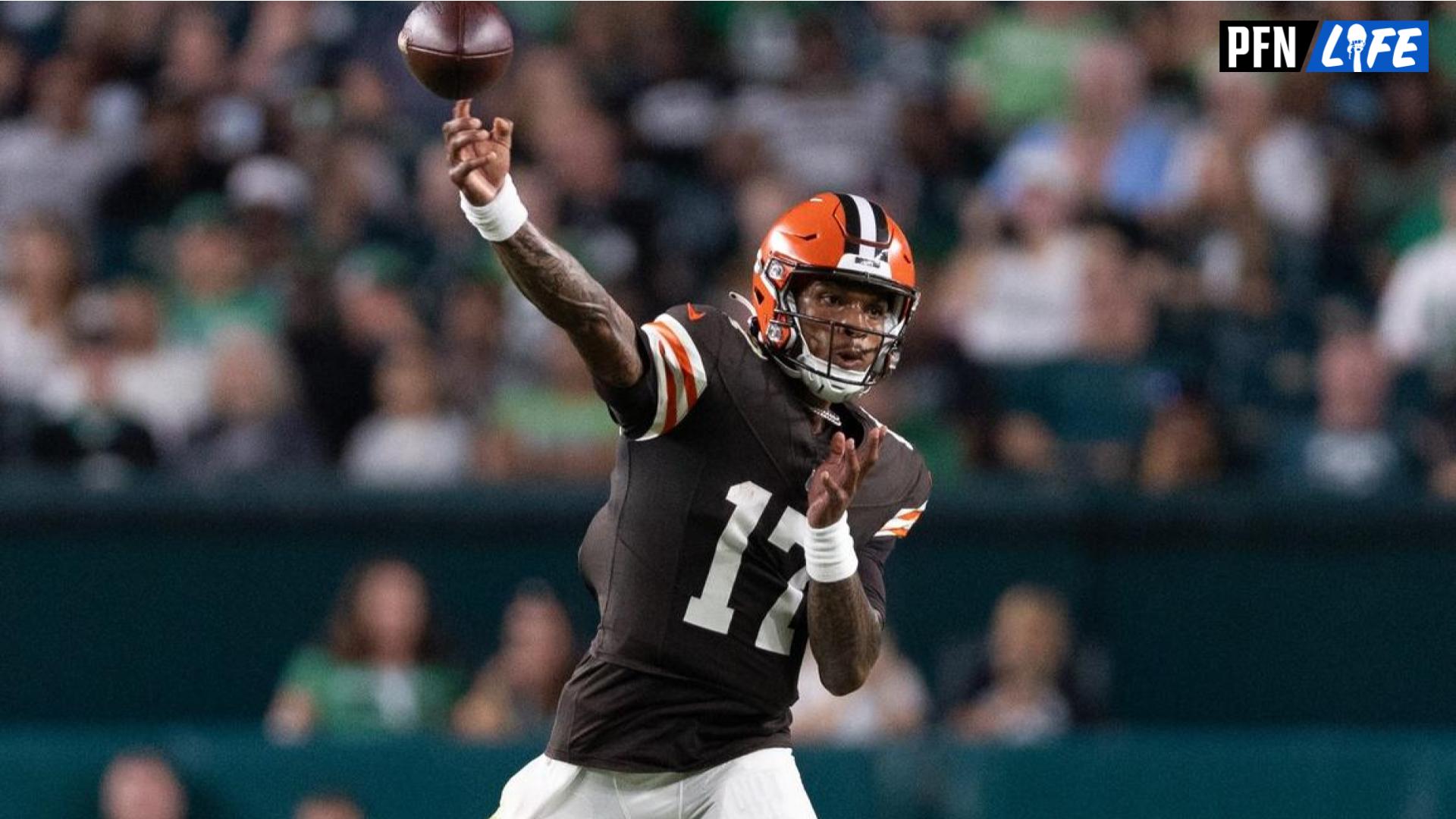 Thompson-Robinson already showcased his electric ability as a runner and thrower in the team's first preseason game against the New York Jets — which saw 118 total yards through the air and ground in the 21-16 win. He then completed all but one pass against the Washington Commanders by going 9 of 10 in the 17-15 loss.
But "DTR" showed another rare trait that won over fans who spent their near three hours watching that contest: His blocking ability.
Though called for an illegal blindside block, the rookie quarterback laid out one Eagles defender…sparking a "Dorian Thompson-Robinson is a DAWG" response from Bussin With the Boys:
A quarterback just got called for an illegal blindside block. Never seen that before but Dorian Thompson-Robinson is a DAWG
pic.twitter.com/2Q7LN336Yy

— Bussin' With The Boys (@BussinWTB) August 18, 2023
But that smack wasn't his lone highlight of the evening. One of DTR's earliest throws was this sailing dime to another member of the same rookie class, Cedric Tillman, which racked up 36 yards.
Former UCLA quarterback Dorian Thompson-Robinson continues to shine in preseason.#NFL #preseason #Browns #DTR pic.twitter.com/Q4Ixvvo1Yz

— Sports Betting Intel (@SB_Intel) August 18, 2023
Thompson-Robinson wasn't through. He connected on a pair of 20+ yarders to Austin Watkins — one for 22 yards and the other 27.
With getting a bulk of the quarterback snaps, the former UCLA Bruins five-star signing went on to finish with 13 of 25 passing for 164 yards. He additionally added four carries for 18 yards and averaged more than four yards a carry. From there, conversations about DTR ascending up the roster began to take shape.
Is DTR a Legitimate No. 2 Now Behind Deshaun Watson?
Before the season, well-traveled journeyman Josh Dobbs was considered the backup option to Watson.
But considering the way Thompson-Robinson has taken advantage of his NFL opportunity, he's playing as if he wants to be the first guy who takes over for Watson if there's an injury.
Against the Jets, Thompson-Robinson completed 8 of 11 of his throws for a total of 82 yards. Again, the Washington game saw just one misfire pass. Now, with head coach Kevin Stefanski allowing the rookie to start and take most of the reins, DTR went on to deliver seven completions of more than 10 yards. The praise surfaced for him, including from NFL Network personality Andrew Siciliano.
DTR is the real deal.

— Andrew Siciliano (@AndrewSiciliano) August 17, 2023
Former NFL lineman Mike Golic Jr. from DraftKings decided to give the Browns QB a new nickname:
more like DEALING Thompson-Robinson

— Mike Golic Jr (@mikegolicjr) August 17, 2023
Even former Cleveland sports reporter for ESPN Danny Cunningham gave DTR this ranking:
I'm ready to say DTR is a top five Browns QB since '99 after that drive.

— Danny Cunningham (@RealDCunningham) August 17, 2023
Needless to say, Thompson-Robinson delivered highlight-worthy plays on a night where there were limited highlights and unfortunate pauses of action due to injuries. If he isn't officially the QB2 behind Watson, then DTR surely positioned himself to make the final 53-man roster once the preseason concludes.