The New Orleans Saints wasted little time in addressing the major weakness of a team that finished 7-10 in 2022. After signing quarterback Derek Carr this offseason, the Saints are hoping they can get back to the playoffs after a two-year drought. Let's dive into the best and worst-case scenarios for the Saints' 2023 season.
Predicting the Best-Case Scenario for the Saints' 2023 NFL Season
The Saints hope to be this year's version of the Philadelphia Eagles. The Saints, like the Eagles a year ago, have an elite defense and a strong surrounding cast around their quarterback but face questions about their coaching staff and QB. The Eagles responded resoundingly last year, reaching the Super Bowl after a dominant regular season.
New Orleans' win total at DraftKings Sportsbook is 9.5, and they're -180 to make the playoffs. It should help that the Saints have the easiest schedule in the league. The question is, how far can they go? There's not that same optimism around the upside of the Saints despite this being a team adding a quality veteran quarterback in Derek Carr.
Carr is coming off a down season where the Las Vegas Raiders inexplicably lost nine one-score games. His completion rate, yards per game, and interception rate were either the worst or second-worst marks of his career. However, it's possible that Josh McDaniels simply misused Carr and is a bad head coach in general.
Carr ranked fifth in deep-ball attempts and second in air yards per attempt last year despite the Raiders dealing with injuries to Hunter Renfrow and Darren Waller throughout the season.
MORE: New Orleans Saints 2023 Season Preview
Despite having a strong arm, Carr is at his best as a short and intermediate passer who takes care of the ball. Here is where Carr ranks among the 55 quarterbacks with at least 1,000 pass attempts since his 2014 rookie year (playoffs included):
64.4% pass completions (24th)
7.1 yards per pass attempt (32nd)
4.3% touchdown pass rate (31st)
2.0% interception rate (17th lowest)
91.5 passer rating (27th)
5.06% sack rate (13th lowest)
6.39 adjusted net yards per pass attempt (23rd)
Carr has been durable with a minimal injury history. He has above-average accuracy and ball security, and he can get the ball out on time better than most. But finishing drives in the end zone and with more touchdown passes has often been an issue, so his overall stats are close to average in this sample of quarterbacks.
In many ways, Carr has been atop the "average" range of quarterback rankings for the better part of his career despite impressive physical tools. Sure enough, Carr finished 2022 ranked No. 14 in ESPN's QBR metric for the second year in a row. Even getting that production from Carr is a big jump from what Jameis Winston and Andy Dalton gave the Saints last year.
MORE: Best NFL Offenses | Best NFL Defenses
New Orleans also brought in Jon Gruden to help get the most out of Carr this season. At best, Carr will lead a more dynamic offense that has a healthy Michael Thomas, Chris Olave, Juwan Johnson, and Alvin Kamara. Role players like Rashid Shaheed, Kendre Miller, and Jamaal Williams can help the offense survive any time missed by their stars.
Kamara may be suspended for six games if the NFL's history proves predictive, but the Saints have enough weapons to endure his absence. Thomas has played in only 10 games since 2019 but was electric in the three contests he played in 2022. Few teams have the high-end talent around their quarterback as the Saints do.
They also have a very good offensive line, and their defense ranked ninth in points allowed and fifth in yards allowed despite their offense's inability to help them throughout the year. New Orleans can be a deep playoff contender in the NFC, with only Dallas, San Francisco, and Philadelphia sitting as teams clearly ahead of their upside right now.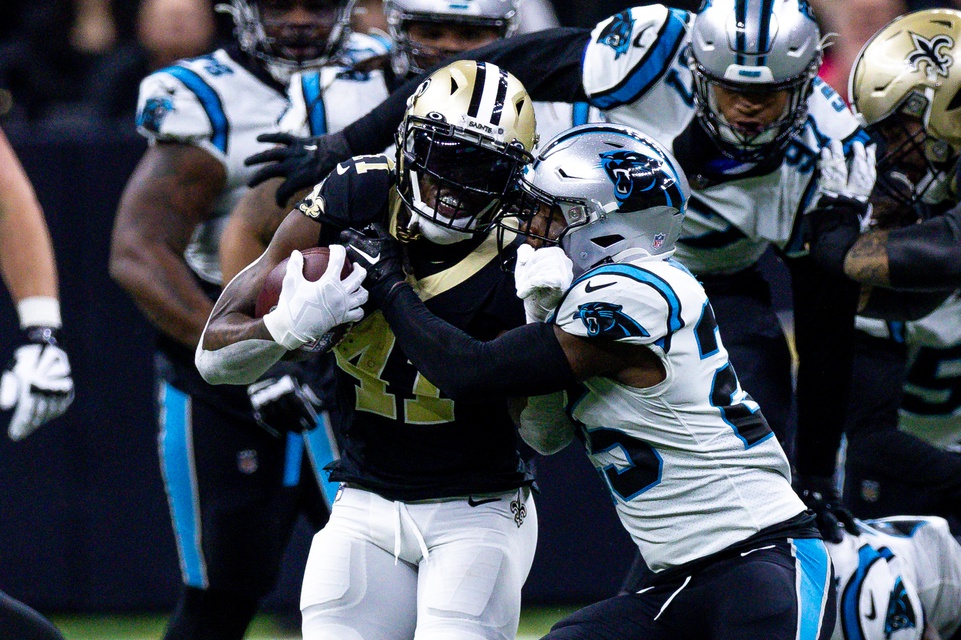 Predicting the Worst-Case Scenario for the Saints' 2023 NFL Season
The Saints have been banking on some high-risk, high-reward players with varying levels of success. Thomas and Kamara are at the forefront of that discussion entering this year, and even Carr isn't a lock to be anything more than a younger version of Dalton.
Thomas was "still going through some of the rehab process" in mid-May, per head coach Dennis Allen. Another setback could easily knock Thomas out for the season, considering how his last three years have quickly become irrelevant. And with Kamara all but certain to be suspended, the Saints could go from a feared offense to one overly reliant on Olave and Carr to produce if others can't fill the gaps.
Carr's own performance will be under the microscope. If his decline was more of a result of physical decay than the Raiders' issues, then the Saints' upside is similar to their 2022 season. Like Dalton last year, Carr's numbers can be more of an empty-calorie situation than any bit substantive. The Saints' defense can't afford a slide back either.
It's a physical and fast unit that wisely added help along the front four with first-round defensive tackle Bryan Bresee and edge rusher Isaiah Foskey. The unit ranked dead last in pass-rush win rate last year, so both players and 2021 first-rounder Payton Turner can't be no-shows in 2023. Internal growth from those three players and from linebacker Pete Werner and cornerbacks Paulson Adebo and Alontae Taylor will be huge storylines for what this defense can become.
MORE: New Orleans Saints 2023 Schedule
They have scary potential with their speed and athleticism, but their youth was detrimental throughout 2022 as they gained experience. Allen has to get the defense to create more havoc more often. This team's worst-case scenario includes suffering through another season of a benign offense and stepping back from the defense we saw in 2022.
While the youth movement was needed, it was a risky transition. New Orleans could again fail to make the playoffs and would then face an offseason with major changes likely coming throughout the organization.