The New Orleans Saints are favorites to win their division, according to DraftKings Sportsbook, and the major decisions they've made to secure themselves ahead of their division rivals are a big part of it.
Still, the Saints may have gained only slightly more than they lost. They could be contenders for a favorable playoff position, but they could just as easily see the bottom fall out.
Everything You Need Ahead of the New Orleans Saints 2023 NFL Season
In a weak NFC South, the Saints are the only team that knows that they've made an upgrade at quarterback and have an opportunity to take the division. That said, it's difficult to predict how they'll do because there are so many unknowns on their roster.
Nevertheless, one imagines that their bold move to secure a quarterback and the hope for a healthier roster should mean an improved outcome. If Pete Carmichael really is the heir to Sean Payton as an offensive mind, and Dennis Allen and Joe Woods can keep the defense consistent, then they should have an inside track to the playoffs.
Saints Roster Changes
The Saints experimented a bit at QB over the past two seasons but have functionally decided to end the Taysom Hill and Jameis Winston projects in favor of a proven veteran.
MORE: FREE NFL Mock Draft Simulator With Trades
There was some buzz about potentially pursuing Lamar Jackson or finding some means of trading up in the draft, but, ultimately, it was pretty clear that they wouldn't explore either of those options seriously, given the nature of the free agency market. Derek Carr may not be their "quarterback of the future" in a long-term sense, but he will be their quarterback for now, and that might just be enough.
Players Signed/Claimed

QB Derek Carr
WR Bryan Edwards
RB Jamaal Williams
TE Foster Moreau
TE Miller Forristall
G Koda Martin
OT Storm Norton
DT Khalen Saunders
DT Nathan Shepherd
DT Malcolm Roach
LB Ryan Connelly
CB Troy Pride
CB Lonnie Johnson Jr.
CB Ugo Amadi
S Jonathan Abram
K Alex Quevedo

Players Drafted

DT Bryan Bresee
ED Isaiah Foskey
RB Kendre Miller
OT Nick Saldiveri
QB Jake Haener
S Jordan Howden
WR A.T. Perry

Players Cut/Released

QB Lake Luton
RB Derrick Gore
WR Sy Barnett
CB Vincent Gray

Players Traded Away
Players With Expired Contracts

QB Andy Dalton
WR Jarvis Landry
WR Deonte Harty
WR Marquez Callaway
RB Mark Ingram
RB David Johnson
RB Dwayne Washington
TE Nick Vannett
OT Ethan Greenidge
DT David Onyemata
DT Shy Tuttle
DT Albert Huggins
ED Marcus Davenport
ED Kentavius Street
LB Kaden Elliss
LB Chase Hansen
CB P.J. Williams
CB Chris Harris Jr.
S Daniel Sorensen
S Justin Evans
The Saints didn't make many active moves to get rid of players but nevertheless found a way to resurface their offense by allowing three receivers, a running back, and their starting quarterback from last year to walk.
Their confidence in 2022 rookies Chris Olave and Rashid Shaheed allowed them to maintain their skill corps, but with a potential upcoming suspension for Alvin Kamara, they will have to rely on an unknown, rookie Kendre Miller, to take on a big role alongside free agent running back Jamaal Williams.
On defense, the entire front, aside from Cameron Jordan, is gone, as are rotational players in the back seven, including linebacker Kaden Ellis and cornerback P.J. Williams. They'll have to hope for a healthier secondary in 2023 and immediate dividends from first and second-round picks Bryan Bresee and Isaiah Foskey.
New Orleans Saints Coaching Staff in 2023
Head Coach: Dennis Allen

Assistant to the Head Coach: Mike Martinez

Offensive Coordinator: Pete Carmichael

Senior Offensive Assistant: Bob Bicknell
Pass Game/Quarterbacks: Ronald Curry
Running Backs: Joel Thomas
Wide Receivers: Kodi Burns
Offensive Line: Doug Marrone
Offensive Line Assistant: Kevin Carberry
Tight Ends: Clancy Barone
Offensive Assistant: Jahri Evans
Offensive Assistant: Kevin Petry
Offensive Assistant: Jordan Traylor
Offensive Assistant: D.J. Williams
Defensive Coordinator: Joe Woods

Senior Defensive Assistant: Peter Giunta
Linebackers: Michael Hodges
Pass Rush: Brian Young
Defensive Line: Todd Grantham
Secondary: Marcus Robertson
Defensive Assistant: Adam Gristick
Defensive Assistant: Sterling Moore

Special Teams Coordinator: Darren Rizzi

Assistant Special Teams: Phil Galiano
The Saints have had to change defensively as a result of Ryan Nielsen and Kris Richard's attention in the hiring cycle as potential head coaches. Neither ended up taking a head-coaching job, but Nielsen moved on from being a co-defensive coordinator with Richards to being the sole coordinator of the defense in Atlanta.
Richard and the Saints parted ways soon after Nielsen took the Falcons job after an apparent difference in the way they viewed personnel and defense — untenable for a coach that was considered for a role elevation to defensive coordinator, given how much control head coach Allen has over the defense.
Instead, they hired Joe Woods to be the defensive coordinator, added Todd Grantham to take on defensive line duties in Nielsen's stead, and Marcus Robertson to take over the secondary after parting ways with Richard and assistant secondary coach Cory Robinson.
MORE: Best NFL Offenses | Best NFL Defenses
Both Dan Roushar and Zach Strief took offensive line coaching jobs, with Roushar becoming the offensive line coach at Tulane and Strief becoming the offensive line coach in Denver, leaving New Orleans in need of a tight ends coach and more offensive assistants.
They hired longtime tight ends coach Clancy Barone for that role and added a slew of offensive assistants, including a number of former players in the mold of Strief, like Jahri Evans.
Predicting the New Orleans Saints Depth Chart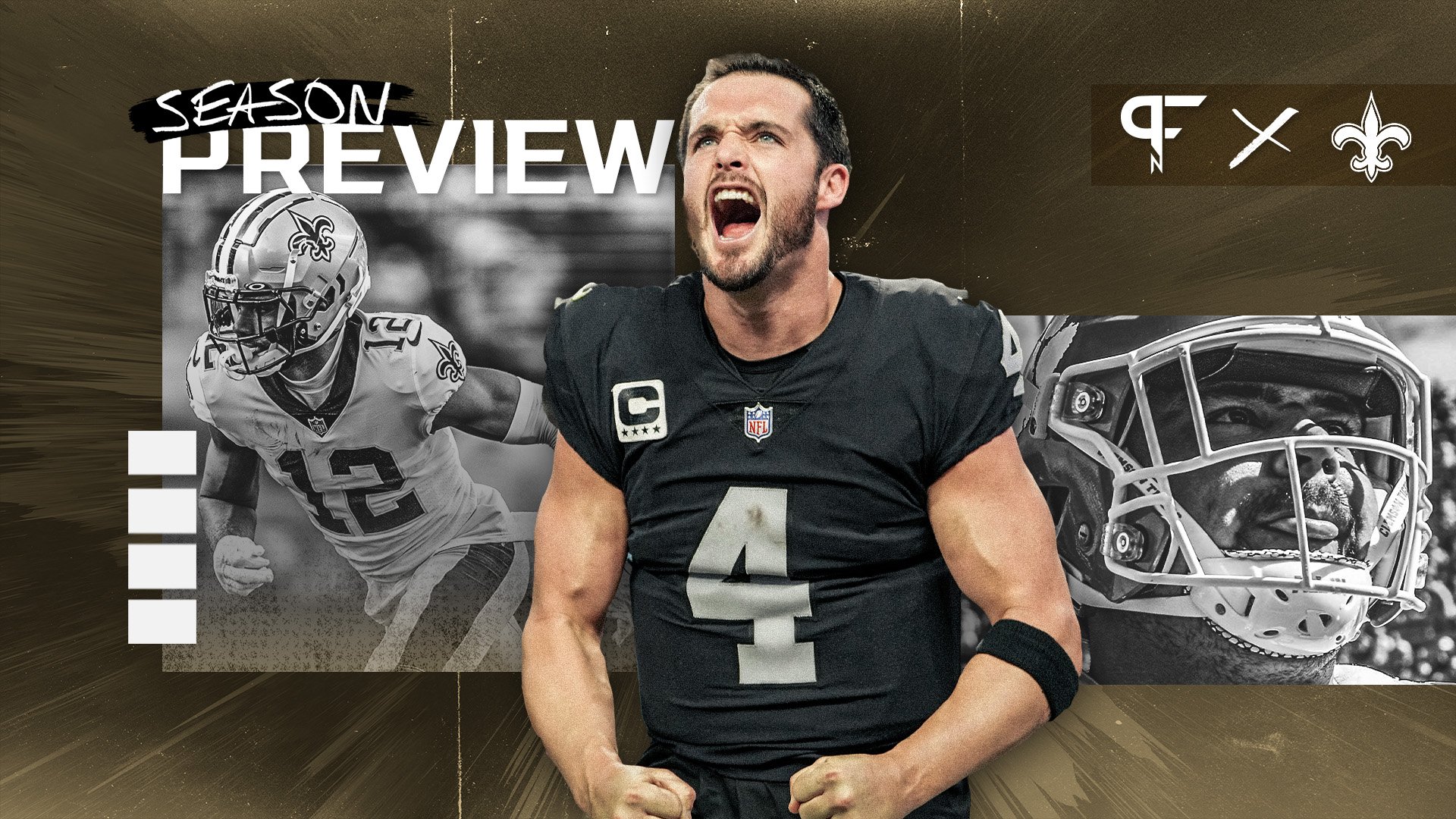 QB: Derek Carr, Jameis Winston, Jake Haener
WR: Chris Olave, Michael Thomas, Rashid Shaheed, AT Perry, Tre'Quan Smith, Bryan Edwards
RB: Alvin Kamara, Jamaal Williams, Kendre Miller
FB: Adam Prentice
TE: Juwan Johnson, Foster Moreau, Taysom Hill
LT: Trevor Penning, James Hurst
LG: Andrus Peat, Calvin Throckmorton
C: Erik McCoy
RG: Cesar Ruiz
RT: Ryan Ramczyk, Nick Saldiveri, Storm Norton
EDGE: Cameron Jordan, Tanoh Kpassagnon
NT: Nathan Shepherd, Khalen Saunders
DT: Bryan Bresee, Malcolm Roach
EDGE: Isaiah Foskey, Carl Granderson, Payton Turner
MLB: Demario Davis, D'Marco Jackson
WLB: Pete Werner, Ryan Connelly
SLB: Zack Baun
RCB: Marshon Lattimore, Isaac Yiadom
LCB: Paulson Adebo, Troy Pride
NB: Bradley Roby, Lonnie Johnson
SS: Tyrann Mathieu, Jonathan Abram
FS: Marcus Maye, Jordan Howden
2022 Results and Standings
The Saints had uncertain expectations entering 2022, though they were expected to post an even record in the preseason, according to the August win totals at DraftKings. They mildly underperformed those expectations despite a top-10 defensive performance, with just a 7-10 record.
MORE: New Orleans Saints 2023 Schedule
A late-season rally after their bye week could have put them in the playoffs, but they needed losses from division rival Tampa Bay Buccaneers and a win against the Carolina Panthers, coached by interim coach Steve Wilks and quarterbacked by a surprisingly efficient Sam Darnold. That Week 18 loss and the Buccaneers' relative success kept them out despite the underwhelming division.
New Orleans' Week 17 win against the Philadelphia Eagles and Week 5 win against the Seattle Seahawks showed that they could win against good teams, but they primarily built their record against a weak schedule, something they may benefit from again in 2023.
2023 Power Ranking and Season Outlook
Pro Football Network's 2023 Power Rankings rank the Saints 14th overall in the NFL, which is roughly in line with their record and overall performance from an advanced stats perspective last year. There's praise for a more well-rounded defense and optimism about the potential for a healthy Michael Thomas, who should pair well with Carr's playstyle.
The offense will benefit from an upgrade at quarterback and could have an explosive ceiling if Thomas is healthy, given how well Olave takes the top off defenses.
Further development for Shaheed and a solid running game with Williams, Miller, and Kamara should give them a floor to work with, though they need to make sure that their offensive line can be consistent — that's difficult with Trevor Penning, Andrus Peat, and Cesar Ruiz on the line.
Defensively, they will need their early-round investments to pay off immediately, given the losses on the defensive line. Though Marcus Davenport didn't produce in the box score, his high pass-rush win rate forced opposing quarterbacks to get rid of the ball quicker.
He was one of the only defensive producers, and the Saints finished 2022 ranked last in pass-rush win rate as a unit, and their second-best pass-rush contributor, Onyemata, left for the Falcons. They may have gotten worse if they can't rely on their rookies to contribute.
But a healthy Marcus Lattimore should mean more defensive production, even if Paulson Adebo is a liability opposite Lattimore. The defense performed very well last year, but a change in coordinator and turnover in personnel might be worth some concern.